IntroductionFrom conventioneers to honeymooners to families on vacation, people of all walks of life—millions of them—travel each year to Niagara Falls chasing the heady rush of a carnival-style thrill ride, the tranquility of a garden path or more recently, the suspense of a dice roll or spin of a roulette wheel. But ultimately, they all come for one thing—to experience the cool mist, the thundering roar, the utter violence of a half million gallons of water crashing into a rocky gorge every second. It's not just a spectacular scene; it's a spectacular scene in unrelenting motion.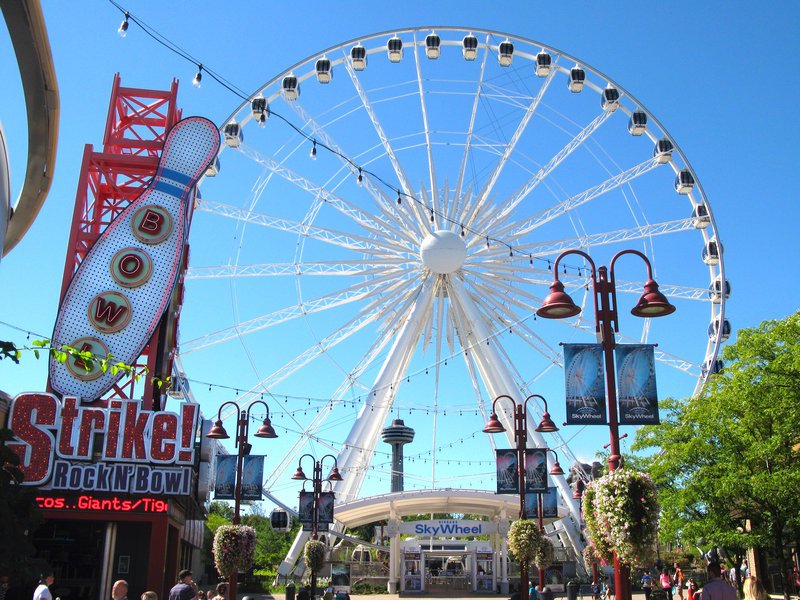 AAA/Inspector 16
Who would not be transfixed by the three separate cataracts that make up Niagara Falls? Rocky American, tiny Bridal Veil and show-stealing Horseshoe, over which the lion's share of the river flows, spawned a tourism industry here nearly 200 years ago. Today businesses entice visitors by offering views of this natural marvel from every possible angle: below, above, beside and even behind. And almost from the beginning attractions sprang up that were either only marginally related or completely unconnected to the falls' grandeur—from daredevil high-wire acts to amusement rides to museums flaunting the bizarre and macabre.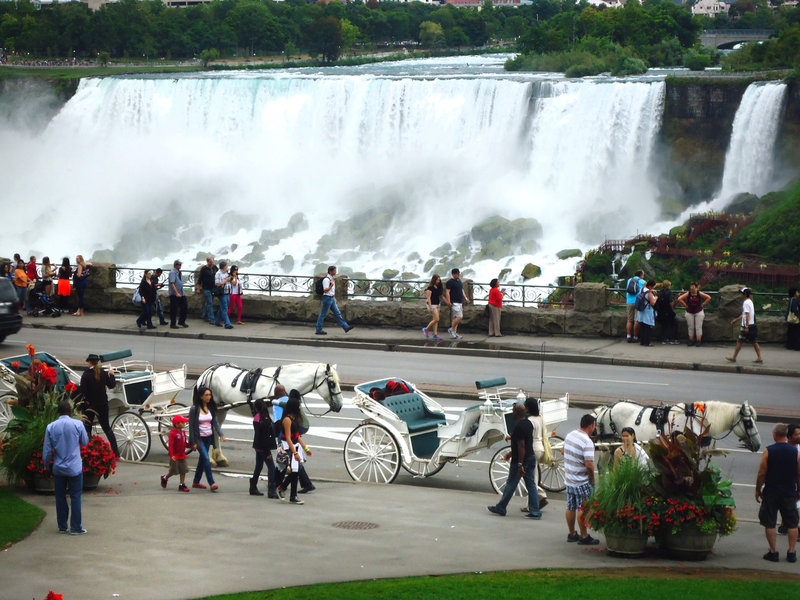 AAA/Inspector 16
Rampant development and industrial exploitation threatened the falls early on, and in response to public outcry, New York bought land adjacent to the falls to create America's first state park, while Ontario acted similarly by establishing a park on its side. International accords now regulate how much water can be diverted from the falls to produce power, guaranteeing that Niagara Falls will continue to astound visitors for generations to come.
Getting There
By CarMost approaches to Niagara Falls are east-west oriented. The main exception is the Niagara Parkway, a scenic route that follows the Canadian side of the Niagara River from Lake Ontario to Lake Erie, traversing the heart of the city en route.
The primary through route is the Queen Elizabeth Way (QEW) via Hwy. 420. This modern highway originates in Toronto; skirts Lake Ontario; passes through Niagara Falls, interchanging with major streets; and terminates at the Peace Bridge, which spans the international boundary at Buffalo.
While much of the traffic coming into Niagara Falls from Canada uses at least a portion of the QEW, two other roads provide good access from Ontario's southwestern extremity: Hwy. 20 (Lundy's Lane), which goes directly into Niagara Falls, and Hwy. 3 to Fort Erie, from which several lesser roads lead into the city.
From the east, traffic arrives from New York and is funneled to the Canadian side via toll bridges: the Rainbow Bridge, in the heart of the sightseeing area; the Whirlpool Bridge, slightly north of downtown; the Lewiston-Queenston Bridge farther north, which completes an international expressway connection; and the Peace Bridge, linking Buffalo, N.Y., and Fort Erie, Ontario, south of Niagara Falls.
By PlaneFour commercial airports serve the Niagara Falls area. Buffalo Niagara International Airport (BUF) at Genesee Street and Cayuga Road in New York is the closest to the city. ITA operates shuttle buses and cabs from this airport to Niagara Falls, N.Y., and to Niagara Falls, Ontario; phone (716) 633-8294 or (800) 551-9369 for rates and information. Shuttle service from the Buffalo airport to Niagara Falls, Ontario, is $65 per person; to Niagara Falls, New York, the rate is $50 per person.
The Niagara District Airport (YCM), also handling commercial flights, is at Niagara Stone Road in Niagara-on-the-Lake; phone (905) 684-7447. Within 45 miles of the city is John C. Munro Hamilton International Airport (YHM) in Hamilton; phone (905) 679-1999. Toronto Pearson International Airport (YYZ) is approximately 2 hours from Niagara Falls. For scheduling information for terminals 1 and 3, phone (416) 247-7678. Niagara Airbus provides shuttle service to Niagara Falls from both John C. Munro and Toronto Pearson airports; phone (905) 374-8111 or (800) 268-8111.
Getting Around
Street SystemTraffic in Niagara Falls can be heavy during the tourist season. The main thoroughfares, the Niagara Parkway and Falls Avenue, parallel the Niagara River. Such main streets as Clifton Hill, Victoria Avenue and Lundy's Lane run perpendicular to the falls.
ParkingParking is a problem in the main tourist areas of Niagara Falls, especially during the summer. If your accommodations are near the falls, it is a good idea to walk or take a bus to observation points. There are parking lots across from Table Rock and Rainbow Bridge. Cars with trailers and motor homes should use the Rapids View Parking Lot; the parking fee includes the shuttle. From Rapids View a free shuttle transports visitors to Table Rock. The Niagara Parks Parking Pass, available at any pay station, costs $25 per day and covers unlimited parking for one vehicle at nine prime parking lots. An annual pass is available for $50; phone the Falls Parking Office (905) 356-0943 or Rapidsview Welcome Centre (905) 357-7808 for information.
Public TransportationPublic transportation in Niagara Falls, Ontario, is by Niagara Transit Commission bus service. Bus routes connect all areas of the city. Fare is $2.75; $2.50 (ages 65+ and students ages 13-19 with ID); $1.50 (ages 6-12). Exact change is required (pennies are no longer accepted). The rechargeable i-Ride Pass Card is available, either for 10 rides or for a 30-day period; it's available from the transportation services office at 8208 Heartland Forest Road and a number of convenience stores around town. The Niagara Transit terminal is at 4320 Bridge St.; phone (905) 356-1179.
The Niagara Parks Commission's WEGO bus system is an in-park public transportation service operating four routes: Green line along the Niagara Parkway between the Table Rock Welcome Centre and Queenston Heights Park and back; Blue line covering Fallsview, Victoria Centre, Clifton Hill and the Falls Avenue Resort; Red line to Lundy's Lane; and Orange line from Queenston Heights to Niagara-on-the-Lake (early May-late October). Table Rock is the hub for all but the Orange line. Buses are spaced about 20 minutes apart. Service runs daily (weather permitting). Hours vary; phone ahead. A 24-hour pass is $7.50; ages 6-12, $4.50; and a 48-hour pass is $11.50; ages 6-12, $8. Passes are not only valid for 24 or 48 hours from the time they are first used but also until 3 a.m. on the following day. The trip to Niagara-on-the-lake costs $7 each way. The loop from the Rapids View Station parking area to the falls is free. Parking at Rapids View is $10 per private vehicle. Phone (905) 357-9340.