Shopping in New OrleansWhile on your vacation, join locals for a day of serious bargain hunting or frivolous window shopping along some of the South's most picturesque streets. The best places for good finds are just about anywhere in the French Quarter or along 6 miles of Magazine Street, but don't overlook the charming niches in Uptown neighborhoods as well as the variety found on bustling Canal Street in downtown New Orleans.
The French QuarterNew Orleans' distinctive European heritage has made the area a treasure chest for antique hunters. Eighteenth- and 19th-century furnishings, rare coins, weapons and estate pieces of all kinds are showcased along with Victorian and art deco items, high-end collectibles and relics from around the globe in dozens of shops throughout the French Quarter.
Of the three main shopping arteries—Royal, Chartres and Decatur streets—Royal Street has the greatest concentration of antiques, art and collectibles, while Chartres is known for an eclectic mix of vintage and designer apparel boutiques. On Decatur you'll find a little bit of everything, from custom-blended fragrances to souvenirs to packaged local fare—chicory coffee, beignets, pralines, Tabasco products and more. You'll also want to peruse the quaint shops and restaurants tucked away on side streets and around Jackson Square.
There are more than two dozen antique shops alone in the first nine blocks of Royal Street off Canal Street. Maybe you don't need that sparkling crystal chandelier hanging in Rothschild's Antiques , or the majolica jardinière you spied in M.S. Rau Antiques , or a set of oyster plates like the ones in Moss Antiques . But window shopping is still one of the most fun things to do, right? And look you should while you have access to a wealth of fine and rare European antiques the likes of which were first brought to the city by French and Spanish aristocrats.
When it comes to antiques, provenance is everything. And so it is with many a family-owned New Orleans establishment operated by third, fourth or fifth generations. In the tradition of Rothschild's, Rau and Moss, several respected businesses have operated in the French Quarter for decades. James H. Cohen and Sons , purveyors of rare coins and early weapons since 1898, is at the very Royal Street address where the company was founded. Waldhorn & Adler carries on a tradition started in 1881 of offering quality furniture, accessories and estate jewelry, while French étagères, alabaster sculptures, Regency secretaries, trumeaux mirrors and case clocks are among the fine hand-picked antiques featured at Ida Manheim Antiques , established in 1919.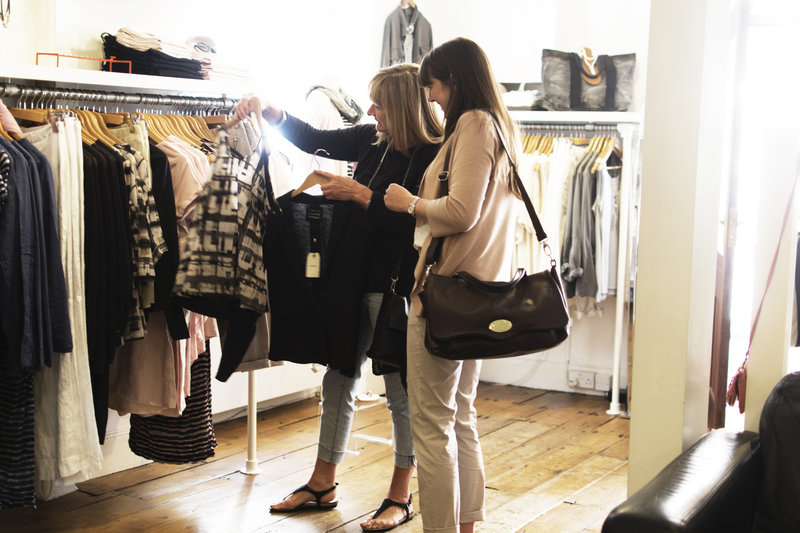 Mypurgatoryyears/iStockphoto.com
On Chartres Street you'll find English silverware, barware and jewelry at New Orleans Silversmiths ; luxury culinary antiques and related decor—a veritable feast for the eyes of silver, copper, crystal, china and linens—at Lucullus ; and French furniture and Italian accent pieces at Soniat House Antique Galleries . A number of junktique shops on Decatur Street might appeal to those who like to poke around for something more affordable.
Curio shops specializing in collectibles are abundant. The Brass Monkey features hundreds of diminutive Limoges porcelain boxes. The unremarkable front door of Quarter Past Time opens onto a wonderland of vintage timepieces, clocks and radios. For fun, funky accessories for yourself and your home, check out Vintage 329 's collection of vintage designer jewelry and exquisite barware from the Art Deco to mid-century era.
French Quarter residents embrace a bohemian lifestyle that nurtures all forms of creativity. Artwork ranging from fine to folk to outsider hangs on the weathered iron gates surrounding Jackson Square and in this cross-section of galleries: Kurt E. Schon, Ltd. , showing works from the 18th and 19th centuries; Sutton Galleries , emphasizing impressionist paintings; Rodrigue Studio , home of the Blue Dog; and Kako Gallery , a hodgepodge of arts and crafts by Louisiana artists. A number of artists' galleries specialize in paintings, photographs and prints of New Orleans.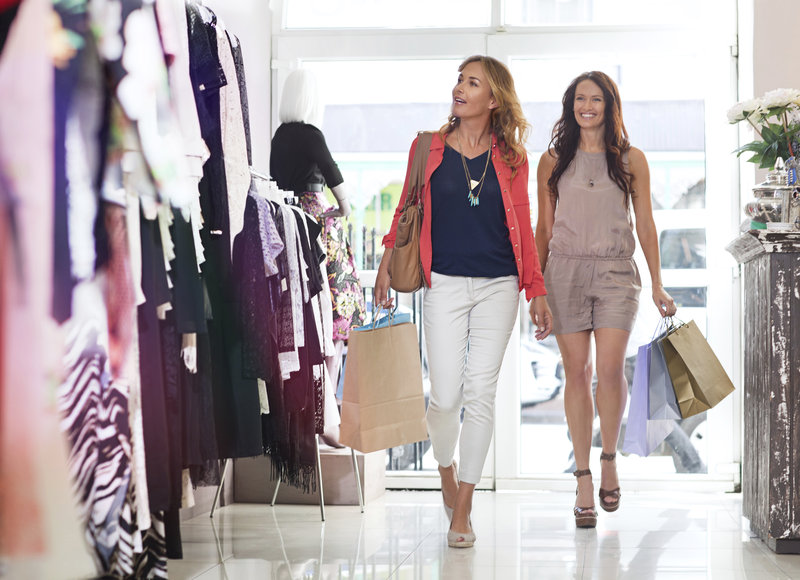 gradyreese/iStockphoto.com
Given the creative juices of up-and-coming designers vying for recognition, clothing boutiques are nearly as plentiful as antique shops. Fleur de Paris , on Royal Street, specializes in custom millinery and flirty feminine frocks, all of which are displayed in surroundings reminiscent of a Paris fashion salon. Their hats have coiffed celebrity clients and Kentucky Derby attendees.
Most French Quarter shops feature original couture as well as designer ready-to-wear. Whether your style is funky, retro, glam or romantic, you'll find it on Chartres Street. United Apparel Liquidators (look for the understated UAL sign) is chockablock with high-end designer clothes at deep discounts. The flagship Hemline store, appealing to twenty- to forty-somethings, opened in 1994; today there are more than 20 stores in several states. And here are more trendy and unique fashion boutiques on Chartres Street: Sweet Pea & Tulip , at 618 Chartres; and Violet's , at 808 Chartres.
Perfume, cigars, occult paraphernalia, Gothic collectibles, souvenirs ranging from Mardi Gras masks to voodoo dolls—the eclectic list of merchandise goes on and on. But you can't leave the city without a box of pralines, New Orleans' signature sweet. Aunt Sally's Praline Shop is run by descendants of the family that founded the cookery in the 1930s, while "newbie" Southern Candymakers has been around since 1992.
A bibliophile's trip to New Orleans isn't complete without a stop at Faulkner House Books , in the Pirate's Alley apartment (opposite the Cathedral-Basilica of Saint Louis King of France) where William Faulkner lived and wrote "Soldiers' Pay." Crescent City Books , on Baronne Street, is a good resource for scholarly books, and Dauphine Street Books specializes in out-of-print reads. A Tisket A Tasket on Decatur Street has a nice selection of regional cookbooks.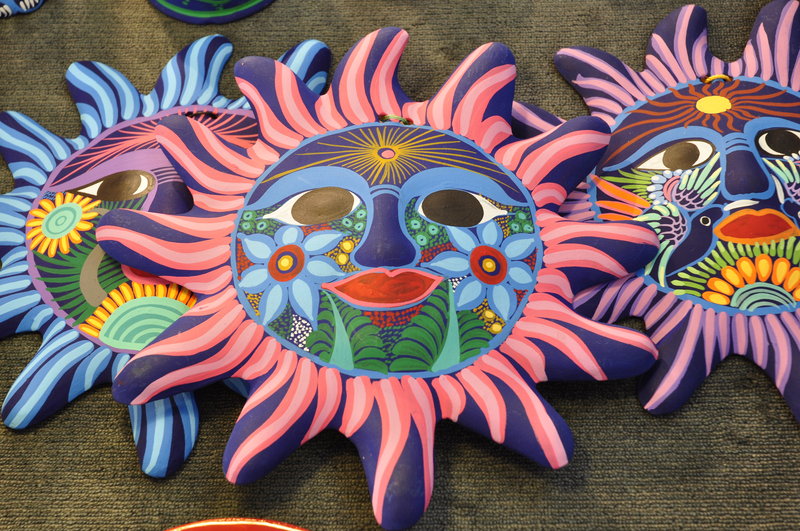 AAA/Photo submitted by Brooke Holt
The French Market District , along Decatur Street between St. Ann Street and Ursulines Avenue, houses more shops, informal local restaurants, a flea market and open-air produce stands within its centuries-old arcades.
Specialty Districts The Shops at Jax Brewery , a complex of retail stores, kiosks and eateries overlooking the Mississippi River and the dock of the Steamboat Natchez and the Riverboat City of New Orleans, is at Decatur and St. Peter streets in a former turn-of-the-20th-century brewery. Browse the upscale retailer and local icon, Cajun Clothing Company by Perlis. Home Team Sportswear displays college and professional sports merchandise, including all things Saints-related.
Another of the complex's shops is Save NOLA, an outlet for a post-Katrina foundation supporting organizations that rebuild homes, sells T-shirts, caps and wearables; entrepreneurial Katrina victims first sold the line of organic cotton sportswear on a street corner. Topped by bold letters proclaiming "Home of Jax Beer," the brewery shops are a favorite spot for browsing and sampling New Orleans cuisine. A memorabilia collection on the second floor chronicles the brewery's history.
If you prefer to do your browsing in the open air, head to Frenchmen Street after dark. The Palace Market takes place at 619 Frenchmen St., next to one of this nightlife district's most popular jazz clubs (The Spotted Cat Music Club). Local and regional artisans hawk handmade items at the hip outdoor bazaar, which takes place Sun.-Wed. 7 p.m.-midnight, Thurs.-Fri. 7 p.m. to 1 a.m. and Sat. noon-4 and 7 p.m.-1 a.m.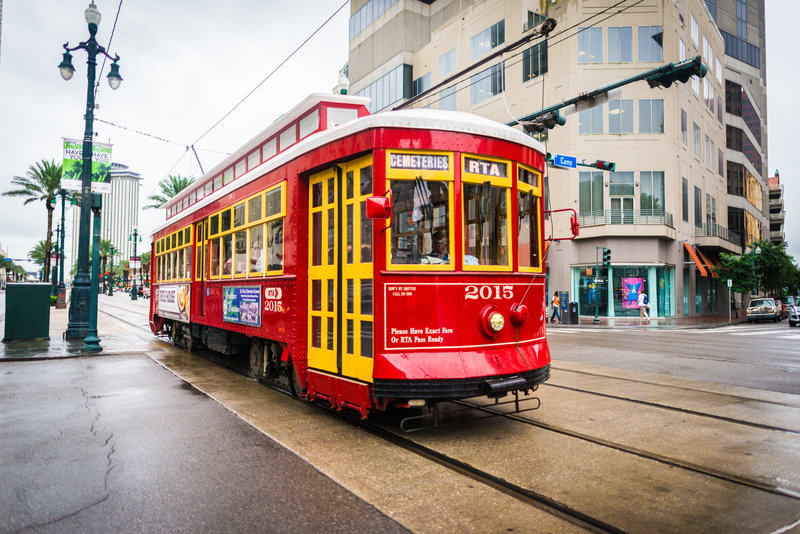 AAA/Thuyvi Gates
Another famous New Orleans thoroughfare, Canal Street was a stylish retail destination in its heyday, before the advent of suburban shopping malls. Many establishments are still family-owned, some with their roots in the early part of the 20th century.
Whether you're a fashionista, decorator or collector, a day on Magazine Street equates to shopping bliss. There are a couple of ways to negotiate this 6-mile artery lined with antique shops, clothing boutiques, jewelry stores, home decor showrooms, artisans' studios and art galleries, many of which are housed in charming old cottages and warehouses. If you prefer to drive, know that on-street metered parking or side-street parking is very hard to find, especially at peak times; you may have to park several blocks away from a targeted shop. The Magazine Street bus is a good bet, particularly if you buy a day pass providing unlimited on-off privileges. Either way, take along a directory published by the Magazine Street Merchants Association. Here is a sampling of what is available, arranged by category.
The majority of the nearly 30 antique shops are in the 23-block section between Canal Street and Jackson Avenue and on 13 blocks between Louisiana and Napoleon avenues. Highlights include Magazine Antique Mall , at 3017; and Maison de Provence , 3434, specializing in antiques a la France; Balzac Antiques , 3506; and Wirthmore Antiques , 3727, with 18th- and 19th-century European furniture and decorative objects.
Forget about shopping at the mall. One-of-a-kind apparel stores rule on Magazine Street. Weinstein's , 4011 Magazine, caters to nationwide clientele with high-end European designer clothing and accessories for women. The Red Carpet , 3425 Magazine, dresses clients who want to get noticed at special events.
For vintage, retro or recycled clothing, head to Buffalo Exchange , 4119 Magazine; this environmentally conscious chain originated in Tucson, Ariz., in the 1970s. A selection of boy's and men's clothing—Lacoste polos, iconically Southern seersucker suits and a complete line of casual wear bearing the store's signature crawfish logo—can be found at Perlis Clothing , 6070 Magazine St. In business since 1939, this family-owned clothier also has upscale ladies' sportswear and accessories.
Accoutrements for children are well represented on Magazine Street. Orient Expressed , 3446 Magazine St., brings together a unique selection of imported, hand-smocked clothing. Angelique , 5421 Magazine St., offers fashions, shoes and accessories.
Feet First , a ladies' shoe and accessory emporium at 4122 Magazine, stocks more than 50 designer lines. Pair up Kate Spade slides or Steve Madden leopard stilettos with a handbag from Badgley Mischka or Mary Frances, and you're good to go—to the next shopping block, that is.
Home decor shops include Hazelnut , co-owned by native New Orleanian and former "Mad Men" co-star Bryan Batt (look for decorator items made from Batt's signature New Orleans toile fabric), and Aux Belle Choses , featuring jacquard linens and tableware with a French point of view. At The Curtain Exchange , you can take home pre-made, high-quality curtains and try them on your windows—talk about a novel approach to custom drapery shopping. Magazine Street also has your floors covered with rugs ranging from Tibetans to Aubussons at Talebloo Oriental Rugs & Antique Gallery , 2015 Magazine, and NOLA Rugs , 3944 Magazine.
Uptown New Orleans is primarily a residential neighborhood interspersed with quaint shops, two universities and Audubon Park. In the Riverbend area, where St. Charles Avenue meets Carrollton Avenue and streetcars negotiate an almost right-angle turn, are three boutiques well worth setting aside a few hours of shopping time. Yvonne LaFleur , a Parisian-style salon on Hampson Street, transports clientele to the belle epoque with sumptuous silk frocks, sassy lace lingerie, custom-designed millinery and the shop's signature fragrance. Ballin's Ltd. , on Dante Street, has dressed New Orleans ladies for cruises, carnival balls, a day at the country club or a night at the opera since 1981; check out their trunk show schedule to preview the latest designs from around the world. And if you're a working girl on a budget, you can still look like you walked off the pages of a magazine with trendy garments from C Collection on Maple Street.
Locals and university students frequent a number of cafés, shops, restaurants and bars that add to Maple Street's sense of community.
Malls The Shops at Canal Place , a chic, multilevel mall at the foot of Canal Street, is anchored by Saks Fifth Avenue and includes national retailers Anthropologie, BCBGMAXAZRIA, Brooks Brothers and White House/Black Market as well as local favorites: distinctive jewelry by designer Mignon Faget and LA Crafts Guild offering the handmade work of artisans that are members of the Louisiana Crafts Guild including décor, furniture, souvenirs and wearables.
The Outlet Collection at Riverwalk stretches for a half-mile along the Mississippi River on the site of the 1984 Louisiana World's Fair. A festive atmosphere prevails at Riverwalk, especially when the resident jazz band strolls through the complex. Needless to say, river views are great from this vantage point. Recognizable national brands—American Eagle Outfitters, Chico's, Gap and Lucky Brand, for example—are among the nearly 75 shops, eateries and services available.
From downtown New Orleans, Lakeside Shopping Center, at Veterans Memorial Boulevard and N. Causeway Boulevard in Metairie, is easily reached via I-10. It is one of the area's largest suburban malls, with about 120 stores. The Esplanade, off West Esplanade Avenue in Kenner, has a nice array of anchor and specialty stores that includes Dillard's.