New Orleans Restaurants
New Orleans is famous for its local restaurants. Our favorites include some of this destination's best fine dining and simple fare. Here are the spots to visit on your vacation.
By Inspector 19
Commander's Palace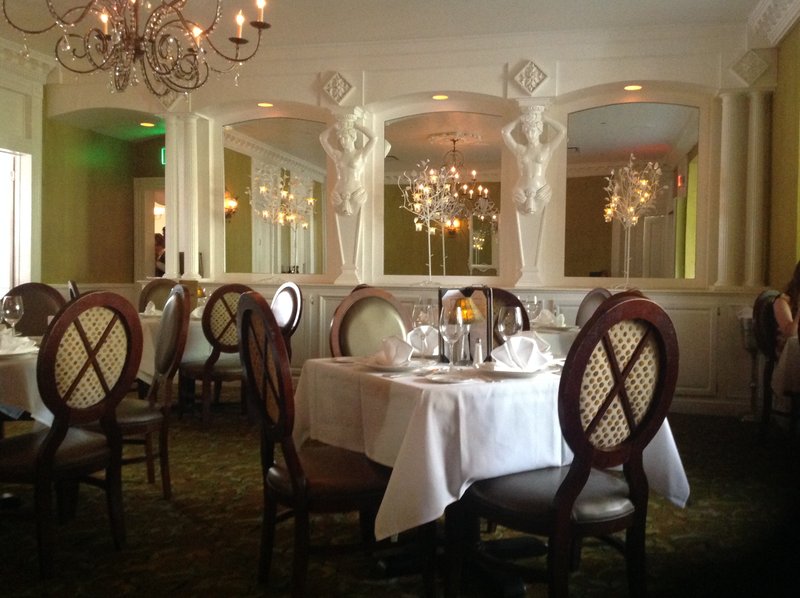 AAA/Inspector 373
What may be the most beloved restaurant of New Orleans, Commander's Palace opened its doors in 1880. The Brennan family took over the Garden District landmark in the mid-1970s, and the impeccable food and service have never wavered—this lavish eatery consistently ranks a top dining destination in the world. Most locals will tell you not to miss the turtle soup or bread pudding soufflé; the 25-cent lunch martinis are another prized tradition. Other highlights include the grilled porterhouse, Louisiana oysters and Cajun caviar, onion-crusted gulf snapper, seared Muscovy duck breast and sugarcane-lacquered foie gras.
The Brennan Family's Local Restaurants
Separate branches of the Brennan dynasty operate more than a dozen eateries across the city. Dickie Brennan cut his culinary teeth with Chef Paul Prudhomme at Commander's Palace and later helped launch another family venture, Mr. B's Bistro . After apprenticing in New York and Paris, he opened the Palace Cafe in 1991. Though it might not be as well known as its cousins, the Palace is equally exceptional, with a long list of national accolades to prove it. The signature appetizer is crabmeat cheesecake baked in a pecan crust. Entrée specialties include andouille-crusted gulf fish, pork porterhouse and citrus honey-glazed duck. Don't leave without indulging in dessert—the Ponchatoula strawberry shortcake and white chocolate bread pudding are standouts, and the tableside preparation of bananas Foster makes every occasion special. Reservations are highly recommended, and don't count on a quiet meal; the open, tiled dining rooms make for a "high-energy" atmosphere.
Kick It Up a Notch
Originally from Massachusetts, Emeril Lagasse traveled the world and trained in classic French cuisine before settling down as executive chef at Commander's Palace. He went on to become a TV star, hosting his own cooking show while opening nine restaurants across the country, including Emeril's and Nola in New Orleans. In 1997 he purchased a century-old city icon, Delmonico's, and spent millions in renovations. Emeril's Delmonico Restaurant has become a true star on the local scene. As you'd expect from a classic American steakhouse, Prime beef is the focus here, but the menu also features such delicious choices as pan-fried redfish meunière, wild mushroom and ricotta cannelloni, Colorado lamb chops and hickory-roasted duck. Service is consistently first rate, genuine and without airs—a rare find in a restaurant of this caliber.
The Best Creole and Cajun Fare
Most New Orleanians speak of Brigtsen's with deep reverence. Since 1986, Frank Brigtsen and his wife Marna have been serving artfully prepared Creole and Cajun fare in a cozy Victorian cottage. As with so many New Orleans chefs, Mr. Brigtsen (pronounced BRIGHT-son) apprenticed with Paul Prudhomme at both Commander's Palace and K-Paul's Louisiana Kitchen. His menu changes daily but focuses on local and seasonal ingredients; sample items include butternut shrimp bisque, sautéed soft-shell crab, roast duck, pan-fried speckled trout and braised rabbit in phyllo pastry. The wait staff is attentive and personable, likely owed to the familiarity of serving Uptown regulars for years. Brigtsen's is on the far end of St. Charles Avenue on Dante Street near the Riverbend, which will require most visitors to take a cab or streetcar—but it's worth the trip.
Tucked away in a modest Uptown neighborhood and a cab ride away from the French Quarter, Clancy's should be on every concierge's list. Visitors often liken this experience to eating at a friend's house—the rooms are small but sophisticated, the tables are close and conversation flows freely (and often loudly). The contemporary Creole cuisine features such delicacies as fried oysters topped with melted brie, grilled chicken breast in lime butter and smoked soft-shell crab. Reasonable portion sizes allow you to sample more than one course without guilt. Try the signature ice-box lemon pie for dessert.
Music with Your Meal
Groovy, funky and eclectic are the words often used to describe Jacques-Imo's Cafe . The waiting line spills out of the restaurant, onto the sidewalk and into nearby bars (people watching is part of the fun). To call this place "colorful" is an understatement; the dining rooms are brightly decorated, and the staff is young and hip. Two hits on the Comfort Creole menu are the fried chicken and alligator-sausage cheesecake. The sweet corn bread is a great starter. The menu reaches much higher levels of sophistication, but you can still show up in a T-shirt and jeans.
The Local Favorites
Family-run since it opened in 1918, Casamento's Restaurant is hailed for its oysters—especially the oyster loaf. For this house specialty, fresh oysters are dipped in corn flour, deep-fried in cast-iron skillets and served between thick slices of pan bread. Shuckers work at a small, standing-room-only bar, plating countless orders of oysters on the half shell. The restaurant's tiled exterior makes it easy to spot on Magazine Street; the old-fashioned interior hasn't changed much in nearly a century. A-list celebrities make it a point to visit when they're in town, as you'll see from the autographed shirts on the wall.
Drago's is a family-run restaurant that originated in the suburb of Metairie. Croatian immigrants Drago and Klara Cvitanovich opened their eatery in 1970 after building a respected reputation in the local industry. Drago perfected his oyster-shucking skills at the Acme Oyster House, and his namesake restaurant is highly regarded for its oyster dishes. Shellfish comes fresh from Louisiana oyster beds. The menu includes oysters on the half shell, charbroiled oysters and oysters herradura (sautéed with onions, tomatoes, and pine nuts, and then deglazed with tequila). Equally popular are the lobster and seafood entrees, including drumfish tommy and Crescent City shrimp. Drago's also offers chicken, duck and pasta dishes.
Ethnic and Global Dining Options
Irene's Cuisine pays homage to the large Italian American population in New Orleans. On a quiet corner in the French Quarter, this popular eatery attracts both tourists and locals, though everyone must be willing to accept a long wait—reservations aren't accepted. Diners sit closely in the dining room, but the waitstaff scurries about with precision. The menu is garlicky Sicilian with enough Creole flavor to keep it local. The spicy aromas of stuffed veal chop, roasted garlic chicken, grilled red snapper and rosemary chicken are enough to bring guests in off the street. Don't leave without sampling the baked Alaska with its flaming grappa. Irene's is open only for dinner, so make your plans accordingly—and get there early.
Considered a true gastronomical gem, Bayona is housed in a centuries-old Creole cottage with a lovely courtyard. Chef Susan Spicer focuses on seasonally available ingredients rather than any specific culinary style—her menu reflects a true global sensibility. Highlights include the Niman ranch pork chop with corn fritters, red grouper with purple coconut rice, veal sweetbreads with sherry mustard and the rabbit, andouille and blackeyed-pea gumbo. This French Quarter favorite is warm and inviting, the perfect backdrop for an intimate evening.
Make new dining experiences a part of your next vacation. See all the restaurants for this destination.