About Oakland Oakland may stand in San Francisco's shadow, at least figuratively (it's tough going toe to toe against the City by the Bay). But this major port and manufacturing center stretching along the mainland side of San Francisco Bay has managed to carve out a persona distinct from its older, more illustrious neighbor across the water.
Named for the oak trees that once grew along the grassy coastal plain edging the bay's east side, Oakland was established in 1852 as a point of debarkation for transbay ferry service from San Francisco. It became the terminus of the Transcontinental Railroad in 1869, which brought further growth. Little damaged by the devastating 1906 earthquake, the city—like Berkeley—received displaced refugees from San Francisco.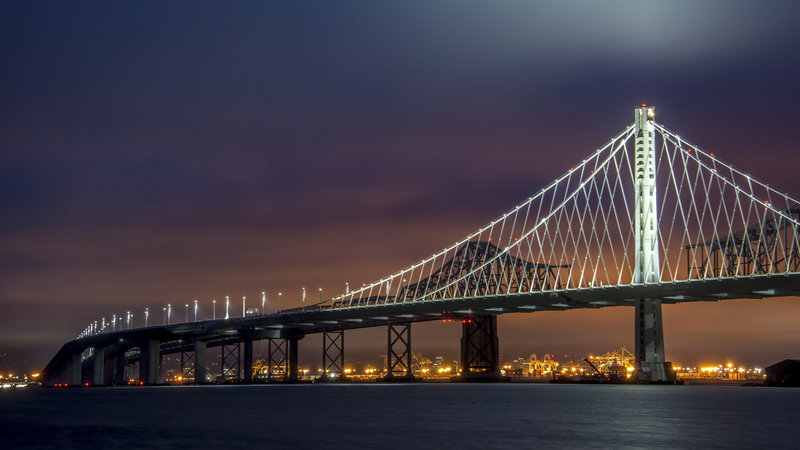 digital94086/iStockphoto.com
The biggest impetus to growth came with the opening of the San Francisco-Oakland Bay Bridge in 1936, which provided a vital transportation link. Tens of thousands of San Francisco-bound East Bay commuters depend on the bridge to get to work Monday through Friday, and on weekends San Franciscans head out of the city in droves. Morning and evening rush hour backups are the rule rather than the exception. The toll (westbound only) is $4-$6.
Oakland is a manufacturing powerhouse, which doesn't lend itself to glossily hyped tourist charm. The views from the vantage point of the I-880 freeway tend to be on the gritty side, but that doesn't mean that scenic allure is lacking. And the weather tends to be warmer and sunnier than in San Francisco, and much less prone to capricious summer fog.
Skyline Boulevard follows the rim of the Oakland Hills through the upscale Montclair neighborhood and a series of parklands. Architecturally distinctive homes perch on steep hillsides, and on clear days the East Bay vistas are spectacular.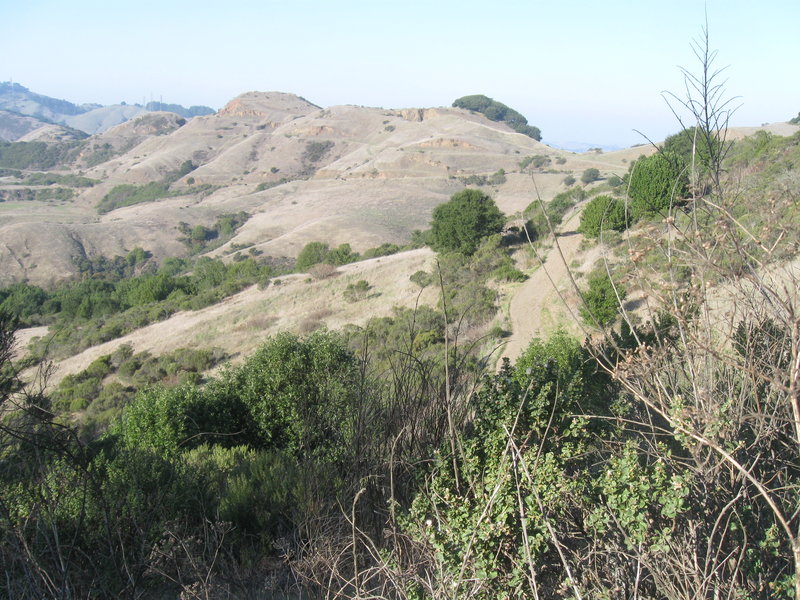 AAA/Greg Weekes
Regional parks offer rolling hills, lovely vistas and forested areas laced with trails, plus plenty of opportunities for picnicking, hiking, fishing, swimming and horseback riding. They include Anthony Chabot, Claremont Canyon Regional Preserve, Huckleberry Botanic Regional Preserve, Martin Luther King Jr. Shoreline, Miller/Knox, Redwood, Robert Sibley Volcanic Regional Preserve and Temescal. Facilities vary from park to park; for more information phone (510) 238-7275 (Office of Parks & Recreation).
Woodminster Amphitheater, on Joaquin Miller Road in Joaquin Miller Park, is an open-air theater built by the federal WPA program during the mid-20th century. Performances, mostly Broadway musicals, are scheduled from early July to early September; for event and schedule information phone (510) 531-9597.
The Alexander Zuckermann Bike Path is the first leg of a shore-to-shore route from Oakland to San Francisco. Access to the path is from three entrance points: Shellmound Street in Emeryville (at the entrance to the Ikea shopping center), the corner of Maritime Street and Burma Road and on Yerba Buena Island.
From the Shellmound entrance it's about a 2-mile ride to the east span of the Bay Bridge; from the Maritime Street entrance, about 1.75 miles. Cyclists can then ride over the water about 2 miles to Yerba Buena Island. In addition to the lanes (two for biking, one for walking) there are benches and viewing areas called belvederes. For more information contact Bike East Bay; phone (510) 845-7433.
Bret Harte Boardwalk, on 5th Street between Jefferson and Clay streets, is next to the site of the author's boyhood home. A block of renovated Victorian houses and barns house shops and restaurants. Visitor information centers are located at 11th Street and Broadway and at Jack London Square, Broadway and Embarcadero.
Daily round-trip ferries provide a transportation link between Oakland's Jack London Square and San Francisco. The Alameda-Oakland Ferry transports passengers to the Ferry Building, at the foot of Market Street on The Embarcadero, to Pier 41 and seasonally to Oracle Park in San Francisco, as well as to Angel Island in the summer. For schedule and fare information phone (877) 643-3779.
The RingCentral Coliseum and Oracle Arena, both off I-880 at the 66th Avenue or Hegenberger Road exits, are where the city's three professional sports teams play. The RingCentral Coliseum is the home of the Oakland A's (baseball). The Golden State Warriors (basketball) play at Oracle Arena, adjacent to the stadium; the arena also is utilized for concerts, wrestling events and circus performances. Phone (510) 569-2121 for either facility.
Visitor Centers Visit Oakland 481 Water St. Oakland, CA 94607. Phone:(510)839-9000
ShoppingThe Grand Avenue/Lakeshore district in downtown Oakland offers pleasant sidewalk strolling in the vicinity of scenic Lake Merritt. Foodies and amateur cooks in particular will love the Oaktown Spice Shop (546 Grand Ave.). They carry everything from fresh herbs to pickling spices to curries to hot sauces, and also can whip up a variety of hand-mixed blends. The exotic smells alone will draw you in.
The intoxicating aroma of chocolate permeates Michael Mischer Chocolates (3352 Grand Ave.). You won't find run-of-the-mill candy here; this gourmet chocolate shop specializes in truffles and other decadent treats.
Lakeshore Avenue is a shorter but denser stretch, which makes it a good area to window shop or people-watch. Hip women's designer fashions fill Maribel (3251 Lakeshore Ave.), where fashionistas can also hunt for locally made jewelry, funky sunglasses and other accessories.
NightlifeHeinold's First and Last Chance Saloon (48 Webster St. in Jack London Square) is an Oakland institution—built from the timbers of a whaling ship, opened in 1883 and looking much the same today as it did way back when. Young schoolboy Jack London studied at the dockside bar and later returned to his favorite table to gain inspiration for such novels as "The Sea Wolf" and "Call of the Wild." The floor even tilts a bit (the 1906 San Francisco earthquake caused the pilings beneath the saloon to sink into the mud). It's an old-school joint loaded with character and memories.
Also at the square is Yoshi's Oakland (510 Embarcadero West). The lineup of jazz musicians at this intimate club is equally impressive, and the sound quality is superb.
The Fox Theater (1807 Telegraph Ave.) has a multitiered, beautifully restored interior and an eclectic lineup of entertainment. Street parking is a challenge, but the 19th Street BART station is just a block away; make sure you check the departure time of the final train when planning your evening. For concert information phone (510) 302-2250.
Things to Do African American Museum & Library at Oakland
Greek Orthodox Cathedral of the Ascension
GSBF Bonsai Garden at Lake Merritt
Lake Merritt Wildlife Refuge and Rotary Nature Center
Lakeside Park Demonstration Gardens
Peralta Hacienda Historical Park