One of the Funnest Places on Earth
Walt Disney World® Resort opened in the Orlando area in 1971, setting into motion a Florida tourism boom of grand proportions. With the sister to the West Coast's Disneyland® Resort in their back yards, devotees of all things Mickey Mouse east of the Mississippi no longer had to trek across country to tap into the magic. As Disney's East Coast kingdom grew exponentially, so, too, did the competition that eventually transformed Orlando into one big theme park of a destination. Walt Disney World® set the bar for wholesome family fun and then raised it time after time with faster rides, cuter characters and livelier entertainment to captivate every age group.
Beyond Orlando's man-made wonders are sparkling lakes, lovely gardens, relaxing state parks and, within shouting distance, a string of Atlantic Coast beaches. Add to this list championship golf courses, luxury resorts with spas, cuisine to please the international palate and shopping districts that run the gamut from bargain outlets to upscale malls, and Orlando measures up to a full-out, year-round crowd pleaser.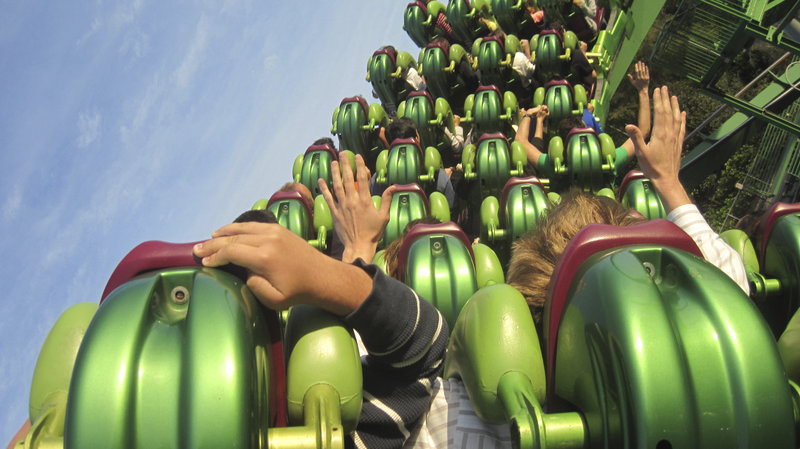 Haxortech/iStockphoto.com
With Disney's four major theme parks, Universal's two, and marine adventure parks SeaWorld Orlando and Discovery Cove Orlando, plus numerous other area attractions, fantasy is always on tap here. If Orlando could be squeezed and reduced to concentrate, like the juicy citrus that used to grow nearby in abundance, its essence would be pure entertainment—nectar for all who thirst for family-oriented things to do.
Getting There
By Car
Orlando is laced with busy thoroughfares. Primary among these is I-4, a trans-Florida route that combines direct travel through the city with strategic controlled access. From the Daytona Beach area it forks off I-95 and enters Orlando on the northeast side; from the Gulf Coast it comes from Tampa, passing Walt Disney World® Resort and entering town from the southwest.
Florida's Turnpike (toll) links Orlando with the resort areas of southeastern Florida. About 35 miles to the northwest it connects with I-75, a major north-south freeway. Florida's Turnpike interchanges with I-4 at the southwestern city limits.
I-4 and Florida's Turnpike form an X across central Florida. Two older routes, US 17/92 and US 441, also cross at Orlando, traversing different portions of the area.
SR 528, more commonly known as the Beachline Expressway (toll), passes south of the city. It channels traffic between Orlando and the Cape Canaveral area and connects with routes leading to a downtown destination.
SR 50 (Colonial Drive) is an east-west route that passes through downtown and connects smaller communities near the Gulf with Atlantic coast areas. To avoid traffic an alternative is SR 408, the East-West Expressway (toll), which links with SR 50 both east and west of downtown. The expressway also connects with the Central Florida Greeneway (SR 417) just south of SR 50. An expansion to the eastern terminus brings the toll road to US 17/92 in Sanford; other eastern and western expansions are planned and sections of the expressway may be undergoing construction.
SR 436 (Semoran Boulevard) swings in a wide northwesterly arc from the airport and SR 528 (Beachline Expressway) southeast of town to US 441 northwest at Apopka and offers an alternative—although often busy—route to I-4.
Air TravelSeveral airlines serve the Orlando area using one of the city's two airports: Orlando International Airport (MCO), at SR 436 (Semoran Boulevard) and SR 528 (the Beachline Expressway), and Orlando Sanford International Airport (SFB) in Sanford, which serves commercial and private aircraft. OIA, about 15 miles from both downtown and the tourist district, is a primary destination for many major domestic and international airlines. Serving more than 35 million passengers a year, it is one of the world's fastest-growing major airports. Its satellite terminals are linked to the main terminal by automated people movers, making it easy to navigate. Use AAA, one of the top travel websites, to find cheap airfare to the Sunshine State. (Note: Orlando's tourist volume often leads to traffic congestion during peak vacation seasons. When planning your trip, allow plenty of transit time—coming and going—between the airport and your destination.)
To reach downtown Orlando, follow Airport Boulevard north as it merges into SR 436. Though heavily traveled, SR 436 offers direct access to central, east and north Orlando via SRs 50 or 408 (toll). To reach the International Drive area, take Airport Boulevard to SR 528 (toll), then head west to SR 482, which intersects International just east of I-4. Take Airport Boulevard south to SR 417 (toll) to go to the Walt Disney World® Resort via SR 536 or to reach Kissimmee via US 17/92/441.
Cab fares from the Orlando airport to downtown or International Drive run about $38-$45; limousines cost about $50-$90 plus tax and a 20 percent tip but can vary depending on the company and other factors; shuttle vans are $19-$20 one way, or $31-$32 round-trip; and bus transportation is $2. Cab fare to the Disney resort ranges $58-$68. Many hotels have courtesy shuttle service.
Orlando is served by several major rental car agencies. Arrangements should be made before you depart, especially during peak seasons. Your local AAA club can provide this service or additional information. Hertz, (407) 859-8400 or (800) 654-3080, offers discounts to AAA members.
Getting Around
Street System
Because much of Orlando's growth occurred during the 1960s and '70s, the city is remarkably car-friendly. Roads are generally in good shape, although construction caused by near-constant expansion is a fact of life around the tourist district and downtown. Points of interest are usually on or near the main thoroughfares, most of which are accessible via I-4. For a small city, Orlando has surprisingly lengthy rush-hour periods, 6:30-9 a.m. and 4-6:30 p.m. Try to avoid traveling on I-4, US 17/92, SR 50 and SR 436 during these times.
Downtown Orlando is basically a grid, with several one-way streets. All street numbering begins at the intersection of Central Boulevard and Orange Avenue, the main strip through downtown. Orange is a one-way road south through the downtown core; its northbound counterpart is Rosalind Avenue. East-west roads accessing important downtown sites include Livingston Street (Bob Carr Performing Arts Centre), Robinson Street (Lake Eola), Central (Orlando Public Library, Lake Eola), Church Street (Amway Center, Church Street Market) and South Street (City Hall).
International Drive, the heart of the tourist area, is south Orlando's busiest road. A profusion of hotels, shopping centers, outlet stores, restaurants, strolling vacationers and cruising teenagers usually combine to create crowded conditions and frequent delays.
Unless otherwise posted, the speed limit on most streets is 30 mph. Unless otherwise posted, right turns are permitted on red after a complete stop.
ParkingMetered street parking downtown is available at $1 per hour, but spaces are generally hard to find at peak periods, which are on weekdays and weekend evenings. Meter enforcement hours are Mon.-Sat. 8-6 except on city holidays.
Nearly a dozen municipal garages can be found throughout downtown, including at W. Amelia Street, between Revere and N. Hughey avenues; E. Amelia Street next to the Orange County Courthouse, between N. Magnolia and N. Orange avenues; W. Pine Street, between Garland and Orange avenues; three adjacent lots between W. Jefferson to the north and W. Central Boulevard to the south (between N. Garland and Orange avenues); E. Central Boulevard, between Rosalind and Magnolia avenues; and the garage by the Orange County Administration Building at the intersection of Liberty Avenue and E. Jackson Street (this will service the new Dr. P. Phillips Center for the Performing Arts). Rates are $2 per hour or $15 per day. Event parking costs $10 for an evening. For more details, contact the City of Orlando Parking Division at (407) 246-2155.
The city of Winter Park has free parking along Park Avenue, but spaces can be hard to come by during peak hours. Fortunately, several free public lots are located just a few blocks east and west off Park Avenue.
Most attractions and shopping centers have ample parking, but parking fees for the major theme parks can run as high as $25-$27 per day. Check with your hotel to see if it offers free shuttle service to the theme parks.
Public TransportationBrightly painted buses are a colorful sight in the metro area, thanks to LYNX, the transit authority for Orange, Osceola and Seminole counties, which operates more than 300 buses on over 70 routes.
Bus stops, called Links, are marked by fuchsia paw-print signs listing all the routes that are immediately accessible from that stop. The system serves most of the city, including downtown, the tourist district and major shopping centers. Main routes are Links 107 and 108, between downtown Orlando and Kissimmee; 10, through Kissimmee to St. Cloud; 38, downtown to the International Drive area; 436S, between SR 436 and the airport; 42, between International Drive and the airport; and 50, between downtown to the Walt Disney World® Resort.
LYNX fare is $2; transfers are free. Xpress service is $3.50. Exact change is required. Bus passes in daily, weekly and monthly increments also are available. Buses run Mon.-Fri. 4:15 a.m.-3:05 a.m., Sat. 4:45 a.m.-1:05 a.m., Sun. 4:45 a.m.-10:35 p.m.; holiday schedules may vary. For additional information about routes and schedules phone (407) 841-5969.
LYNX offers LYMMO, four limited fare-free bus routes that primarily use a bus-only lane to transport passengers throughout the downtown area. LYMMO runs Mon.-Thurs. 6 a.m.-10:45 p.m., Fri. 6 a.m.-midnight, Sat. 10 a.m.-midnight, Sun. 10 a.m.-10 p.m.
LYNX—routes 8, 107 and 441—also connects to Megabus, a low-cost bus service that arrives to and departs from Orlando, at 4504 S. Orange Blossom Tr. Fares, available in Suite 4652 in the Orange Blossom Center, start at $1.
I-Ride Trolleys cater exclusively to tourist traffic along International Drive 8 a.m.-10:30 p.m.; the wait is about 20 minutes. The Red Line runs along International Drive while the Green Line starts in the business district and runs along Universal Boulevard and South International Drive. Trolley fare is $2; $1 (ages 3-9 with adult); 25c (ages 65+); $5 (all-day pass); $7 (3-day pass); $9 (5-day pass); $12 (7-day pass); $18 (14-day pass). Transfers are free. Exact change is required. Passes also may be purchased at various locations; phone (866) 243-7483.
SunRail, a commuter train operating Mon.-Fri., links DeBary in Volusia County to Sand Lake Road, south of the City of Orlando. There are 16 stations along the 49-mile route, including stops in Sanford, Altamonte Springs, Winter Park, four stops in downtown Orlando, Meadow Woods in Orange County and three stations in Osceola County—the Tupperware Station (at Osceola Parkway), Kissimmee at downtown Kissimmee and Poinciana. A round-trip ticket for the longest route (DeBary to Poinciana) costs $9.50; $4.75 (ages 7-18, ages 65+ and the physically impaired). An expansion is in the works to connect Orlando International Airport. Though there's service during the morning, midday and evening on weekdays, the train's schedule may fluctuate depending on special events and demand; SunRail is closed major holidays. Phone (855) 724-5411 for additional details.
Brightline—an express, inter-city high-speed passenger train connecting Orlando, Fort Lauderdale, West Palm Beach and Miami—is under construction at press time. A Miami-to-West Palm Beach route is available. Service to and from Orlando is scheduled to start in 2023; phone ahead (305) 521-4800 to confirm schedules and fares.