About Petrified Forest National Park East of Holbrook, Petrified Forest National Park contains an abundance of petrified logs. Most of the brilliantly colored trees in the 140,000-acre park are prone, and many are in fragments. Early dinosaurs and other reptiles once roamed the area, and numerous fossil bones and fossil plants have been discovered in the park.
George Burba/iStockphoto.com
More than 200 million years ago trees clinging to eroding riverbanks fell into streams and were buried in the floodplains. The trees were buried under river sediments in ground water that included volcanic ash rich in silica; a replacement process began to take place. Silica replaced the wood until the logs were virtually turned to stone. Iron oxide and other minerals stained the silica to produce rainbow colors.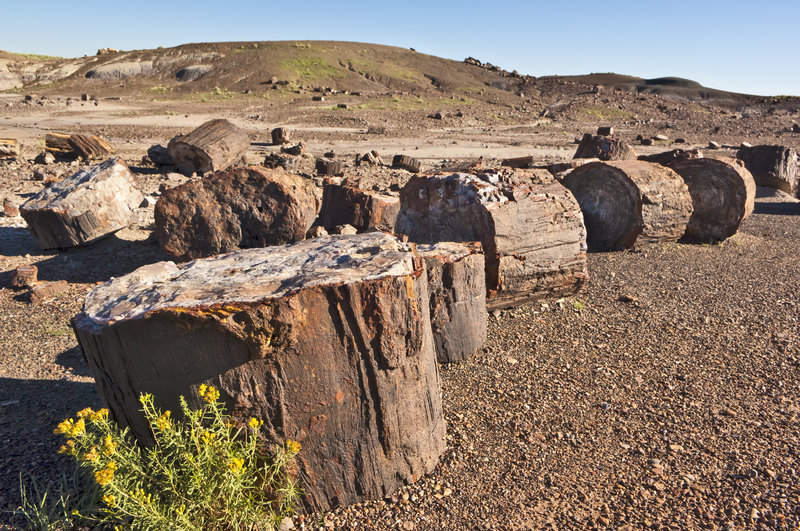 Steven Love/iStockphoto.com
In more recent times, the area was uplifted as part of the Colorado Plateau, and erosion exposed some logs; many more probably remain buried to a depth of 300 feet. There are five areas with heavy concentrations of petrified wood in the park: Blue Mesa, Jasper Forest, Crystal Forest, Rainbow Forest (comprising Long Logs and Giant Logs near US 180) and Black Forest. The first four are accessible by the park road. Black Forest, in a designated wilderness area, can be reached from the parking lot at Kachina Point, down a switchback unimproved trail to the desert floor. The Rainbow Forest area contains the most colorful concentration of petrified wood.
General InformationThe park opens daily at 7, early Mar.-late Oct.; at 8, rest of year. Hours may vary due to season; phone ahead to confirm schedule.
The 28-mile drive through the park offers breathtaking views of the Painted Desert from Pintado Point and Kachina Point. Other scenic overlooks include Chinde, Nizhoni, Tawa, Tiponi and Whipple points. Petrified logs are common in the southern part of the park.
Westbound motorists on I-40 should use the northern entrance to avoid backtracking. Visitors can view the Painted Desert, ancient pueblos and petroglyphs, petrified log deposits and the Rainbow Forest Museum. Motorists should exit on US 180 and continue west to Holbrook. Eastbound motorists can use the southern (Rainbow Forest) entrance off US 180, 19 miles from Holbrook, to see the same attractions in reverse order, then exit onto I-40 east. Allow 3 hours minimum.
Within the park it is unlawful to gather plants, sand, rocks or specimens of petrified wood of any size whatsoever; archeological and other paleontological material is likewise protected. Violations are punishable by heavy fines and imprisonment. Curio stores sell a variety of polished specimens collected from privately owned land outside the park.
There are no overnight accommodations in the park; backpack camping is allowed by free permit only for hikers staying overnight in one of the park's two designated wilderness areas. Picnic sites are near the Rainbow Forest Museum and on the Painted Desert rim at Chinde Point. Gas, oil and food services are available next to the Painted Desert Visitor Center.
ADMISSIONADMISSION to the park is $25 (per private vehicle), $20 (per motorcycle) or $15 (per person arriving by other means).
PETSPETS are permitted in the park only if they are leashed, crated or otherwise physically restricted at all times. With the exception of service animals, pets are not permitted in park buildings.
ADDRESSADDRESS inquiries to the Superintendent, Petrified Forest National Park, P.O. Box 2217, Petrified Forest National Park, AZ 86028; phone (928) 524-6228.
Points of Interest
Attractions Agate Bridge