A Plethora of Public ArtBy Greg Weekes
Portland wears the adjective "artsy" particularly well; this is a city brimming over with displays of outdoor art, from the whimsical to the monumental to the all-around delightful. Better yet, many of the works are concentrated in the downtown area, making it easy to search them out on a walking tour during your trip.
Must-See Sculptures and Statues
Among the monumental is 36-foot-tall "Portlandia," crouching above the entrance of the Portland Building on S.W. 5th Avenue. She cuts quite a figure, her left arm raising a trident while her right hand reaches out in a gesture of welcome. You can't see the entire figure if you're standing on the sidewalk below (from this perspective it appears to jut out from the side of the building); for more of an eye-to-eye view, ride the escalator at the front of the Standard Insurance Plaza building up to the landing level. This hammered-copper sculpture is impressive from any angle, however.
Sculptures and statues adorn the South Park Blocks. On the block between S.W. Hall and Harrison streets is "Holon," an abstract piece carved from white Indiana limestone. "Peace Chant," in the center of the block between S.W. Columbia and Jefferson streets, is a simple plea for peace embodied by three large granite pillars. In the next block stands a bronze statue of Theodore Roosevelt astride his horse, leading the Roughrider regiment he commanded during the Spanish-American War. This block, named Roosevelt Square, also has gardens planted with roses and seasonal flowers. It's a lovely, quiet oasis in the middle of the city.
A Very Special Weather Forecast
If you want to find out what sort of weather the afternoon has in store, stop at Pioneer Courthouse Square for the daily forecast as predicted by the Weather Machine. This fanciful contraption plays a musical fanfare at noon, followed by the appearance of one of three different symbols. Helia, a stylized sun, welcomes clear skies; a blue heron indicates misty or transitional weather; and a dragon means stormy conditions are imminent. Guess which one Portlanders root for.
More to See on the Square
On the south side of the square stands "Allow Me." This life-size bronze sculpture of a man holding an umbrella is one of the city's best-known icons. Another whimsical (some might say startling) bronze stands 3 blocks north of the square on S.W. 5th Avenue (between S.W. Washington and Harvey Milk streets). Entitled "Kvinneakt," this sculpture is more easily recognized by its translation: Nude Woman.
Head to the North Park Blocks (between W. Burnside and N.W. Couch streets) to see one of Portland's most striking public sculptures, "Da Tung & Xi'an Bao Bao." The 12-foot bronze elephant is an enlarged replica of an antique dating from China's Shang Dynasty. Little Bao Bao (baby elephant) stands on the figure's back, symbolizing that children shall be safe and prosperous. "Da Tung" means "universal peace." The pachyderms were a gift from businessman Huo Baozhu, who was motivated by both a love of Chinese history and admiration for the city he visited many times.
Water Features Abound in the City
Fountains certainly qualify as works of art, and the Rose City is graced with a number of decorative examples that serve as landmarks as well as refreshing meeting places on hot summer days. Turn a corner in downtown Portland, in fact, and it's almost certain that you'll encounter H2O flowing in some fashion.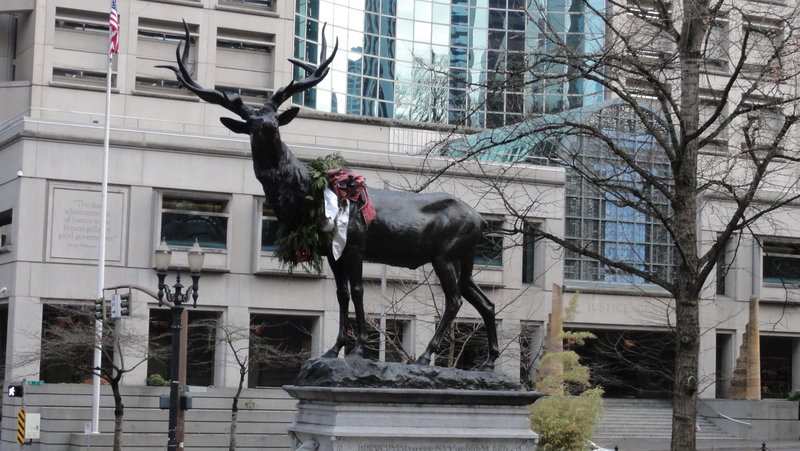 AAA/Inspector 31
Start at the symbolic center of town, Pioneer Courthouse Square. The waterfall fountain here cascades down a succession of granite blocks, providing a soothing background burble. At the top of the fountain is another piece of fanciful art: a bronze hat. Just east of the square along S.W. Morrison and S.W. Yamhill streets, a series of nine pools feature bronze statues of native Oregon animals. The menagerie includes sea lions, beavers, otters, ducks and a bear enjoying a freshly caught salmon. Sculptor Georgia Gerber's intention was for passers-by to "interact" with the animals, and the oils deposited by the touch of human hands actually are beneficial for the bronze.
On S.W. Main Street between S.W. 3rd and 4th avenues stands the Elk Fountain. The bronze elk sculpture is a reminder that these animals once grazed nearby. A block north and 3 blocks east of the Elk Fountain at the foot of S.W. Salmon Street is Salmon Street Springs, one of the city's most frequented fountains in the summer due to its cooling, computer-controlled jets of water.
Follow the walkway along the Willamette River about 10 blocks north to the Skidmore Fountain, standing between S.W. 1st Avenue and Naito Parkway. Installed in 1888 so that "horses, men and dogs" could have a cold drink, it is Portland's oldest commissioned work of public art. Two bronze caryatids (standing female figures) support the basin. The fountain is inscribed with the quotation "Good citizens are the riches of a city." This is a popular gathering spot for people hitting the Saturday Market.
From the Skidmore Fountain, head west 4 blocks to the tubular-shaped oddity known as the "Car Wash" at S.W. 5th Avenue and Ankeny Street. This fountain would likely live up to its name on blustery days, when a wind gauge automatically shuts off the pumps. Two blocks farther west at S.W. 6th Avenue and Pine Street is the Kelly Fountain. Water flows in sheets over the abstract steel shapes of this fountain, designed by prolific Portland artist Lee Kelly.
Take Ankeny Street a couple of blocks west to the North Park Blocks. Off N.W. Park Avenue (between N.W. Davis and Everett streets) is Dog Bowl, a fountain set on an 8-by-10-foot checkerboard of black and white granite tiles that resemble the squares of a linoleum kitchen floor. According to designer (and noted dog photographer) William Wegman, the fountain is a canine version of the "Benson bubbler" public drinking fountains scattered around the city. The bronze, four-bowl fountains are named for local businessman and philanthropist Simon Benson, who donated $10,000 to the city in 1912 to provide drinking fountains as a way to cut down on saloon patronage by loggers.
Exploring these downtown works of art is not only an aesthetic pleasure—it's convenient to work them into your plan for things to do in Portland. All of them are located within an area easily accessible by light-rail and streetcar.