Portland NightlifeGood Brews and Great Food
Don't know where to eat? Kick off an evening out on the town at Deschutes Brewery & Public House (210 N.W. 11th Ave., (503) 296-4906) in the Pearl District. Try one of Deschutes' award-winning brewed-on-site craft beers, and while you wait, check out the carved wood columns and panels throughout the Northwestern-themed dining room. And where else can you try a mouthwatering elk burger or a stout brownie?
EastBurn (1800 E. Burnside St., (503) 236-2876) provides entertainment as well as food and drink with a gastropub upstairs; a heated patio and casual bar downstairs; and Skee-Ball and board games rounding out the amenities. EastBurn is known for its great beer selection, creative cocktails and fun, whimsical atmosphere that includes porch swings on the patio and hanging rattan chairs inside. And after 10 p.m. there's live music. It's a great spot when you are putting together a list of things for couples to do.
Drinks and Games
Pairing cocktails with some other friendly pastime is kind of a thing in the Rose City. At Pips & Bounce (833 S.E. Belmont St., (503) 928-4664) in Buckman's Grand Central Building, two brothers decided to combine their childhood love of ping-pong with a grownup social environment serving beer, wine and cocktails. The result is a laid-back rec room on steroids minus the nagging parents to remind you it's bedtime. Plan to stop here while on your trip to the city.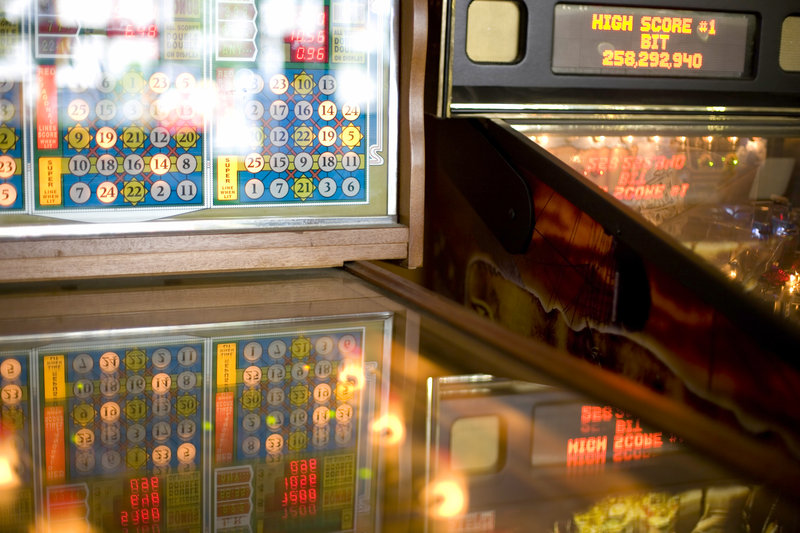 naphtalina/iStockphoto.com
On the Old Town Chinatown side of the Willamette, Ground Kontrol Classic Arcade (115 N.W. 5th Ave., (503) 796-9364) flashes back to the '80s when graphics were pixelated and classic arcade games like Asteroids, Centipede, Donkey Kong, Frogger and Ms. Pac-Man ruled the Earth, making it a must-see place on your vacation. At Ground Kontrol, every night (ages 21+ starting at 5 p.m.) is a celebration of the video arcade's golden age in a retro-cool game room with a full-service bar on the side. Tournaments and trivia nights add to the competitive fun, and if you're a pinball wizard, they have a couple dozen machines to test your skills.
Sing Your Heart Out
If you are looking for fun things to do with friends, then look no further than Voicebox Karaoke Lounge (734 S.E. 6th Ave., (503) 303-8220) in the up-and-coming Central Eastside warehouse district. Don't fear showing off your vocal chops (or lack thereof) because, like its sister location in Northwest Portland, Voicebox offers private suites, so no one has to know how you butchered "Don't Stop Believin'" except your closest friends. The décor is industrial chic, the wall murals wild and fanciful and the bar is well-stocked and includes an appropriately long list of Japanese sake. Nearby restaurants ensure this is a full service stop.
The Best Cocktails in the City
You won't find ping-pong tables or video games at Teardrop Cocktail Lounge (1015 N.W. Everett St., (503) 445-8109) in the Pearl District because they do one thing and one thing only: serve craft cocktails meticulously prepared using fine spirits, fresh ingredients and house-made syrups and bitters. The setting for these liquid works of art is a chic, sleek, slightly austere room complete with abstract paintings, high ceilings, a circular bar and curtains that serve as movie screens. It makes a relaxing place to visit when you travel to Portland.
A Bar of a Different Kind
If a lumberjack opened a swanky bar with lighting a la "2001: A Space Odyssey," Doug Fir Lounge (830 E. Burnside St., (503) 231-9663) is what it would look like. Attached to a mid-century modern motel and restaurant in Portland's Central Eastside, the intimate basement lounge schedules musical acts from around the country. The landscaped patio bar with fire pits makes it a great destination for chilling out when the weather is nice.