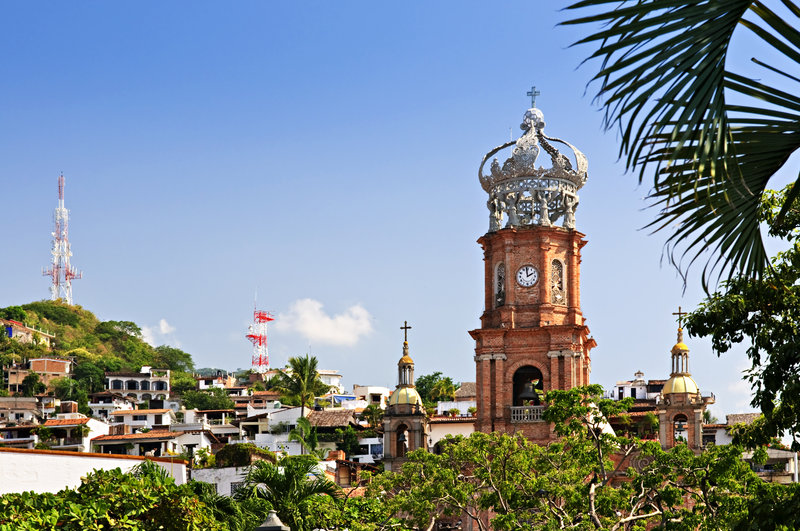 Elenathewise/iStockphoto.com
Introduction
Puerto Vallarta is a destination that has almost everything that travelers love about Mexico. The natural setting is glorious, the city situated along the shore of Banderas Bay, with a backdrop of mountains that seem to tumble right into the ocean and hillsides lush with a blanket of green vegetation. The beaches are lovely. Accommodations encompass everything from cozy beachfront bungalows to luxurious hotels. There are local restaurants and shops galore. And this resort has a downtown core as charming as any in the country.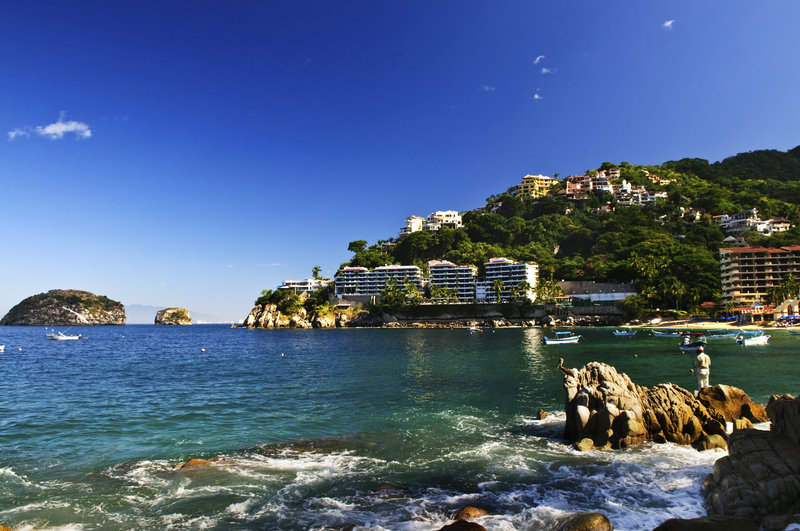 Elenathewise/iStockphoto.com
The filming of "The Night of the Iguana" at nearby Mismaloya Beach put Puerto Vallarta on the tourist map. John Huston's 1964 film became tabloid fodder due to the on-set love affair that ignited between star Richard Burton and tagalong Elizabeth Taylor—both of whom were married to others at the time. The romance made front-page headlines and boosted Puerto Vallarta's reputation as a vacation getaway synonymous with steamy tropical romance.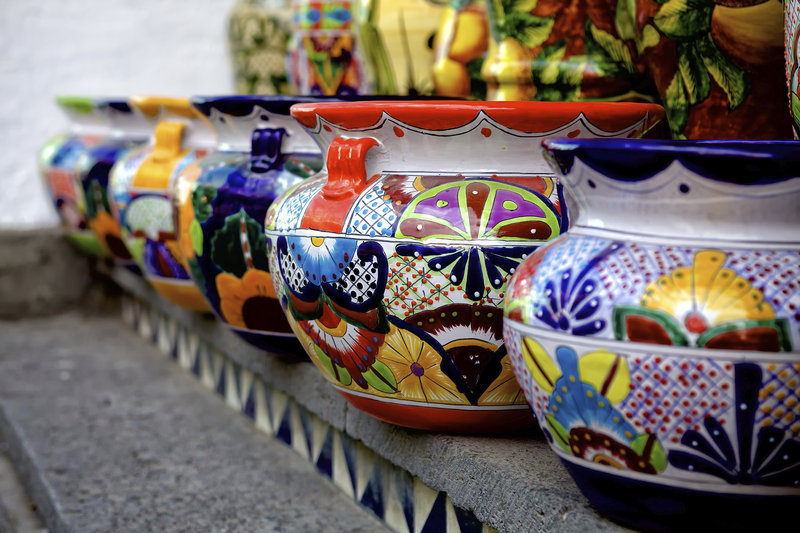 Puerto Vallarta (PV for short) has one of the largest resident art communities in Mexico; their exquisite work is on display at galleries scattered throughout town. Shops and open-air markets overflow with pottery, jewelry, silver, blown glass, ceremonial masks, folk art and other treasures. For T-shirts and souvenirs browse the stalls at the flea market, near the cruise ship docks just south of Marina Vallarta.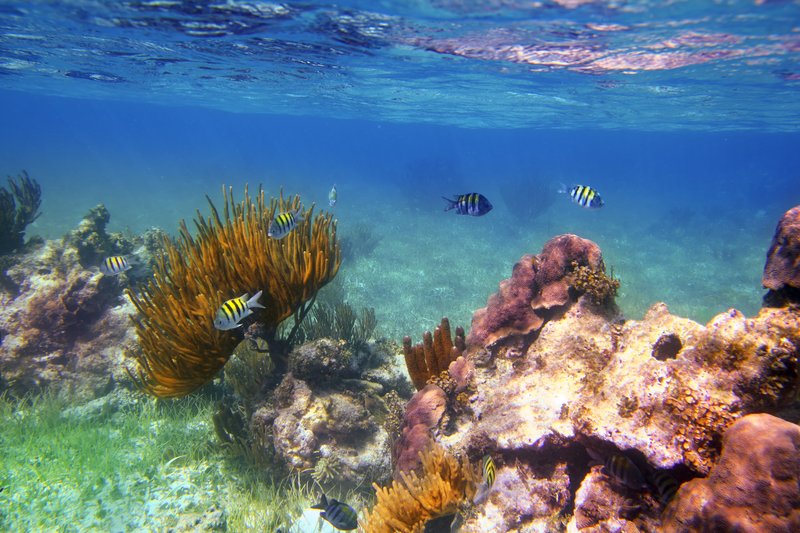 LUNAMARINA/iStockphoto.com
Non-shoppers looking for adventurous things to do can go on horseback rides into the surrounding hills or take a boat trip to idyllic coastal villages like Yelapa and Quimixto (key-MISH-toh) for snorkeling, kayaking or simply lounging on the beach with an umbrella drink. In the evening mariachi bands and street performers frequent the malecón, the paved boardwalk that runs along the downtown waterfront. And there's plenty of revved-up nightlife as well, courtesy of boisterous bars along the malecón and flashy dance clubs in the big hotels.
In Depth
On the shores of sparkling blue Bahía de Banderas (Bay of Flags), jungle-cloaked mountains plunge into the Pacific. Here lies the treasure at the foot of the Sierra Madre: Puerto Vallarta. Luxury resorts fronted by warm water and golden-sand beaches are the main draw for visitors content to simply unwind, soak up the sun and watch waves wash ashore—and we can't say we blame them. But dig a little deeper and it won't take long for the city's alluring combination of modern sophistication and vintage character to get under your skin.
Adventurous travelers began trickling here during the 1940s and '50s, but it took a Hollywood director and a scandalous romance to put Vallarta on the mass tourism radar. Long before TMZ photogs chased celebutants and washed-up pop stars around the globe, the paparazzi pursued real movie stars. Elizabeth Taylor came to Puerto Vallarta in 1963 to be near Richard Burton, who was on location filming John Huston's "The Night of the Iguana," as the two were having a highly publicized extramarital affair. Photographers followed their every move, and Vallarta instantly became world famous.
Along cobbled streets you'll find the usual line-up of gringo-friendly businesses, from casual Mexican restaurants and hip clothing boutiques to American chain stores and party-til-dawn nightclubs. But Vallarta (as the locals call it) also has an artistic bent. Surrealistic sculptures dot the bustling beachfront malecón (boardwalk), a prime destination for sunset strolls.
One-of-a-kind art galleries and shops pepper the compact downtown area. Souvenir stalls line shady Isla Río Cuale, a long, slender islet in the middle of the Río Cuale, the river that bisects the downtown area on its journey from mountains to sea.
The Marina Vallarta complex sits just north of the Hotel Zone. Here, discount chains like Costco and Walmart serve an ever-growing population of Mexican transplants and expatriates from el norte. Yet somehow such name-brand consumerism doesn't overshadow Vallarta's prevailing Old Mexico charm.
The weather is balmy year-round, but it's nicest from mid-December through mid-April. This is also the time preferred by migrating humpback whales that swim down from the frigid Arctic to the warm Pacific waters. Book your travel reservations several months in advance to guarantee cheap airline flights if you intend to visit during the winter high tourist season.
Vallarta is very casual; most visitors wear shorts and T-shirts. Slacks or nice jeans for men and summer-type dresses for women are appropriate for more upscale local restaurants and some nightclubs. A sweater comes in handy for winter evenings; an effective sunblock is a must all year.
Pack a hat and bring along an effective insect repellent, as mosquitoes can be a nuisance at any time of year. A formula containing at least 40 percent DEET will usually do the trick. If you arrive without bug dope, Autan Classic is a widely available Mexican brand.
Traveling By Air
Gustavo Díaz Ordaz International Airport is off Mex. 200 (Avenida Francisco Medina Ascencio, also called the Carretera Aeropuerto), about 7 kilometers (4 miles) north of downtown. Alaska, American, Delta, Sun Country, Southwest, United and Virgin America airlines all fly direct to Puerto Vallarta from the United States. Other airlines providing service to the city include Aeroméxico, Air Canada, Interjet, Volaris and WestJet.
The ticketing and arrival area is on the main level; customs is located in the baggage claim area. Beyond customs is the main lobby, where tourists are likely to be approached by overly friendly time share salesmen offering to arrange discounted ground transportation; unless you're willing to endure a high-pressure sales pitch, ignore them. The departure area, which requires a boarding pass to enter, is on the upper level. Phone (322) 221-1537 for airport information.
Colectivos (minivans) operated by Transportes Terrestres provide shared transportation for a per-person fare from the airport to area hotels. Tickets can be purchased at booths just outside the terminal. Specially licensed airport taxis also take passengers to hotels. In both cases, fares are based on a zone system. Zones are posted at the minivan and taxi ticket booths; ask if you don't know the zone in which your hotel is located.
Traveling By Car
Puerto Vallarta is some 1,200 miles south of the border at Nogales, Ariz., via Mex. 15/15-D and Mex. 200. Traffic on the Mex. 15 free road (libre in Spanish) slows considerably in the city of Mazatlán and beyond. Alternately, the Mex. 15-D toll road (cuota) is usually wide open. Tolls are hefty, however. While dollars are usually accepted at toll booths near the U.S. border, have pesos on hand for the entire route.
Mex. 161 connects San Blas, on the Nayarit coast, with Puerto Vallarta, bypassing Mex. 15's uphill slog through Tepic, the state capital. While it's not any faster than 15, the Mex. 161 route is quite scenic. The generally well-maintained two-lane road snakes through jungle-cloaked hills and passes farmland. If heading south from San Blas (which is accessible from Mex. 15 via Mex. 54), take the marked Puerto Vallarta turn-off just before the entrance to town and head south. Mex. 161 connects with Mex. 200 at the town of Las Varas; from there, proceed south. Plan on a 3-hour drive from San Blas to Puerto Vallarta.
Note: Mex. 200 is a precipitously winding two-lane road that passes through mountainous terrain. In addition to numerous twists and turns, road shoulders are narrow and have steep drop-offs. Only experienced motorists familiar with mountain driving should attempt to navigate this route, and never drive it at night.
Traveling By Bus
Puerto Vallarta's main bus station, Central Camionera de Puerto Vallarta, is just off Mex. 200 (the highway to Tepic), about a kilometer north of the airport. The major first-class lines operate out of this station.
Vallarta Plus offers daily first-class bus service to and from Guadalajara (about 5 hours). Elite travels the route as well, and also offers service north to Tepic, Mazatlán, Mexicali and Tijuana and south to Manzanillo, Zihuatanejo, Acapulco and Puerto Escondido. Some buses require transfers or stop along the way, while others do not; the ticketing agent will be able to clarify routes and answer questions. ETN (Enlaces Terrestres Nacionales) offers "executive-class" service to Mexico City, Guadalajara and Manzanillo.
Visiting By Cruise Ship
Puerto Vallarta is a port of call for the Carnival, Celebrity, Holland-America, Norwegian and Princess cruise lines, most arriving from Los Angeles during the peak tourist season. Ships dock at the Maritime Terminal at the Marina Vallarta complex, about 3 miles north of downtown. Across the street from the terminal are shops, snack bars and guided tour kiosks. Taxis congregate around the terminal area; a ride downtown is negotiable but generally runs about $8 (U.S.).
City Layout
North of the Río Cuale the primary thoroughfare is Mex. 200. Officially called Avenida Francisco Medina Ascencio, it changes names several times. The stretch of busy four-lane highway heading south from the airport and running behind the beachfront Hotel Zone is also known as the Carretera Aeropuerto (Airport Highway). South of the Hotel Zone, the road narrows and becomes Avenida México and then Paseo Díaz Ordáz as it runs along the waterfront.
El Centro, the central downtown area, is small and compact, hemmed in between the mountains and the bay. The Río Cuale divides it into two sections. The malecón (oceanfront boardwalk) runs along Paseo Díaz Ordáz from north of the river south to the Romantic Zone, creating a pedestrian-only esplanade along this stretch of Ordáz. Drivers heading through downtown should use either Calle Morelos (one-way southbound) or Avenida Juárez (one-way northbound) as alternate routes.
Vacationers and locals alike come to enjoy the sea breeze, people watch and ponder the beautiful—and often bizarre—collection of bronze sculptures. Master sand castle artists create additional eye candy on the narrow shore below the seawall. Across the street you can browse boutiques and souvenir shops, scout the nightclubs or sip a margarita on one of several local restaurants and watch the sun set over the bay.
The heart of Vallarta, tree-shaded Plaza de Armas (also called Plaza Principal), sits just off the malecón between avenidas Morelos and Juárez. A central gazebo and a statue of Don Ignacio L. Vallarta, for whom the city was named, adorn this traditional town square where schoolchildren chase pigeons and overheated street vendors nap on wrought-iron benches. Tourists stroll by on their way to the Church of Our Lady of Guadalupe, its crown-topped spire soaring above the city. Visiting the Plaza de Armas and Church of Our Lady of Guadalupe are two of the top things to do in Puerto Vallarta.
On Avenida Juárez, facing the north side of the plaza, is City Hall (Presidencia Municipal). The mural of Puerto Vallarta hanging above the stairwell was painted by local artist Manuel Lepe. On the west side of the plaza between Avenida Morelos and the southern end of the malecón is an outdoor amphitheater, the site of evening concerts. The white arches (Los Arcos) backing the amphitheater were rebuilt after being destroyed by Hurricane Kenna in 2002.
The area known as Gringo Gulch was named for the intellectual and artsy Americans who settled in Puerto Vallarta during the 1950s and '60s. This steep ravine overlooking the Río Cuale is lined with red tile-roofed, colonial-style villas, many of them tucked away off cobbled alleyways festooned with blooming bougainvillea.
To reach the gulch, walk up Calle Zaragoza toward the hillside above town. The street appears to dead-end, but look closely and you'll see a steep stone staircase. Climb it to continue on Zaragoza. The original Casa Kimberly, Elizabeth Taylor's former residence, was demolished in 2011; a same-named boutique hotel now stands at the site.
Río Cuale Island (Isla Río Cuale), a long, narrow island in the middle of the Río Cuale, can be accessed from the northern and southern sections of El Centro by two road bridges, a pair of wood-plank suspension foot bridges and a concrete pedestrian bridge that spans the mouth of the river. A walkway shaded by fig and rubber trees and lined with souvenir stalls runs its length, and there are several riverside places to eat. A statue of John Huston, who directed "The Night of the Iguana," stands in a shady plaza just east of the Avenida Insurgentes road bridge.
The area south of the Río Cuale, the Zona Romantica, is one of Vallarta's oldest neighborhoods. Although the whitewashed building facades don't look that different from what you see north of the river, the narrow cobbled streets have a more ragged "Old Vallarta" feel. An eclectic mix of shops, local restaurants and bars line east-west Basilio Badillo, 5 blocks south of the river.
The Zona Romantica's main beach is Playa los Muertos, a popular stretch of sand lined with casual thatch-roofed restaurants and mid-range hotels. North of El Centro, luxury properties fronting pretty Playa de Oro (Golden Beach) form the upscale Hotel Zone. High-rise resort towers boast sweeping views of palm-fringed Banderas Bay.
Running behind the Hotel Zone is busy, four-lane Avenida Francisco Medina Ascencio. While it's not exactly ideal for a romantic stroll, the boulevard does offer a convenient assemblage of shopping centers packed with a predictable lineup of mini-markets, banks, gift shops, restaurants and American fast-food joints. Plaza Caracol, near the Fiesta Americana Hotel, is anchored by a Gigante supermarket.
Marina Vallarta is a resort destination unto itself. This complex near the airport encompasses major chain hotels, upscale condos, an enormous marina and yacht club and the 18-hole Marina Vallarta Club de Golf.
Deluxe mega-resorts occupy beachfront real estate, while the marina boardwalk is lined with tourist-geared shops, galleries, cafés and restaurants. Hotel shuttles take passengers to El Centro. The marina is a good choice if you're a first-time visitor or part of a package tour, although it lacks the charm of Puerto Vallarta proper.
Nuevo Vallarta, about 19 kilometers (12 miles) north of the airport, is just over the Nayarit state line at the mouth of the Río Ameca. This planned resort area is a mix of condominiums, time share units, private bayfront homes and fancy all-inclusive accommodations.
A bit farther north is the village of Bucerías ("place of the divers"), an enclave of cobblestone streets, walled villas and tidy little hotels. Some travelers prefer this lower-cost alternative to Puerto Vallarta for its many shops, town square market and casual open-air restaurants. The 5-mile stretch of white sand is the longest along the Banderas Bay coastline. The shallow shoreline is perfect for wading, body surfing and shell collecting, and the beach draws throngs of local families on Sundays. Bucerías is most easily reached by bus; minivans also shuttle passengers from the airport to the village and back.
Rental Cars
Keep in mind that rental cars are expensive, and downtown parking is difficult. For sightseeing in and around the city, take advantage of the green-and-white or blue-and-white city buses that cover the area from Marina Vallarta south to Mismaloya Beach.
Note: AAA members enjoy discounts through Hertz for vehicles booked in the United States. Consult your local AAA club or phone Hertz, (800) 654-3080.
Buses
City buses are inexpensive and take passengers to almost all points along Banderas Bay, from the airport south through the Hotel Zone, into downtown via the Ignacio Vallarta Bridge, and to points as far south as Mismaloya Beach. The fixed, one-way fare (no transfers) is 7.5 pesos; it goes up to 22.5 pesos for more distant destinations like Nuevo Vallarta or Bucerías. Exact fare is appreciated, but drivers will make change for a $20 peso note.
Stops are designated by a white bus outlined on a dark blue sign. If traffic is light, it's often possible to flag down a bus anywhere along the street. Destinations and routes (for example, "Centro," "Mismaloya," "Las Palmas" or "Marina Vallarta") are posted on the front of the bus or painted on the windshield. As you climb aboard and pay your fare, tell the driver where you want to be let off. Most drivers don't speak English but they do understand, for example, "El Sheraton Hotel, por favor." Local routes are normally covered from 6 a.m. to 11 p.m.
Taxis
Taxis are plentiful and cover the same routes as buses, but are more expensive. Fares are based on set rates and defined zones. The average fare within town is about $5 to $6 (U.S.); trips from downtown north to the Hotel Zone or Marina Vallarta will run up to about $8, depending on the destination. A ride across town from Marina Vallarta south to Playa los Muertos is about $12 to $14.
Fares normally are posted in each taxi and are printed in the Vallarta Today newspaper. Many hotels post a list of rates to specific destinations, which can come in handy if you're unfamiliar with the city. Taxis also can be hired by the hour or by the day for out-of-town trips.
Always ask how much the fare is ("Cuanto?") and come to a decision before you get in the cab, which might save a few pesos. Resist efforts by any driver to steer you to a particular local restaurant; some restaurateurs pay commissions to drivers for bringing them customers. It also is customary not to tip drivers, unless they assist with luggage; in that case 10 pesos per suitcase or travel bag is appropriate.
Parking
Parking in the compact downtown area is scarce, and driving around the city in general presents a challenge. During the winter tourist season from December through April the narrow streets are jammed; from July through October heavy rains can make them flooded and muddy. Many roads leading in to Puerto Vallarta are just two lanes and descend from the mountains; drive with caution.
Guides/Tours
The standard city tour provides an all-purpose Puerto Vallarta orientation. A short version of the tour covers the local sights by air-conditioned minibus, including the main plaza, cathedral and the exclusive neighborhoods of Conchas Chinas and Gringo Gulch. A shopping trip is usually made to either Isla Río Cuale or the Municipal Market.
The jungle tour is a longer version that throws in trips to a tequila tasting room and Mismaloya Beach, plus lunch in a tropical setting at Chico's Paradise. Hotel pickup and drop-off is included in the fee; lunch is not. Several companies offer daily city and jungle tours lasting 4 and 6 hours, respectively. Make arrangements through your hotel or at one of the guided tour reservation booths you'll see all over town.
If you're interested in adventurous things to do, Los Veranos Canopy Tour offers daily 4-hour excursions to their zipline course near Mismaloya Beach. Transportation from the tour office on Mex. 200 (just south of downtown) is included. Reservations are required; phone (322) 223-0504.
Elevation
6 meters (20 feet)
Police
In case of emergency, dial 060 and ask to be connected to an English-speaking operator. For non-emergencies phone (322) 290-0507.
Consumer Protection
Avenida Francisco Villa #900 (second floor); phone (322) 225-0000 (English may not be spoken fluently). The office is open Mon.-Fri. 9-3 and can assist with time share, taxi, store and other consumer-related issues.
Hospitals
Ameri-Med Hospital, in Plaza Neptuno at the entrance to Marina Vallarta (Boulevard Francisco Medina Ascencio), (322) 226-2080; CMQ Downtown Hospital, Basilio Badillo #365 at Insurgentes, (322) 223-1919; Red Cross (Cruz Roja), Avenida Río Balsas (at Avenida Río de la Plata), (322) 222-1533. All of these facilities are open 24 hours.
Local phone calls
If you don't have a cellphone, use public Telmex phones marked "Ladatel" rather than calling from your hotel room, which almost always incurs a hefty per-minute charge. Ladatel phone cards are available in various denominations from most local stores. Avoid phones with pictures of credit cards or decals saying "3 minutos gratis" that advertise long distance calling to the United States and Canada; the charges will be outrageous.
Newspapers
Vallarta Today is an English-language daily newspaper geared toward tourists; it has information on everything from local restaurants to currency exchange rates.
Visitor Information
Municipal Tourist Office
Avenida Independencia Puerto Vallarta, JA . Phone:(322)224-1175Banderas Bay American Legion Post 14 meets on the third Tuesday of the month at noon at Steve's Sports Bar, Basilio Badillo #286 (across from Memo's Pancake House).
Currency Exchange
Banks are usually open Mon.-Fri. 9-5, although hours for exchanging foreign currency may be restricted and there's often a long waiting line. Currency exchange houses are open longer hours. ATM withdrawals are in pesos; receiving U.S. dollars usually requires a Mexican bank-issued ATM/credit card. Stores, restaurants, taxi drivers and street vendors will often accept dollars, but keep in mind that the minimum wage in Mexico is very low and workers in resort areas depend on tips to make a living. Always tip in pesos if possible, since U.S. coins are useless and dollars must be converted.
Staying Safe
Crimes targeting tourists are infrequent, and it's safe to walk the downtown streets. Avoid carrying large amounts of cash in public and don't wander along back streets after dark. A hotel safety deposit box is a good place to keep money, passports, airline tickets, tourist permits and so forth. Bilingual "tourist police" wearing white safari outfits and baseball caps patrol the downtown area and are generally friendly and helpful.
Whether it's your first visit or you've been to Puerto Vallarta several times before, don't forget to include these destinations and experiences on your vacation to-do list.
By AAA Travel Editor
When it comes to the requirements for a quintessential Mexican beach vacation, Puerto Vallarta's pretty much got it all: tropical beauty, luxury resorts fronted by golden-sand beaches, charming cobbled streets, local restaurants with outstanding food and outstanding views, shopping galore, evening strolls along the malecón, lively nightlife. Even amid stateside big-box stores and expats from el norte, there's Old Mexico charm to spare and countless fun things to do with friends.
Vallarta offers a huge variety of hotels for a memorable beach vacation. Keep in mind that June through September is the low season; you'll catch a break on rates but the weather is hotter and more humid, and mosquitoes and sand fleas can plague the beaches.
Shopping in Puerto Vallarta
Shoppers can browse for jewelry, especially silver; clothing ranging from the ubiquitous beach T-shirts to designer fashions; colonial-style furniture; pottery and ceramics; hand-tooled leather goods, including huaraches (sandals); shoes (keep in mind that sizes are measured in centimeters); and sombreros and other hats. Fine handicrafts include beaded tapestries from Nayarit, lacquered boxes and ceremonial masks from Michoacán, and handwoven baskets, rugs and shawls from Central America.
For a typical Mexican shopping experience, one of Puerto Vallarta's fun places to go is the open-air Municipal Market (Mercado Municipal), which spreads out under the trees below the steps leading down from the northern end of the Avenida Insurgentes Bridge. Clothes, crafts, leather goods, silver jewelry and trinkets fill the two-level maze of stalls—everything from piñatas to whips. Experienced hagglers may be able to persuade vendors to lower their prices un poquito (just a little bit). If that doesn't work, simply walk away and prices magically drop.
A similar but more atmospheric shopping experience lies just across the river on Isla Río Cuale. The island's shady paseo is chock-a-block with vendor stalls hawking all those must-have Mexico souvenirs like Corona beer wall clocks, lucha libre masks and Oakland Raiders ponchos. Some vendors offer quality items, but you'll have to seek them out.
Interested in more than a souvenir? You could spend an entire day visiting Puerto Vallarta's wide assortment of fine art galleries and distinctive shops and still not even scratch the surface. As home to one of the largest resident communities of painters, sculptors and craftspeople in all of Mexico, art is big here.
Galleries are spread throughout the entire downtown area; a handy "Old Town Art Walk" map is available at many galleries and also is printed in the Vallarta Tribune newspaper. However, with fine art pieces come eye-popping price tags and the challenge of getting your new treasures home safely. Most (if not all) gallery owners accept credit cards and can arrange shipping. Don't bother trying to haggle over price, as it's usually fixed and you will surely offend the proprietor—not to mention embarrass yourself.
North of the Río Cuale, Galería Uno , Calle Morelos #561 (at Avenida Corona), occupies a huge space exhibiting a range of Mexican contemporary art, including paintings, graphics and sculptures. It is open Mon.-Sat. 9-8. Galería Pacifico del Arte , Calle Aldama #174, specializes in contemporary works by Mexican and Latin American artists. Galería de Ollas , Av. Corona #176, carries the exquisite work of potters from the village of Mata Ortiz.
A cluster of galleries near the corner of Leona Vicario and Guadalupe Sánchez includes Corsica Galería de Arte , at Guadalupe Sánchez #756. Favored by serious collectors, it specializes in museum-quality work by big-league Mexican artists. Unless you flew to PV on a private jet, sky-high prices will relegate you to browsing only. Phone (322) 222-9620.
South of the Río Cuale, Galleria Dante , Basilio Badillo #269, should be on every gallery hound's short list. Vallarta's largest (and many claim its best) gallery, Dante features a sculpture garden filled with contemporary pieces by international artists, plus high-quality re-creations of classical statues. The painters represented are primarily Mexican. More galleries, boutiques and jewelry shops line Basilio Badillo all the way down to the beach.
Downtown shops carry an excellent selection of home décor. Prices tend to be high, but so does quality. The warehouse-like Mundo de Cristal , south of the river at Insurgentes #333 (at the corner of Basilio Badillo) is the place to go for all things glass—from plates, stemware and vases to art glass hand-blown on site.
Mundo de Azulejos (World of Tiles), Venustiano Carranza #374 (also south of the river), has a huge selection of hand-painted Talavera tiles, as well as plates and murals. On display at Alfareria Tlaquepaque , Av. México #1100 (just off the malecón), are baskets, woodcarvings, glassware and ceramics from various Mexican states.
Huichol (pronounced we-CHOL) bead and yarn art is hand-crafted by Huichol Indians, who live in the Sierra Madre Mountains not far from Puerto Vallarta. Shamanistic traditions and peyote-fueled visions inspire the Huichol to create colorful yarn "paintings." Threads of yarn are pressed into a wax-coated wood tablet to create mythological imagery. The same general process is employed when using tiny, colored beads to decorate wooden animal figures with psychedelic patterns.
A good place to learn more about the animistic Huichol and the symbolism reflected in their art is the Folklore Bazaar , Paseo Díaz Ordaz #732 (on the malecón). Deer, snake, wolf, jaguar and iguana figures fill the shelves. Larger items can cost hundreds of dollars, but smaller pieces can be had for about $20 (U.S.). Huichol artisans demonstrate their craft at a worktable in the center of the gallery. There's another location at Calle Olas Altas #433 in Old Town Vallarta.
Puerto Vallarta's shopping centers feature boutiques offering sportswear and casual yet fashionable evening wear. They are located primarily along the malecón and north into the Hotel Zone. Most stores are open until at least 8 p.m., and some may close from 2-4 for siesta. Many stores are closed on Sunday.
Among the arcades with browsing potential are Plaza Malecón, on the oceanfront at Paseo Díaz Ordaz and Calle Allende; Plaza Marina, within the Marina Vallarta complex; and Villa Vallarta, on Avenida Francisco Medina Ascencio in the Hotel Zone. Just north of the cruise ship terminal and Walmart, the sleek Galerias Vallarta mall is anchored by Mexican department store Liverpool (think Nordstrom).
Worlds removed from the hustle and bustle of downtown, the relaxed Marina Vallarta boardwalk caters to tourists staying in the Marina Vallarta resort area. Yachts glisten in the sun, couples stroll hand in hand along the water's edge and families dine alfresco at gringo-friendly eateries. Roving souvenir vendors are nonexistent.
Finding the boardwalk can be tricky, as it's hidden behind a string of condominium developments. From the marina's main thoroughfare, Paseo de la Marina, access is via calles Timón, Ancla or Vera. Restaurants outnumber retail establishments, but there are a handful of shops, clothing boutiques and galleries worth investigating. Galeria Em deals in gorgeous high-end art glass; prepare to dole out serious dinero for one of their elaborate stained-glass windows, fused-glass creations or eye-catching "floating crystal" sculptures.
A small flea market offering the usual T-shirts and souvenirs sets up at the Maritime Terminal docks where the cruise ships anchor. And finally, swarms of vendors peddle their wares at all Vallarta beaches, especially Playa de los Muertos. Their persistence can be annoying, so if you're not interested in purchasing anything, shake your head "no," say "Gracias, no" or ignore them completely. Also be aware that if you eat at one of the palapa restaurants fronting the beach boardwalk, vendors will approach constantly; if this bothers you ask for an inside table away from the front row action.
Puerto Vallarta Nightlife
Among the cheapest things to do after dark is a stroll along the malecón (Paseo Díaz Ordaz). Sunday evenings in particular bring out local families, mariachi bands, street performers and the ubiquitous vendors.
The loud, flashy nightclubs along the malecón tend to attract younger crowds. Hip-hop booms at Mandala Puerto Vallarta , Paseo Díaz Ordaz #644. This sleek, partially open-air dance club has flat-screen TVs playing the latest hip-hop videos and a giant Medusa statue towering over the bar. Next door, techno pulses in the cave-like Zoo Bar , a safari-themed club complete with a bouncer in a gorilla suit and an elevated "dance cage." There's more revelry at La Vaquita, Paseo Díaz Ordaz #610.
These and other clubs usually stay open into the wee hours, and often until dawn during spring break weeks. Dress codes aren't strict, but don't show up in your soggy swim trunks and flip-flops. There's usually no cover charge; however, drink prices are steep.
Puerto Vallarta also has American-style sports bars where you can grab a bite to eat, play a board game, watch sports on TV or just sit and chat. El Torito Sports Bar & BBQ House, Av. Ignacio L. Vallarta #290, features satellite broadcasts of sports events and a casual menu with the likes of nachos, ribs and beer-battered shrimp. Steve's Sports Bar & Grill, at Basilio Badillo #286 (across the street from Memo's Pancake House), is a casual sports pub frequented by local expats and NASCAR, NHL and NFL enthusiasts.
For romantic things for couples to do, catch a live jazz combo at Le Bistro, a stylish supper club at the eastern end of Isla Río Cuale. Mexican-style fiestas with dinner buffets, folk dancing and live music take place at big hotels like the Krystal Vallarta and the Sheraton Buganvilias. For schedule and reservation information, check with the hotels or a local travel agency.
Pirates of the Bay sets sail nightly on a 4-hour dinner cruise and pirate show. Passage on the replica pirate ship includes live entertainment, a buffet meal, open bar, dancing and a fireworks display launched from the boat. Cruises depart the Maritime Terminal daily at 7 p.m. (and on a reduced schedule during low season). The fee for adults is $100 (U.S.). A more family-friendly version of the cruise is available Mon.-Sat. mornings at 10 a.m. Make reservations through your hotel, or phone 01 (800) 099-0237 (toll-free long distance within Mexico) or (855) 383-7852 (toll-free from the United States and Canada).
Puerto Vallarta Sightseeing
Nearby beaches and islands make easy day trip destinations from Puerto Vallarta, and eco-tourism activities allow participants to explore or learn about the local environment without disturbing it. Vallarta Adventures organizes a variety of sightseeing and eco tours; phone (322) 226-8413, or (888) 526-2238 (from the United States).
Among the fun things to do with friends is an all-day catamaran tour departing Puerto Vallarta's Maritime Terminal, which cruises the coast, stops for snorkeling off Playa Majahuitas and spends between 2 and 3 hours (although often longer) at Playa Yelapa, a beach that is only accessible by boat. Jungle-cloaked hills surround the small bay, and a half-dozen palapa restaurants line the coarse-sand beach. For dessert, Yelapa's roaming "pie ladies" sell slices from lemon meringue and pecan pies that they balance on their heads.
Yelapa itself is reached by a short water taxi ride from the main beach. You won't see any cars on the steep, sandy streets of this tiny pueblo. A 10-minute walk along the Yelapa River leads to a 150-foot-high waterfall. There are rustic accommodations if you want to stay the night and catch a water taxi back to Puerto Vallarta in the morning. Reservations for the catamaran trip can be made at most in-town tour booths.
Dining in Puerto Vallarta
Vallarta offers many options for dining well, if not particularly cheaply. A plus for foreign visitors is the purified water—including ice—that is universally used by licensed food and beverage establishments. (If in doubt, ask for bottled water, juice, beer or a soft drink.) While food quality is dependable, it is the striking ocean views that distinguish many local restaurants.
Most places to eat at hotels offer a standard steak and seafood menu. Seafood, Mexican and Argentinian are some of the choices at eateries along the 3 blocks of Calle Basilio Badillo between Pino Suárez and Insurgentes.
If you want to sample authentic Mexican cooking and rub elbows with locals, try Cenaduria Doña Raquel, at Leona Vicario #131 (half a block east of the malecón). Along the back wall of a small, simple dining room, Mexican women whip up delicious flautas, enchiladas and tostadas in an open kitchen. The pozole (pork, cabbage and hominy stew) is excellent—and for the adventurous eater, also available with a "triple portion of head meat."
For some of the city's tastiest and cheapest cuisine, grab a quick lunch at a sidewalk taco stand. You'll find them all over town, with an especially high concentration on the streets south of the Río Cuale in the Zona Romantica. Food vendor carts at the southern end of the malecón sell everything from fish on a stick to fresh-cut fruit. As is the usual case with street food and hygiene, use your best judgment. Does the operation look clean? Is it busy? If so, it's usually fine.
A casual dress code is the rule, although wearing shorts to dinner may be frowned on at some of the nicer places. Some local restaurants shut down for a month during the summer. See the Lodgings & Restaurants section for AAA Rated dining establishments.
Special Events in Puerto Vallarta
Puerto Vallarta's biggest events occur during high tourist season. The Festival of the Sea (Fiesta del Mar), the International Sailfish & Marlin Tournament and Festival Gourmet International Vallarta, a food and wine event that spotlights the expertise of Mexican and international guest chefs, all take place in November. For specific dates and details so you can time your vacation accordingly, contact the Municipal Tourist Office.
The patron saint of mariachis is honored Nov. 23 during the Festival of Santa Cecilia, when a lineup of mariachi bands plays at the Church of Our Lady of Guadalupe. In February, the San Diego to Puerto Vallarta Annual Regatta heralds the arrival of some impressive craft.
The year's biggest national celebration is the Fiesta de Guadalupe, honoring the Virgin of Guadalupe, Mexico's patron saint. Daily evening processions, called peregrinaciones, make their way to the Church of Our Lady of Guadalupe from various colonias (neighborhoods) and local businesses the week prior to Dec. 12. Young and old alike participate in the celebration, many carrying candles or offerings of food and flowers to be exchanged for a blessing by the priest. Mass is held in front of the cathedral, accompanied by dancing and singing. The festivities culminate on Dec. 12 with a grand fireworks display.