Shopping in Puerto Vallarta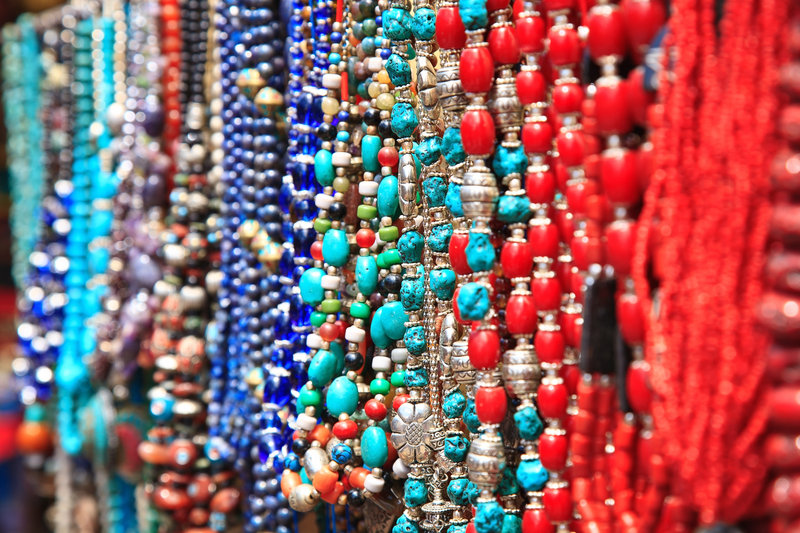 iStockphoto.com/DrRave
Shoppers can browse for jewelry, especially silver; clothing ranging from the ubiquitous beach T-shirts to designer fashions; colonial-style furniture; pottery and ceramics; hand-tooled leather goods, including huaraches (sandals); shoes (keep in mind that sizes are measured in centimeters); and sombreros and other hats. Fine handicrafts include beaded tapestries from Nayarit, lacquered boxes and ceremonial masks from Michoacán, and handwoven baskets, rugs and shawls from Central America.
For a typical Mexican shopping experience, visit the open-air Municipal Market (Mercado Municipal), which spreads out under the trees below the steps leading down from the northern end of the Avenida Insurgentes Bridge. Clothes, crafts, leather goods, silver jewelry and trinkets fill the two-level maze of stalls. Experienced hagglers may be able to persuade vendors to lower their prices un poquito (just a little bit). If that doesn't work, simply walk away and prices magically drop.
A similar but more atmospheric shopping experience lies just across the river on Isla Río Cuale. The island's shady paseo is chock-a-block with vendor stalls hawking all those must-have Mexico souvenirs like Corona beer wall clocks, lucha libre masks and Oakland Raiders ponchos. Some vendors offer quality items, but you'll have to seek them out.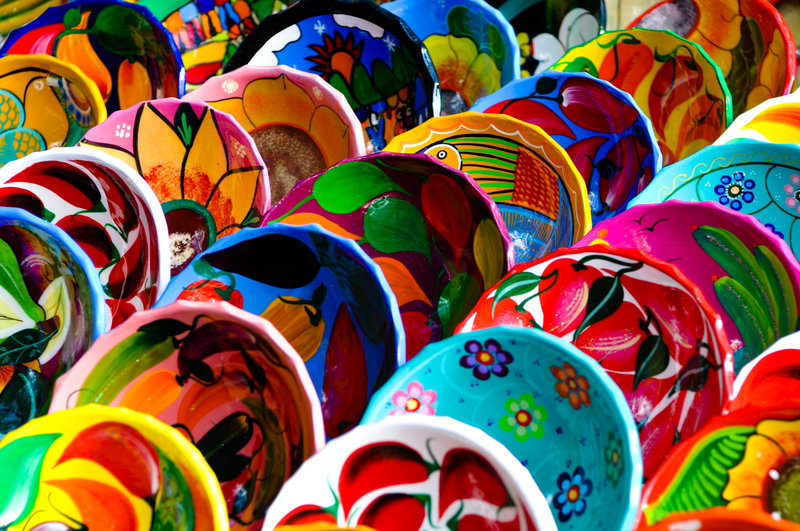 Shutterstock.com/Brandon Bourdages
Interested in more than a souvenir? You could spend an entire day visiting Puerto Vallarta's wide assortment of fine art galleries and distinctive shops and still not even scratch the surface. As home to one of the largest resident communities of painters, sculptors and craftspeople in all of Mexico, art is big here.
Galleries are spread throughout the entire downtown area; a handy "Old Town Art Walk" map is available at many galleries and also is printed in the Vallarta Tribune newspaper. However, with fine art pieces come eye-popping price tags and the challenge of getting your new treasures home safely. Most (if not all) gallery owners accept credit cards and can arrange shipping. Don't bother trying to haggle over price, as it's usually fixed and you will surely offend the proprietor—not to mention embarrass yourself.
North of the Río Cuale, Galería Uno , Calle Morelos #561 (at Avenida Corona), occupies a huge space with a range of Mexican contemporary art, including paintings, graphics and sculptures. It is open Mon.-Sat. 9-8. Galería Pacifico del Arte , Calle Aldama #174, specializes in contemporary works by Mexican and Latin American artists. Galería de Ollas , Av. Corona #176, carries the exquisite work of potters from the village of Mata Ortiz.
A cluster of galleries near the corner of Leona Vicario and Guadalupe Sánchez includes Corsica Galería de Arte , at Guadalupe Sánchez #756. Favored by serious collectors, it specializes in museum-quality work by big-league Mexican artists. Unless you flew to PV on a private jet, sky-high prices will relegate you to browsing only. Phone (322) 222-9620.
South of the Río Cuale, Galleria Dante , Basilio Badillo #269, should be on every gallery hound's short list. Vallarta's largest (and many claim its best) gallery, Dante features a sculpture garden filled with contemporary pieces by international artists, plus high-quality re-creations of classical statues. The painters represented are primarily Mexican. More galleries, boutiques and jewelry shops line Basilio Badillo all the way down to the beach.
Downtown shops carry an excellent selection of home décor. Prices tend to be high, but so does quality. The warehouse-like Mundo de Cristal , south of the river at Insurgentes #333 (at the corner of Basilio Badillo) is the place to go for all things glass—from plates, stemware and vases to art glass hand-blown on site.
Mundo de Azulejos (World of Tiles), Venustiano Carranza #374 (also south of the river), has a huge selection of hand-painted Talavera tiles, as well as plates and murals. On display at Alfareria Tlaquepaque , Av. México #1100 (just off the malecón), are baskets, woodcarvings, glassware and ceramics from various Mexican states.
Huichol (pronounced we-CHOL) bead and yarn art is hand-crafted by Huichol Indians, who live in the Sierra Madre Mountains not far from Puerto Vallarta. Shamanistic traditions and peyote-fueled visions inspire the Huichol to create colorful yarn "paintings." Threads of yarn are pressed into a wax-coated wood tablet to create mythological imagery. The same general process is employed when using tiny, colored beads to decorate wooden animal figures with psychedelic patterns.
A good place to learn more about the animistic Huichol and the symbolism reflected in their art is the Folklore Bazaar , Paseo Díaz Ordaz #732 (on the malecón). Deer, snake, wolf, jaguar and iguana figures fill the shelves. Larger items can cost hundreds of dollars, but smaller pieces can be had for about $20 (U.S.). Huichol artisans demonstrate their craft at a worktable in the center of the gallery. There's another location at Calle Olas Altas #433 in Old Town Vallarta.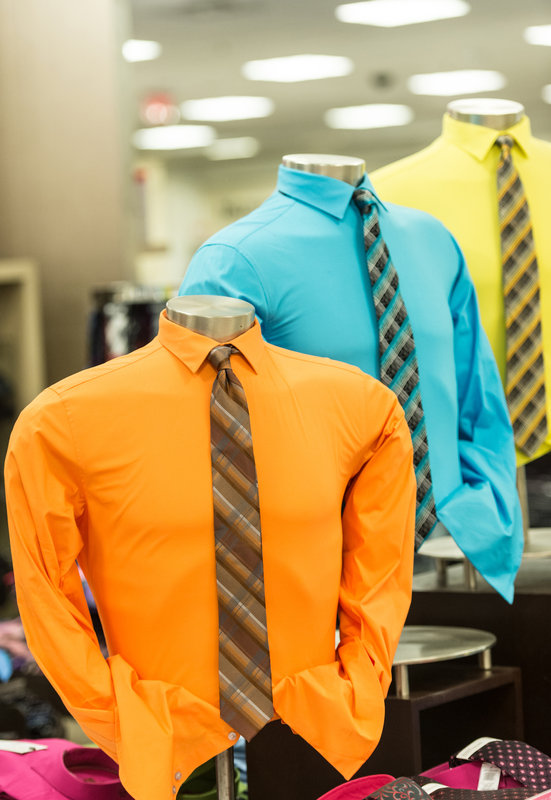 iStockphoto.com/Juanmonino
Puerto Vallarta's shopping centers feature boutiques offering sportswear and casual yet fashionable evening wear. They are located primarily along the malecón and north into the Hotel Zone. Most stores are open until at least 8 p.m., and some may close from 2-4 for siesta. Many stores are closed on Sunday.
Among the arcades with browsing potential are Plaza Malecón, on the oceanfront at Paseo Díaz Ordaz and Calle Allende; Plaza Marina, within the Marina Vallarta complex; and Villa Vallarta, on Avenida Francisco Medina Ascencio in the Hotel Zone. Just north of the cruise ship terminal and Walmart, the sleek Galerias Vallarta mall is anchored by Mexican department store Liverpool (think Nordstrom).
Worlds removed from the hustle and bustle of downtown, the relaxed Marina Vallarta boardwalk caters to tourists staying in the Marina Vallarta resort area. Yachts glisten in the sun, couples stroll hand in hand along the water's edge and families dine al fresco at gringo-friendly eateries. Roving souvenir vendors are nonexistent.
Finding the boardwalk can be tricky, as it's hidden behind a string of condominium developments. From the marina's main thoroughfare, Paseo de la Marina, access is via calles Timón, Ancla or Vera. Restaurants outnumber retail establishments, but there are a handful of shops, clothing boutiques and galleries worth investigating.
A small flea market offering the usual T-shirts and souvenirs sets up at the Maritime Terminal docks where the cruise ships anchor. And finally, swarms of vendors peddle their wares at all Vallarta beaches, especially Playa de los Muertos. Their persistence can be annoying, so if you're not interested in purchasing anything, shake your head "no," say "Gracias, no" or ignore them completely. Also be aware that if you eat at one of the palapa restaurants fronting the beach boardwalk, vendors will approach constantly; if this bothers you ask for an inside table away from the front row action.