Salt Lake City Sports & Recreation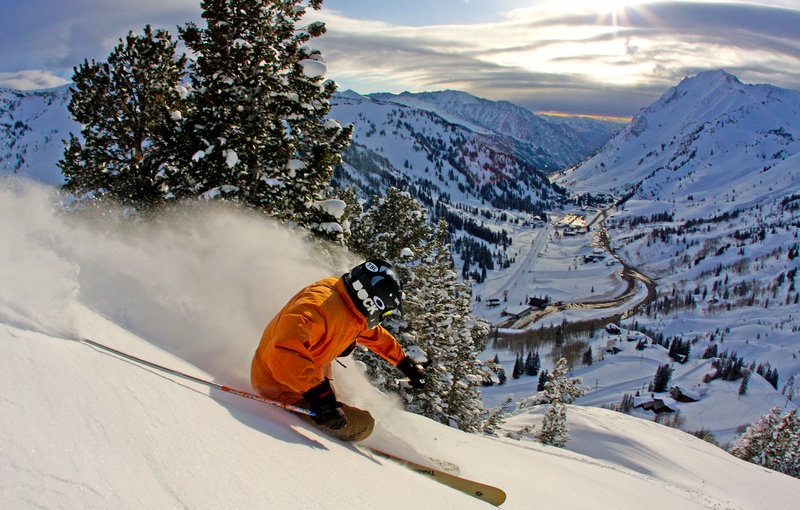 Courtesy of Visit Salt Lake
Ski resorts, all located within 45 minutes of the airport, are the most prominent of Salt Lake City's year-round recreational opportunities. Little Cottonwood and Big Cottonwood canyons are home to the Snowbird, Alta, Brighton and Solitude Mountain resorts. The Park City Mountain Resort is in Parleys Canyon, where the annual snowfall often exceeds 400 inches. The Wasatch Front is good for snowmobiling and cross-country skiing, and nearby ranges offer abundant mountain biking opportunities.
Golf courses include Bonneville, Bountiful Ridge, The Country Club, Davis Park, Eaglewood, Glendale, Glenmoor, Mountain Dell, Nibley Park, Old Mill, Rose Park, The Ridge and Wingpointe. Information and reservations for most of these courses can be made by contacting the Utah Golf Association; phone (801) 563-0400.
Bicycling in the mountains or valleys is a popular activity; trails follow the Jordan River, which runs through Salt Lake County. Other summer activities are hiking, camping and fishing. Along Canyon Road in the northeast section of the city is City Creek Canyon, a favorite recreational area for hikers, joggers, picnickers and bicyclists. Reservations must be made to drive through or to picnic beyond the main gate, and a fee for picnicking is charged; for more information phone the Watershed Management Division at (801) 483-6705. On even-numbered summer days and holidays the park is closed to cyclists and joggers; on odd-numbered days it is closed to all motorized vehicles.
Three large reservoirs provide opportunities for boating and water sports. Public tennis courts are available at many city parks, including Liberty and Murray. Antelope Island State Park offers sand beaches and swimming. About a 30-minute drive north of Salt Lake City, it is reachable via a causeway.
The 20,500-seat Vivint Smart Home Arena at 301 West and South Temple streets is the home of the NBA's Utah Jazz; phone (801) 355-3865. Baseball is played by the Salt Lake Bees, the AAA farm team of the Los Angeles Angels of Anaheim. Games are played at Smith's Ballpark, 77 West 1300 South; phone (801) 350-6900. Hockey fans attend Utah Grizzlies games at the Maverik Center, 3200 S. Decker Lake Dr. in West Valley City. Phone (801) 988-7825, or (801) 988-8000 for the box office.