What to Do in Salt Lake City Encompassing three city blocks in the heart of downtown Salt Lake City, Temple Square contains nearly 20 points of interest relating to the Mormon religion and Utah pioneer history. If you're a first-time visitor to this destination, take one of the regularly scheduled guided tours led by missionaries and volunteer docents.
The massive, six-spired, neo-Gothic Salt Lake Temple (50 N. West Temple St.), the worldwide icon of The Church of Jesus Christ of Latter-day Saints, was constructed over a 40-year period by Mormon pioneers who sacrificed time, labor and material goods to create a symbol of their faith and devotion. Only church members may enter, but you can stroll around the grounds and admire the building's sheer scale and stunning exterior workmanship.
The State Capitol (350 N. State St.) overlooks Salt Lake Valley from the vantage point of Capitol Hill. Marvel at the interior ceiling of the building's dome, which soars 165 feet above the floor and is painted with a large mural depicting seagulls flying among clouds—a reference in Mormon folklore to the miraculous 1848 arrival of California gulls that proceeded to devour insects destroying the first crops planted by pioneers.
Brigham Young and his followers first entered the Salt Lake Valley at Emigration Canyon, where the Mormon leader allegedly declared that "This is the right place." This Is The Place Heritage Park (2601 E. Sunnyside Ave.) commemorates their arrival with a bronze sculpture of Young and two fellow colleagues. Learn about 19th-century pioneer life at the park's Heritage Village .
Across from Heritage Park is Utah's Hogle Zoo (2600 E. Sunnyside Ave.), one of Salt Lake City's great things to do with kids. Children love riding the horses, bears and other beasties on the Conservation Carousel and watching as nature's largest land mammals have their toenails trimmed during Elephant Encounter. In summer the Wildlife Theatre Bird Show features performing eagles, hawks, owls and parrots.
Great Salt Lake is one of the saltiest bodies of water on Earth (only the Dead Sea has a higher saline content). Take a day trip to Antelope Island State Park, where you can test the water's incredible buoyancy—even the most skeptical of visitors will easily float—go for a hike or tour the state's oldest ranch.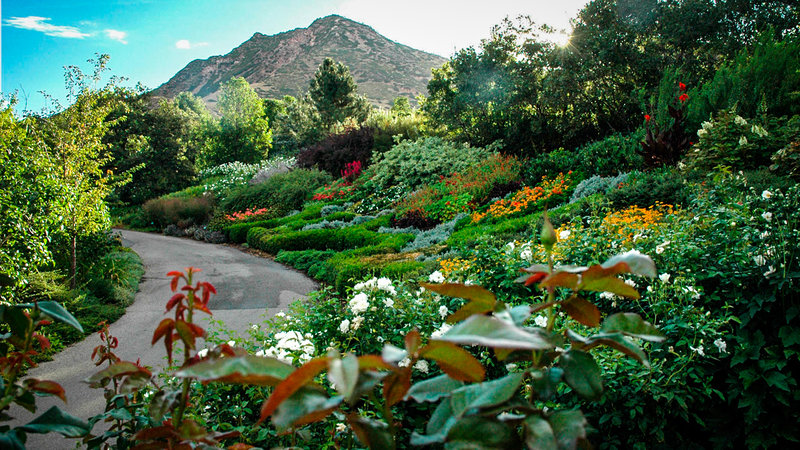 Courtesy of Red Butte Garden and Arboretum
Utah is famed for rugged mountains and stark landscapes, but there also are greener pleasures like Red Butte Garden (300 Wakara Way). Pack a picnic lunch and enjoy nature at one of the "wayside" resting areas; the spring show of color, courtesy of daffodils, lilacs and blooming crab apple trees, is lovely.
Meet Chilean flamingos, trumpeter swans, turquoise tanagers and Storm the red-tailed hawk at the Tracy Aviary (589 East 1300 South), where you can learn lots of cool stuff about our feathered friends via informal, up-close bird encounters.
Wander through gallery after gallery at the Utah Museum of Fine Arts (410 Campus Center Dr.), one of the state's top museums and home to a diverse collection of works ranging from ancient to modern and representing cultures from around the globe. Paintings by Gian Paolo Panini, Gilbert Stuart, Thomas Gainsborough and John Singer Sargent, among many others, are on display.
Hearing the glorious collective voice of the Mormon Tabernacle Choir is an inspirational experience. Attend one of the choir's free weekly performances at the Salt Lake Tabernacle on Temple Square (50 W. North Temple St.), where the superb acoustics heighten the glory.
A twinkling wonderland awaits during the Christmas Lighting of Temple Square, when hundreds of thousands of white lights cover trees and buildings the day after Thanksgiving through December.