Best Attractions in San DiegoIn a city with dozens of attractions, you may have trouble deciding where to spend your time. Here are the top things to do in San Diego, as chosen by AAA editors. GEMs are "Great Experiences for Members."
Experience Balboa Park
At first glance you might think that the Spanish Colonial-style buildings in Balboa Park , a AAA GEM attraction, are remnants from the city's earliest days as a Franciscan mission and military fort, but the park's origins are far more recent. Originally called City Park, the 1,200-acre landscaped area was renamed in 1910 after a contest. Since it offered views of the Pacific, and since Vasco Núñez de Balboa was the first European to see Earth's largest ocean, the choice seemed natural.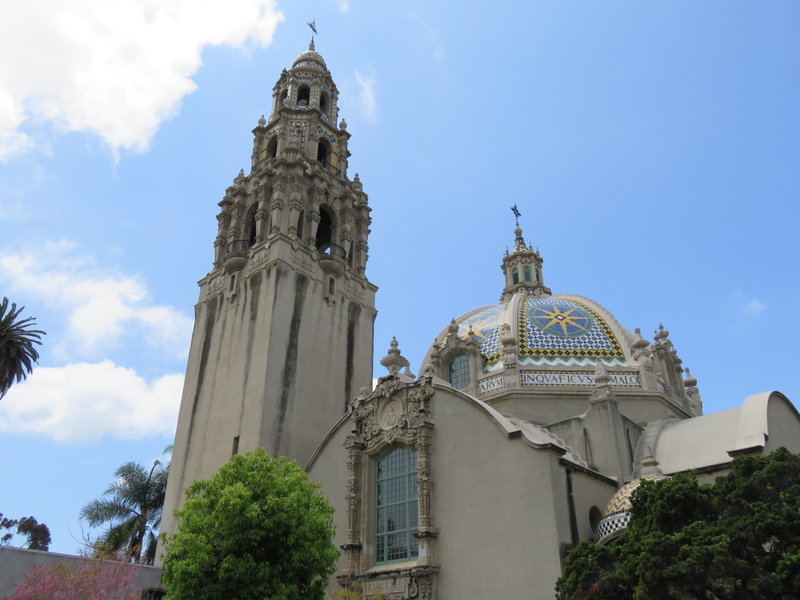 AAA/Frank Swanson
Many of the buildings were constructed for the 1915-16 Panama-California Exposition including the California Building, which you can't miss thanks to its 200-foot-high bell tower and multihued tile dome. This churchlike building has housed anthropology exhibits since the exposition's 1915 opening, but today the museum inside is called the San Diego Museum of Us and focuses on peoples of the western Americas.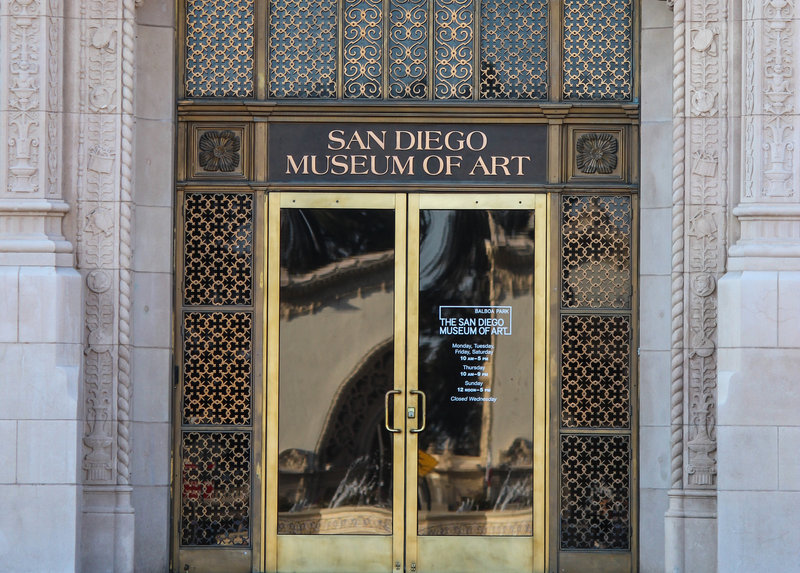 AAA/Julie Ouellette
Several museums line El Prado, Balboa Park's central pedestrian thoroughfare, and the connecting Plaza de Panama. Among these is The San Diego Museum of Art , which contains the works of European old masters, 19th- and 20th-century American art and a comprehensive Asian collection behind its richly detailed façade—a facade complete with caravels, cherubs and busts of famous artists sculpted in relief.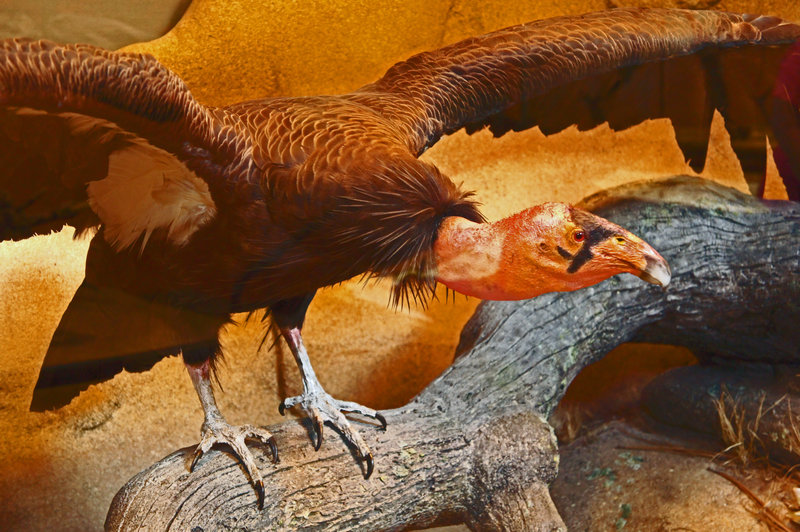 AAA/Photo submitted by Maria White
Continuing to the eastern end of El Prado will bring you to two noteworthy science museums. The San Diego Natural History Museum is housed in a stately white building constructed in 1933 and expanded dramatically in 2001. In addition to the fossils and living specimens that you'd expect, the museum also has a 300-seat, giant-screen theater and hosts all sorts of changing exhibitions covering topics ranging from the human genome to the Dead Sea Scrolls to chocolate.
Facing the natural history museum on the opposite side of a plaza with a circular fountain is the Fleet Science Center , where the theme shifts to science, technology and most importantly, child-friendly "edutainment." The center's interactive, hands-on exhibits—along with motion simulator rides and the world's first IMAX Dome Theater—are designed to engage visitors, particularly younger ones.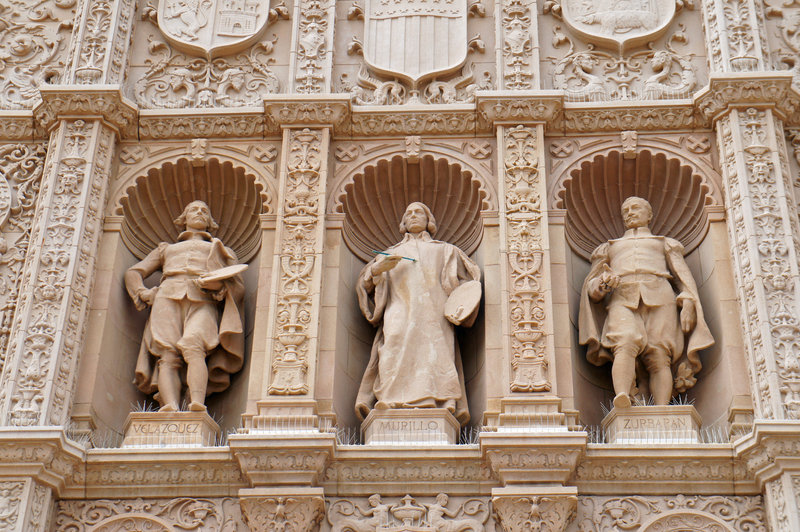 AAA/Photo submitted by Maria White
The list of fun things to do in Balboa Park is a long one and includes the Botanical Building , Japanese Friendship Garden , Marston House , Museum of Photographic Arts , San Diego Air & Space Museum , Institute of Contemporary Art San Diego-Central , San Diego Automotive Museum , San Diego History Center & Library , San Diego Model Railroad Museum , Spanish Village Art Center , Spreckels Organ Pavilion and the Timken Museum of Art .
Walk on the Wild Side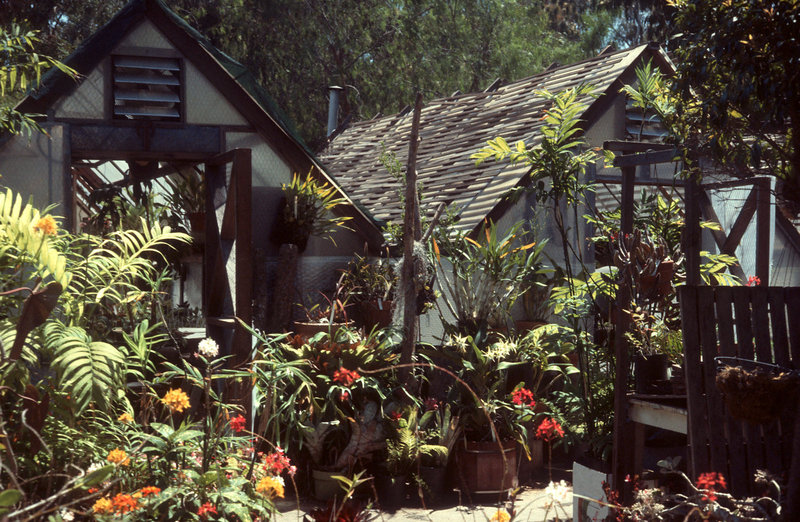 The Zoological Society of San Diego/not available
Obviously there's no way you could see everything in Balboa Park in just one visit, but you'll see more and save your feet if you take advantage of the free tram that stops at various points within the park. Whatever you do, make sure you set aside some time, preferably a full day, for the park's premiere destination, the San Diego Zoo , a AAA GEM attraction. World-renowned for its huge collection of animals—more than 4,000—along with its conservation programs, the San Diego Zoo shows off its impressive menagerie in a setting lush with tropical and subtropical vegetation. Cageless enclosures simulate natural habitats and make it easier to view the various creatures on display. If you're pressed for time, make sure you at least stop by Panda Trek, where you might see a rare panda cub. You should also see Gorilla Tropics, where the apes' rainforest has been recreated with waterfalls and tropical trees and is continued within the adjacent Scripps Aviary, which is filled with hundreds of colorful African birds.
Take a Trip Along the Waterfront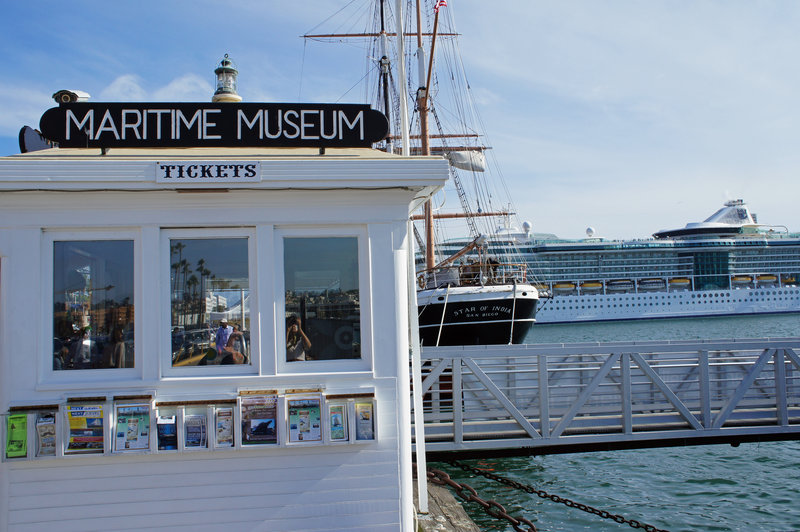 AAA/Photo submitted by Maria White
Let's say you've managed to hit Balboa Park's highpoints and are ready for more fun places to go. Downtown San Diego, just a few minutes away, should be your next stop. On the Embarcadero—the city's waterfront along Harbor Drive roughly between Grape and Market streets—you'll come across the Maritime Museum of San Diego , a AAA GEM attraction. Don't look for a museum building; most of the museum's exhibits are aboard the Berkeley, a 289-foot steam ferry launched in 1898 that transported survivors of the 1906 San Francisco earthquake. The 1863 Star of India—an iron hulled, three-masted sailing ship—is another nautical jewel in the museum's seafaring collection. Among the other historic ships and ship reconstructions you'll find here: a luxurious 1904 steam yacht, a 1902 sloop built in San Diego, the Californian, a replica of a 19th-century revenue cutter and the H.M.S. Surprise, a replica of Royal Navy frigate used in the movie "Master and Commander."
Honor a Military Legacy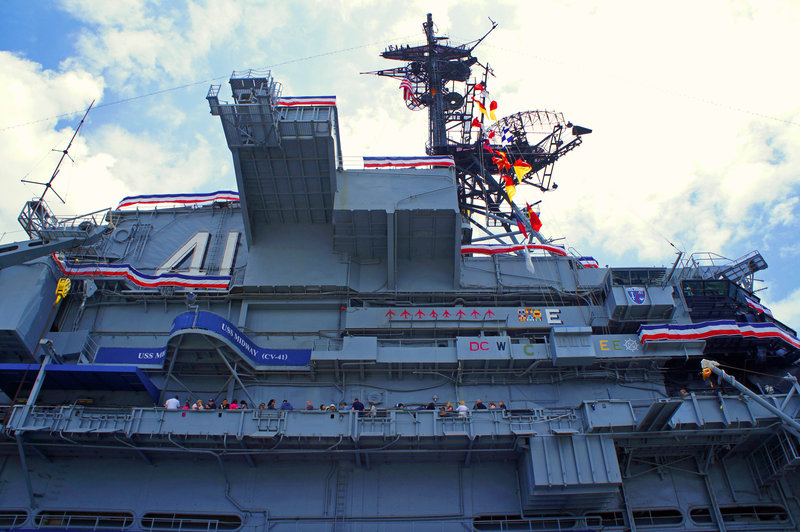 AAA/Photo submitted by Maria White
A separate attraction docked nearby on the Embarcadero is the USS Midway, a 1945 aircraft carrier decommissioned in 1992 that now serves as home to The USS Midway Museum . MP3 audio tours of the huge ship—the largest in the world when it was built—cover the flight and hangar decks and describe the various aircraft on display including fighter jets (an F-14 Tomcat, an F/A-18 Hornet are two examples) and a Huey Gunship.
To travel around the Embarcadero as well as other San Diego locales faster and more easily, climb aboard an open air trolley with Old Town Trolley Tours . The company picks up guests at various locations for 2-hour tours that provide a wonderful introduction on what to do in the city's most beautiful districts including Balboa Park, Coronado, the Gaslamp Quarter, Old Town and Seaport Village.
North of San Diego Bay and adjacent to the international airport is a Marine Corps Recruit Depot featuring the Marine Corps Recruit Depot Command Museum . Military history buffs will enjoy all the displays of equipment, weapons and personal memorabilia not to mention the insight that the audiovisual kiosks provide into Marine Corps life. One particularly interesting exhibit describes the role Navajo Code Talkers played in keeping military communications secure during World War II.
Ocean Views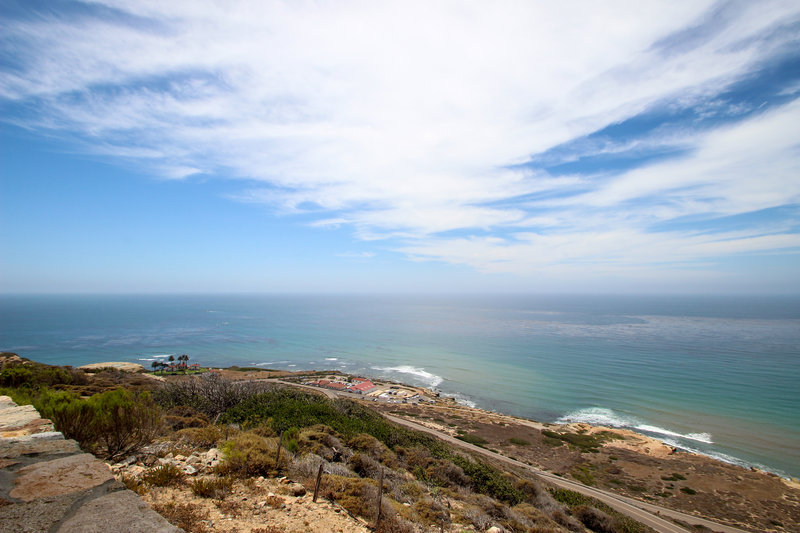 AAA/Julie Ouellette
South and west of the depot, Point Loma shields the entrance to San Diego Bay from the Pacific Ocean. The point's high, rocky cliffs provide an extremely photogenic setting for Cabrillo National Monument , a AAA GEM attraction. A monument to Juan Rodríguez Cabrillo, the first European to set foot on what would become the west coast of the United States, stands on an overlook commanding fantastic ocean views, and you can watch Pacific gray whales migrating offshore in winter. The 1855 Old Point Loma Lighthouse stands 422 feet above sea level; its squat, whitewashed walls and stubby central tower are a frequent subject of visitors' snapshots.
The monument also offers a panoramic view of San Diego, San Diego Bay and Coronado, the peninsula that forms the western side of the bay opposite downtown. The Coronado Museum of History and Art occupies a 1910 bank of commerce building. Galleries within describe local history, with special attention paid to the massive Hotel del Coronado, Curio Collection by Hilton , Coronado's landmark Victorian vacation resort that presides over a lovely stretch of sandy beach just a few blocks away.
Learn California History
While the "Del," as it is affectionately called, has been a San Diego landmark for more than a century, the Mission Basilica San Diego de Alcalá , a AAA GEM attraction in Mission Valley, has been one for even longer. Originally founded by Father Junípero Serra farther west at Presidio Hill as the first of his chain of missions along the California coast, the current church building—distinguished by its red-tile roof, bright whitewashed exterior and picturesque three-tiered bell wall—was constructed at this site in 1813 and restored in 1931.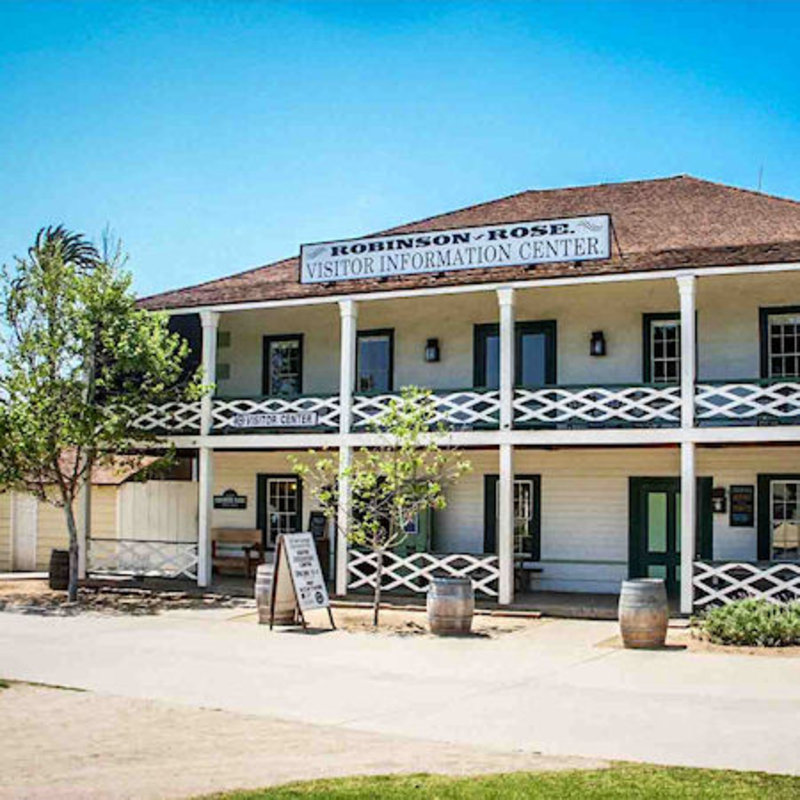 AAA
The Spanish Revival-style building currently standing atop Presidio Hill was built by the San Diego Historical Society in 1929 as a museum dedicated to Father Serra's role in the state's history. Open only to school groups, the museum overlooks Old Town San Diego State Historic Park , a AAA GEM attraction re-creating a 19th-century California settlement during the Mexican and early American periods. You can peek into a handful of historic adobe homes to see period tables decked out as if guests are expected for dinner, while other reconstructed buildings show off wagons and stage coaches. Tucked in among the arcaded porches and plazas landscaped with drought-hardy foliage are Mexican-themed restaurants and shops selling a spectrum of souvenirs.
Encounter Undersea Life
West of Mission Valley in Mission Bay is SeaWorld San Diego , a AAA GEM attraction that combines theme park rides with educational marine-life shows and exhibits. Of course, Shamu the orca is the star of his own show, but other crowd-pleasing performers include sea lions, otters, dolphins and even trained cats and dogs. Sharks, penguins and manatees each have their special habitats designed to keep them comfortable while presenting them to great effect. Adding some variety to SeaWorld San Diego's animal-centered attractions are such water-oriented thrill rides as Journey to Atlantis and Shipwreck Rapids, where passengers are likely to get a little wet.
If SeaWorld San Diego fails to quench your thirst for knowledge about ocean life, then you need only travel 11 miles north to La Jolla and the Birch Aquarium at Scripps Institution of Oceanography , a AAA GEM attraction, to learn more. As the name implies, Birch Aquarium concentrates more on scientific exploration and less on thrill rides, but the variety of display tanks containing all sorts of strange and beautiful sea critters makes for a fascinating visit nonetheless. The outdoor Tide-Pool Plaza Discovery Center lets you touch a sampling of tide pool denizens including hermit crabs, barnacles and sea anemones. The views of the Pacific from the plaza are outstanding; the aquarium sits atop a seaside bluff.
Modern Art Masterpieces
Occupying another ocean view location is the Museum of Contemporary Art San Diego (MCASD) La Jolla , where you'll find changing exhibitions of art executed in a variety of media and ranging from thought provoking to downright befuddling but never dull. The museum's permanent collection comprises more than 3,000 works produced since 1950 specializing in Pop art, minimalism, conceptual art and art from California and the San Diego metro area.
Go on Safari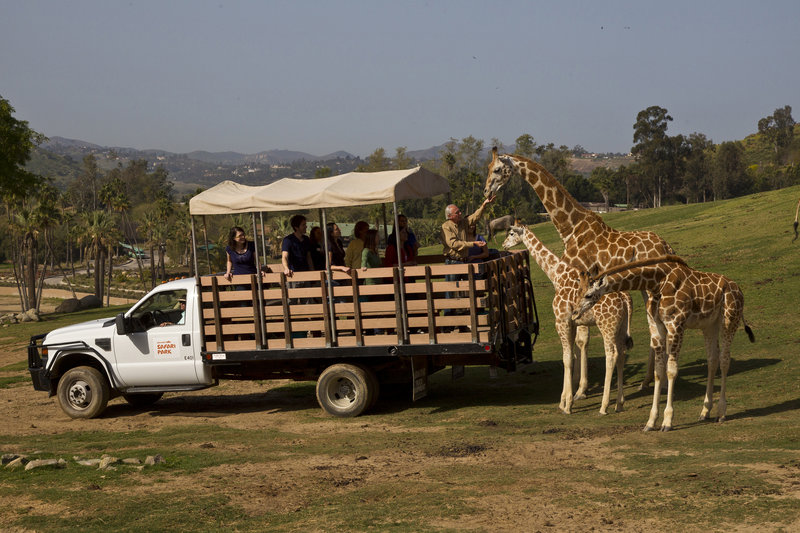 San Diego Zoo Safari Park/Ken Bohn
While Balboa Park's San Diego Zoo was created with human visitors in mind, San Diego Zoo Safari Park , a AAA GEM attraction 35 miles north of Balboa Park in Escondido, was designed to provide as much room as possible to its animal residents. The park's enormous field exhibits approximate the natural habitats of a host of exotic wildlife, which is great for the park's conservation efforts but makes getting around a real challenge. The park solves this problem with the Africa Tram on which you can enjoy a guided hour-long tour into the heart of the African and Asian field exhibits. During your trip you'll encounter herds of antelopes, Cape buffaloes, elephants, giraffes, rhinos and zebras—among other herd animals—in addition to lions and tigers. The park's walking trail is another way of getting a close look at the wildlife.
Hit the Bricks
Twenty miles west in Carlsbad, you can get an even closer look at a diverse collection of animals at LEGOLAND California Resort , a AAA GEM attraction, only these are built of the popular snap-together plastic blocks for children. Along with all the famous landmarks and colorful critters painstakingly rendered in LEGOs, the pre-teen-oriented theme park has play areas for small kids and thrill rides for older children. One of the newest rides is Knights' Tournament, a bone-jangling journey at the end of a giant robotic arm that spins, flexes and twists like the arm of sword-wielding knight.
See all the AAA recommended attractions for this destination.