San Diego EventsIn addition to its many cultural and historic landmarks, this destination hosts a number of outstanding festivals and other fun things to do that may coincide with your vacation.
Spring
San Diego celebrates St. Patrick's Day Parade and Festival in mid-March and then hosts the San Diego Crew Classic at Mission Bay in late March or early April.
Balboa Park with its lush landscaping and ornate Spanish Colonial-style buildings serves as a beautiful, not to mention appropriate, setting for EarthFair in mid-April. The more than 200 exhibitors promoting one aspect of environmentalism or another include wildlife preservation groups, organic farmers and advocates of alternative energy vehicles. Children's activities, music and earth-friendly food also are on EarthFair's program.
Mission Federal ArtWalk in Little Italy draws together some 350 visual and performing artists in late April. Chat with the artists and search for artwork to begin or to add to your collection. Enjoy dance, music and spoken word performances and create hands-on art in KidsWalk or in The SPACE. Grab a bite from a street vendor or at a neighborhood café.
In early May, Old Town San Diego State Historic Park hosts Fiesta Cinco de Mayo , a celebration of Mexican history and culture among Old Town's restored adobes. The event, one of the most popular things to do in San Diego, showcases Mexican cuisine along with mariachis and activities for children. Live music and entertainment on seven stages round out the fiesta's schedule.
Summer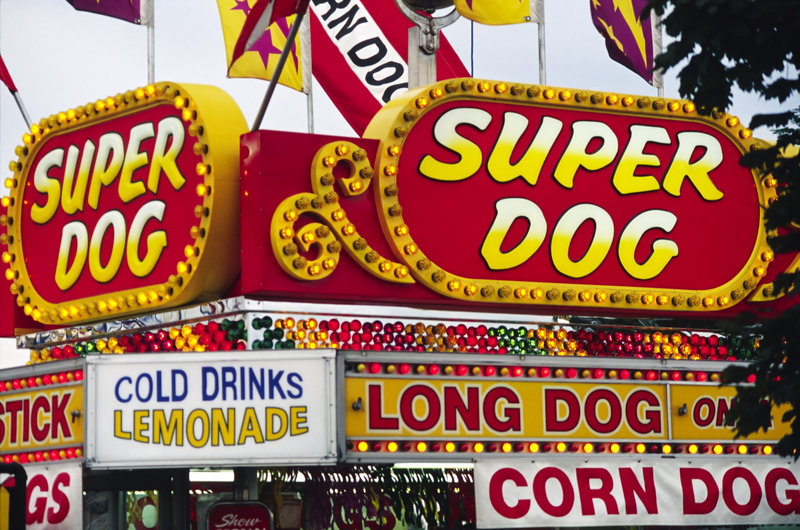 iStockphoto.com/stockpot
Take a trip out to the Del Mar Fairgrounds in June or early July, and you'll find the traditional county fair is alive and well. The San Diego County Fair is one of the largest in the United States and even if a delicate constitution keeps you from climbing aboard the Sky Flyer or the Tilt-a-Whirl, you can still sample an assortment of carnival food, win a stuffed animal by demonstrating your ring-toss prowess or sway to the music at one of the performance venues. And of course, what county fair would be complete without livestock exhibits?
During July's Comic-Con International: San Diego , more than 130,000 proud sci-fi geeks, anime fans and zombie film connoisseurs—most decked out in atypical daywear like gold bikinis and pleather cowls or slathered head to toe in body paint—travel from around the world to the San Diego Convention Center. For 4 days, the off-the-wall spectacle pretty much takes over the Gaslamp, with satellite activities (some of which are free and sponsored by media companies like NBC and Warner Bros.) also taking place in local hotels, restaurants and public parks.
The Pride Music Festival began in 1974, when the Center for Social Services (now the San Diego LGBT Community Center) held a small, informal gay pride parade. Today, the San Diego Pride Parade, which begins at the Hillcrest Pride Flag (at University Avenue and Normal Street) and ends at Laurel Street, attracts more than 100,000 spectators. Several other activities, including a nighttime Hillcrest neighborhood block party, specials at local restaurants, a 5K run and a 2-day music festival in Balboa Park, have been added to the 3-day event held in July.
Fall
More than 200 artists gather in Ingram Plaza at the Arts District at Liberty Station in mid-August to showcase their work at ArtWalk @ Liberty Station . Talk with the artist as you browse fine arts for an original work of your own. Listen to live music, nosh on street food and quench your thirst at the beer and wine pavilion. Families will enjoy interactive art in KidsWalk.
In mid-September the roar of finely tuned engines heralds the start of San Diego Bayfair in Mission Bay. Called the "World Series of Powerboat Racing," the 3-day regatta showcases the world's fastest hydroplanes, drag boats and tunnel hulls, among other classes of powerboats, and draws more than 75,000 racing fans each year.
If you can't get enough of screaming engines and blurring speed, you'll only need to wait a few weeks: the MCAS Miramar Air Show takes to the skies for 3 days in late September or early October. Civilian pilots perform precision takeoffs and landings along with heart-stopping aerial stunts, but it's the U.S. Navy's Blue Angels that steal the show as they guide their signature blue-and-gold painted F/A-18 Hornets through a series of breathtaking choreographed formations. Groundside you'll get an up-close look at all sorts of aircraft ranging from the massive Lockheed Martin C-130J Super Hercules to the Phantom Racer.
San Diego's North County's beautiful vistas and lush landscaping are the inspirational backdrop for ArtWalk Carlsbad held in late September. More than 200 artists display and enjoy conversing about their work in a variety of fine art mediums. Experience interactive art, and enjoy the beer and wine garden, food trucks and live music. Spectators can watch 50 artists create chalk street paintings.
The Cabrillo Festival , held in late September or early October, commemorates Spanish explorer Juan Rodríguez Cabrillo's landing at the site of present-day San Diego in 1542. Festivities include a flag-raising ceremony; Mexican, Native American, Spanish and Portuguese dances; and a re-enactment of the historic landing at Ballast Point.
Late November finds music lovers grooving to the sounds of nearly two dozen jazz, Dixieland and swing bands during the San Diego Jazz Fest & Swing Extravaganza . Held at the convention center of the Town & Country Hotel, the festival's venues include both large concert rooms and more intimate spaces.
Winter
San Diego's snow-free climate might make it difficult to get into the holiday spirit, especially for transplants used to winter wonderlands, which is probably why Balboa Park December Nights is one of the more popular things to do in town. Held the first weekend in December, this family-oriented event draws around 325,000 people to Balboa Park with festive decorations, ethnic food from around the world, hands-on crafts lessons, bands and choral groups as well as free admission to many of the park's museums.
A few days later is Old Town Holiday in the Park & Las Posadas , a traditional reenactment of Mary and Joseph's search for shelter for the Christ child. The procession—with wise men, shepherds and even a donkey—begins in nearby Heritage Park.
SeaWorld San Diego also gets into the holiday spirit. From mid-November to early January, enjoy the festive lights and special shows at SeaWorld's Christmas Celebration .
The San Diego County Credit Union Holiday Bowl at Petco Park is played in December and includes the Port of San Diego Holiday Bowl Parade .
See all the AAA recommended events for this destination.