San Diego Nightlife
Downtown/Gaslamp The heart of downtown San Diego is the Gaslamp Quarter, a pedestrian-friendly historic area that also happens to be the city's busiest nightlife destination. The greatest concentration of Gaslamp bars are on 4th and 5th avenues, south of C Street, but plenty of places peddling in after-hours fun can be found on the surrounding streets and throughout downtown.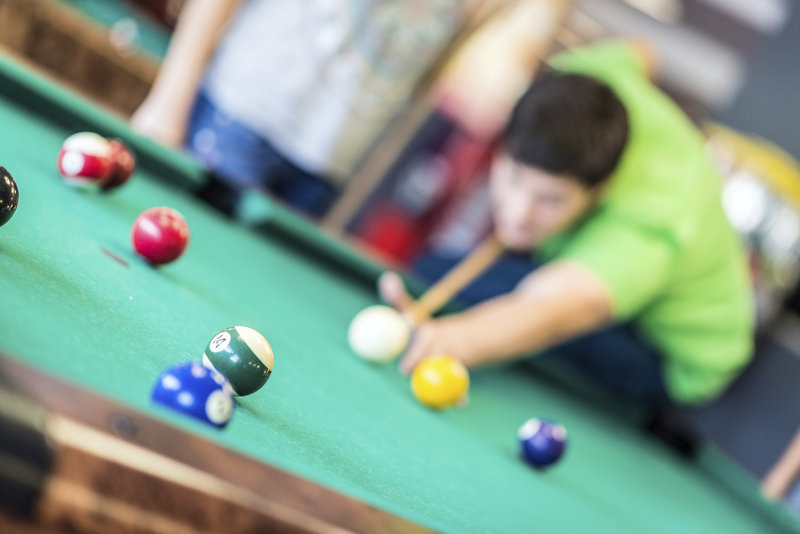 ilbusca/iStockphoto.com
Three levels of entertainment have contributed to the success of The Tipsy Crow , located in the 1874 Spencer-Ogden Building at 770 5th Ave. Try a Salty Dog, the bar's signature cocktail, in The Main, or head downstairs to The Underground, where local bands and comedians perform. Upstairs, you can enjoy a game of billiards in The Lounge, an intimate retreat with wood-paneled walls, two fireplaces, tufted leather furniture and a green marble bar. Phone (619) 338-9300.
A block north at 901 5th Ave., Vin De Syrah is a whimsical subterranean space incorporating elements of both a turn-of-the-20th-century Parisian brasserie and a NYC Meatpacking District basement lounge. The urbane setting (plush booths, chandeliers and ivy-covered walls) kicks social hour up a notch, as does the sophisticated menu, which features fine wines, high-end bourbons and house-made sangria. Phone (619) 234-4166.
If you're looking for live music, House of Blues (1055 5th Ave.) packs 'em in with a lineup of quality bands playing everything from punk to funk; phone (619) 299-2583. Stomp your feet in time to the beat at Tin Roof (401 G St.), a Southern-style bar/eatery with Nashville roots and no cover charge; phone (619) 557-8437.
Tapas, sangria and salsa rhythms fill the bill at Café Sevilla (353 5th Ave.), a hip Spanish restaurant and nightclub that offers live entertainment most days. The most popular event is the Saturday night dinner show with live Flamenco music and dancing; phone (619) 233-5979.
LED strips are embedded in the walls of the posh main room at OMNIA (454 6th Ave.), the San Diego counterpart to a similarly lavish establishment in Las Vegas (at Caesars Palace). If you need a little respite from the insanity going on inside the over-the-top dance club, get some air on the slightly less boisterous rooftop terrace, which offers a garden-like setting and views of the Gaslamp district. Phone (619) 544-9500.
Just a few blocks south at 207 5th Ave. is the Hard Rock Hotel San Diego , home to 207 , a modish lounge with a small dance floor that gets pretty cramped on weekends. At FLOAT , the Hard Rock's outdoor rooftop space, you'll find poolside cabanas, fire pits and DJs spinning amid a sea of beautiful people. Phone (619) 702-3000.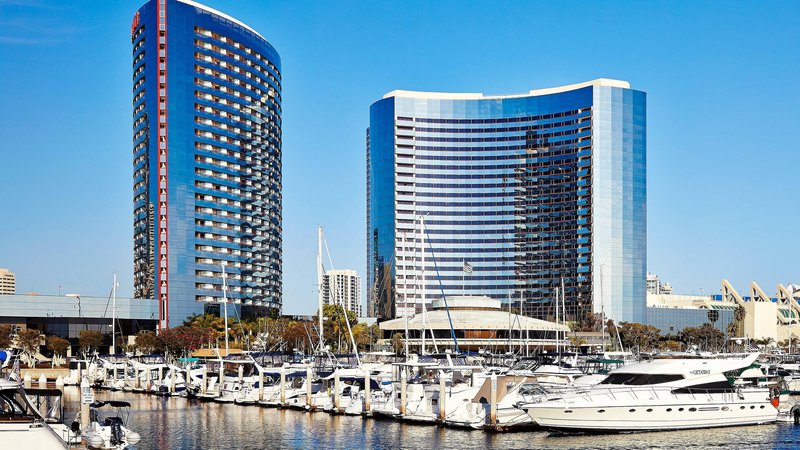 Courtesy of Marriott Marquis San Diego Marina
Another popular open-air venue is nearby ALTITUDE Sky Lounge , on the 23rd floor of the San Diego Marriott Gaslamp Quarter on K Street. The rooftop bar, prized for its breathtaking panorama of downtown San Diego, doesn't charge a cover, taking some of the sting out of the high-priced cocktails. The bird's-eye view directly into Petco Park brings in boisterous crowds during Padres home games, when the atmosphere is decidedly more casual; phone (619) 696-0234.
If you're lookin' where to eat while you watch the big game on TV, head to baseball season hot spot Bub's @ the Ballpark , about a block north of Petco Park at 715 J St. The raucous joint serves up tater tots, wings and ice-cold Bud Lights on the bottom floor of a rehabbed warehouse. Phone (619) 546-0815.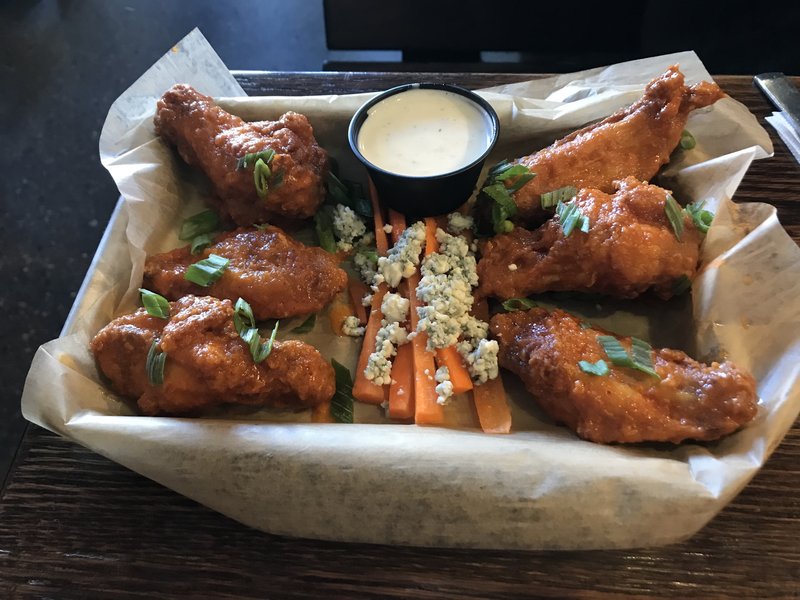 AAA/Inspector 563
Sports fans also can kick back and quaff a brew at Gaslamp Tavern (868 5th Ave.), which has a dozen big screens showing NFL, NBA, MLB and NHL action; phone (619) 239-3339. Located above Gaslamp Tavern on the third floor of the building is Quad AleHouse , a manly tasting room with a rotating selection of craft beers on tap.
Little ItalyIn Little Italy, nightlife mainly revolves around restaurant bars. While there are plenty of places to eat that serve Italian fare, the district also shelters several hip gastropubs.
Beer connoisseurs will want to make a pit stop at local brewer Ballast Point 's Little Italy location on India Street. Offering indoor and outdoor seating, the tasting room also serves shareable small plates and apps, like Bavarian-style pretzels and beer-braised mussels. Phone (619) 255-7213. At Princess Pub & Grille , also India Street, you can knock back a cold one, play darts and fill up on decent pub grub amid British tavern decor; phone (619) 702-3021.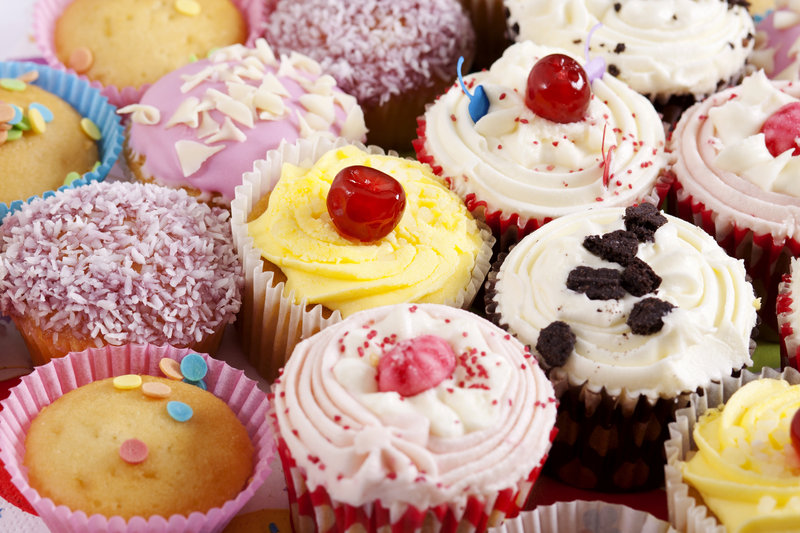 doram/iStockphoto.com
While the glass display cases at after-dinner must Extraordinary Desserts (1430 Union St.) are stocked with some of the best-looking cakes, tarts, cookies and cupcakes on the planet, from the outside, there's nothing about the acclaimed sweet shop that really screams "bakery." Passersby who miss the business sign might easily assume the sleek, modern building shelters a very exclusive club, especially if there's a long line at the entrance (as there usually is at night). Inside, busy bartenders popping open champagne bottles and chatty twentysomethings sipping on fruit-infused cocktails make for a festive, unbakery-like environment that's at the top of the list of things for couples to do. Phone (619) 294-7001.
Once Little Italy has satisfied your hunger (and Extraordinary Desserts has gotten you sufficiently jacked up on sugar), hit the Casbah (2501 Kettner Blvd.), a small, dark and divey live music venue that draws the indie rock faithful with up-and-coming bands several nights a week; phone (619) 232-4355.
Pacific BeachA neighborhood within the San Diego city limits, Pacific Beach has long been the stomping ground of carefree "dudes" and "brahs." PB Shore Club , just across from the beach at 4343 Ocean Blvd., celebrates the surfer lifestyle with cool surf decor, killer ocean views and late-night fish tacos. Just take it from us and go easy on the Red Bull Vodka Slushies, or you'll be tweeting #brainfreeze in no time. Phone (858) 272-7873.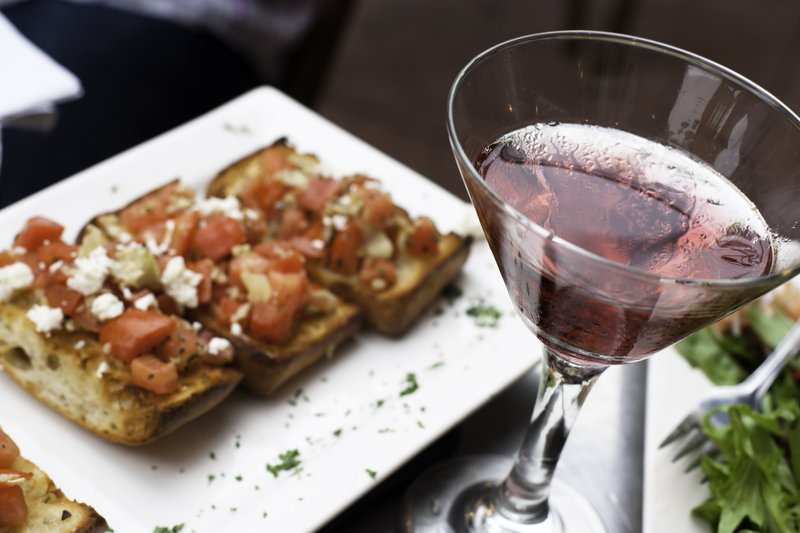 iStockphoto.com/sritchie67
Also inspired by those who live and breathe the "salt life," The Duck Dive (4650 Mission Blvd.) is named after a key surfing technique (surfers "duck dive" under oncoming waves). A restaurant by day, this PB staple gets pretty crazy on the weekends, when local DJs play thumping house music until the wee hours; phone (858) 273-3825.
If you're looking to barhop in Pacific Beach, your best bet is to travel along Garnet Avenue. Locals party hard at the Silver Fox Lounge (1833 Garnet Ave.), a landmark dive with pool tables and leopard-print carpeting; phone (858) 270-1343. Meanwhile, beer-drinking sports fans head to the Tavern at the Beach (1200 Garnet Ave.), where they can catch the game on one of 42 high-definition TVs and choose from among 30 draft beers; phone (858) 272-6066.
Other Areas
iStockphoto.com/izusek
Boasting a hexagonal hallway entryway, walnut paneling and a dramatic bar chandelier made out of stainless steel tubing, Starlite (3175 India St.) is one of the most architecturally stunning nightspots in San Diego. But atmosphere isn't the only thing this swank establishment has going for it. Late-night eats are prepared using only the freshest local and sustainably sourced ingredients, while artisanal cocktails feature house-made syrups and bitters. Phone (619) 358-9766.
A trip aboard the Bahia Belle (998 W. Mission Bay Dr.) is a great evening option for those traveling with kids. Live entertainment is offered aboard the Mississippi-style sternwheeler, which cruises Mission Bay from late April through November. The lineup varies each evening, and performers range from DJs to local bands. Reservations aren't necessary, but check the schedule in advance to find out which cruise times are designated as family hours. Of course, the "real" party starts after the last family hour trip, when all would-be passengers must be 21 or older to board. Phone (858) 539-7720 for more information.
If you're staying in points far north of downtown San Diego, consider catching a live gig at the venerable Belly Up Tavern , at 143 S. Cedros Ave. in Solana Beach, about a half-hour drive from the city center. Opened in 1974, this funky old venue has hosted everyone from the Rolling Stones to the Black Eyed Peas over the years; phone (858) 481-8140 or (858) 481-9022 for recorded information.
At the La Jolla outpost of L.A.'s legendary The Comedy Store (916 Pearl St.), local comics perform most weeknights. The big names usually pack the joint on weekends; phone (858) 454-9176.