Soak Up the Sun in Southern California
San Diego calls itself "America's Finest City," a difficult slogan to live up to, but one you'll likely agree with if for no other reason than the city's marvelous weather. This is sunny Southern California at its best; the region centered about downtown very rarely sees temperatures above 80 in summer and below 40 in winter—courtesy of prevailing Pacific Ocean breezes—and only about 10 inches of annual rainfall.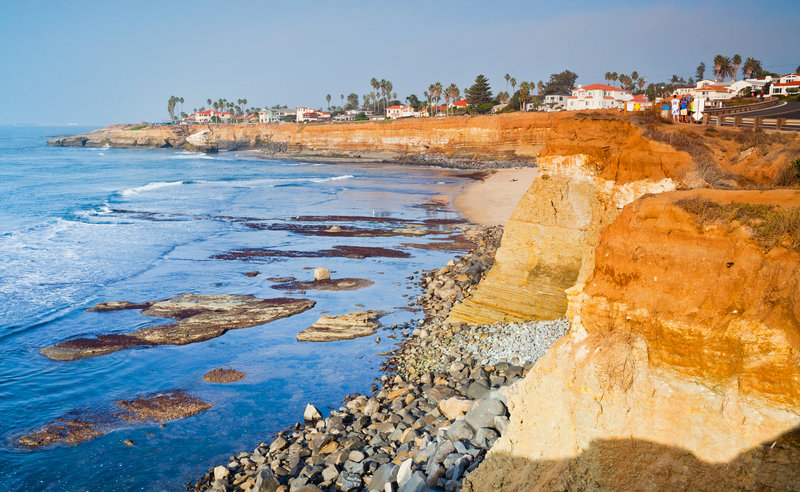 Shutterstock.com/Dancestrokes
But while catching some rays on one of San Diego's postcard-beautiful beaches is mandatory, there are plenty of other fun things to do on your trip. You could spend an entire day just wandering through Balboa Park even if you didn't step inside a single one of its 16 museums; their ornate Spanish-style exteriors are worth a look just by themselves. And then there's the park's outstanding San Diego Zoo with its lovely, leafy habitats designed to appeal to both animal residents and human visitors alike.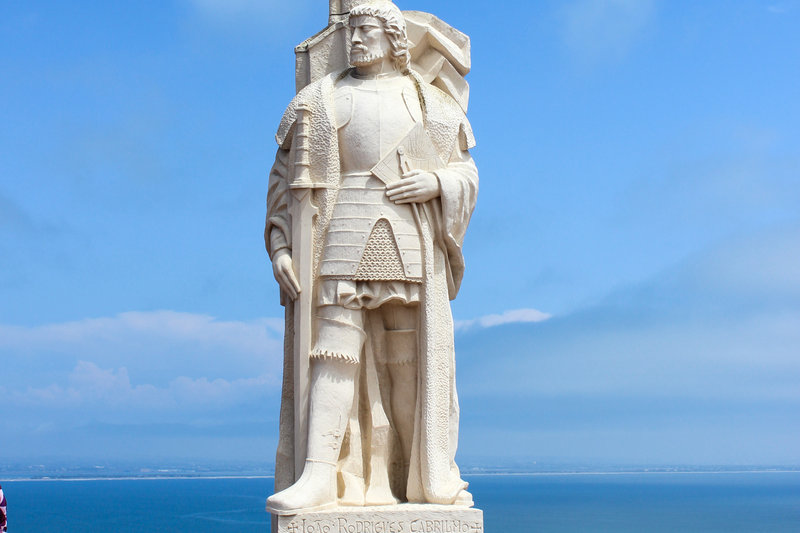 AAA/Julie Ouellette
Hiking along Point Loma's bluffs in Cabrillo National Monument will make your heart beat faster either due to the exercise or the stunning vistas; take your pick. And you won't have to shun the sun just to go shopping either: Such locales as Seaport Village, Horton Plaza and the Gaslamp Quarter let you savor San Diego's balmy climate while souvenir hunting in an eye-pleasing, alfresco setting.
So, what about the claim of being "America's Finest City"? San Diegans might be accused of excessive pride if they didn't have Mother Nature on their side.
Getting There
By CarInterstate 5, originating at the Canadian border and ending at the Mexico border, and I-15, entering California southwest of Las Vegas and extending to San Diego, are the major north-south routes. I-5 comes down through Los Angeles, then heads for the coast; nearing San Diego it bisects the University of California San Diego campus at La Jolla, skirts Mission Bay Park and passes Old Town before entering the city center.
I-15 comes inland through Las Vegas and San Bernardino County, continuing south through Escondido, Poway and other northeastern suburbs, then bypasses downtown San Diego and terminates at I-5 just south of the city proper. SR 163 (Cabrillo Freeway) leaves I-15 at the Miramar Marine Corps Air Station, swings southwestward through Balboa Park, interchanges with I-5 and finally becomes 10th Avenue in the heart of San Diego.
From the south the main route is I-5, which begins at the Mexican border, passes along the east side of San Diego Bay, then heads for the downtown area.
I-805 is the north-south bypass. It leaves I-5 north of La Jolla and rejoins I-5 near San Ysidro, just north of the Mexican border customs stations.
From points east, I-8 enters California at the Colorado River just west of Yuma, Ariz. The Interstate roughly parallels the Mexican border to the town of Boulevard. From there it arcs northwestward across the San Diego Mountains, cresting at more than 4,000 feet before descending into the eastern suburbs. After crossing the major north-south freeways, I-8 comes to an end at Ocean Beach, a short distance northwest of downtown San Diego.
Getting Around
Street SystemCentral San Diego is laid out in a basic grid pattern. Street numbering commences from north-south 1st Avenue. East-west streets are both lettered and named; they proceed alphabetically northward beginning with Ash Street.
Generally the most convenient way to get around San Diego is by car. Most major attractions and shopping areas are within easy freeway access. Main thoroughfares, which include Pacific Highway, Harbor and Mission Bay drives, Nimitz and El Cajon boulevards, University Avenue, Friars Road and Market Street, also are easy travel routes.
Speed limits are usually 35 mph on streets and 65 mph on freeways. It is important to maintain freeway speed limits; drivers moving at dangerously slow speeds will be ticketed. Right turns on red and U-turns at intersections are both legal unless otherwise posted. Pedestrians crossing the street at intersections or in crosswalks always have the right-of-way.
ParkingSan Diego has metered on-street parking downtown in addition to many lots and garages. Metered parking costs up to $1.50 per hour, normally with a 2-hour limit. Most meters accept only credit cards; some accept coins and mobile phone payments. Garage rates range from $5 to $20 a day. There are large lots along lower Broadway and Market Street, Harbor Drive and Pacific Highway, within walking distance of the Embarcadero and its many attractions. Some hotels and stores provide free parking for their guests and customers.
Parking in other parts of this spread-out city is rarely a problem. SeaWorld San Diego, the Cabrillo National Monument and Balboa Park all have ample parking areas, although it might be difficult to find a space near Balboa Park on a busy day. If the Balboa lots are full, check for street parking along Sixth Avenue and enter the park via the pedestrian bridge. Old Town's free parking areas also can fill up quickly. A space is harder to come by in La Jolla, where street parking is scarce.
Public Transportation
San Diego Metropolitan Transit System (MTS) serves the area from Oceanside to the Mexican border.
One-way bus fare ranges from $2.25 to $5. Some transfers may require an upgrade fee.
The San Diego Trolley provides daily service on three lines that operate from 5 a.m. to 1 a.m. The Blue Line (also unofficially called the Tijuana Trolley) runs from downtown at America Plaza through National City and Chula Vista to San Ysidro, some 100 feet from the border. The Orange Line runs from the Santa Fe Depot downtown through Lemon Grove and La Mesa to El Cajon. The Green Line runs from Santee to Old Town and then south to 12th Street and Imperial Avenue. The familiar red trolleys run every 7 to 15 minutes during the day and every 30 minutes during late-night and early morning hours. Frequency varies according to line. Service hours vary by line and by day of the week, but may start as early as 4 a.m. and run until after 2 a.m. One-way fare is $2.50; $5 for a day pass. Trolley tickets must be purchased before boarding from machines at the trolley stops. For information phone (619) 685-4900.
The Transit Store, downtown on Broadway at 1st Avenue, sells money-saving passes and other multi-ride tickets for buses and trolleys. It also provides maps, schedules and brochures Mon.-Fri. 9-5. For further information phone (619) 234-1060.
The Regional Transit Information Office, (619) 233-3004, can provide additional assistance, or for recorded public transit information phone (619) 685-4900. For the hearing-impaired phone TTY (619) 234-5005 or TTY (888) 722-4889 in northern San Diego County.