What to Do in San DiegoSan Diego's greatest asset, perhaps, is its dependable sunshine. If you visit between spring and fall, there's no need to pack an overcoat or obsessively check online weather forecasts. With the exception of June's typically overcast days (known as "June gloom"), the climate ranges from mild to warm, perfect weather for the active outdoor lifestyle San Diegans enjoy. Surfers shred and bash off the lip at Pacific Beach. Kayakers and snorkelers explore the coves of La Jolla. Inland, hikers trek though the badlands at Anza-Borrego Desert State Park.
Lovers of the outdoors are drawn to Mission Bay—marshlands north of the airport that were dredged and beautified in the 1940s, '50s and '60s—just as four UCLA graduates were when they chose the area for the site of their new marine zoological park, SeaWorld, which opened in 1964. The now-cloned theme park is best known for its animal habitats and thrill rides, but one of the most charming features is Bayside Skyride, a gondola ride over Mission Bay.
Of course, "America's Finest City" is much more than a playground filled with fun places to go for vacationing families. As the home of several military installations, this mecca for the laid-back and unhurried also radiates a deep-rooted sense of patriotism. Historic ships like the USS Midway, permanently docked on San Diego Bay, draw veterans and active-duty personnel alike. While strolling the Embarcadero, stop to admire (or imitate!) the kissing figures of "Unconditional Surrender," a 25-foot-tall statue celebrating the end of World War II, before posing for a photo at the adjacent memorial to preeminent USO performer Bob Hope.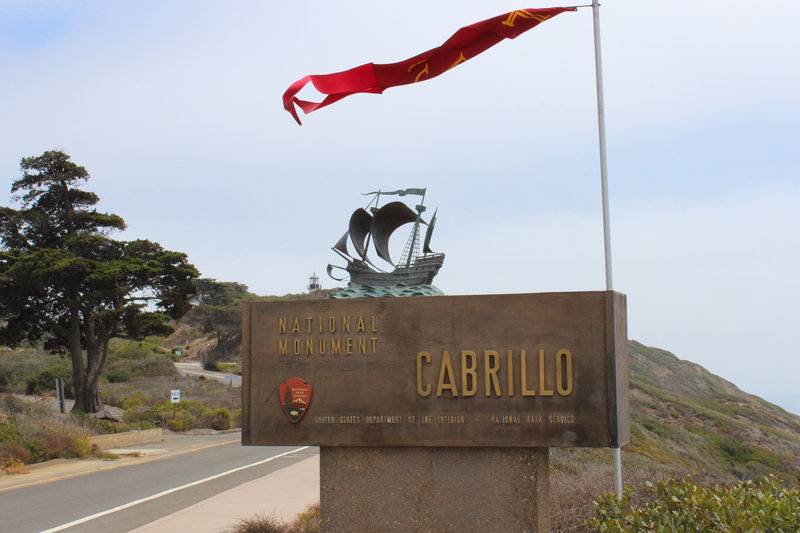 AAA/Julie Ouellette
One of the best views of San Diego's working waterfront—not to mention the entire downtown area—is a bird's-eye perspective from Cabrillo National Monument. High atop bluffs overlooking the entrance to San Diego Bay and the Pacific Ocean, a heroic statue honoring Juan Rodríguez Cabrillo commemorates his 1542 voyage, which was the first recorded visit of a European to what is now the West Coast of the United States.
Located at the center of San Diego is Old Town San Diego State Historic Park, which offers an Americanized taste of Mexico. Its well-preserved historic buildings offer a good feel for the San Diego of the mid-to-late 1800s. While Old Town offers a great SoCal history lesson through museum exhibits and reenactments, most visitors reminiscing about their trip will remember the area for its festive Mexican restaurants (complete with sidewalk tortilla stands) and shops selling everything from leather belts to Day of the Dead tchotchkes.
Old Town would've remained the hub of the city if not for Alonzo Horton, a developer who purchased some 1,000 acres of land fronting the harbor. He snapped up land and practically gave it away to anyone who promised to build on it. Speculators did, and Horton is credited with the birth of "New Town," or modern San Diego.
In the 1870s Victorian-style commercial buildings sprouted up along 4th and 5th avenues, just a few blocks inland from the waterfront; many of them have been preserved in the city's 16.5-block Gaslamp Quarter. The buildings, some of which housed brothels up until the 1970s, are now home to places to eat, drink and shop.
When the Santa Fe Railroad arrived in 1884, so did tourists. Many stayed at the Hotel del Coronado, the red-and-white Victorian resort still standing on the shores of Coronado. Famed for its fairytale architecture and its appearance in the comedy classic "Some Like It Hot," "The Del" is definitely worth a visit, if only for a fancy cocktail at its Babcock & Story Bar, named for the hotel's founders.
The lasting legacy of the Panama-California Exposition (1915) and the California-Pacific International Exposition (1935-36) was the development of Balboa Park, an urban oasis of serene parkland and landscaped gardens. Many of the Spanish Colonial Revival and Moorish-style buildings constructed for the expositions now house museums, performance venues and art galleries. Balboa Park also lays claim to the world-famous San Diego Zoo, where bamboo-munching panda parents Bai Yun and Gao Gao live with son Xiao Liwu, whose name means "little gift."
What to Do in San Diego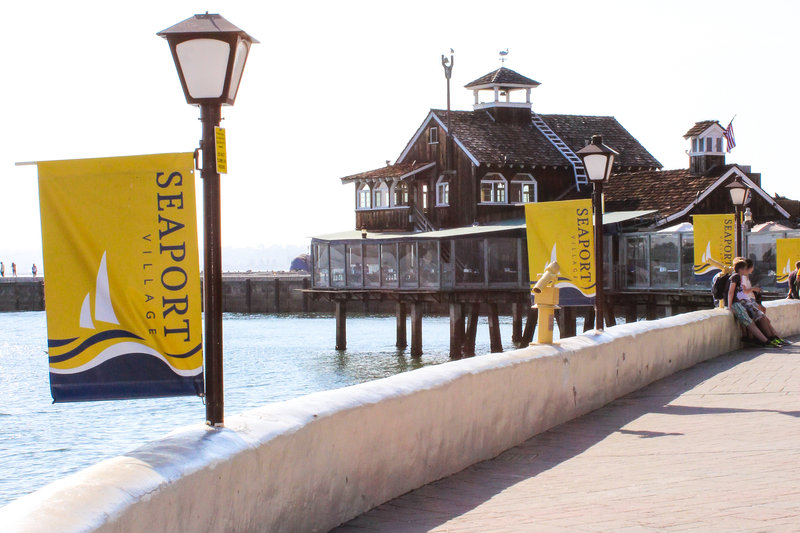 AAA/Julie Ouellette
Wander along the Embarcadero, downtown San Diego's waterfront. Public art installations, military memorials and marine attractions line the pedestrian-friendly area. Take a lunch break at local landmark Seaport Village (849 W. Harbor Dr.), a bustling shopping center with a handful of places to eat with gorgeous views of the bay.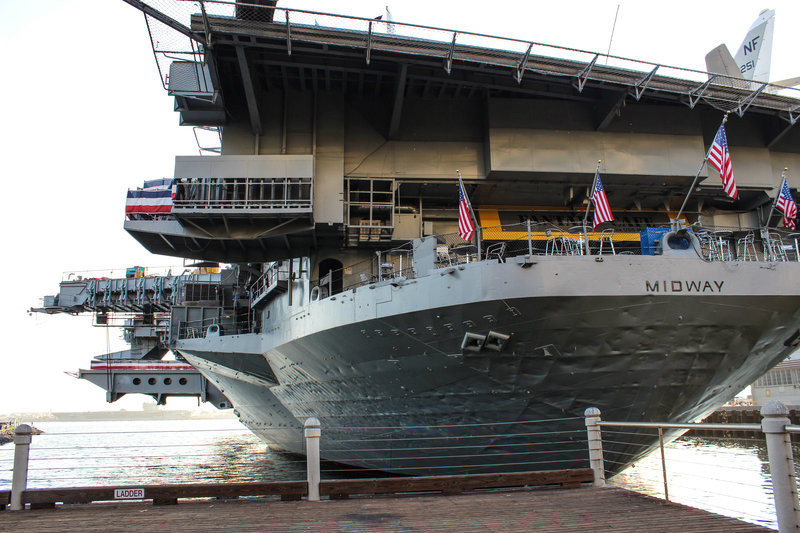 AAA/Julie Ouellette
Step aboard a retired naval aircraft carrier chock-full of restored planes and let the "Top Gun" quotes fly. Opened in 2004 as The USS Midway Museum (910 N. Harbor Dr.), the 69,000-ton ship is one of the top things to do in San Diego, and it has enough interactive exhibits to keep you busy for hours. Climb into an F-14 fighter jet on the flight deck or practice aerial spins in a flight simulator.
Hop aboard the San Diego-Coronado Ferry (990 N. Harbor Dr.) for a scenic 15-minute ride to Coronado, the peninsula separating San Diego Bay from the Pacific Ocean. If you'd rather travel by car, the San Diego-Coronado Bridge stretches more than 2 miles across the water and soars 200 feet into the air, providing passengers with a wonderful vantage point from which to survey the city, the bay and Coronado .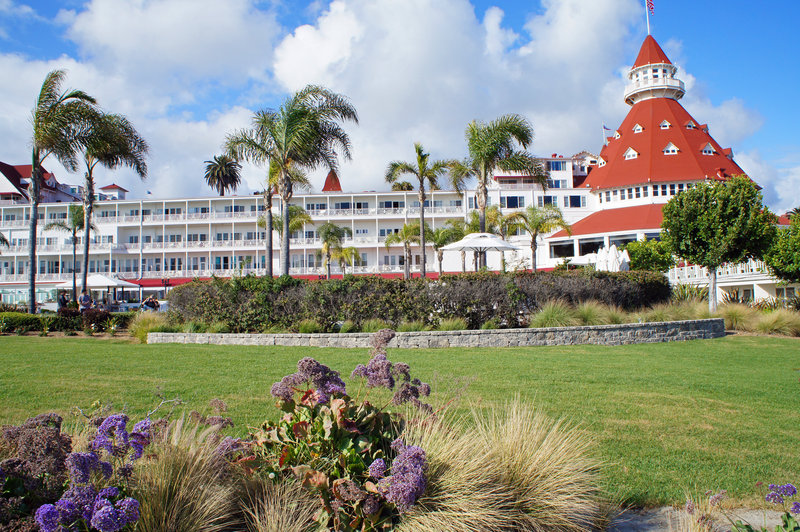 AAA/Maria White
Once in Coronado, drink a toast to Victorian opulence at "The Del," the grand Hotel del Coronado, Curio Collection by Hilton (1500 Orange Ave. in Coronado), a local landmark and vacation spot to the stars since 1888. Beneath its distinctive red peaked roof are beachside restaurants and bars, making this historic resort a perfect spot for a refreshing cocktail.
Take in the spectacular views from Cabrillo National Monument (1800 Cabrillo Memorial Dr.) on Point Loma. The monument commemorating Juan Rodríguez Cabrillo's 1543 exploration of the area is an interesting historical backdrop to panoramic views of San Diego. Gray whales migrating offshore lure crowds of watchers to the monument in winter.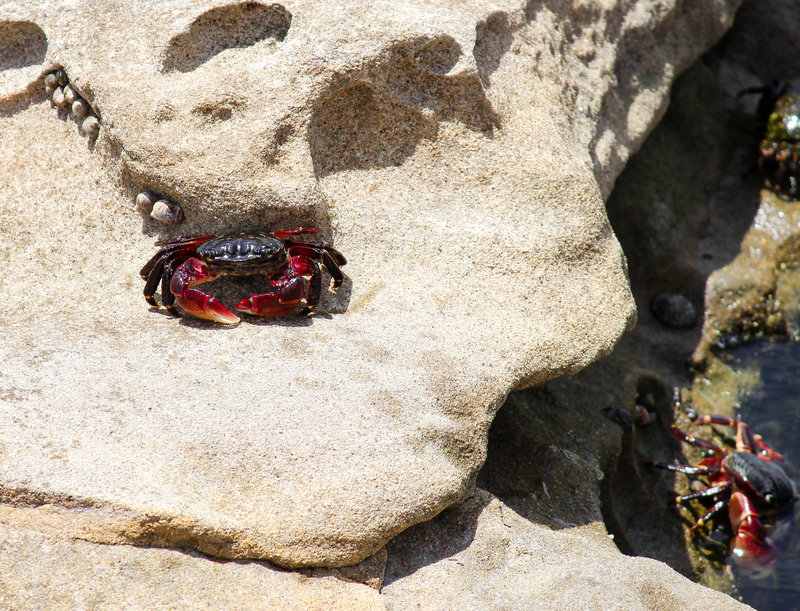 AAA/Julie Ouellette
Drive up to La Jolla , a breathtaking beach destination with sea lions, harbor seals, seagulls and pelicans galore. Nestled between picturesque sandstone cliffs, La Jolla Cove (off Coast Boulevard) attracts snorkelers and scuba divers. At low tide, you won't need any special equipment to peer into area tidal pools, where crabs, snails and other sea creatures dwell.
Rest up for an evening on the town in the historic Gaslamp Quarter, hub of San Diego's nightlife scene and chock full of things for couples to do. Crowded with sidewalk restaurants and nightclubs, this 16.5-block vintage business district adjoins Westfield Horton Plaza (324 Horton Plaza), a five-story shopping and entertainment complex with an eye-catching jumble of balconies, stairs and walkways.
Stroll through Old Town San Diego State Historic Park (4002 Wallace St.). The area encompasses a collection of structures—including five original adobes—at the site of California's first permanent settlement. Several buildings house Mexican-themed restaurants and shops that will satisfy your craving for south-of-the-border cuisine, art and other fun things to do.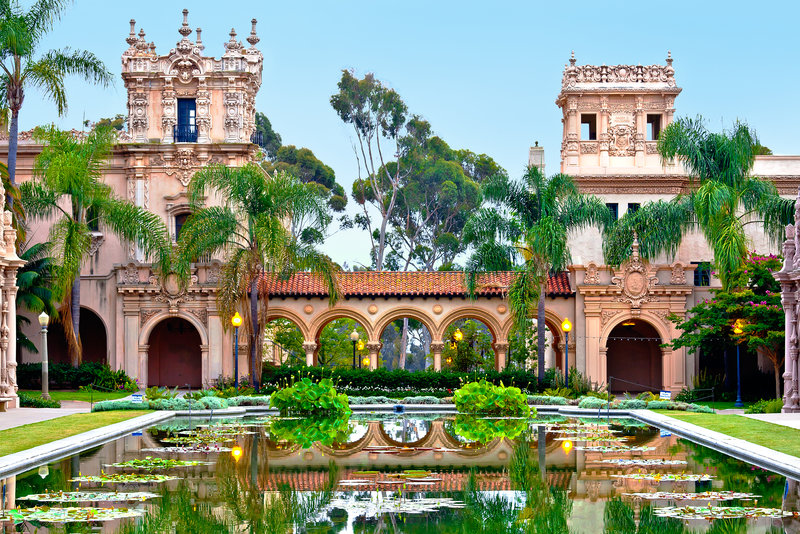 Shutterstock.com/Dancestrokes
Explore Balboa Park (1549 El Prado), the site near downtown where San Diego hosted two international expositions in the early 20th century. Red-tile roofs, elaborate plaster details and soaring towers make the park a stunning example of Spanish Colonial Revival architecture. Within these lovely buildings are more than a dozen museums, including the San Diego Museum of Us (1350 El Prado) and the San Diego Natural History Museum (1788 El Prado).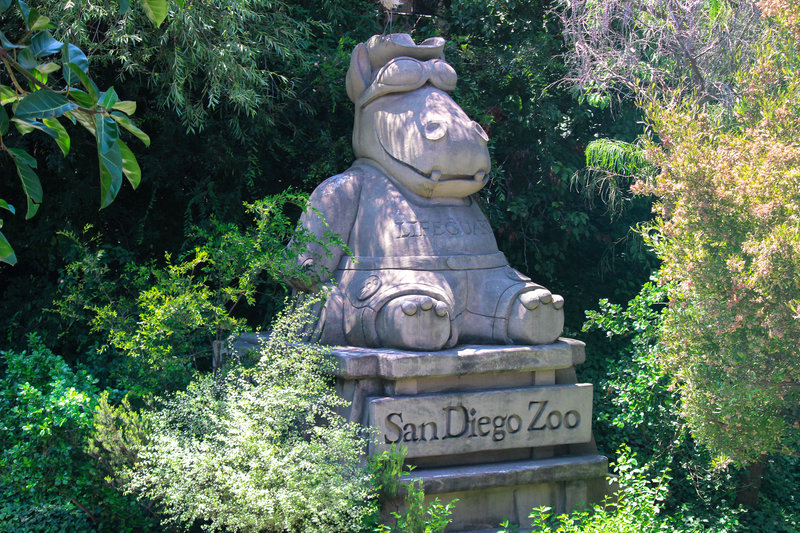 AAA/Julie Ouellette
Ascend above the treetops aboard the Skyfari Aerial Tram at the San Diego Zoo (2920 Zoo Dr.), a world-class Balboa Park facility where more than 4,000 animals crawl, gallop, slither, fly and swing from limb to limb. Several tour options are offered, including the Kangaroo Express Bus where you'll receive a narrated trip aboard a double-decker bus that allows you to hop on and off at different zoo locations.