City of Souls Real estate has never been a hotter—and these days, pricier—commodity in San Francisco. Even back in the late 19th century, when a robust young city was experiencing booming growth, it was decided that land was just too scarce and too valuable to waste on the dead.
First came a decree forbidding burials within city limits, and later an ordinance evicting cemeteries. Between 1923 and 1941 laborers disinterred hundreds of thousands of San Francisco graves and moved them south to the town of Colma. This 2-square-mile municipality subsequently became known as the "city of souls," the only place of its kind in the world. Today more than 1.5 million souls are laid to rest in Colma, and many residents are employed in the funeral industry.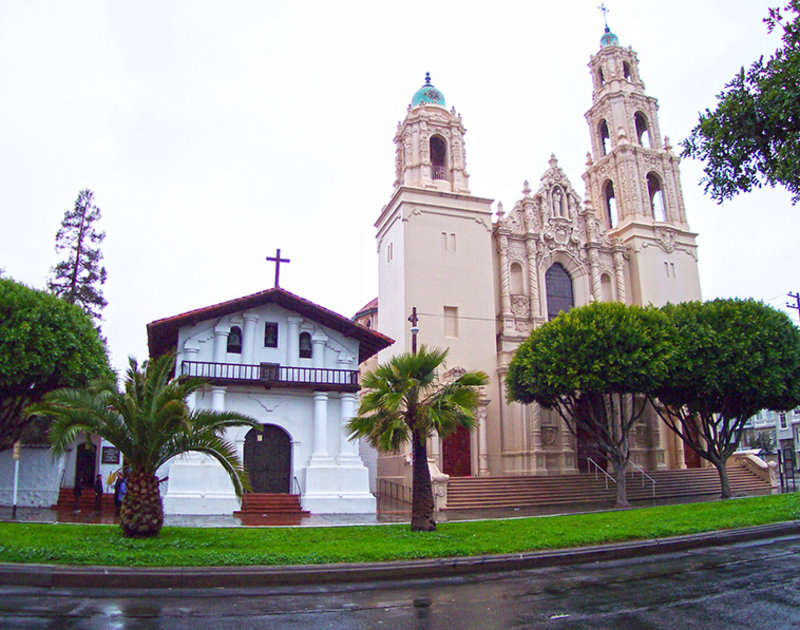 San_Francisco_de_Asis
San Francisco's first recorded burial took place in 1776 at the Mission San Francisco de Asis (Mission Dolores). The U.S. Army established a military cemetery at the Presidio of San Francisco in 1854. These are the only two burial grounds remaining of the more than two dozen that existed at the turn of the 20th century. Relocating the city's four largest cemeteries—Calvary, Laurel Hill, Masonic and Odd Fellows—reclaimed 160 acres of land.
Many heirs and the Catholic Diocese opposed the desecration of hallowed ground, however. Of special concern were the graves of city pioneers, war veterans and statesmen. Legal challenges dragged on for decades, and in some cases it took that long to locate relatives of the deceased, as so many official records were destroyed in the 1906 earthquake. Wealthy families could arrange for private burials, but thousands ended up in mass graves. Unclaimed headstones became recycled stone for public works projects; in Buena Vista Park it's still possible to discern faint epitaphs embedded in the storm drains. For photographers wondering what to do with vacation days, you can spend an afternoon tracking down these unique street features that speak to San Francisco's hidden history.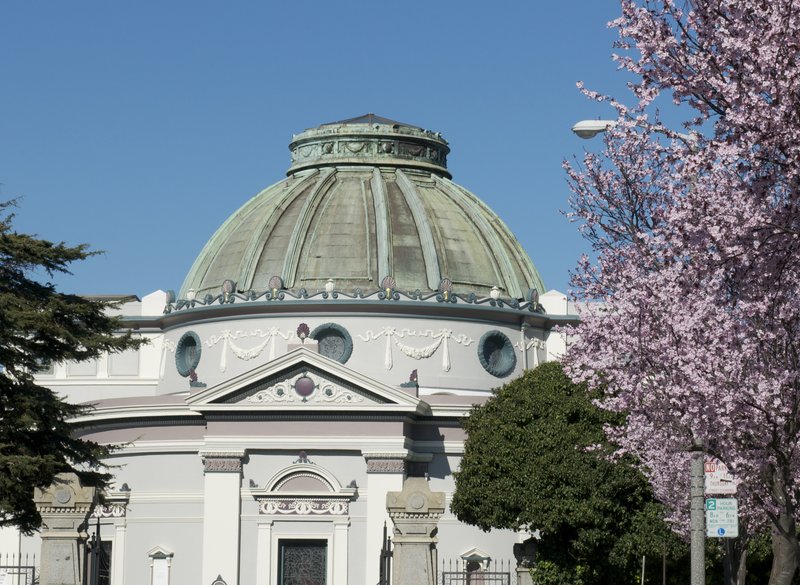 mcswin/iStockphoto.com
In 1993, crews working on a major seismic strengthening construction project at Legion of Honor unearthed some 300 corpses dating to the gold rush era. A Serbian burial ground lies beneath the 13th tee at the Lincoln Park Golf Course. The Richmond neighborhood and the campus of the University of San Francisco both stand on old graveyards. The San Francisco Columbarium, built in 1898 as the centerpiece of the Odd Fellows Cemetery, survives as a repository for cremated remains. This domed Beaux Arts building holds thousands of urns—a few bearing famous names—and niches are still available.
Today Colma's cemeteries attract the curious as well as those paying their respects. Like the original sites in San Francisco, most are laid out by nationality or faith. They include two Chinese cemeteries, one Japanese, two Jewish, one Italian, one Serbian, one Greek Orthodox, one Catholic, four nondenominational—and one for pets.
Colma's Cypress Lawn Memorial Park, which inherited 35,000 graves from San Francisco, is noted for its park-like, beautifully landscaped grounds and elaborate mausoleums. Here are grandiose monuments to Andrew Hallidie, inventor of the cable car; mining tycoon James C. Flood; and the family of William Randolph Hearst.
Colma is the final resting place for Joe DiMaggio, buried at Holy Cross Catholic Cemetery, and Wyatt Earp, who lies with his third wife, Josephine, at the Hills of Eternity Jewish Cemetery. Joshua A. Norton, self-proclaimed Emperor of the United States and Protector of Mexico, rests in peace at Woodlawn Cemetery; an estimated 30,000 people attended the funeral of "Emperor Norton I" in 1880.
Colma is 9 miles south of San Francisco, off I-280 at the Daly City exit. Cemeteries are open daily to the public, and driving tour maps are available from the Colma Historical Association at 1500 Hillside Blvd.; phone (650) 757-1676. The association's delightfully ironic motto: "It's great to be alive in Colma."