Hidden StairwaysSan Francisco is a city of hills, and the dictates of such undulating geography mean that it is also a city of stairways—some 300 of them scattered throughout the city. For residents, they're often a practical necessity or a convenient shortcut to get from point A to point B. From a tourist perspective, these stairways are often worth seeking out, not only for the exercise and the views but because—in a town that does such a good job putting a crimp in your budget—they're free.
Some stairways, like the Lyon Street Steps (see attraction listing), have greater visibility and thus a higher profile. Finding the Vulcan Steps, on the other hand, seems like unlocking a mystery. The foot of the stairway is on Ord Street, a block off 17th Street; it leads up to Levant Street in a residential neighborhood located between the Haight and the Castro.
The stone steps are shaded by trees and bordered by luxuriant vegetation. The houses lining them are architecturally varied, and accessible only on foot. It's a quiet little enclave that truly feels hidden, and if you're looking for things for couples to do, this is the perfect place for a quiet, intimate walk hand-in-hand.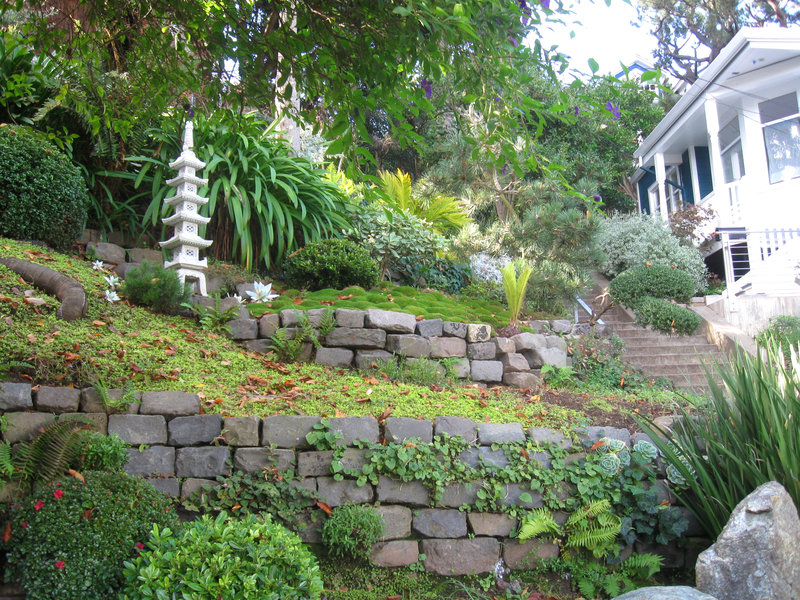 AAA
Half a block back toward 17th Street, the Saturn Steps run parallel to the Vulcan Steps, connecting Ord and Saturn streets. There are gardens along these steps as well, and a brick terrace with benches where you can sit and take in the view.
The Vallejo Street Stairway is built into the side of Russian Hill. These steps begin heading uphill at a point between Mason and Taylor streets, about three blocks west of Columbus Avenue. Three separate terraces not only provide a chance to catch your breath but offer different vistas.
Ina Coolbrith Park (at Taylor Street) offers an unobstructed view of downtown San Francisco and landmarks like the soaring Transamerica Pyramid and Coit Tower, which sticks up above tree-crowned Telegraph Hill like a small appendage. A bit farther up is a landscaped rock garden and a couple of benches. Here the lovely views of North Beach and San Francisco Bay are framed by trees.
Cross Taylor Street and keep climbing to the top of the steps, which end at Jones Street. On the other side of a stone wall from the hilltop cul-de-sac is a little postage stamp of a park, complete with a manicured, tree-shaded patch of grass. On sunny days, the view of the bay and Alcatraz Island from this elevated perch is stunning.
The Chestnut Street Steps are a block north and two blocks west of the famous block of Lombard Street billed as "the crookedest street in the world." If you stand at the bottom of this short, steep stairway and look up, the practical obstacles to street construction will be obvious.
Angling off to the right is Culebra Terrace, one of many charming little alleyways that contribute to San Francisco's reputation as one of the world's most picturesque cities. Climb to the top of the steps for a nice view looking down to Chestnut Street below.