Leave Your Heart in San Francisco
Cable cars, the Golden Gate Bridge, the Transamerica Pyramid—San Francisco is a travelogue of iconic images. Even if you've never been to California, you've seen these seven hills in classic films and TV shows. For a first-time visitor, every sight is new but familiar. Who wouldn't recognize the lantern-strung alleys of Chinatown, the stately Victorian mansions of Pacific Heights or the serpentine twists of Lombard Street? Who hasn't sung the Tony Bennett song? Our photographic memories of San Francisco go back to the Great Earthquake of 1906, and more recently, Loma Prieta. Our cultural mileposts include the leather bars of Castro Street, the Latin taquerias of the Mission District and the incense shops of Haight-Ashbury (though the flower children sport more piercings and tattoos these days).
The "gay capital of the world," San Francisco has a higher percentage of gay and lesbian residents than any other U.S. city. By contrast, it also has the fewest children. Soaring home prices have forced all but the richest families out of the market. Today's gold rush is real estate—and tourists. Half a million arrive for Gay Pride in June alone. Others come for the Cherry Blossom Festival, the San Francisco Opera and Chinese New Year. Everyone saves room in a suitcase for designer labels from Union Square and kitschy souvenirs from Fisherman's Wharf. It's all part of the San Francisco experience—uniquely American, and a world apart.
Getting There
By CarScenic north-south routes passing directly through San Francisco are US 101 and SR 1. They enter the city separately from the south, merge on the San Francisco approach to the Golden Gate Bridge and continue together through a few miles of southern Marin County. Because SR 1, the curvy coastal route, is subject to dense fog and the possibility of landslides, you should check weather and road conditions before driving it.
The fast north-south route, I-5, is east of San Francisco; connections to the San Francisco-Oakland Bay Bridge are via I-505 and I-80 from the north and I-580 from the south. Another route, SR 99, closely parallels I-5 and also has connections into the city.
The primary route from the east is I-80 across the Sierras. I-80 skirts the Sacramento metropolitan area to the north before approaching the Greater Bay Area via Vallejo and then merging with I-580; access into the city is via the San Francisco-Oakland Bay Bridge.
Air Travel The San Francisco Bay Area is served by three major airports. San Francisco International Airport (SFO) is about 13 miles south near San Bruno off US 101 (Bayshore Freeway). Norman Y. Mineta San Jose International Airport (SJC) is about 3 miles northwest of downtown San Jose. Oakland International Airport (OAK), off I-880 about 10 miles south of downtown Oakland, is more convenient than SFO if your destination is the East Bay.
In keeping with the city's progressive reputation, San Francisco International offers travelers a yoga room and rotating museum exhibits. The popular "You Are Hear" concert series offers everything from jazz and classical to R & B and world music served up by Bay Area musicians. Live music takes place on Fridays in July and August between 11 and 2 and also during the Thanksgiving and Christmas holidays.
To reach downtown from SFO, exit from the north terminal area and take US 101 north. At the US 101/I-80 junction, choose I-80 and then take the 4th Street exit. Follow 4th Street north past Moscone Center to Market Street; Union Square's hotels and the Financial District are just a few blocks to the north and east.
Door-to-door minivan shuttle service between the airport and hotels, businesses and residences is offered by several companies, including Airport Express, (415) 775-5121. Vans make frequent pickups from the blue zones on pedestrian islands on the airport's upper level. One-way fare is $15-$17 per person.
Airport shuttle buses pick up passengers on the arrivals level. Taxi fares between downtown and San Francisco International Airport average $35-$50; limousine service costs $50-$75.
AirTrain, an automated light rail system with nine stops throughout the airport, links the International Terminal with other terminals, parking garages, the rental car center and the airport BART station.
Bay Area Rapid Transit's (BART) Pittsburg/Baypoint line provides direct service to the airport. Transfer at the San Bruno station to a Millbrae train to connect with Caltrain rail service down the peninsula to San Jose. Other BART lines can be accessed via the Balboa Park transfer station. Fare for the approximately 30-minute ride from the airport to the downtown Powell Street station is $8.95. For BART schedule and fare information phone (415) 989-2278.
Norman Y. Mineta San Jose International Airport is conveniently located just off US 101. When leaving Terminal C (which receives most domestic airline flights) or Terminal A (which receives American Airlines and United as well as JetBlue and Delta), follow signs to US 101 and head north. On the way to downtown San Francisco US 101 bypasses Palo Alto and San Mateo.
To reach downtown San Francisco from Oakland International Airport, exit the terminal building and take Airport Drive east toward downtown Oakland. Exit north onto I-880 (Nimitz Freeway), which connects with I-80. Continue west across the San Francisco-Oakland Bay Bridge. For automobiles the toll is $4-$6, depending on the time of day and the day of the week. Take exit 2A (5th Street) north to Market Street to reach the Union Square/Financial District area.
Hertz, with locations at the San Francisco, Oakland and San Jose airports, offers discounts to AAA members. Phone (650) 624-6600 for the San Francisco airport location, (415) 771-2200 for the location at 325 Mason St., (510) 639-0200 for the Oakland airport location, (408) 437-5700 for the San Jose airport location, or (800) 654-3080.
Rail Service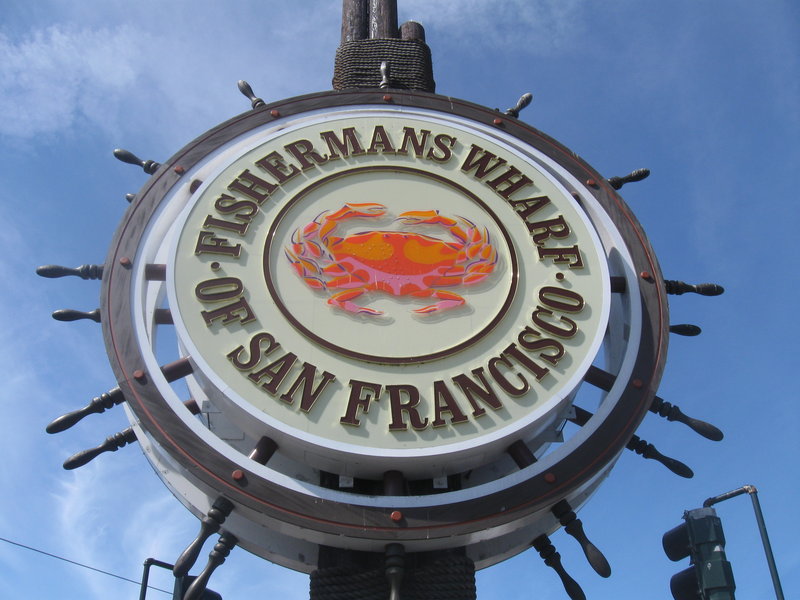 AAA/Greg Weekes
Most Amtrak rail service terminates in Oakland at Jack London Square (Alice Street and the Embarcadero) or at Emeryville. From Jack London Square, passengers are transported via shuttle bus to the following San Francisco stops: the Ferry Building, downtown at the foot of Market Street; Fisherman's Wharf at Pier 39; the Westfield San Francisco Centre mall at 4th and Market streets; in front of Macy's at Union Square; outside the Hyatt Regency San Francisco at California and Drumm streets; and at the Caltrain depot, 4th and King streets. For schedule, fare and additional information phone (800) 872-7245.
Getting Around
Street SystemTwo main thoroughfares are Market Street, which runs diagonally from 17th and Castro streets to The Embarcadero, and north-south Van Ness Avenue. Major east-west streets downtown are Bush and Pine, both one-way streets with synchronized traffic signals. Bush goes toward downtown, while Pine heads out. Numbered avenues run north-south in the residential neighborhoods north and south of Golden Gate Park, and the streets form a grid pattern. Streets also form a grid in much of the downtown area.
The Financial District is anchored by north-south Montgomery Street. Union Square is bordered north-south by Post and Geary streets and east-west by Stockton and Powell streets. Note: Ongoing construction associated with an extension of Muni's T Third Line from Bayshore to SoMa to Chinatown may cause occasional traffic delays, especially in the vicinity of Union Square.
Government buildings cluster around Civic Center, between Van Ness Avenue and Leavenworth Street and Golden Gate Avenue and Market Street. Civic Center, Union Square and the Financial District are all north of Market Street; south of Market north-south streets are numbered.
Although the street layout looks straightforward on a map, keep the extremely variable topography in mind when traveling, as the steep hills can be difficult to negotiate. If you're visiting, it may be more advantageous to use public transportation or walk rather than drive. If you'll be driving your own car, you might want to have your brakes checked before departing.
San Francisco intersections are subject to strict enforcement of the Anti-Gridlock Act. The fine for blocking an intersection with your vehicle is $106; the fine for blocking an intersection while turning is $110.
"The Boot" (also known as "The Denver Boot") is a metal clamp that immobilizes a car when attached to its wheel. This device is applied when five or more parking tickets have accumulated or if registration is not current; it is removed only when all outstanding fines and/or registration fees and a $445 de-booting fee have been paid. If the fines are not paid, the car may be towed within 72 hours.
Visitors should also be aware that municipal buses are equipped with a video camera used to ticket motorists who drive in designated public transit-only lanes (a $79 fine) or park in designated bus zones (a $288 fine).
The downtown speed limit, unless otherwise posted, is 25 mph (15 mph at blind intersections). Right turns on red are legal unless otherwise posted. Traffic is heavy throughout the day in the downtown area and on major thoroughfares. Avoid the San Francisco-Oakland Bay Bridge during rush hours, about 7-9 a.m. and 4-6:30 p.m.
Pedestrians using designated crosswalks always have the right of way. Many major intersections downtown and throughout the Bay Area have visual countdown displays indicating the number of seconds remaining before the light changes for pedestrians.
The latest highway improvement is the Presidio Parkway, which took 15 years to plan and build and opened to traffic in 2015. It replaced Doyle Drive (US 101) as the main south access route to the Golden Gate Bridge from downtown. The 1.6-mile parkway features two sets of tunnels and a viaduct that climbs above the rolling green hills of the Presidio en route to the bridge.
ParkingSan Francisco is not a parking-friendly city. There is a shortage of on-street spaces and a plethora of parking regulations, which are strictly enforced. On-street metered parking is permitted in some areas, but much neighborhood parking is reserved for local residents and is by permit only.
There are parking garages at Fisherman's Wharf, 655 Beach St. at Hyde Street, (415) 673-1735; downtown at 833 Mission St. (at 5th Street), (415) 982-8522; at the Moscone Center, 255 3rd St., (415) 777-2782; and in Chinatown at 733 Kearny St., (415) 982-6353. Fees range from $1.50-$7 per hour and $15-$34 per day. The only public parking available for recreational vehicles is at Candlestick RV Park, south of the city limits off US 101 on Gilman Avenue; phone (415) 822-2299.
On-street parking is strictly regulated. In addition to posted tow-away zones, pay particular attention to curb colors, which determine parking availability. Red means no stopping, standing or parking whatsoever; yellow curbs indicate commercial loading and unloading (7 a.m.-6 p.m.). Passenger cars left unattended in downtown loading zones are subject to heavy fines and towing.
White curbs allow a 5-minute limit to pick up or discharge passengers during the hours the adjacent public building is open. White curbs marked with a taxi sign are within a taxi zone. Green curbs indicate 10-minute parking 9 a.m.-6 p.m. Blue marks spaces for use by the disabled; the fine for illegally parking in designated spaces for the disabled is a hefty $875, while the fine for parking in bus zone spaces is $288. In several areas of the city local residents have priority parking rights; be sure to read carefully all posted regulations wherever you park.
How you park also is subject to regulation. It is illegal to park a vehicle on any grade exceeding 3 percent without effectively setting the brakes and blocking the wheels by turning them against the curb or by other means. When parking uphill, the front wheels must be "heeled," or turned out, so that a tire is resting securely against the curb. When parking downhill, they must be "toed," or turned in. If there is no curb you must use a block. The emergency brake must always be firmly set.
If your car is towed, expect to pay plenty to get it back. Parking violations start at $52 for blocking a private entranceway, plus a hefty fine for towing and additional daily storage fees. Fines for illegally parking in disabled-designated spaces, in bus zones or in an area blocking access to a wheelchair ramp range from $288-$875.
In most cases, towed vehicles can be retrieved from Auto Return at 450 7th St. (between Harrison and Bryant streets). For additional information contact the City of San Francisco Parking and Traffic Department; phone (415) 553-1200.
Public Transportation San Francisco Municipal Railway (Muni) provides bus, streetcar, light rail, trolley bus and cable car transportation. The cash fare for buses, streetcars, light rail and trolley buses is $2.75; $1.35 (ages 5-17 and 65+ and the physically impaired). Exact change is required. Single-trip fares paid with a Clipper card or via MuniMobile on buses and trains cost 25c less than fares paid with cash.
Cash fare includes a free transfer good for use on any other Muni vehicle (except cable cars). A bus transfer can be used within a 30-minute period; the driver will give you one when you pay the fare. A light rail single-ride fare card purchased at a Muni station can be used one additional time within a 90-minute period.
The Clipper card is an all-purpose electronic transit card that can be used on Muni, BART, Caltrain and Golden Gate Transit and Ferry transportation. Clipper card readers on buses and at Muni and BART entrance stations tag the card and then display the remaining cash balance or pass expiration date. Transfers are automatically calculated, eliminating the need for a paper transfer. A variety of different passes and cash value options can be added. For more information phone (877) 878-8883.
The MuniMobile ticketing app can be downloaded to an Android or iPhone to purchase, save and use tickets for bus, rail and cable car travel. The app allows you to buy tickets and passes in advance or on the go and pay with a credit/debit card or PayPal account. For more information dial 311 (within San Francisco) or phone (415) 701-2311 (outside San Francisco).
The Muni Passport, valid on all Muni transportation, offers unlimited all-day usage and is worth purchasing if you're a visitor and plan on using the system multiple times. A 1-day pass costs $21; a 3-day pass, $32; a 7-day pass, $42. The 3- and 7-day passports are valid for consecutive days only. A pass valid for 1 month costs $75 (Muni only); $94 (Muni and BART); $38 (ages 5-17, ages 65+ and the physically impaired; Muni pass only). Monthly passes are only available on a Clipper card.
Passes and Clipper cards can be purchased at San Francisco International Airport; at the San Francisco Visitor Information Center, Hallidie Plaza (lower level) at Market and Powell streets; at TIX Bay Area, inside the Union Square Garage at the Geary Street entrance; and at Walgreens stores, Whole Foods markets and other businesses. For schedules, routing and other information phone (415) 673-6864.
Note: You must be prepared to show proof of payment (Muni pass, Clipper card, single-ride ticket or transfer) for the duration of your trip on all forms of Muni transportation. Random checks of passengers exiting the turnstiles at Muni stations are frequently conducted, and a citation of up to $120 may be issued if you cannot show proof of payment.
Muni buses are numbered and destinations are marked on the front of the vehicle above the windshield. During the day most buses make stops every 10 to 15 minutes; stops are more frequent on major streets. Routes along busy thoroughfares like Van Ness Avenue provide 24-hour service, although stops are less frequent at night. Many covered bus stops have an automated timetable that displays the number of minutes until the next bus arrives.
Muni light rail cars run underground along Market Street downtown and above ground in outlying neighborhoods. There are eight lines: F (Market & Wharves), J (Church), K (Ingleside), L (Taraval), M (Ocean View), N (Judah), S (Castro-Embarcadero shuttle) and T (Third Street). Color-coded maps of the system are posted on the wall at each underground station.
The Muni's F Line (also called the Market Street Railway) carries passengers on vintage streetcars. The route begins at Market and Castro streets, runs down Market to The Embarcadero, then runs up The Embarcadero to Fisherman's Wharf, ending at Jones and Beach streets. Don't board a streetcar if you're in a hurry; they're much slower and make more stops than the light rail lines.
A 1.7-mile extension of Muni's T Third Line, currently under construction, will extend the line from the 4th Street Caltrain Station north to Chinatown. Four new stations are being built: a street-level station at 4th and Brannan streets, and underground subway stations at 4th and Folsom streets, Stockton Street at Union Square, and Stockton and Washington streets.
Construction of the subway tunnel and stations is scheduled to last through 2020, with the new line opening at the end of 2021. Until then both motorists and pedestrians can expect occasional disruptions, especially in the vicinity of Union Square.
Although there are frequent stops and the trip is slow (travel speed is 9.5 mph), riding a cable car is an essential San Francisco experience. Preserved as national historic landmarks—the only ones on wheels—they began operating back in 1873. Maroon with cream and blue trim, cable cars are an integral part of the urban landscape.
There are three routes. The Powell-Hyde line begins at Powell and Market streets and ends at Victorian Park, at Beach and Hyde streets. The Powell-Mason line also begins at Powell and Market streets but ends at Bay and Taylor streets near Fisherman's Wharf. The California Street line travels between Market Street and Van Ness Avenue.
Cable cars run daily from 6 a.m.-1 a.m. One-way fare is $7. A Clipper card loaded with a Muni monthly pass or cash value is also accepted. No transfers are issued or accepted. If you're just riding for fun, the California Street line is likely to be the least crowded.
BART (Bay Area Rapid Transit) connects San Francisco with East Bay cities, terminating at Richmond (north), Pittsburg/Bay Point (east), Dublin/Pleasanton (southeast) and Fremont (south). On the San Francisco side of the bay the terminus is Millbrae, approximately 30 minutes south of downtown.
BART operates Mon.-Fri. 4 a.m.-midnight, Sat. 6 a.m.-midnight, Sun. and holidays 8 a.m.-midnight. Color-keyed wall maps at the stations list destinations and fares; tickets are dispensed from machines at each station. The one-way fare between downtown San Francisco stations is $1.95; 70c (ages 5-12, ages 65+, the physically impaired and if paying with a Clipper card). All fares are posted at the ticket machines. Phone (415) 989-2278 for schedule and other information. AC Transit is a bus service that runs from the Transbay Terminal to various destinations in the East Bay area (Alameda and Contra Costa counties). Bus service via the Golden Gate Bridge connects San Francisco to Sausalito, Mill Valley and Tiburon in Marin County and to Santa Rosa in Sonoma County. Phone (415) 455-2000 for schedule, fare and other information.
Passenger ferries link San Francisco with northern Bay Area destinations and also crisscross San Francisco Bay, providing both commuter service and sightseeing pleasure. The Blue & Gold Fleet, (415) 705-8200, operates daily commuter service to Tiburon and Sausalito. Golden Gate Ferry, (415) 455-2000, has daily service to Larkspur and Sausalito; no service is available Jan. 1, Thanksgiving or Christmas. One-way rates to Sausalito are $12; $6 (ages 6-18, ages 65+ and the physically impaired). Rates to Larkspur are $11.50; $5.75 (ages 6-18, ages 65+ and the physically impaired).
The San Francisco Bay Ferry operates weekday ferries from Alameda to the San Francisco Ferry Building. One-way fares are $6.80 (cash) or $5.10 (Clipper card); $3.40 (ages 5-18, ages 65+ and the physically impaired). The Alameda/Oakland Ferry provides service to and from Alameda, Angel Island, Oakland and San Francisco. The Alameda/Oakland/San Francisco one-way fare is $6.80; $5.10 (Clipper card), $3.40 (ages 5-18, ages 65+ and the physically impaired). Phone (415) 705-8291.