San Francisco Sightseeing
Sightseeing tours of San Francisco are available by land, sea and air; if your time is limited, we highly recommend the bus tours that touch upon city highlights.
Boat ToursIf you're not sure what to do to start your day, tours of the harbor operate from Fisherman's Wharf. In addition to 1-hour bay cruises, The Red and White Fleet also schedules combination boat and bus tours.
If you're interested in seeing what life on Alcatraz Island was like, be sure and buy your tickets ahead of time, as the tours frequently sell out. Ferries operated by Alcatraz Cruises depart for "The Rock" from Pier 33 on The Embarcadero. Reservations 2 weeks or more in advance are recommended during the summer months and around holidays; phone (415) 981-7625.
The Angel Island-Tiburon Ferry runs daily. The schedule varies with the season; phone (415) 435-2131 for information. Angel Island State Park, offers picnic facilities, beaches and hiking trails. The park includes the Angel Island Immigration Station.
The Blue and Gold Fleet offers 60-minute bay cruises that depart Pier 39 daily at frequent intervals. The company also offers San Francisco, Muir Woods, Sausalito, Tiburon, Alcatraz and Angel Island tours by boat; phone (415) 705-8200.
Hornblower Cruises and Events , Pier 3 on The Embarcadero, offers daily dinner and lunch cruises and weekend brunch cruises aboard the motor yacht California Hornblower. Live music is provided with dinner and brunch, and there are dance floors on two decks. Other cruises are offered. Reservations are required; phone (415) 788-8866.
Bus and Van Tours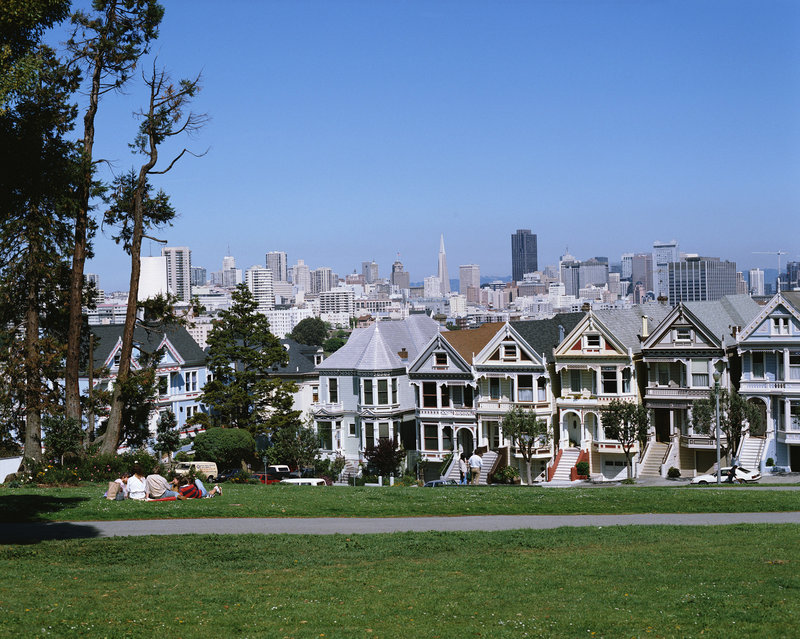 Getty Images/Scenics of America/PhotoLink
Numerous companies offer limousine tours of San Francisco, the Bay Area and Wine Country. The Blue & Gold Fleet offers motorcoach tours to destinations like the Napa and Sonoma valleys, Monterey, Carmel-by-the-Sea and Yosemite National Park; phone (415) 705-8200. When it comes to things for couples to do in San Francisco, a limousine tour couldn't be more romantic.
San Francisco Comprehensive Shuttle Tours
San Francisco Fire Engine Tours
Driving Tours

Getty Images/Jeremy Woodhouse
Skyline Boulevard (SR 35) follows the peninsula divide south of the city into the Santa Cruz Mountains, offering simultaneous scenic views of the bay and ocean.
Upon presentation of your AAA membership card, AAA Northern California, Nevada & Utah can furnish a map with a suggested tour covering much of San Francisco. The 49-Mile Scenic Drive map also is available from the San Francisco Convention & Visitors Bureau Visitor Information Center on the lower level of Hallidie Plaza at Market and Powell streets (near the cable car turnaround).
Segway ToursLooking for fun things to do with friends? Zip around on a Segway tour.
Electric Tour Company Guided Walking ToursThis self-guiding tour takes about 2 hours, depending on your pace and the number of stops you make along the way.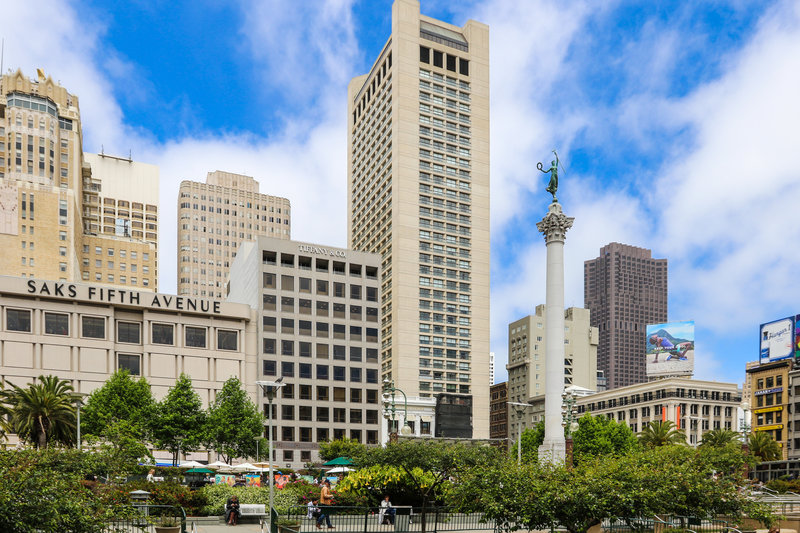 AAA/Thuyvi Gates
Let's face it—San Francisco is known for its treacherous hills, which can tax even the fittest walkers. This tour, however, takes advantage of flat stretches, although you'll still want to wear a pair of comfortable shoes. If you're unwilling or unable to navigate the steeper sections of certain streets, you can always hop on a Muni bus or cable car.
Union Square is the starting point. The Powell-Hyde cable car stops on the south (Geary Street) side. Garage parking is pricey, but if you must drive the underground Union Square Garage can be accessed from Geary Street (one-way westbound). Rates are cheaper at the Sutter-Stockton garage at 444 Stockton St. (between Sutter and Bush streets).
Note: Ongoing construction of Muni's T Third Line in the vicinity of Geary and Stockton streets creates occasional traffic and pedestrian disruptions; follow marked detours where necessary.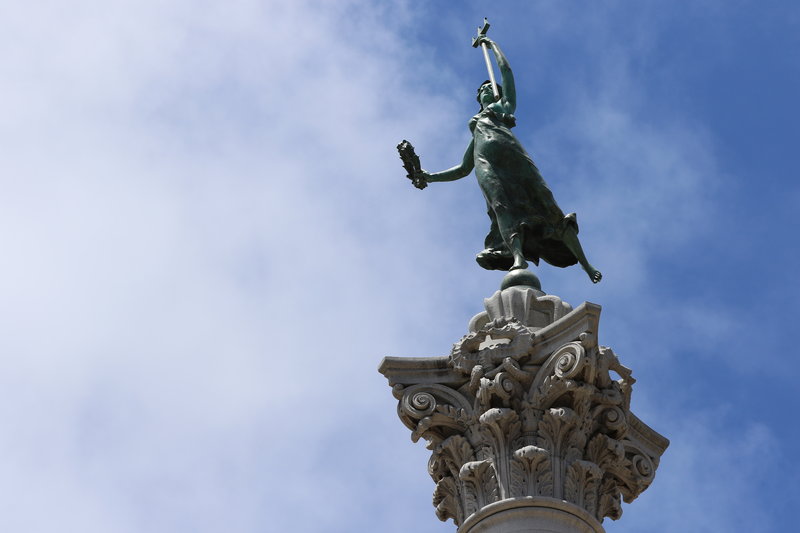 AAA/Thuyvi Gates
Built in 1850, this paved plaza was named for the demonstrations held in support of Union troops at the start of the Civil War. Standing at the center is the 97-foot-tall Dewey Monument, erected in 1903 to honor Commodore George Dewey's 1898 Manila Bay victory over the Spanish. A Goddess of Victory statue tops this needle-shaped column.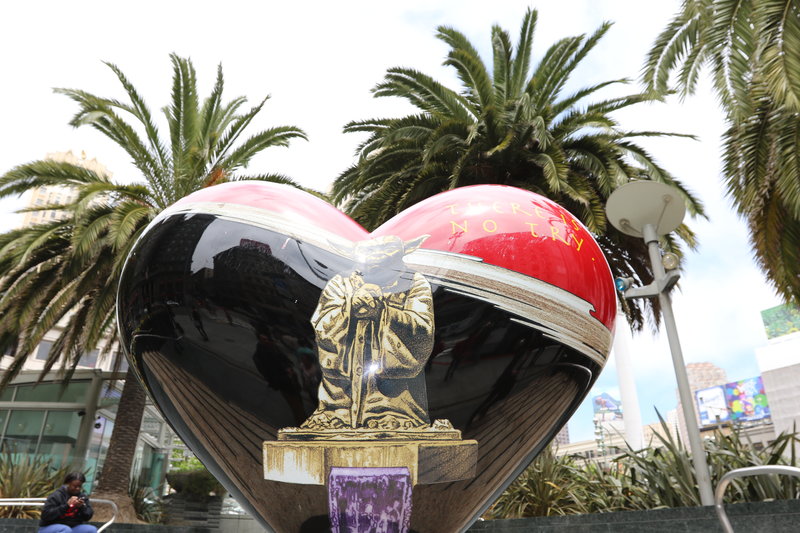 AAA/Thuyvi Gates
Union Square is the heart of the downtown hangout scene. Sidewalk vendors sell flowers, streetcar bells clang and car horns ceaselessly honk. People relax on benches, nap on grassy areas and fill umbrella-shaded tables at the Emporio Rulli café.
The historic Westin St. Francis (335 Powell St.) not only survived the 1906 earthquake but served breakfast on the morning of the disaster. The hotel's spectacular lobby features an antique grandfather clock and long served as a local meeting place, thereby coining the well-known request "Meet me at the St. Francis" (the catchphrase also appears on the city's cable cars).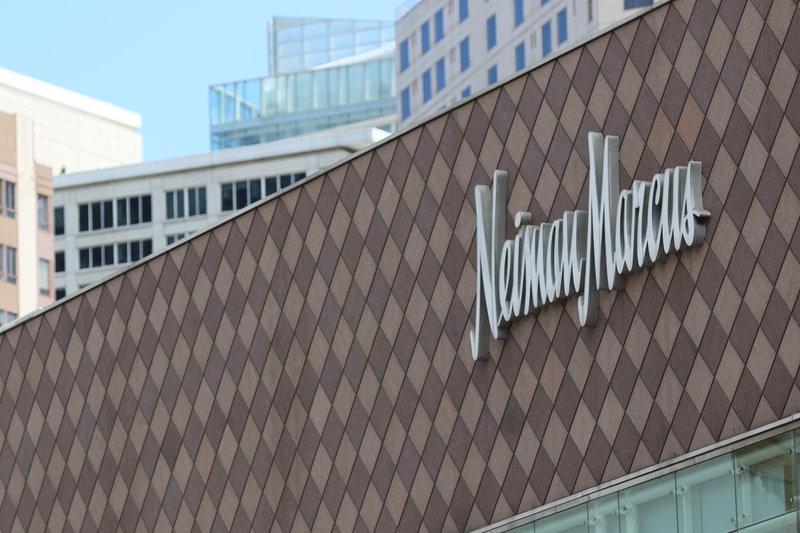 AAA/Thuyvi Gates
A huge Macy's faces Union Square's south side. Saks Fifth Avenue rubs elbows with Tiffany & Co. Neiman Marcus, at Geary and Stockton streets, boasts a six-story rotunda topped with an elaborate stained-glass dome. An arched ceiling features a mural of a sailing ship and crowns The Rotunda, a fancy-schmancy restaurant where the well-heeled convene for afternoon tea.
Apple Union Square, at the corner of Post and Stockton, is up-to-the-minute cool, with giant windows providing a view of the square and all the latest technological gadgetry on display.
From Union Square, walk along Maiden Lane east to Grant Avenue. This short, narrow side street was lined with bordellos during the raucous Barbary Coast era more than 150 years ago. At Grant turn left and head to Post Street. Here die-hard shoppers will want to detour temporarily left and/or right and check out the high-end clothing retailers.
Past Post Street, continue on Grant to the corner of Bush Street and the symbolic entryway into Chinatown, a green-tiled gate bedecked with golden dragons. Dedicated in 1970, it was a gift to the city from the Republic of China. The carved stone guard dogs standing guard at each side are supposed to ward off evil.
You'll explore Chinatown later, but for now turn right on Bush, walk two blocks to Montgomery Street and turn left. You've entered the concrete canyons of "Wall Street West," the Financial District. Deals have been made here since the 1850s, when prospectors returned from gold mines flush with treasure that needed to be protected, thereby creating a demand for banks.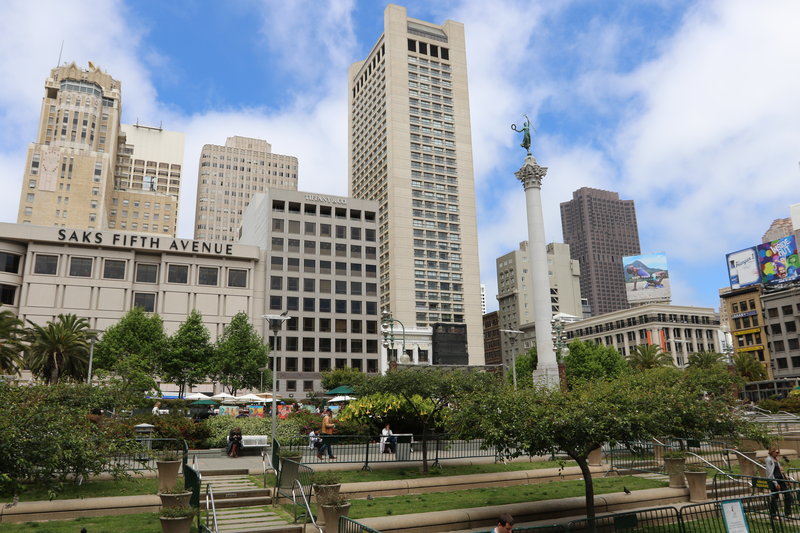 AAA/Thuyvi Gates
San Francisco's skyscrapers are architecturally varied. Lean and seemingly striped, 44 Montgomery (just north of Post) was built to house Wells Fargo's world headquarters. The concrete and steel structure stands 561 feet tall. The Mills Building, 220 Montgomery St. (at Bush), was built in 1892 (the tower was added in 1907). It occupies most of the block; various artworks are on display in the large lobby.
At 435 feet, the 1928 Russ Building (235 Montgomery St., just north of Bush) was the city's tallest until the 1960s, when construction of the Transamerica Pyramid began. Back then it was referred to simply as "the skyscraper." The Gothic design was modeled after the Chicago Tribune tower.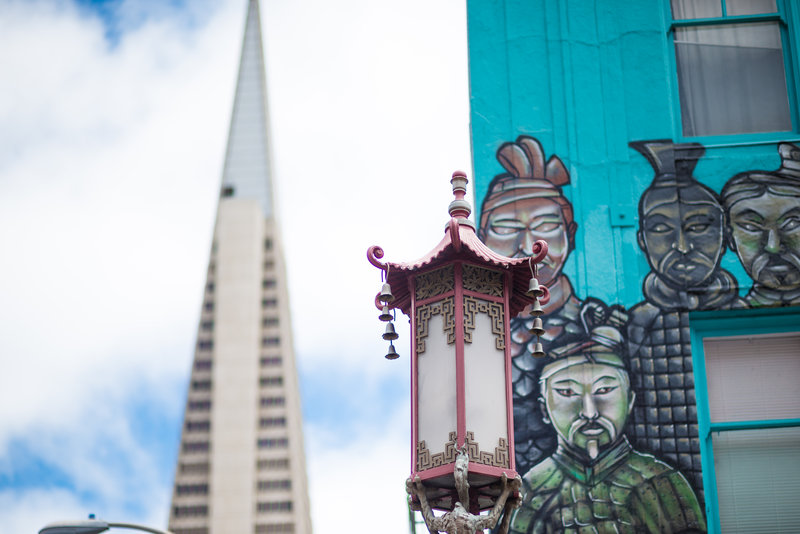 AAA/Thuyvi Gates
Speaking of "the pyramid," San Francisco's tallest building can be seen looking north. Standing at 600 Montgomery St. where Columbus Avenue meets Washington Street, this 48-story skyscraper has nearly 6,000 windows and is topped by a 212-foot-tall spire.
In its shadow is the Jackson Square Historical District, which dates from the gold rush era. The brick buildings with iron shutters that line Gold and Balance streets contain antique shops and restaurants. Victorian-style lampposts accentuate the old-timey feel.
Continue on Montgomery to California Street and turn left. Carved concrete, marble, brown stone and red brick decorate the facades of banks and office buildings, and extravagant chandeliers hang from lobby ceilings. The 52-story skyscraper at 555 California St., formerly known as the Bank of America Center, has an accordion-like exterior that features carnelian marble.
It's a short but relatively steep two-block climb up California back to Grant Avenue. Old St. Mary's Cathedral stands on the right, sandwiched between sleek high-rises and contrasting Chinese-style architecture. Built in 1854, this Catholic church is believed to be the first cathedral in California. It survived the 1906 earthquake and subsequent fires; following renovation, it was rededicated in 1909. Across the street in St. Mary's Square is a 12-foot-tall metal and granite statue of Dr. Sun Yat-sen, founder of the Republic of China.
Turn right onto Grant Avenue. Originally called Calle de Fundacion, this is Chinatown's main drag. Red and yellow flag pennants flutter above the narrow street, entwined dragons decorate lampposts, and store window and market signs are predominantly in Chinese. Apartment buildings, some with laundry-draped balconies, stand above the shops and businesses.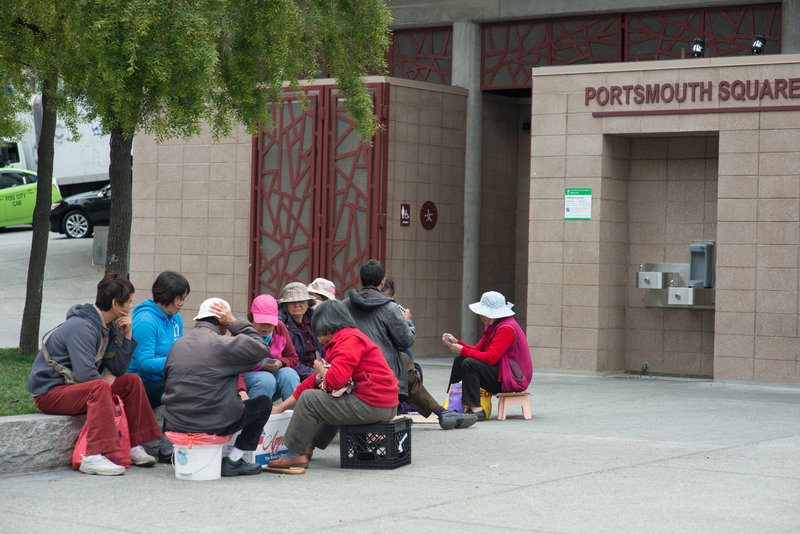 AAA/Thuyvi Gates
Numerous restaurants advertise dim sum specials, their employees handing out menus to passers-by. Stores sell fine antiques and jade sculpture. Sidewalk bins are filled with Chinese Barbie dolls, plastic Buddha statues, tea sets, embroidered slippers, postcards, bamboo flutes, three-for-$10 T-shirts, mah-jongg games and cricket toys that produce an ear-splitting shriek.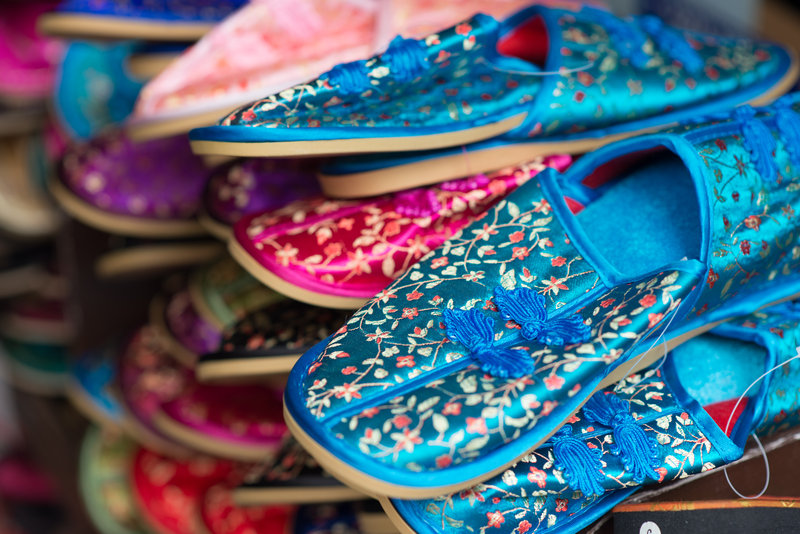 AAA/Thuyvi Gates
Do a little browsing. The Canton Bazaar (616 Grant Ave.) is a popular import shop. The Chinatown Kite Shop (717 Grant Ave.) sells fish kites and hand-painted paper kites, while the Wok Shop (718 Grant Ave.) peddles all sorts of housewares. Then check out the dragons adorning the columns and guarding the front doors at the Bank of America branch (at the corner of Grant and Sacramento).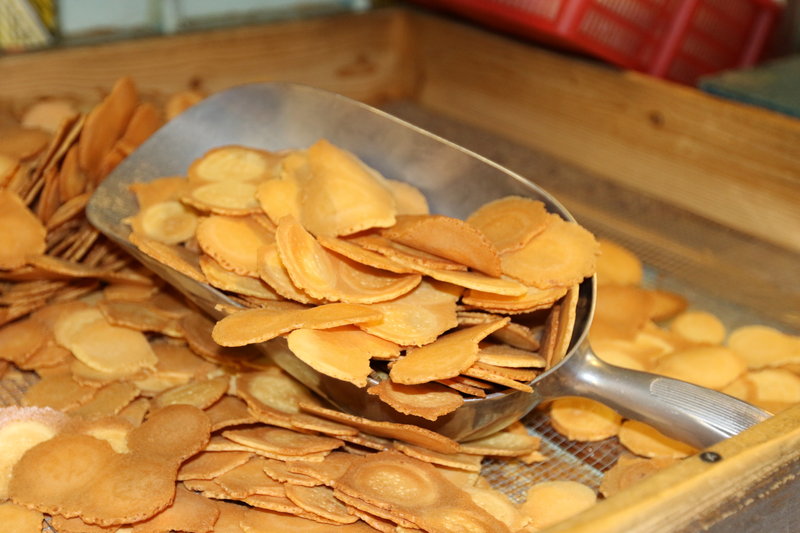 AAA/Thuyvi Gates
Continue up Grant five blocks to Pacific Avenue, turn left and walk a block to Stockton Street, then turn left again and walk down Stockton. Instead of souvenir shops, Stockton has mostly produce markets, bakeries and delicatessens, the latter often featuring a row of skinned ducks (with the heads still attached) hanging upside down in the window.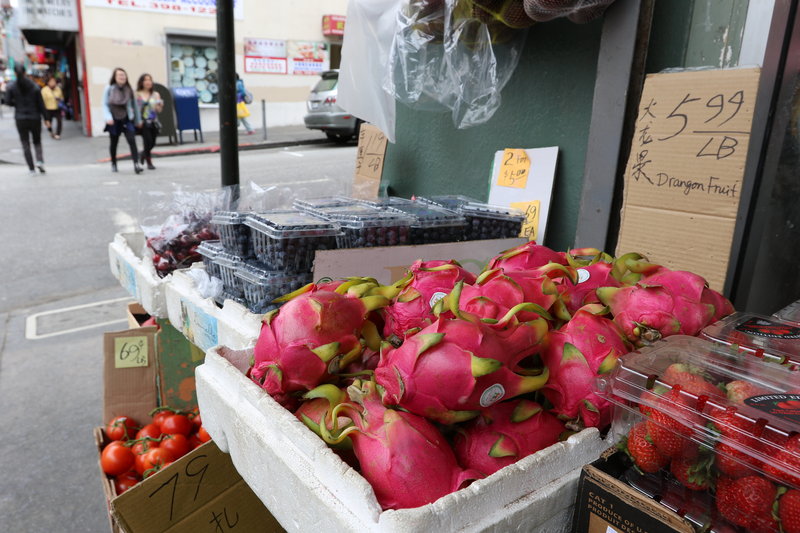 AAA/Thuyvi Gates
Saturday mornings on Stockton explode with activity. Residents pack the sidewalks, grocery shopping and socializing. Elderly women inspect the fresh water chestnuts and giant jackfruit with a keen eye, and street vendors hawk Chinese newspapers.
At Sacramento Street turn right and walk a block to Powell Street. This is the one uphill slog along the route (just keep telling yourself it's good exercise). Once you reach Powell the reward is a vista looking east toward downtown. That's one of the good things about San Francisco's hills; they offer elevated vantage points from which to view the cityscape.
Turn left onto Powell. Among the tony hotels you'll pass is the Sir Francis Drake (450 Powell St.). Take a peek inside this historic 1928 hotel; the public spaces have a swanky, old-school grandeur.
If you're feeling hungry, stop at Sears Fine Foods (439 Powell St.), another historic spot that's been in business since 1938. The house specialty is Swedish pancakes—18 of the crepe-like morsels, served with whipped butter and warm maple syrup—and you can order them until 3 p.m.
Continue down Powell to Post Street and you're back at Union Square, where the tour began.
Self-guiding Walking Tours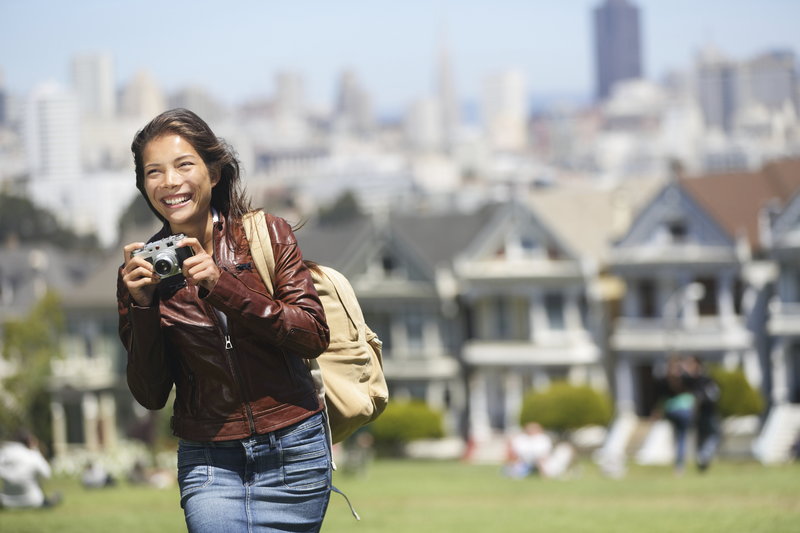 Maridav/iStockphoto.com
A classic postcard image—and one making an appearance in many a tourist photo—is the row of Victorians along Steiner Street at Alamo Square. If you stand in the right spot you can capture these elegant facades backed by the downtown skyline. Bordered by Steiner, Scott, Fulton and Hayes streets, the square is actually a grassy hilltop park, and a pleasant spot for an afternoon bench break or an early evening stroll.
Get to Know San Francisco Street Art
San Francisco is filled with awesome street art, which is on particularly vibrant display in the Mission. Artistic expression is represented in almost equal measure by graffiti and murals. Graffiti can be seen practically everywhere there's a surface to scrawl on, while murals adorn walls, churches, the sides of buildings, garage doors and alleyways. You could spend all day hitting Mission streets and checking out the art.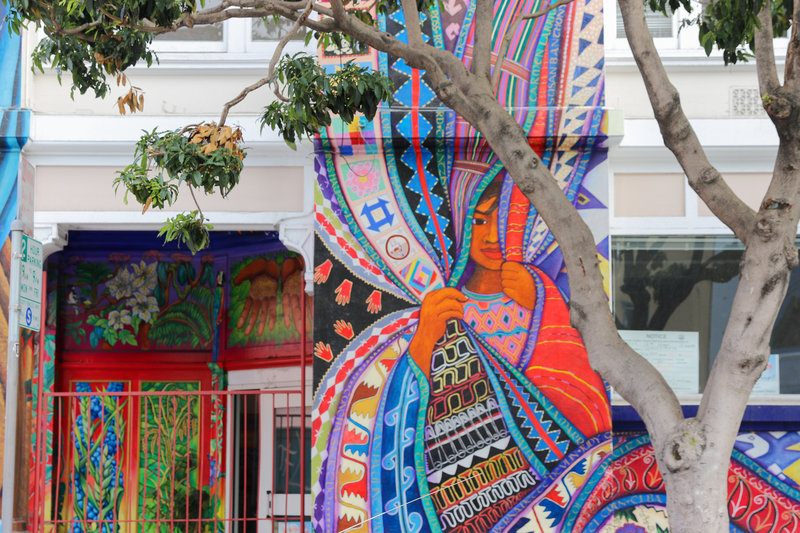 AAA/Thuyvi Gates
MaestraPeace, the stunning mural that covers two exterior walls of the four-story Women's Building (on 18th Street a block west of Valencia Street), is the work of seven female artists. The sheer vibrancy of the colors is remarkable; these walls practically sing. Note how the fabric patterns, human figures and historical scenes blend right into the building's structural elements.
La Llorona's Sacred Waters, the large wall mural at the corner of 24th and York streets, is the work of California muralist, printmaker, painter, educator and activist Juana Alicia. It's also known as the Blue Mural for obvious reasons; except for a bright red stripe at the roofline and a couple of well-placed red accents this mesmerizing work is executed entirely in shades of blue.
The Unique Character of Graffiti
It's along Mission alleys where art and graffiti often mix to striking creative effect. One example: narrow Osage Alley, off 24th Street between Mission and Bartlett streets. The weathered brick walls are covered with a blizzard of graffiti, but look down at the sidewalk and you'll see a row of identical images of singer-songwriter Lou Reed from the cover of Reed's 1972 album "Transformer."
Public Art Installations
Long-term public art installations are mounted regularly at Pier 14 on The Embarcadero (just south of the Ferry Building). In recent years they've included a giant spider sculpture by Louise Bourgeois; the Raygun Gothic Rocketship, a metallic, 40-foot-tall retro-futuristic artwork; and SOMA, a free-form metal sculpture equipped with LED lights that could be interactively manipulated to produce a range of colors, mimicking neuron patterns in the brain.
For fun places to go, you can't miss out on San Francisco's amazing sights. A sightseeing tour is a cost-effective way to get the most out of your vacation, discover new restaurants and enjoy what makes San Francisco such a compelling destination.