Shopping in San Antonio For Macy's and other national chains, follow the mall rats to a complex on the River Walk called Rivercenter , 849 E. Commerce St., with an IMAX theater and more than 100 nearby restaurants and stores. Weary shopaholics find respite on the steps of the mall's lagoon, where the musical group Andean Fusion puts a New Age spin on Incan sounds Monday through Saturday. You'll also find a smorgasbord of memento-browsing opportunities elsewhere along the San Antonio River. Here lollygagging tourists flaunt newly purchased wares—from T-shirts touting Texas virtues to trucker hats promoting the Lone Star State's unofficial don't-mess-with-us policy, a popular slogan that evolved from a highway anti-littering campaign.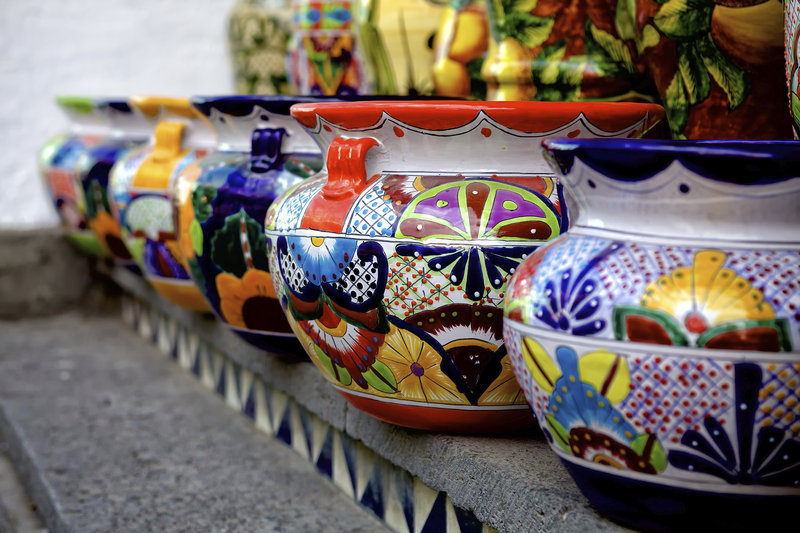 marcviln/iStockphoto.com
You may spot a few "Don't Mess with Texas" road signs on your way to San Antonio's favorite shopping destination: I-410, known locally as Loop 410. Ingram Park Mall , 6301 N.W. Loop 410, with Dillard's, JCPenney and Macy's, is along the northern arc of this route, as is North Star Mall , 7400 San Pedro Ave., which lays claim to the world's largest set of cowboy boots. Thanks to the 40-foot-tall sculpture, you'll have no trouble navigating to the stomping grounds of such upscale retailers as A|X Armani Exchange and Saks Fifth Avenue. Rustle up a few goodies then seek out the nearby smokestacks of Alamo Quarry Market , 255 E. Basse Rd., built on the site of a long-gone cement plant. At this open-air commercial plaza, you'll peruse everything from fine leather Lucchese boots to organic and recycled clothing from Whole Earth Provision Co.
The Shops at La Cantera , 15900 La Cantera Pkwy. next to Six Flags Fiesta Texas, presents an award-winning architectural blend of natural and man-made elements. Anchored by Dillard's, Macy's, Neiman Marcus and Nordstrom, the sophisticated center combines al fresco shopping with the traditional layout of an indoor mall. Along shaded walkways, Texan moms and daughters tote Abercrombie & Fitch and White House/Black Market purchases past waterfalls, lush greenery and a tiki-themed children's play area. Plus, everyone in the family will appreciate La Cantera's abundance of places to eat, though the Yard House, where classic rock and draft beers rule, inevitably is the boys' first choice. To the east, on the opposite side of I-10/US 87, The Rim retail hub features Bass Pro Shops Outdoor World, JCPenney and an array of other places where you may want to shop during your trip.
flickr/Liza Lagman Sperl
Fashion mavens will largely be unimpressed by the downtown San Antonio shopping scene; however, the city's historic and artistic milieus will appeal to those seeking colorful tchotchkes, ethnic crafts and inexpensive keepsakes highlighting San Antonio's Tex-Mex culture. Bounded by Dolorosa, Santa Rosa, W. Commerce Street and I-35, lively Market Square, or El Mercado, 514 W. Commerce St., delivers the flavors of Mexico to Alamo City—and we're not just talking tamales and tortillas! Indoor stalls beckon would-be customers with neat displays of imported leather goods, rich textiles and pottery; outside, it's more of the same vibrant eye candy, with strategically placed items like lucha libre (Mexican wrestling) masks, marionettes and sombreros attracting shoppers of all sizes.
Although Market Square has been central to the community since the 1900s, La Villita holds the title of oldest neighborhood in the city, having sheltered, at various times, Coahuiltecan Indians, Spanish soldiers and their families, and 19th-century European immigrants. With its cobblestone streets and quaint adobe and Victorian houses filled with handicrafts and artwork, the restored village serves as a leisurely detour for vacationers exploring the River Walk. The compact shopping venue at S. Alamo and E. Nueva streets also is accessible via the VIA streetcar system.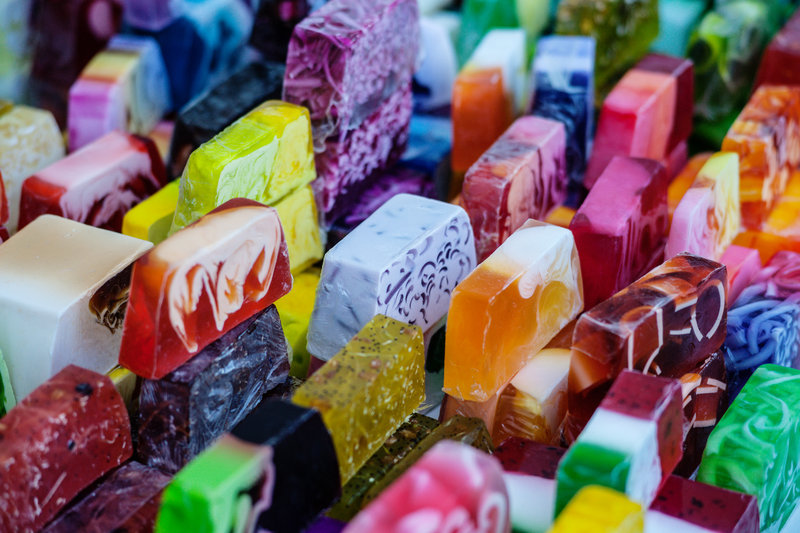 iStockphoto.com/bbstudio_aad
When you find yourself in need of a good farmer's-market fix, head to the Pearl Weekend Market , 312 Pearl Pkwy., where locally produced vittles fill more than 45 booths. In front of the Pearl Pavilion, the market is open Sat. 9-1 and Sun. 10-2. Produce and meats are featured on Saturdays; on Sundays, choose from homemade products like sauces, soaps, honey, candy, pet treats and pickles to take home from your vacation. The market is just one part of The Pearl , a shopping and entertainment district at 302 Pearl Pkwy., which also offers an assortment of eateries as well as boutiques where you can stock up on au courant apparel, jewelry, gifts and books; phone (210) 212-7260.
If the Texas heat has you longing for shade, head to Paris Hatters —you'll be following in the footsteps of Hollywood stars (Matt Damon and Tommy Lee Jones), rock gods (Eric Clapton and Paul McCartney) and world leaders (Pope John Paul II, Dwight Eisenhower and Harry Truman). Family owned and operated since 1917, this timeless operation just northwest of the Alamo at 119 Broadway St. keeps customers feeling and looking cool in stylish custom-fitted hats ranging from $20 to $7,000.
Vestiges of the past permeate San Antonio, so it's not surprising to see local history branded on assorted souvenirs sold in the area's many nondescript gift shops. At Alamo Plaza , a handful of stores fronting the Alamo hawk miniature versions of the mission-turned-fort as well as coffee mugs emblazoned with the poignant "Remember the Alamo!" battle cry.