San Diego in 3 DaysThree days is barely enough time to get to know any major vacation destination. But AAA travel editors suggest these activities to make the most of your time in San Diego.
Day 1: Morning You can't go wrong beginning your San Diego sojourn at the world-renowned San Diego Zoo , in urban San Diego's picturesque cultural hub, Balboa Park . If you've missed breakfast, stop by the San Diego Zoo Sandwich Company just inside the zoo entrance where you'll have a perfect view of the Flamingo Lagoon while you fortify yourself for the day's activities with eggs and toast.
Double-decker "Kangaroo Express" buses offer transportation to five stops throughout the park, something to keep in mind should you poop out on the zoo's far side. The Skyfari Aerial Tram offers another way to get around, and the bird's-eye view can't be beat.
The aerial tram drops you off near the Polar Bear Plunge, a highlight on the opposite side of the zoo from the entrance. An underwater window reveals that the bears are surprisingly graceful swimmers. Elephant Odyssey compares its resident elephants, jaguars and California condors with replicas of their extinct relatives that roamed the area during the Pleistocene. The Scripps Aviary boasts a tropical theme with waterfalls and lush foliage providing a habitat for more than 100 colorful African birds.
Day 1: Afternoon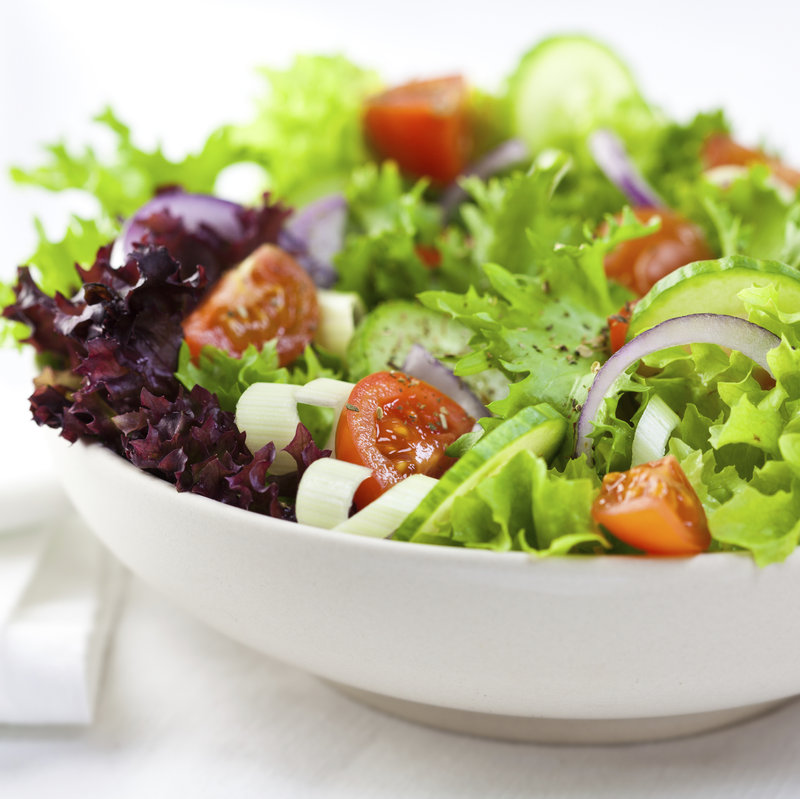 iStockphoto.com/barol16
If there's more growling going on inside your stomach than in your surroundings, order lunch at the Treehouse complex adjacent to Gorilla Tropics and the Scripps Aviary. You have a choice of two places to eat here, and both make the most of their leafy surroundings. The Treehouse Café is casual and sells salads, sandwiches and a few hot entrees, but what makes this eatery so popular is the view: the outdoor dining area occupies decks built out over a forested canyon. Adjacent to the café is Albert's, which also boasts an open-air deck only this one faces a pretty waterfall. This full-service restaurant offers a more diverse menu complete with appetizers, pasta, steak and fish as well as beer and wine.
Exhibits you should try to visit: the Ituri Forest (hippos, okapis and otters), Tiger River (tigers, tapirs and freshwater crocodiles) and the Giant Panda Research Station. If you have kids, then the Children's Zoo near the entrance is a must.
As difficult as it might be, try not to linger too long among the zoo's exhibits because you'll want to see a bit of surrounding Balboa Park, an expansive jewel within sprawling San Diego just a few minutes from downtown. This all-purpose city park houses not only the zoo but most of San Diego's big museums and other fun places to go such as theaters, hiking and biking trails, sports facilities and formal gardens.
After having walked along paths bordered by dense walls of vegetation, you might find it hard to believe that the area was once dry scrubland. Transforming a windswept mesa into a landscaped showplace and cultural focal point didn't happen overnight. The park got its start more than a century ago and only approached its current character after serving as the site of two world's fairs: the 1915 Panama-California Exposition and the 1935-36 California Pacific International Exposition. Balboa Park's signature buildings—its ornate Spanish Colonial Revival facades, its colorful, tile-inlaid fountains and charming arcades—were built for these events, and although many of them were temporary plaster and wood structures, San Diegan's found them too beautiful to simply tear down after the exposition crowds had departed. Many were rebuilt of more durable materials as the park was developed.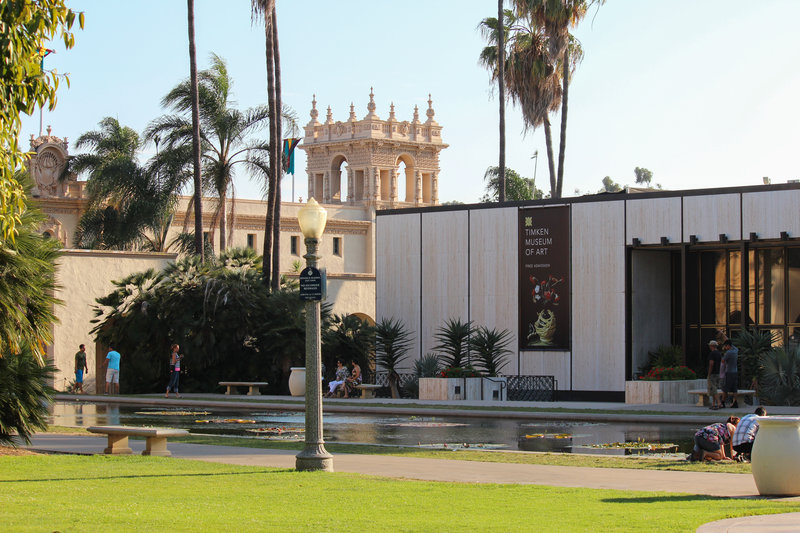 AAA/Julie Ouellette
The California Building, housing the San Diego Museum of Us , is the park's chief landmark by virtue of its elaborate 200-foot-tall tower and multihued tile dome. When visitors describe the setting as "romantic," this is the image they usually have in mind. Stroll along El Prado, the main east-west thoroughfare of the 1915 Exposition, from the graceful arches of the Cabrillo Bridge at the park's western entrance through the grand gateway formed by one wing of the California Building and past the Alcazar Garden; House of Charm (containing the San Diego Art Institute ); Plaza de Panama with its statue of the Spanish hero, El Cid; House of Hospitality (a visitors center); Timken Museum of Art ; Casa de Balboa ( Museum of Photographic Arts and San Diego History Center & Library ); Casa del Prado (containing a theater); and the Botanical Building with its photogenic reflecting pool. You'll end up giving your shutter button a workout as every few steps seems to yield a new vista begging to be preserved in a snapshot.
Day 1: Evening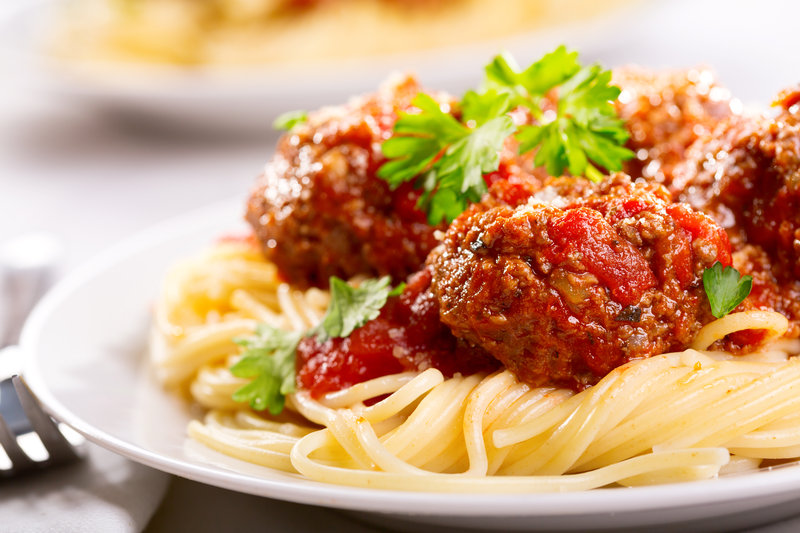 Shutterstock.com/Nitr
Although it's a bit pricey, eating at The Prado at Balboa Park inside the House of Hospitality is worth it. The location is not only convenient but beautiful, with outdoor patios overlooking manicured gardens. The cuisine is a blend of Spanish and Italian and each dish brings together all sorts of subtle flavors. Entrées include center cut pork prime rib, duck and New York steak, and the desserts range from vanilla bean cream cheese flan to creamsicle spiced crème brûlée. Because it's such a desirable dining locale, try to make reservations. As you approach the entrance, notice the fountain sculpture of a seated woman pouring water from a jug. Designed in 1935, "Woman of Tehuantepec" has become a park icon you're likely to see repeated on publications and postcards.
Day 2: Morning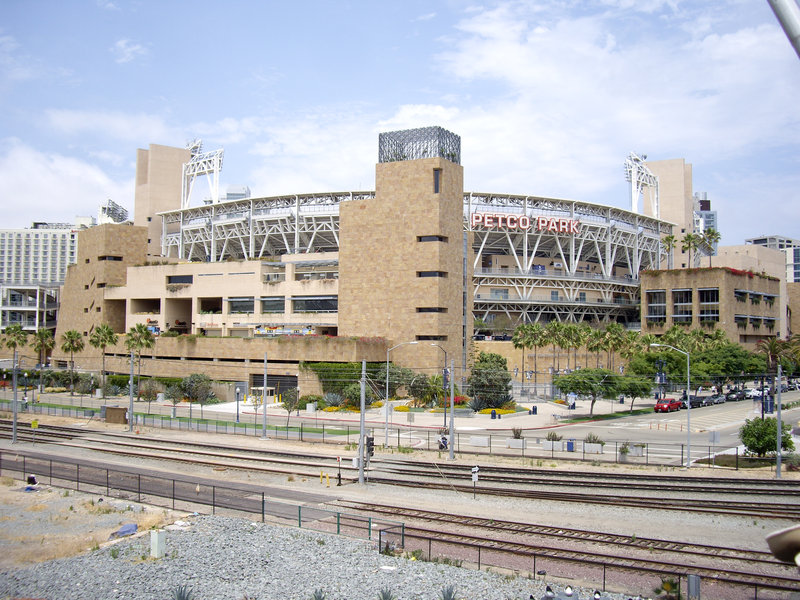 AAA/Julie Ouellette
It might not have the whimsical buildings and lush gardens of Balboa Park, but downtown San Diego, far from being just a workaday central business district, has a lot of fun things to do for out-of-towners, too. Here you'll find the San Diego Convention Center, Petco Park (home of the Padres), the Museum of Contemporary Art San Diego (MCASD) Downtown , the historic Gaslamp Quarter, shopping centers, restaurants and the boat- and ship-crowded waterfront known as the Embarcadero, home to two of San Diego's best museums.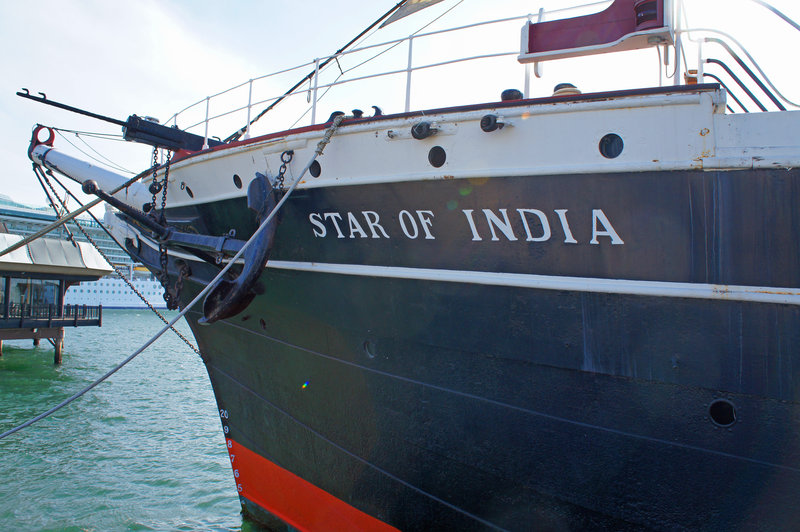 AAA/Photo submitted by Maria White
The Maritime Museum of San Diego is a diverse collection of historic ships beautifully restored and maintained. The largest is the Berkeley, a more than 100-year-old steam ferry that in its heyday carried survivors of the 1906 San Francisco earthquake to safety. Glass cases filled with sundry nautical antiques and photos recount different eras of San Diego's maritime history. Did you know that San Diego was once one of the largest tuna fishing ports in the world and that it's the largest U.S. naval port on the Pacific? You will, after checking out the exhibits here.
The prettiest ship in the collection is the Star of India, a sailing ship launched from the Isle of Man in the British Isles in 1863. Exhibits and hands-on displays on board give you an idea of what it was like to work on a wind-powered vessel back when the Star of India's iron hull was cutting-edge technology. Among the other sundry ships in the museum's collection: a 1904 luxury steam yacht and the H.M.S. Surprise, a Royal Navy frigate replica you might have seen in the Russell Crowe movie, "Master and Commander." For an additional fee, you can cruise the harbor aboard a 1914 pilot boat or take turns manning the helm during a harbor excursion on the tall ship Californian, a replica of an 1847 schooner.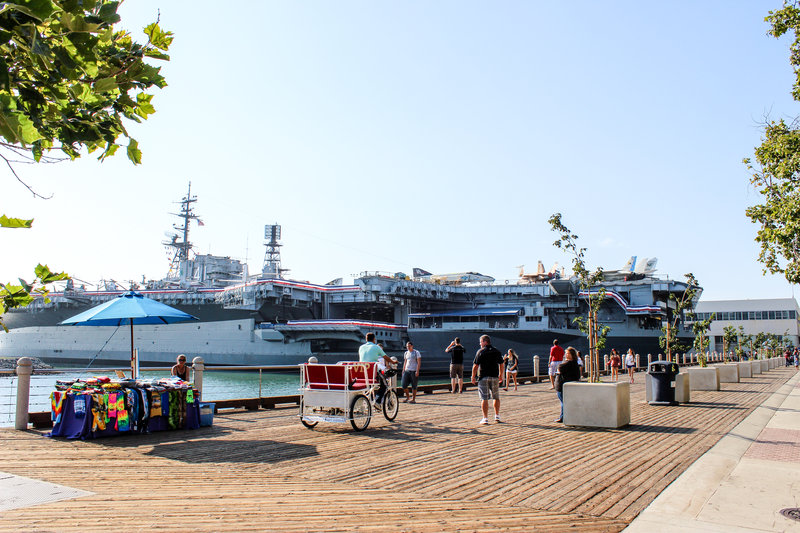 AAA/Julie Ouellette
Dwarfing all of the maritime museum's vessels combined and bigger even than the cruise ships docking at the nearby terminal, the USS Midway, a few blocks south of the maritime museum, was the largest ship in the world when it was built in 1945. After serving her country for nearly 50 years, this behemoth is now The USS Midway Museum and you can spend hours exploring its decks with the help of an audio tour guide. You'll see a couple dozen restored aircraft and all sorts of exhibits about naval aviation as well.
Day 2: AfternoonFor lunch, walk over to The Fish Market next to the USS Midway. This local landmark has a prime location on the bay with great views, especially from Top of the Market , which is the full-service restaurant on the second floor. Downstairs is The Fish Market, the casual counterpart to the restaurant upstairs, and like the name suggests, the fish is market fresh. Although particulars on the menu change according to what's in season, you can expect an extensive selection of raw shellfish, seafood cocktails, sashimi and sushi as well as smoked and mesquite-grilled fish. The sushi and the fish and chips are done especially well.
AAA/Photo submitted by Maria White
Spend the rest of the afternoon shopping and enjoying the scenery at Seaport Village right next door. The theme here is "quaint seaside village" with many shops imitating ramshackle bait shops and lighthouses. Some might find Seaport Village tries a little too hard to be cute, but mixed in among the souvenir vendors catering to tourists are some interesting little specialty shops selling everything from hot sauces to imported Scandinavian sweaters and jewelry. There are more than 50 stores in all along with several restaurants and cafés, and Seaport Village makes the most of its waterfront location with fountains, trees and a walkway along the bay offering splendid views of Coronado and the Coronado Bay Bridge. There's also a Looff carousel, horse-drawn carriage rides and on the weekends, street performers.
If Seaport Village only whets your appetite for more shopping, walk just a few blocks east to Westfield Horton Plaza , a multilevel, open-air mall that's one part traditional shopping center and one part carnival funhouse. A maze of walkways and terraces here connects a jumble of stores (more than 100), with stairs and escalators leading up and down to the various floors. Unwary shoppers tend to get lost, but if you approach it with the right frame of mind, wandering through its network of corridors can be fun. Head to the top floor for a great view of the whimsical complex and the rest of downtown.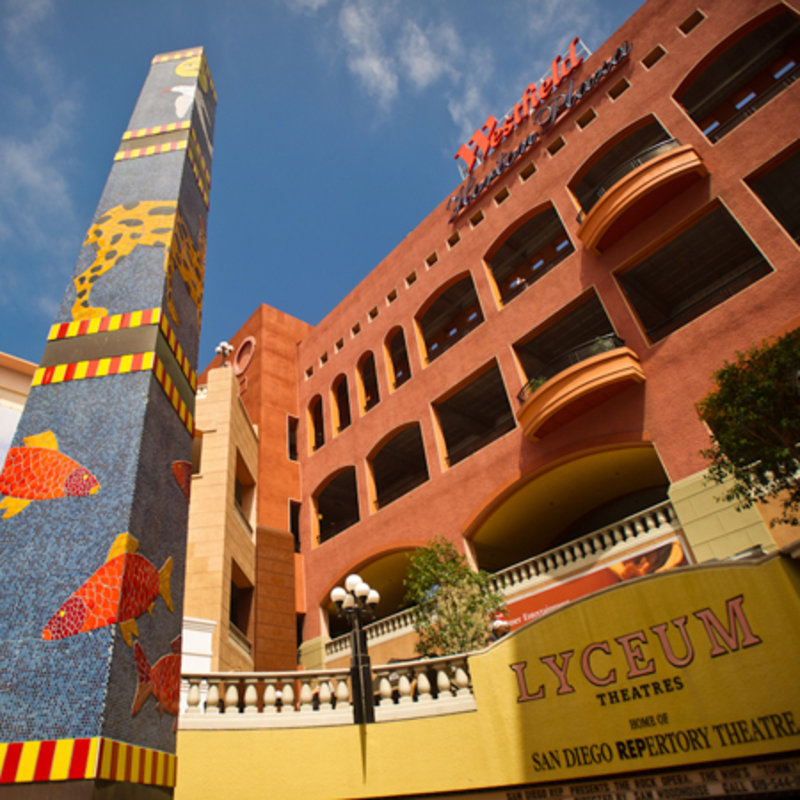 AAA
Since you're in the neighborhood, check out San Diego's Gaslamp Quarter, bordering Westfield Horton Plaza on the east. Signs arching over the street proclaim this district to be the "Historic Heart of San Diego." Beautifully restored Victorian-era commercial buildings, brick sidewalks and streets lined by old-fashioned, wrought-iron lamp posts with white globe lights give you a taste of what life was like here in the 19th century. You'll find several shops and restaurants in the district, but this place really starts hopping after dark when all the bars and nightclubs open for business.
Day 2: EveningFollow the setting sun to Coronado , an exclusive island enclave (actually it's virtually an island but technically a peninsula). You have two options to get there: the San Diego-Coronado Ferry departs from the dock at Broadway and Harbor Drive near the USS Midway; the trip takes about 15 minutes and you'll have a nice perspective of the city. But if you want a truly breathtaking panorama of San Diego and its surroundings, take the San Diego-Coronado Bay Bridge, a graceful ribbon of concrete that soars 200 feet above the bay allowing huge U.S. Navy ships to pass underneath and providing stunning views to drivers.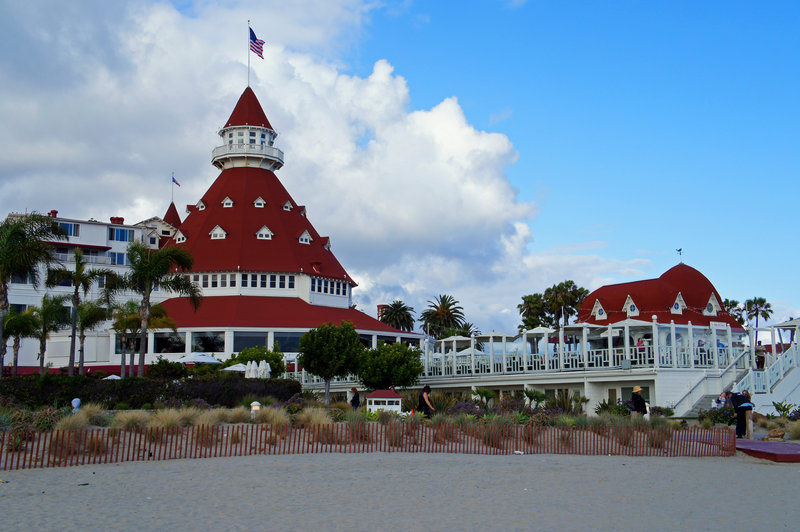 AAA/Photo submitted by Maria White
Coronado is home to two naval bases, a few high-end resorts and some very well-heeled homeowners, so the atmosphere here is generally upscale. It's the inviting beaches that first attracted visitors here, and with visitors came hotels and, in 1888, the grande dame of Coronado, the Hotel del Coronado, Curio Collection by Hilton . This rambling Victorian masterpiece, with its iconic towers, whitewashed walls and high-pitched red roofs, set the standard for luxury in San Diego and continues to do so today. From the swaying palms and lush landscaping to the rich dark wood interiors, "The Del," as it is fondly called by locals, is a landmark you shouldn't miss. And if you time it right, sipping a cocktail overlooking the beach at sunset will be a highlight of your trip.
Day 3: Morning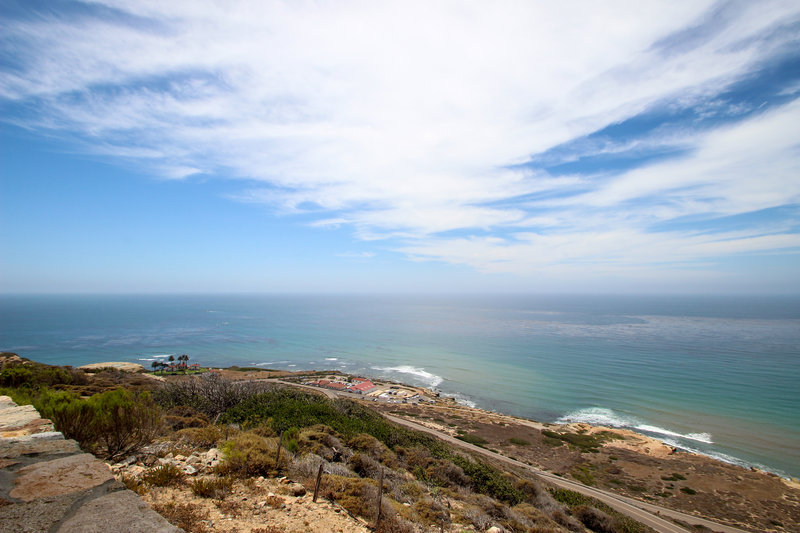 AAA/Julie Ouellette
Drive out to Cabrillo National Monument on Point Loma, the spit of land separating San Diego Bay from the Pacific. The views from the point are spectacular, encompassing the city and the entire harbor as well as a sweeping expanse of the Pacific that includes migration routes used by Pacific gray whales in winter. Make sure your camera battery is charged because this is one of San Diego's most scenic views.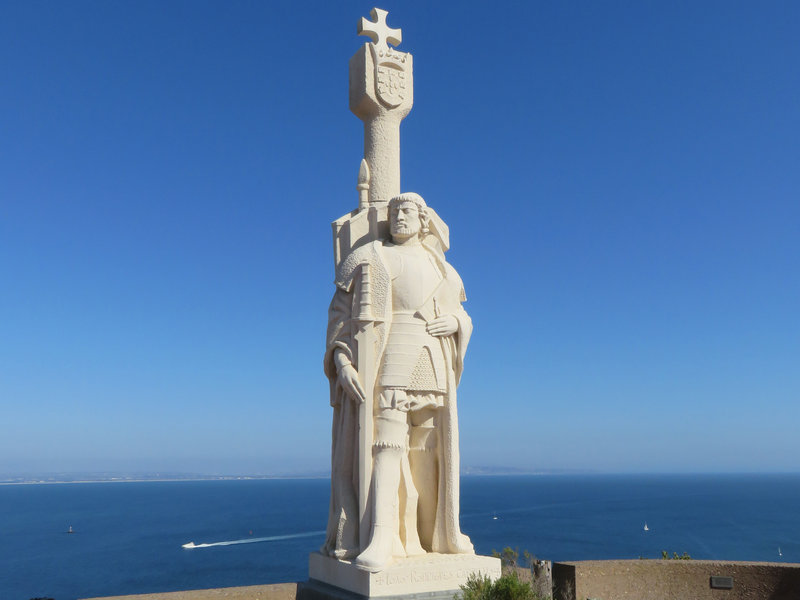 AAA/Frank Swanson
A 14-foot sandstone statue near the parking lot honors Portuguese explorer Juan Rodríguez Cabrillo, who was the first European to step onto what would eventually become the West Coast of the United States. Paved pathways lead to overlooks, a lighthouse, a military exhibit and a visitors center with displays about Cabrillo as well as general park information. The Bayside Trail on the park's east side meanders through native coastal scrub, and a road branching off near the main parking lot leads down to a rocky shore with tide pools on the park's Pacific side.
Day 3: Afternoon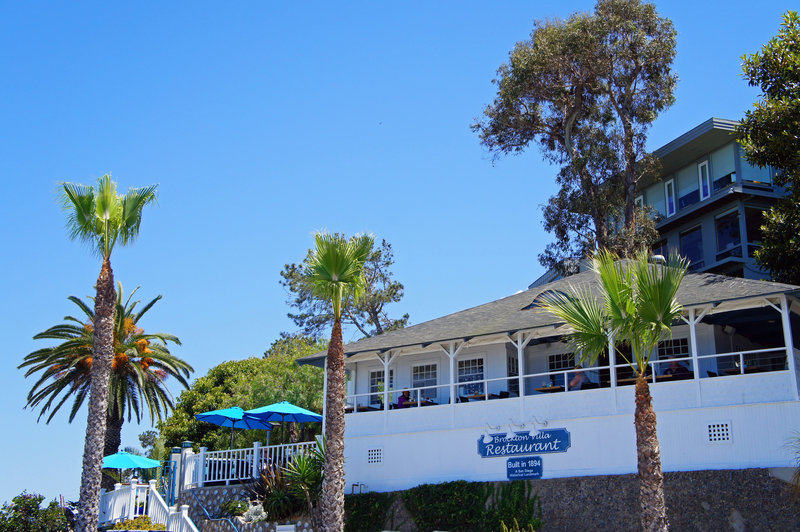 AAA/Photo submitted by Maria White
Travel north through the towns of Ocean Beach, Mission Beach and Pacific Beach on your way to the tony seaside community of La Jolla . Palm fronds swaying in the sea breeze above red-tile roofs and gorgeous ocean views characterize La Jolla, and downtown is known for its beach resorts, luxurious local restaurants and upscale boutiques as well as lovely little La Jolla Cove with its steep rock bluffs and sandy beach.
Enjoy the rest of the afternoon wandering among the marine exhibits at the Birch Aquarium at Scripps Institution of Oceanography , north of downtown on the University of California, San Diego campus. There are more than 60 habitats represented here. Don't miss the huge Kelp Tank filled with schools of fish swimming among a swaying kelp tendrils or the Tropical Seas Gallery with its colorful live coral. The Shark Reef exhibit, home to an array of shark varieties, is equally fascinating, and the Tide-Pool Plaza acquaints visitors with this habitat common to California's coastline. You can even touch some of the marine critters that live in tide pools. An added bonus: The picture spot outside the aquarium from which you can see La Jolla Cove, Scripps Institute pier and the cliffs near the university campus.
Day 3: Evening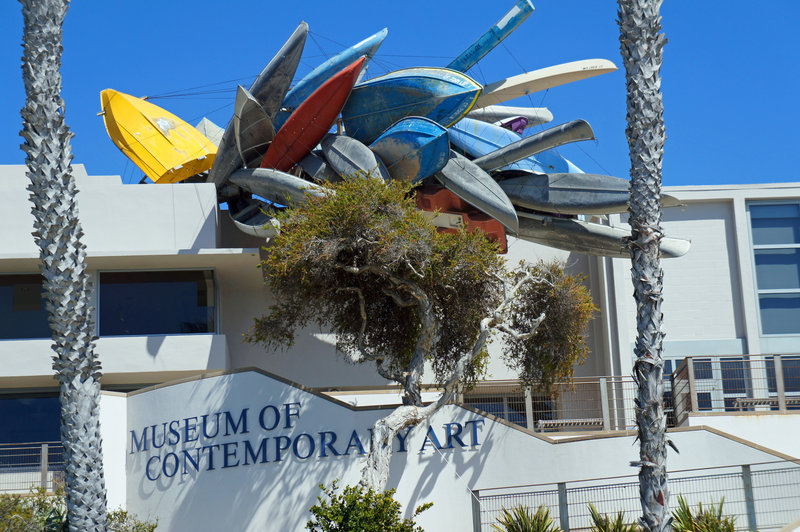 AAA/Photo submitted by Maria White
Celebrate your third evening in San Diego with a sumptuous dinner in an equally sumptuous setting at George's at the Cove , which is tucked in among the boutiques and art galleries of downtown La Jolla. You'll have an amazing ocean view and the sleek, elegant décor and carefully designed lighting creates an aura of luxury you'll really enjoy. The menu changes daily, but be assured that the California cuisine is as sophisticated as the ambience. You'll need reservations, and should a table not be available, consider the rooftop Ocean Terrace upstairs. It's less pricey, more casual, the view is incredible and your chances of getting in without a reservation are better. George's Bar, the third dining room at George's at the Cove, serves from the same menu as the Ocean Terrace and has a balcony that also takes advantage of the building's primo location.