Shopping in San Diego
Balboa Park
As you might expect, most of the museums at Balboa Park contain gift shops crowded with souvenirs—from silly gag items to top-notch educational teaching tools. You should be able to find something for everyone on your vacation gift list at the urban cultural park, whether you're looking to wow a couple of grade-schoolers (choose from dinosaur replicas, games and puzzles at the San Diego Natural History Museum ) or a persnickety father-in-law (try the Marston House for Arts and Crafts furnishings and architectural publications).
More than 200 artisans, including sculptors, photographers and glassblowers, showcase and—for the right price—part with their creations at the Spanish Village Art Center . One-of-a-kind keepsakes also can be purchased at the United Nations Associations International Gift Shop , where beautiful handwoven baskets and Russian nesting dolls are on display alongside other treasures from African, Asian, European and Latin American countries.
Plush pandas for the kiddos are big sellers at the San Diego Zoo , but some of the retail outlets at the popular attraction also sell glam goods like handmade jewelry and elegant handbags. Before exiting the zoo, do some last-minute browsing at the San Diego Zoo Store. On Front Street near the main entrance, it boasts fun animal-themed commodities like sloth socks and owl memo pads as well as a large assortment of crafts from around the world.
Downtown/Gaslamp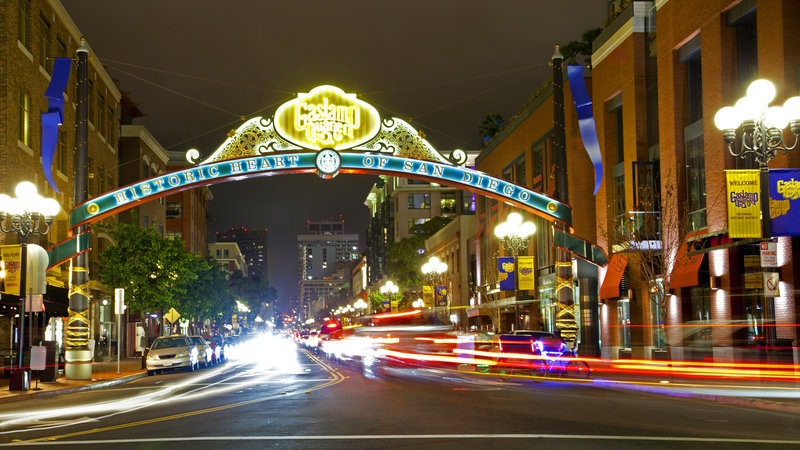 Gaslamp/iStockphoto.com
Primarily a dining and nightlife center with lots of things for couples to do, San Diego's historic Gaslamp Quarter also is interspersed with chichi art galleries and fashionable stores hawking brand-name gear (think Lucky Brand Jeans and Quiksilver).
Sky-high rents have forced out many of the independent shops, but some doggedly hang on. Bubbles Boutique (226 5th Ave.) carries handcrafted bath products, casual women's clothing and cutesy gift items.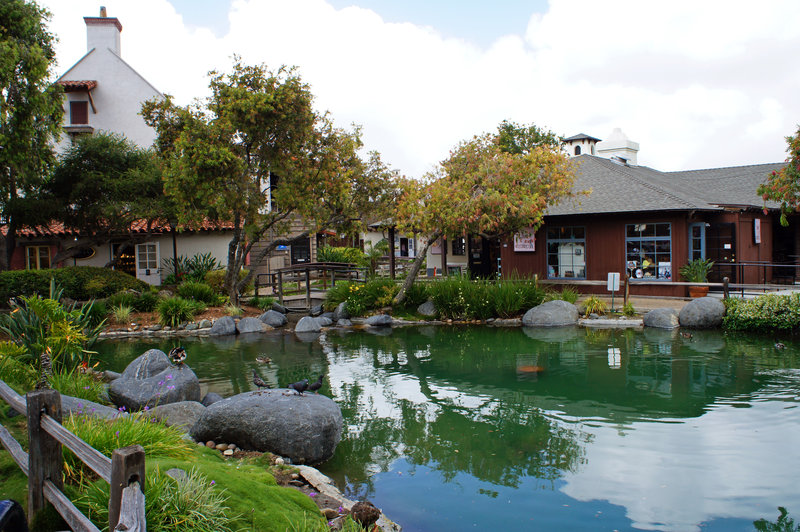 AAA/Photo submitted by Maria White
Fronting the harbor, Seaport Village sits southwest of the Gaslamp Quarter at the southern end of the Embarcadero. Street performers liven things up year-round; plus, a busker festival is held at the waterside marketplace in March.
While you can certainly pick up your run-of-the-mill San Diego-emblazoned souvenirs while strolling through Seaport Village, some stores do peddle more distinctive keepsakes.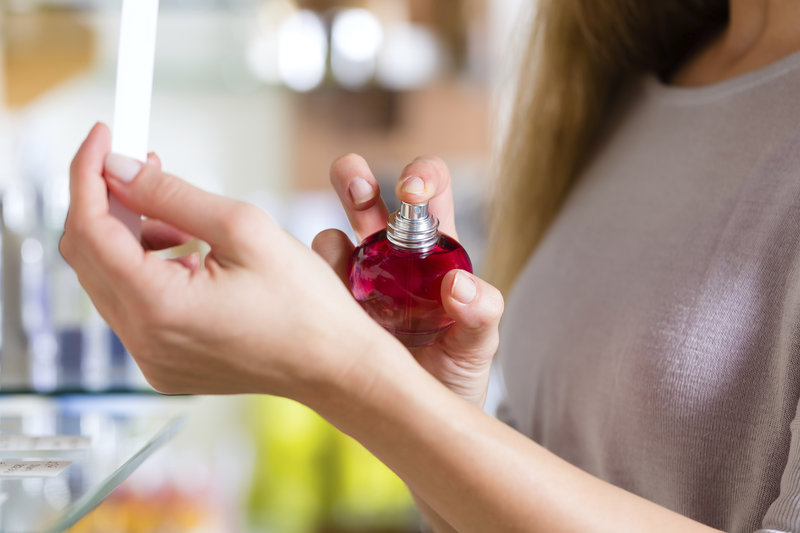 kzenon/iStockphoto.com
Hip merch that says "California" a little more subtly is what's trending at Urban Girl Accessories (837 W. Harbor Dr.). Pick up a bottle of La Jolla Salt Co. sea salt or a retro dish towel stamped with a vintage map of The Golden State.
HillcrestIn the bohemian-hipster enclave of Hillcrest, independently owned stores keep style-conscious locals looking their best as they venture out to the many local restaurants. A dizzying selection of fedoras, berets and caps garners plenty of repeat business at the Village Hat Shop (3821 4th Ave.), founded in 1980.
Music memorabilia covers the walls of Record City (3757 6th Ave.), and if you're a serious collector, you could easily spend a few hours digging through the store's impressive collection of hard-to-find vinyl. Take your time poking through the well-organized $1 bins—you might very well stumble across a few gems. Those on the hunt for pristine first editions hit pay dirt in the back of Footnote Books (1627 University Ave.), which stuffs an amazing number of general interest tomes into its tiny space.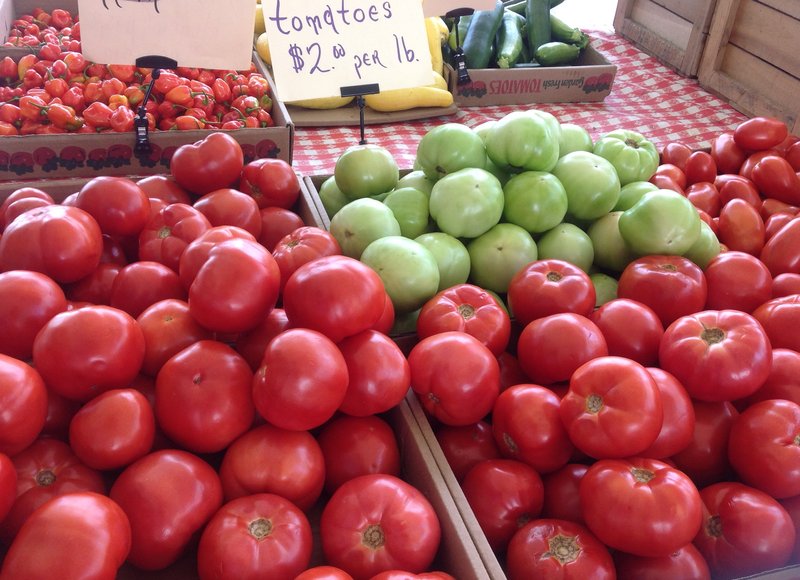 AAA/Inspector 592
The Hillcrest neighborhood also is home to one of the city's most popular farmers markets. Held every Sunday from 9 a.m. to 2 p.m., the Hillcrest Farmers Market brings 175 vendors to Normal Street (between Lincoln and University avenues). Take a morning stroll through the temporary tent village, enjoying free samples and live entertainment along the way. Balboa Park is nearby, so if the mood strikes you, pick up a few goodies then head due south for an impromptu picnic.
Mission Valley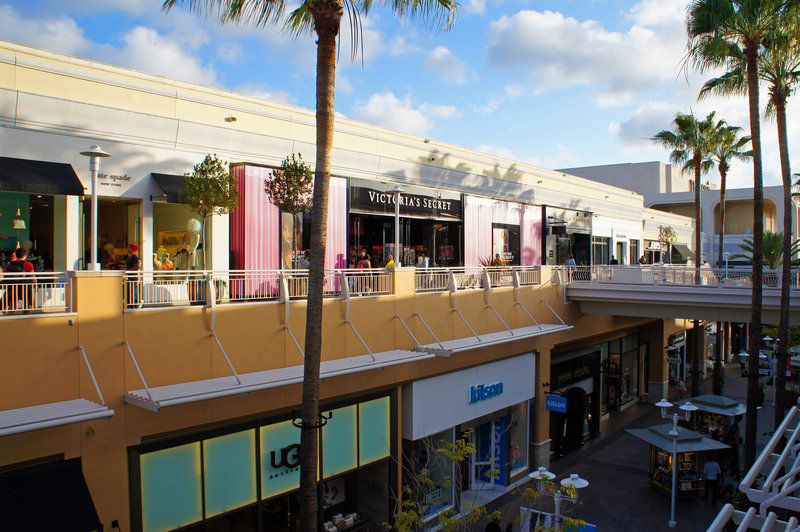 AAA/Photo submitted by Maria White
Californian fashionistas in need of some retail therapy flock to Mission Valley, which boasts two large shopping centers— Fashion Valley (7007 Friars Rd. at SR 163) and Westfield Mission Valley (1640 Camino Del Rio N. at I-8 exit 5). The malls, within about a 5-minute drive of each other, have a combined total of more than 300 stores and restaurants. Fashion Valley is anchored by Bloomingdale's, JCPenney, Macy's, Neiman-Marcus and Nordstrom, while Westfield Mission Valley offers Macy's Home and Nordstrom Rack.
Ocean BeachKnown as the Haight-Ashbury of San Diego in the 1960s, Ocean Beach retains a laid-back vibe, with today's "OB" businesses catering to the neighborhood's large population of surfers, college kids and aspiring hippies. The center of the action is the Newport Avenue Shopping District (along Newport Avenue between Sunset Cliffs Boulevard and Abbott Street). In addition to head shops and tattoo parlors, you'll find funky stores filled with everything you need to fit in around these parts—from surf and skate equipment to tie-dye sarongs, flip-flops and itsy-bitsy bikinis.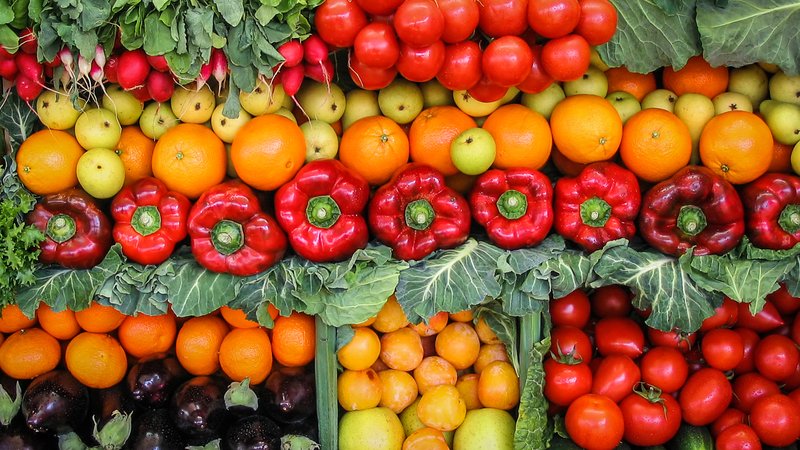 iStockphoto.com / Marlee90
On Wednesday evenings, the eclectic inventory grows. Merchants hawk arts and crafts, natural and organic products, and free-spirited clothing during the Ocean Beach Farmers Market . Musicians and other performers entertain shoppers at the weekly bazaar, which takes place along the 4900 block of the Newport Avenue strip (between Cable and Bacon streets).
Some of San Diego's best antique wheeling-and-dealing also happens along OB's main commercial stretch. Private collectors and interior designers frequent the Ocean Beach Antique Mall (4926 Newport Ave.). It is a solid spot for those on the hunt for Asian antiquities, fine art prints, collectible dolls, period furniture and other vintage items. If you're into the Parisian chic look, don't miss Vignettes Antiques (4828 Newport Ave.), a treasure-crammed Ocean Beach Antique District staple that also carries vintage Chanel jewelry.
Old Town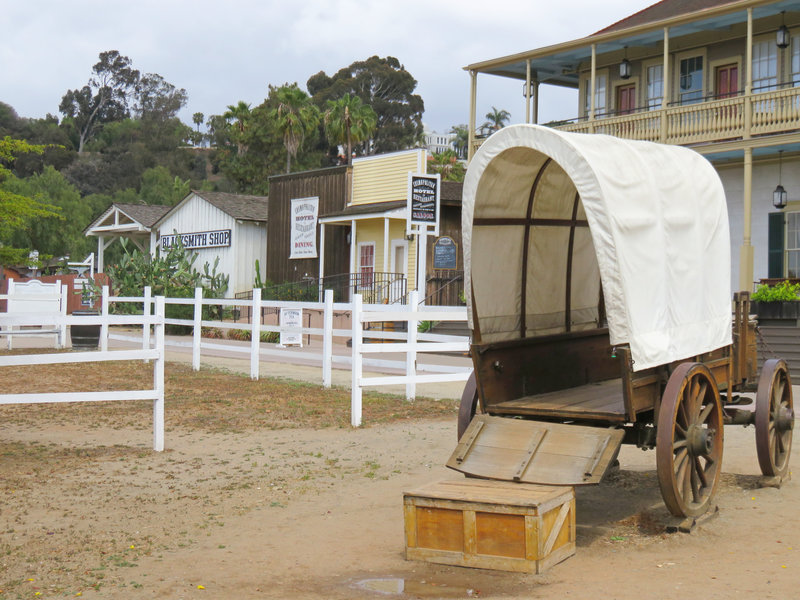 AAA/Frank Swanson
Many of the original and reconstructed buildings at Old Town San Diego State Historic Park house gift shops, and some showrooms intermingle sale items like colorful pottery and other handcrafted items with artifacts and interpretive displays.
A bust of Jose Antonio Aguirre, a 19th-century merchant, stands outside the entrance to Old Town Market (4010 Twiggs St.). In this reconstruction of Aguirre's former home, multiple dealers peddle wares like dreamcatchers, sterling silver jewelry, sombreros, decorative painted tiles and Baja hoodies.
Another interesting retail store/museum is Racine & Laramie Tobacconist (2737 San Diego Ave.), which is crammed with smoking paraphernalia, including antique pipes and lighters. Historical candle-making demonstrations draw crowds to Toby's Candle & Soap Shop (2645 San Diego Ave.), a purveyor of exquisitely carved ribbon candles, wax figurines, and bath products like moisturizing body creams and exfoliating scrubs.
Located in the Alvarado House on Calhoun Street, RUST General Store re-creates the ambiance of a 19th-century retail shop through its costumed staff members and an inventory inspired by the 1800s. Products range from licorice and chocolate cordials to pickled quail eggs and glass-bottled sodas. The old-timey business also encompasses a bistro that serves delicious cookies, pressed sandwiches and Bavarian sausages.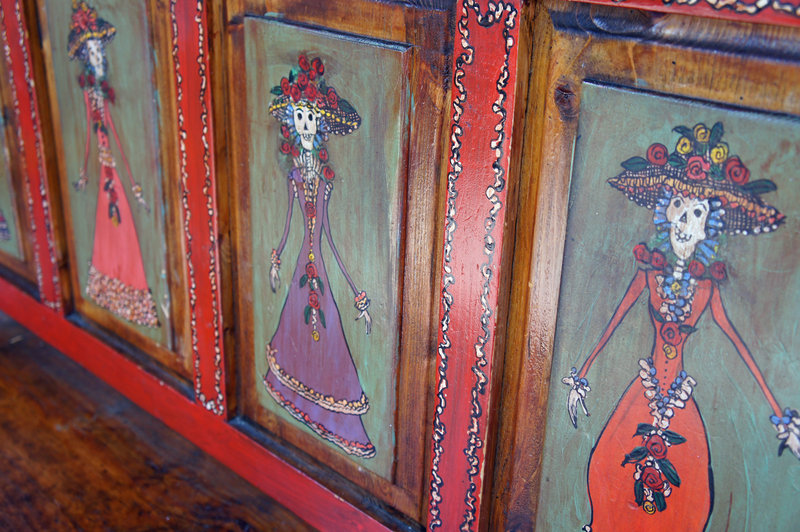 AAA/Maria White
Meaning "celebration of kings," the lush Fiesta de Reyes courtyard, off Calhoun Street in the northern part of the park, is home to Mexican restaurants, an outdoor stage (where free musical entertainment is offered most days) and nearly 20 specialty shops.
Lovers of the culinary arts will have a field day poking around several Fiesta de Reyes stores. Fiesta Cocina deals in colorful Talavera pottery, fun-and-flirty aprons, and traditional Mexican spices and herbs. Temecula Olive Oil Co. sells high-quality oils made from California olives. If you'd rather let someone else do the cooking, stop by La Panaderia for a warm, sugary churro or Old Town House of Jerky & Root Beer for some—well, you can probably figure that one out.
Teen shoppers shouldn't miss Tienda de Reyes , also in Fiesta de Reyes. Funky displays show off everything from T-shirts stamped with funny messages ("I Hate Tacos...Said No Juan Ever") to locally made Day of the Dead (Día de los Muertos) artwork.
Many of the vendors on the outskirts of the state historic park trade in your typical junky T-shirts and souvenir coffee mugs, but if that's just what you're looking for, then San Diego Avenue (between Twiggs and Conde streets) has plenty of it. Also in this neck of the woods is the Whaley House museum gift shop (2476 San Diego Ave.), which stocks reproductions of classic toys and games, steampunk pocket watches, ghost hunting kits and more.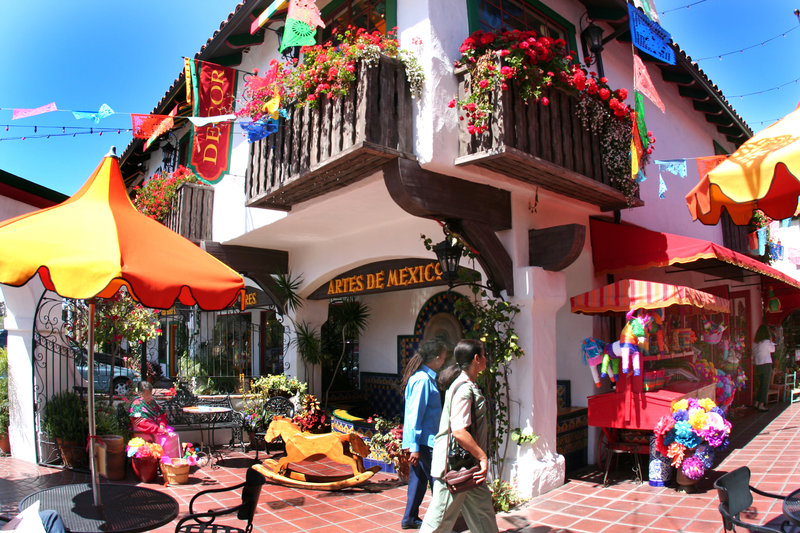 AAA
Bazaar Del Mundo , adjacent to the state historic park at 4133 Taylor St., houses a small collection of shops selling Mexican folk art, crafts and jewelry. Merchandise is priced for the tourist trade (translation: a tad high) and quality ranges from surprisingly good to mass-market mediocrity.
Other Areas Liberty Public Market , in Liberty Station at 2820 Historic Decatur Rd. in Point Loma, features nearly three dozen food and arts and crafts vendors. Live music is occasionally offered, and you can expect happy hour discounts at many of the vendors if you're wondering where to eat on a budget.
The San Diego-Coronado Bay Bridge connects San Diego to affluent Coronado, but if you choose to take the ferry over, you'll get dropped off at a waterfront shopping and dining village with an easy-to-remember name: Coronado Ferry Landing (1201 1st St.). Many of the vendors sell your usual overpriced tchotchkes, but awesome views of the San Diego city skyline, al fresco restaurants and weekend entertainment are big pluses at the small outdoor marketplace.
The rest of Coronado's shopping scene consists primarily of independent business owners pushing a variety of costly indulgences. Looking for class-act nautical kitchenware, a trendy beach bag or comfortably chic sailing attire? Orange Avenue's hoity-toity boutiques and the Shops at The Del (at the Hotel del Coronado, Curio Collection by Hilton , 1500 Orange Ave.) have you covered.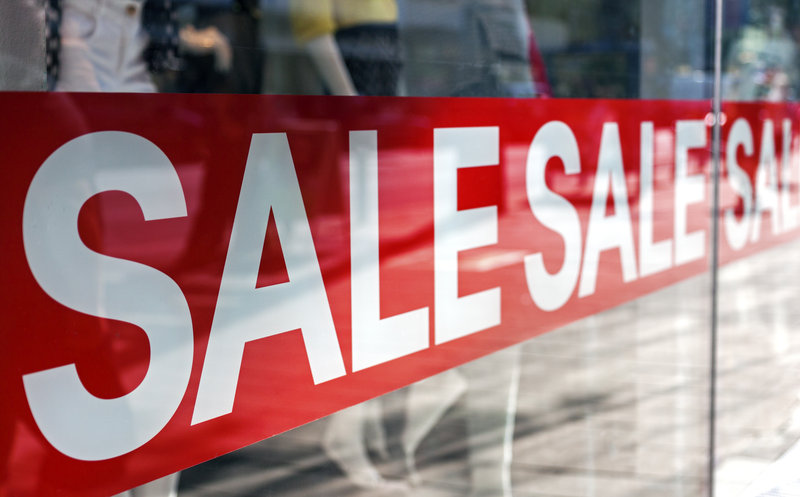 Cebas/iStockphoto.com
In La Jolla—another idyllic destination for those with expensive taste—do some browsing on Prospect Street and Girard Avenue. Both are lined with stores that deal in estate jewelry, antiques, art and designer duds. Fashionistas will also appreciate the presence of upscale national retailers like Ralph Lauren and White House/Black Market as well as the close proximity of Westfield UTC , a luxe mall located just northeast of La Jolla's village center at 4545 La Jolla Village Dr.
San Diego bargain hunters have traditionally been lured to the Mexican border city of Tijuana and its free port status. But ongoing violence related to drug-trafficking has put a major dent in Tijuana tourism. Still, those who do travel south of the border will find even better deals than usual.
For those who'd rather stay in the U.S.A., Las Americas Premium Outlets , an open-air shopping center just shy of the international border crossing, has rock-bottom prices on name-brand merchandise. The factory outlet mall at 4211 Camino de la Plaza is home to more than 120 retailers, including Banana Republic, Nike and Old Navy. Heading south on I-5, Camino de la Plaza is the last exit before the border crossing. If you're nervous about missing the exit, a pretty similar outlet experience can be had by taking a trip north on I-5 to Carlsbad Premium Outlets , at 5620 Paseo Del Norte in Carlsbad.