Leave Your Heart in San Francisco
Cable cars, the Golden Gate Bridge, the Transamerica Pyramid—San Francisco is a travelogue of iconic images. Even if you've never been to California, you've seen these seven hills in classic films and TV shows. For a first-time visitor, every sight is new but familiar. Who wouldn't recognize the lantern-strung alleys of Chinatown, the stately Victorian mansions of Pacific Heights or the serpentine twists of Lombard Street? Who hasn't sung the Tony Bennett song? Our photographic memories of San Francisco go back to the Great Earthquake of 1906, and more recently, Loma Prieta. Our cultural mileposts include the leather bars of Castro Street, the Latin taquerias of the Mission District and the incense shops of Haight-Ashbury (though the flower children sport more piercings and tattoos these days).
The "gay capital of the world," San Francisco has a higher percentage of gay and lesbian residents than any other U.S. city. By contrast, it also has the fewest children. Soaring home prices have forced all but the richest families out of the market. Today's gold rush is real estate—and tourists. Half a million arrive for Gay Pride in June alone. Others come for the Cherry Blossom Festival, the San Francisco Opera and Chinese New Year. Everyone saves room in a suitcase for designer labels from Union Square and kitschy souvenirs from Fisherman's Wharf. It's all part of the San Francisco experience—uniquely American, and a world apart.
Beyond the Golden Gate Bridge
In the shadow of a needle-pointed, 853-foot-tall skyscraper that signifies corporate America, an elderly vendor wearing silk slippers sells unfamiliar-looking vegetables piled in wooden crates under signs hand-lettered in Chinese characters.
A disheveled man sits cross-legged on a busy sidewalk in the Financial District, holding out a battered cup and soliciting spare change from wheeler-dealers dressed in expensive suits as they hurry by while perusing their smartphones.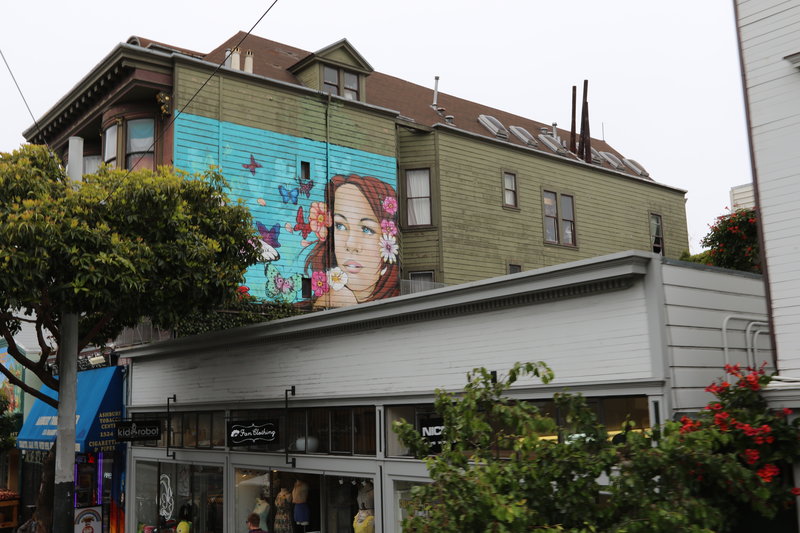 A young woman with pierced ears, pierced eyebrows, a pierced nose and a bright green buzz cut walks along Haight Street gulping down a strong cappuccino and holding a bag containing a gluten-free, vegan banana muffin as she heads to work at a boutique that sells vintage hippie clothing. Meanwhile, in a fashionable home accessories store on Valencia Street two young men check out tables for the dining room of a renovated Victorian they've just purchased.
Droplets of dew still gleam on the grass as an early-morning jogger runs past a stand of eucalyptus trees; the scent of their leaves permeates the cool air. Meanwhile, the sun peeks above the horizon as fog rolls off the Pacific, billowing around the base of the Golden Gate Bridge as the sky turns from pink to pale blue.
This is San Francisco. Everywhere you turn there's an intriguing juxtaposition. The idealized image is of a worldly, sophisticated metropolis whose residents are blessed with the finer things in life—fantastic food, fine arts, handsome homes, picture-postcard views. And many do live this good life.
Then there's the other side of the coin: overcrowding, gentrifying neighborhoods and the impossibility of finding a parking space. The economic hardship extends to those free-spirited souls who by choice live in parks or on the street rather than under a traditional roof, and who have long given San Francisco its reputation for embracing both creative and alternative lifestyles.
And lurking in the background is an unpleasant thought that most residents manage to suppress but few can forget about completely, namely the threat of rattling dishes, wall cracks—or worse. Blame the San Andreas Fault.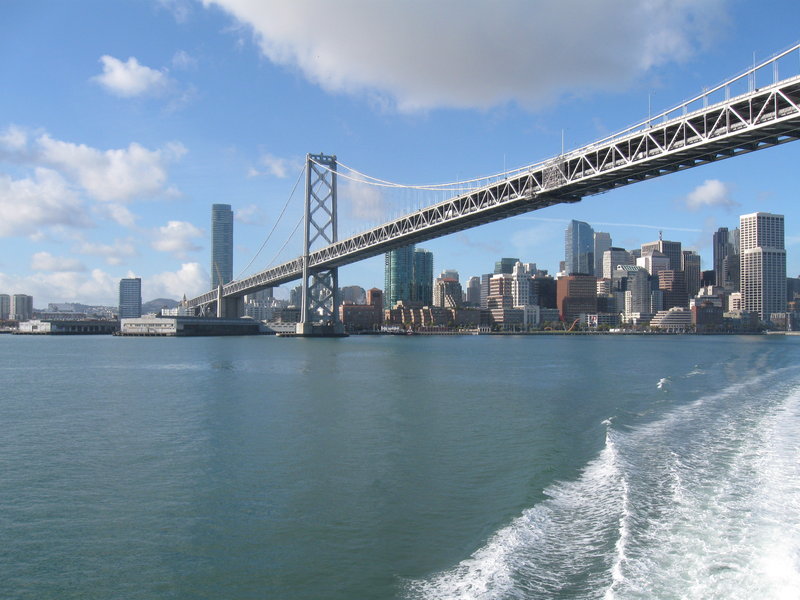 But the City by the Bay remains a seductive, one-of-a-kind destination for visitors. It's all about location, location, location. Varying in elevation from sea level to 939 feet, the city rests on some 40 hills at the northern end of a narrow peninsula, bounded on three sides by water—the Pacific Ocean, San Francisco Bay and the Golden Gate Strait. The urban cityscape almost seems to bob up and down on its rolling terrain, like a boat riding a wave. For the record, there are seven major hills: Nob Hill, Rincon Hill, Russian Hill, Telegraph Hill, Mount Davidson, Mount Sutro and Twin Peaks.
And San Francisco neighborhoods are true communities, not idealized versions of reality designed to appeal to tourists. Chinatown has bustled since the 1850s. Vibrant murals cover buildings and gritty back-alley walls in the Mission. Fillmore Street pulses to the beat of rock and jazz music as it did in the 1960s. North Beach's nonconformist beat and Haight-Ashbury flower power paved the way for the prominent and politically active LGBTQ community centered in the Castro.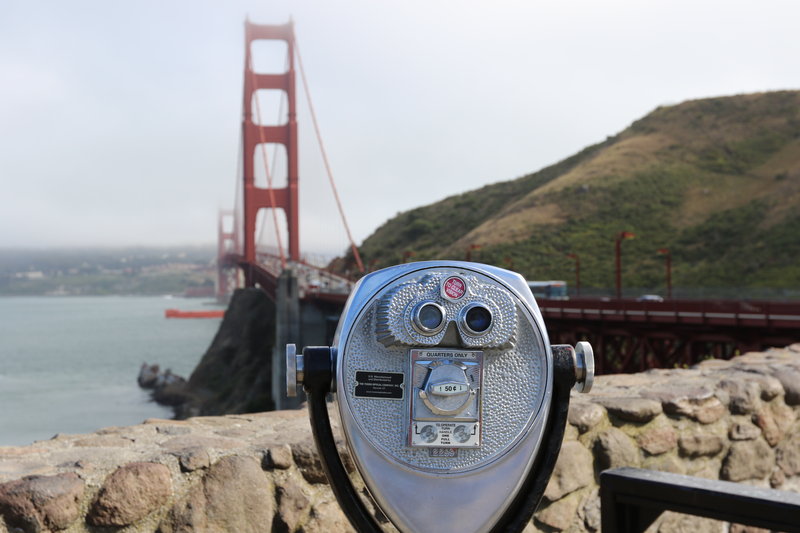 So what should you do? For one thing, eat out at the local restaurants—San Francisco is home to some of the best restaurants in the world. Take a nice long walk in Golden Gate Park. Ride a ferry. Hang out in Union Square. Go to a farmers market. Enjoy the views of San Francisco Bay from a cable car climbing Nob Hill. See a film at the Castro Theatre. These are just a few of our suggestions; you'll no doubt come up with many more fun things to do on your vacation.
By Car
Scenic north-south routes passing directly through San Francisco are US 101 and SR 1. They enter the city separately from the south, merge on the San Francisco approach to the Golden Gate Bridge and continue together through a few miles of southern Marin County. Because SR 1, the curvy coastal route, is subject to dense fog and the possibility of landslides, you should check weather and road conditions before driving it.
The fast north-south route, I-5, is east of San Francisco; connections to the San Francisco-Oakland Bay Bridge are via I-505 and I-80 from the north and I-580 from the south. Another route, SR 99, closely parallels I-5 and also has connections into the city.
The primary route from the east is I-80 across the Sierras. I-80 skirts the Sacramento metropolitan area to the north before approaching the Greater Bay Area via Vallejo and then merging with I-580; access into the city is via the San Francisco-Oakland Bay Bridge.
Air Travel
The San Francisco Bay Area is served by three major airports. San Francisco International Airport (SFO) is about 13 miles south near San Bruno off US 101 (Bayshore Freeway). Norman Y. Mineta San Jose International Airport (SJC) is about 3 miles northwest of downtown San Jose. Oakland International Airport (OAK), off I-880 about 10 miles south of downtown Oakland, is more convenient than SFO if your destination is the East Bay.
In keeping with the city's progressive reputation, San Francisco International offers travelers a yoga room and rotating museum exhibits. The popular "You Are Hear" concert series offers everything from jazz and classical to R & B and world music served up by Bay Area musicians. Live music takes place on Fridays in July and August between 11 and 2 and also during the Thanksgiving and Christmas holidays.
To reach downtown from SFO, exit from the north terminal area and take US 101 north. At the US 101/I-80 junction, choose I-80 and then take the 4th Street exit. Follow 4th Street north past Moscone Center to Market Street; Union Square's hotels and the Financial District are just a few blocks to the north and east.
SuperShuttle travels from San Francisco International to major downtown hotels every 30 minutes, 5 a.m.-4 p.m. One-way fare for the 30-minute ride is $17. For reservations phone (800) 258-3826.
Door-to-door minivan shuttle service between the airport and hotels, businesses and residences is offered by several companies, including SuperShuttle and Airport Express, (415) 775-5121. The vans make frequent pickups from the blue zones on pedestrian islands on the airport's upper level. One-way fare is $15-$17 per person.
Airport shuttle buses pick up passengers on the arrivals level. Taxi fares between downtown and San Francisco International Airport average $35-$50; limousine service costs $50-$75.
AirTrain, an automated light rail system with nine stops throughout the airport, links the International Terminal with other terminals, parking garages, the rental car center and the airport BART station.
Bay Area Rapid Transit's (BART) Pittsburg/Baypoint line provides direct service to the airport. Transfer at the San Bruno station to a Millbrae train to connect with Caltrain rail service down the peninsula to San Jose. Other BART lines can be accessed via the Balboa Park transfer station. Fare for the approximately 30-minute ride from the airport to the downtown Powell Street station is $8.95. For BART schedule and fare information phone (415) 989-2278.
Norman Y. Mineta San Jose International Airport is conveniently located just off US 101. When leaving Terminal C (which receives most domestic airline flights) or Terminal A (which receives American Airlines and United as well as JetBlue and Delta), follow signs to US 101 and head north. On the way to downtown San Francisco US 101 bypasses Palo Alto and San Mateo.
To reach downtown San Francisco from Oakland International Airport, exit the terminal building and take Airport Drive east toward downtown Oakland. Exit north onto I-880 (Nimitz Freeway), which connects with I-80. Continue west across the San Francisco-Oakland Bay Bridge. For automobiles the toll is $4-$6, depending on the time of day and the day of the week. Take exit 2A (5th Street) north to Market Street to reach the Union Square/Financial District area.
Hertz, with locations at the San Francisco, Oakland and San Jose airports, offers discounts to AAA members. Phone (650) 624-6600 for the San Francisco airport location, (415) 771-2200 for the location at 325 Mason St., (510) 639-0200 for the Oakland airport location, (408) 437-5700 for the San Jose airport location, or (800) 654-3080.
Rail Service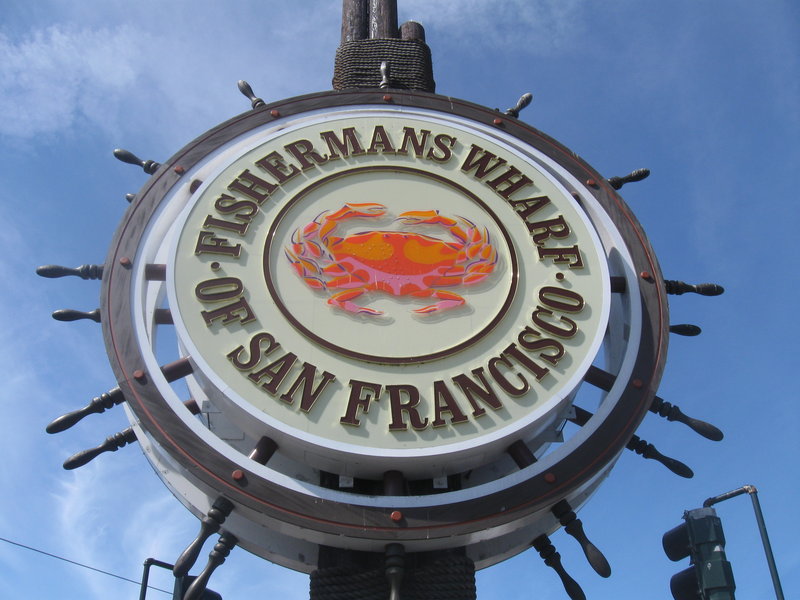 Most Amtrak rail service terminates in Oakland at Jack London Square (Alice Street and the Embarcadero) or at Emeryville. From Jack London Square, passengers are transported via shuttle bus to the following San Francisco stops: the Ferry Building, downtown at the foot of Market Street; Fisherman's Wharf at Pier 39; the Westfield San Francisco Centre mall at 4th and Market streets; in front of Macy's at Union Square; outside the Hyatt Regency San Francisco at California and Drumm streets; and at the Caltrain depot, 4th and King streets. For schedule, fare and additional information phone (800) 872-7245.
Street System
Two main thoroughfares are Market Street, which runs diagonally from 17th and Castro streets to The Embarcadero, and north-south Van Ness Avenue. Major east-west streets downtown are Bush and Pine, both one-way streets with synchronized traffic signals. Bush goes toward downtown, while Pine heads out. Numbered avenues run north-south in the residential neighborhoods north and south of Golden Gate Park, and the streets form a grid pattern. Streets also form a grid in much of the downtown area.
The Financial District is anchored by north-south Montgomery Street. Union Square is bordered north-south by Post and Geary streets and east-west by Stockton and Powell streets. Note: Ongoing construction associated with an extension of Muni's T Third Line from Bayshore to SoMa to Chinatown may cause occasional traffic delays, especially in the vicinity of Union Square.
Government buildings cluster around Civic Center, between Van Ness Avenue and Leavenworth Street and Golden Gate Avenue and Market Street. Civic Center, Union Square and the Financial District are all north of Market Street; south of Market north-south streets are numbered.
Although the street layout looks straightforward on a map, keep the extremely variable topography in mind when traveling, as the steep hills can be difficult to negotiate. If you're visiting, it may be more advantageous to use public transportation or walk rather than drive. If you'll be driving your own car, you might want to have your brakes checked before departing.
San Francisco intersections are subject to strict enforcement of the Anti-Gridlock Act. The fine for blocking an intersection with your vehicle is $106; the fine for blocking an intersection while turning is $110.
"The Boot" (also known as "The Denver Boot") is a metal clamp that immobilizes a car when attached to its wheel. This device is applied when five or more parking tickets have accumulated or if registration is not current; it is removed only when all outstanding fines and/or registration fees and a $445 de-booting fee have been paid. If the fines are not paid, the car may be towed within 72 hours.
Visitors should also be aware that municipal buses are equipped with a video camera used to ticket motorists who drive in designated public transit-only lanes (a $79 fine) or park in designated bus zones (a $288 fine).
The downtown speed limit, unless otherwise posted, is 25 mph (15 mph at blind intersections). Right turns on red are legal unless otherwise posted. Traffic is heavy throughout the day in the downtown area and on major thoroughfares. Avoid the San Francisco-Oakland Bay Bridge during rush hours, about 7-9 a.m. and 4-6:30 p.m.
Pedestrians using designated crosswalks always have the right of way. Many major intersections downtown and throughout the Bay Area have visual countdown displays indicating the number of seconds remaining before the light changes for pedestrians.
The latest highway improvement is the Presidio Parkway, which took 15 years to plan and build and opened to traffic in 2015. It replaced Doyle Drive (US 101) as the main south access route to the Golden Gate Bridge from downtown. The 1.6-mile parkway features two sets of tunnels and a viaduct that climbs above the rolling green hills of the Presidio en route to the bridge.
Parking
San Francisco is not a parking-friendly city. There is a shortage of on-street spaces and a plethora of parking regulations, which are strictly enforced. On-street metered parking is permitted in some areas, but much neighborhood parking is reserved for local residents and is by permit only.
There are parking garages at Fisherman's Wharf, 655 Beach St. at Hyde Street, (415) 673-1735; downtown at 833 Mission St. (at 5th Street), (415) 982-8522; at the Moscone Center, 255 3rd St., (415) 777-2782; and in Chinatown at 733 Kearny St., (415) 982-6353. Fees range from $1.50-$7 per hour and $15-$34 per day. The only public parking available for recreational vehicles is at Candlestick RV Park, south of the city limits off US 101 on Gilman Avenue; phone (415) 822-2299.
On-street parking is strictly regulated. In addition to posted tow-away zones, pay particular attention to curb colors, which determine parking availability. Red means no stopping, standing or parking whatsoever; yellow curbs indicate commercial loading and unloading (7 a.m.-6 p.m.). Passenger cars left unattended in downtown loading zones are subject to heavy fines and towing.
White curbs allow a 5-minute limit to pick up or discharge passengers during the hours the adjacent public building is open. White curbs marked with a taxi sign are within a taxi zone. Green curbs indicate 10-minute parking 9 a.m.-6 p.m. Blue marks spaces for use by the disabled; the fine for illegally parking in designated spaces for the disabled is a hefty $875, while the fine for parking in bus zone spaces is $288. In several areas of the city local residents have priority parking rights; be sure to read carefully all posted regulations wherever you park.
How you park also is subject to regulation. It is illegal to park a vehicle on any grade exceeding 3 percent without effectively setting the brakes and blocking the wheels by turning them against the curb or by other means. When parking uphill, the front wheels must be "heeled," or turned out, so that a tire is resting securely against the curb. When parking downhill, they must be "toed," or turned in. If there is no curb you must use a block. The emergency brake must always be firmly set.
If your car is towed, expect to pay plenty to get it back. Parking violations start at $52 for blocking a private entranceway, plus a hefty fine for towing and additional daily storage fees. Fines for illegally parking in disabled-designated spaces, in bus zones or in an area blocking access to a wheelchair ramp range from $288-$875.
In most cases, towed vehicles can be retrieved from Auto Return at 450 7th St. (between Harrison and Bryant streets). For additional information contact the City of San Francisco Parking and Traffic Department; phone (415) 553-1200.
Public Transportation
San Francisco Municipal Railway (Muni) provides bus, streetcar, light rail, trolley bus and cable car transportation. The cash fare for buses, streetcars, light rail and trolley buses is $2.75; $1.35 (ages 5-17 and 65+ and the physically impaired). Exact change is required. Single-trip fares paid with a Clipper card or via MuniMobile on buses and trains cost 25c less than fares paid with cash.
Cash fare includes a free transfer good for use on any other Muni vehicle (except cable cars). A bus transfer can be used within a 30-minute period; the driver will give you one when you pay the fare. A light rail single-ride fare card purchased at a Muni station can be used one additional time within a 90-minute period.
The Clipper card is an all-purpose electronic transit card that can be used on Muni, BART, Caltrain and Golden Gate Transit and Ferry transportation. Clipper card readers on buses and at Muni and BART entrance stations tag the card and then display the remaining cash balance or pass expiration date. Transfers are automatically calculated, eliminating the need for a paper transfer. A variety of different passes and cash value options can be added. For more information phone (877) 878-8883.
The MuniMobile ticketing app can be downloaded to an Android or iPhone to purchase, save and use tickets for bus, rail and cable car travel. The app allows you to buy tickets and passes in advance or on the go and pay with a credit/debit card or PayPal account. For more information dial 311 (within San Francisco) or phone (415) 701-2311 (outside San Francisco).
The Muni Passport, valid on all Muni transportation, offers unlimited all-day usage and is worth purchasing if you're a visitor and plan on using the system multiple times. A 1-day pass costs $21; a 3-day pass, $32; a 7-day pass, $42. The 3- and 7-day passports are valid for consecutive days only. A pass valid for 1 month costs $75 (Muni only); $94 (Muni and BART); $38 (ages 5-17, ages 65+ and the physically impaired; Muni pass only). Monthly passes are only available on a Clipper card.
Passes and Clipper cards can be purchased at San Francisco International Airport; at the San Francisco Visitor Information Center, Hallidie Plaza (lower level) at Market and Powell streets; at TIX Bay Area, inside the Union Square Garage at the Geary Street entrance; and at Walgreens stores, Whole Foods markets and other businesses. For schedules, routing and other information phone (415) 673-6864.
Note: You must be prepared to show proof of payment (Muni pass, Clipper card, single-ride ticket or transfer) for the duration of your trip on all forms of Muni transportation. Random checks of passengers exiting the turnstiles at Muni stations are frequently conducted, and a citation of up to $120 may be issued if you cannot show proof of payment.
Muni buses are numbered and destinations are marked on the front of the vehicle above the windshield. During the day most buses make stops every 10 to 15 minutes; stops are more frequent on major streets. Routes along busy thoroughfares like Van Ness Avenue provide 24-hour service, although stops are less frequent at night. Many covered bus stops have an automated timetable that displays the number of minutes until the next bus arrives.
Muni light rail cars run underground along Market Street downtown and above ground in outlying neighborhoods. There are eight lines: F (Market & Wharves), J (Church), K (Ingleside), L (Taraval), M (Ocean View), N (Judah), S (Castro-Embarcadero shuttle) and T (Third Street). Color-coded maps of the system are posted on the wall at each underground station.
The Muni's F Line (also called the Market Street Railway) carries passengers on vintage streetcars. The route begins at Market and Castro streets, runs down Market to The Embarcadero, then runs up The Embarcadero to Fisherman's Wharf, ending at Jones and Beach streets. Don't board a streetcar if you're in a hurry; they're much slower and make more stops than the light rail lines.
A 1.7-mile extension of Muni's T Third Line, currently under construction, will extend the line from the 4th Street Caltrain Station north to Chinatown. Four new stations are being built: a street-level station at 4th and Brannan streets, and underground subway stations at 4th and Folsom streets, Stockton Street at Union Square, and Stockton and Washington streets.
Construction of the subway tunnel and stations is scheduled to last through 2017, with the new line opening sometime in 2019. Until then both motorists and pedestrians can expect occasional disruptions, especially in the vicinity of Union Square.
Although there are frequent stops and the trip is slow (travel speed is 9.5 mph), riding a cable car is an essential San Francisco experience. Preserved as national historic landmarks—the only ones on wheels—they began operating back in 1873. Maroon with cream and blue trim, cable cars are an integral part of the urban landscape.
There are three routes. The Powell-Hyde line begins at Powell and Market streets and ends at Victorian Park, at Beach and Hyde streets. The Powell-Mason line also begins at Powell and Market streets but ends at Bay and Taylor streets near Fisherman's Wharf. The California Street line travels between Market Street and Van Ness Avenue.
Cable cars run daily from 6 a.m.-1 a.m. One-way fare is $7. A Clipper card loaded with a Muni monthly pass or cash value is also accepted. No transfers are issued or accepted. If you're just riding for fun, the California Street line is likely to be the least crowded.
BART (Bay Area Rapid Transit) connects San Francisco with East Bay cities, terminating at Richmond (north), Pittsburg/Bay Point (east), Dublin/Pleasanton (southeast) and Fremont (south). On the San Francisco side of the bay the terminus is Millbrae, approximately 30 minutes south of downtown.
BART operates Mon.-Fri. 4 a.m.-midnight, Sat. 6 a.m.-midnight, Sun. and holidays 8 a.m.-midnight. Color-keyed wall maps at the stations list destinations and fares; tickets are dispensed from machines at each station. The one-way fare between downtown San Francisco stations is $1.95; 70c (ages 5-12, ages 65+, the physically impaired and if paying with a Clipper card). All fares are posted at the ticket machines. Phone (415) 989-2278 for schedule and other information.
AC Transit is a bus service that runs from the Transbay Terminal to various destinations in the East Bay area (Alameda and Contra Costa counties). Bus service via the Golden Gate Bridge connects San Francisco to Sausalito, Mill Valley and Tiburon in Marin County and to Santa Rosa in Sonoma County. Phone (415) 455-2000 for schedule, fare and other information.
Passenger ferries link San Francisco with northern Bay Area destinations and also crisscross San Francisco Bay, providing both commuter service and sightseeing pleasure. The Blue & Gold Fleet, (415) 705-8200, operates daily commuter service to Tiburon and Sausalito. Golden Gate Ferry, (415) 455-2000, has daily service to Larkspur and Sausalito; no service is available Jan. 1, Thanksgiving or Christmas. One-way rates to Sausalito are $12; $6 (ages 6-18, ages 65+ and the physically impaired). Rates to Larkspur are $11.50; $5.75 (ages 6-18, ages 65+ and the physically impaired).
The San Francisco Bay Ferry operates weekday ferries from Alameda to the San Francisco Ferry Building. One-way fares are $6.80 (cash) or $5.10 (Clipper card); $3.40 (ages 5-18, ages 65+ and the physically impaired). The Alameda/Oakland Ferry provides service to and from Alameda, Angel Island, Oakland and San Francisco. The Alameda/Oakland/San Francisco one-way fare is $6.80; $5.10 (Clipper card), $3.40 (ages 5-18, ages 65+ and the physically impaired). Phone (415) 705-8291.
Sales Tax
State and county sales taxes total 9.5 percent in San Francisco. A hotel room tax of 15 to 15.5 percent also is levied.
Police (non-emergency)
(415) 553-0123
Hospitals
California Pacific Medical Center, (415) 600-6000; Saint Francis Memorial Hospital, (415) 353-6000; St. Mary's Medical Center, (415) 668-1000; San Francisco General Hospital Medical Center, (415) 206-8000; University of California San Francisco Medical Center, (415) 476-1000.
Visitor Information
San Francisco Visitor Information Center
749 Howard St San Francisco, CA 94103. Phone:(415)391-2000The center is open Mon.-Fri. 9-5, Sat.-Sun. and holidays 9-3 (also open Sat.-Sun. 4-5, when convention is in progress). Closed Jan. 1, Thanksgiving and Christmas.
Air Travel
San Francisco International Airport (SFO) is about 13 miles south near San Bruno off US 101 (Bayshore Freeway); it receives flights from some 50 airlines as well as private charters. Norman Y. Mineta San Jose International Airport (SJC) is about 3 miles northwest of downtown San Jose. Oakland International Airport (OAK) is off I-880 about 10 miles south of downtown Oakland.
Rental Cars
Hertz, with locations at the San Francisco, Oakland and San Jose airports, offers discounts to AAA members. Phone (650) 624-6600 for the San Francisco airport location, (415) 771-2200 for the outlet at 325 Mason St., (510) 639-0200 for the Oakland airport location, (408) 437-5700 for the San Jose airport location, or (800) 654-3080.
Rail Service
For schedule and fare information phone Amtrak at (800) 872-7245.
Buses
Greyhound Lines Inc., (800) 231-2222, departs from the Transbay Temporary Terminal at Folsom and Main streets. Greyhound passengers enter on Folsom Street. The temporary terminal will be in use until construction of the new Transbay Transit Center is completed in late 2018.
Taxis
Taxis in San Francisco are metered, with fares averaging about $3.50 for the first one-fifth mile and $2.55 for each additional one-fifth mile or minute of waiting time. Either phone for a cab or wait at a hotel taxi stand (hailing one on the street often takes time and persistence). Limousine service ranges from $60-$80 per hour.
Public Transportation
San Francisco Municipal Railway (Muni) provides public transportation consisting of buses, streetcars, light rail, trolley buses and cable cars. BART (Bay Area Rapid Transit) connects San Francisco with East Bay cities, and passenger ferries link the city with the northern Bay Area.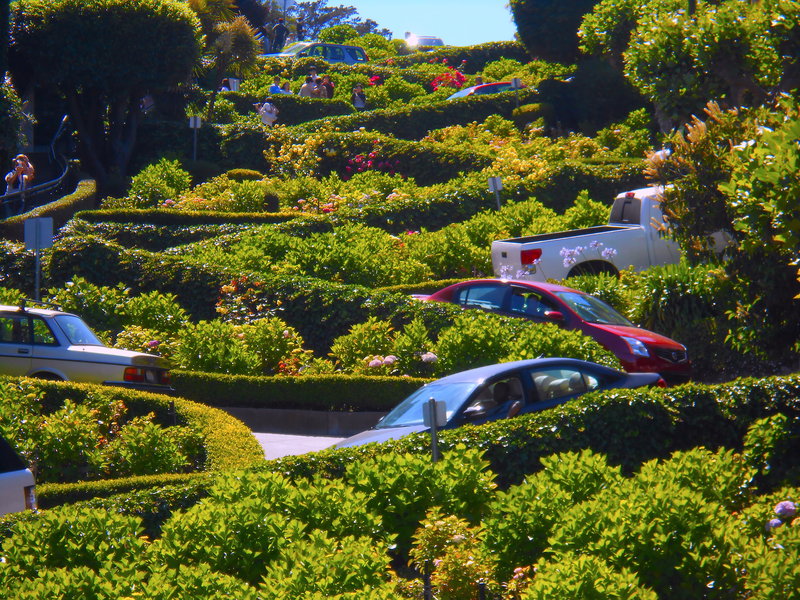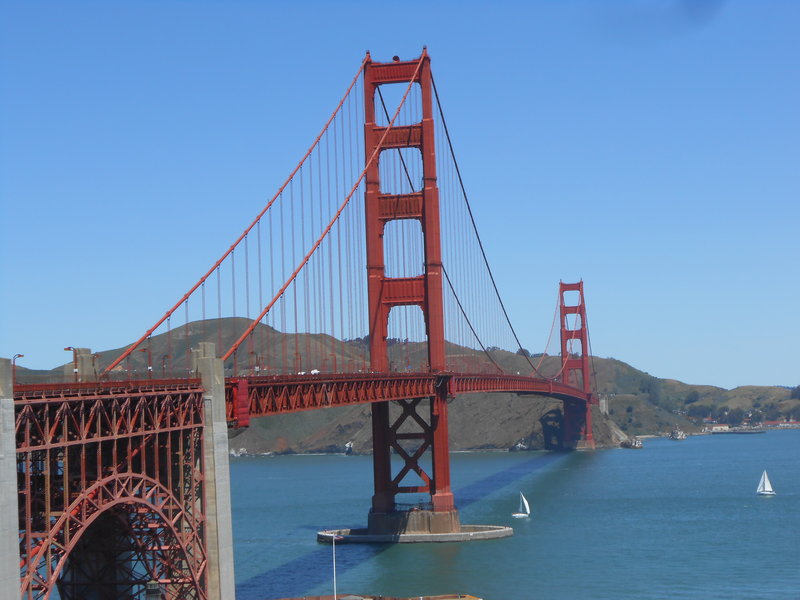 If you're looking for things for couples to do, you can walk or bike across the
Golden Gate Bridge
(across Golden Gate Strait via US 101). Dress in layers for the 1.7-mile trek, and remember that you'll have to turn around and walk back. Parking is extremely limited in the north- and south-side parking lots, so take public transportation to the bridge.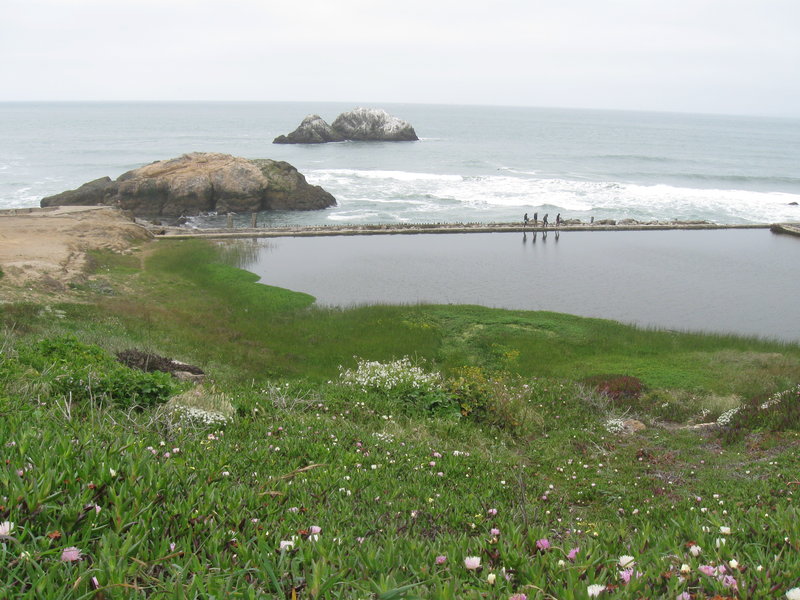 Explore the
Sutro Baths
(1004 Point Lobos Ave.), the oceanside ruins (due to a fire) of what once was a lavish bathing spa complex with the world's largest indoor swimming pool. If you're wondering what to do to cap off your day, nothing beats watching the sun set from the nearby
Cliff House
(1090 Point Lobos Ave.).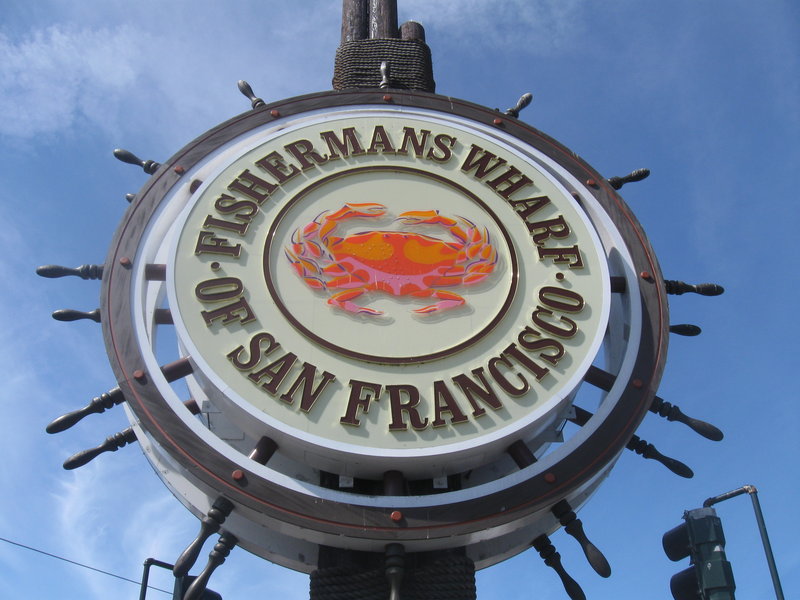 Yes,
Fisherman's Wharf
(along The Embarcadero from Pier 39 to Ghirardelli Square) is touristy, but who can resist restaurants where you can nibble Dungeness crab or scarf down clam chowder from a sourdough bread bowl; it is one of those things you just have to do. Stop by the flagship location of Boudin Bakery, watch the team of bakers do their thing from an observation window and don't forget to pick up a fresh loaf or two to take home.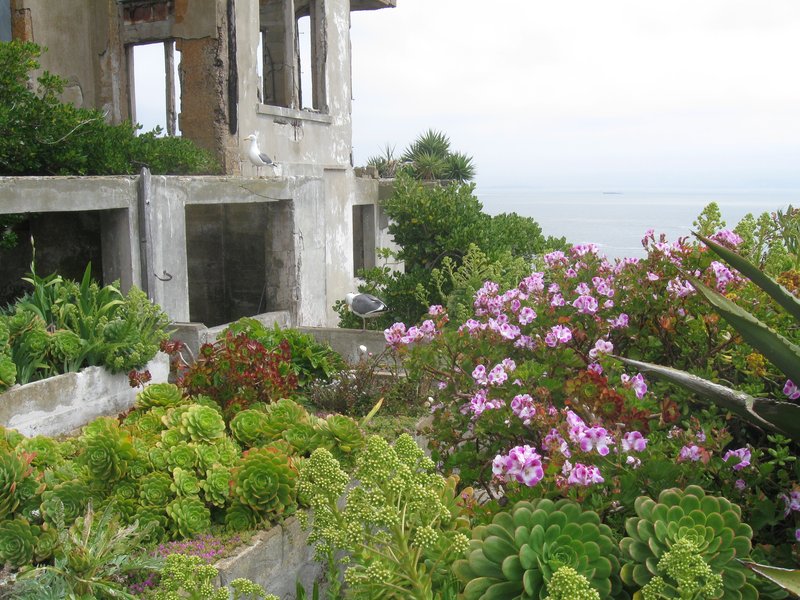 At Fisherman's Wharf, adventure travel awaits in the form of the sightseeing ferry cruise from Pier 33 to
Alcatraz Island
(in San Francisco Bay), site of the infamous federal penitentiary where the likes of Al Capone and George "Machine Gun" Kelly did time. Purchase tickets in advance to get the departure time you want.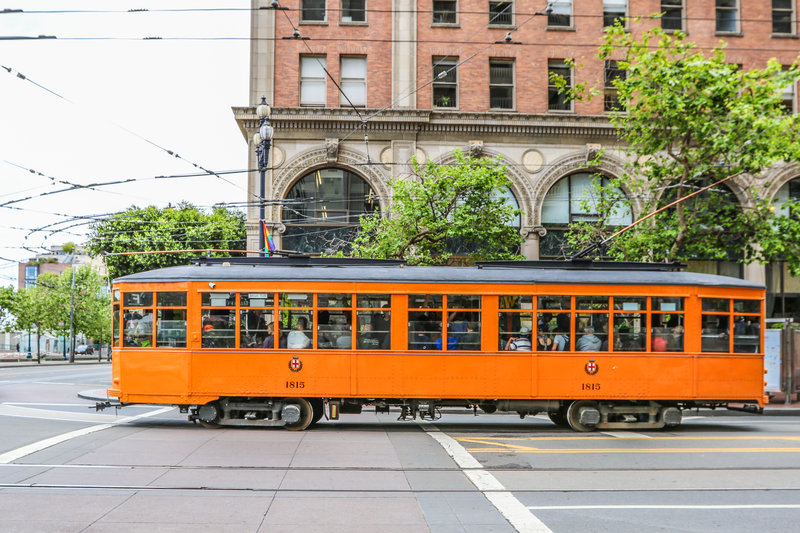 There are many fun things to do in San Francisco like riding a cable car (just don't call it a trolley). The Powell-Hyde line begins at Powell and Market streets and ascends up and over steep Nob Hill before ending at Beach and Hyde streets. If you're interested in learning more about the massive engines and wheels that power this manually operated system, visit the
Cable Car Museum and Powerhouse Viewing Gallery
(1201 Mason St.).
Climb the
Filbert Steps
(Filbert and Sansome streets) ascending the east side of
Telegraph Hill
(near the east end of Lombard Street) and then take the elevator to the observation deck at the top of 210-foot
Coit Tower
(1 Telegraph Hill) for panoramic views of San Francisco Bay and the Golden Gate and Bay bridges.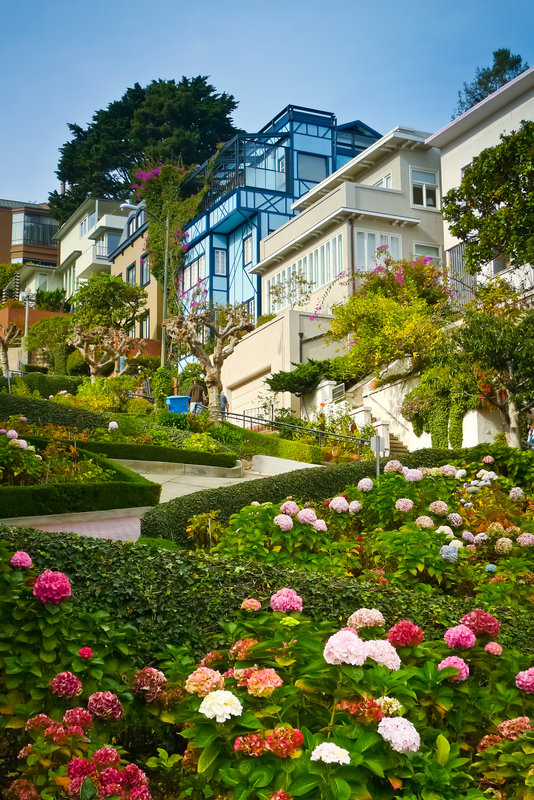 Shutterstock.com/Mario Savoia
The block of
Lombard Street
(between Hyde and Leavenworth streets) is often called "the crookedest street in the world." The serpentine brick street, with its sculpted hedges and seasonal displays of pink and blue hydrangeas, is a prime photo op.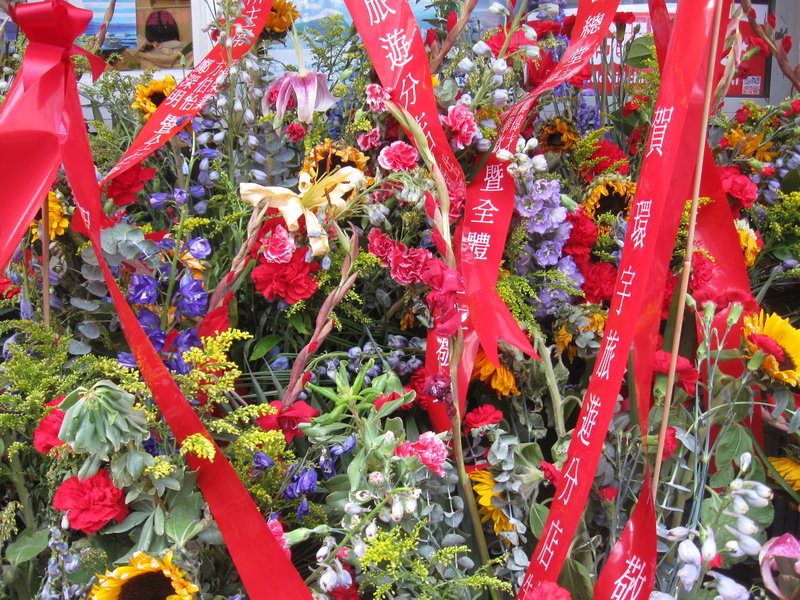 Walk through the ornamental gate and explore bustling
Chinatown
(Bush Street and Grant Avenue). Plan a day trip where you can duck into Grant Avenue's souvenir shops and bakeries, then cross over to parallel Stockton Street for the sensory overload of produce and meat markets.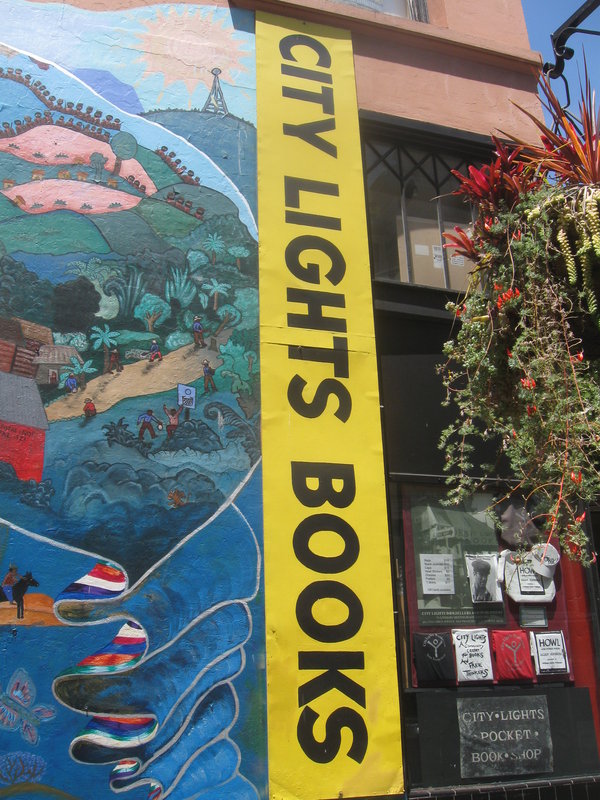 Grab a sidewalk seat and sip a cappuccino in
North Beach
(along Columbus Avenue), this town's Little Italy. Browse the tomes at City Lights bookstore, a Beat generation hangout, then have dinner at the
North Beach Restaurant
(1512 Stockton St.), an old-school Italian experience all the way.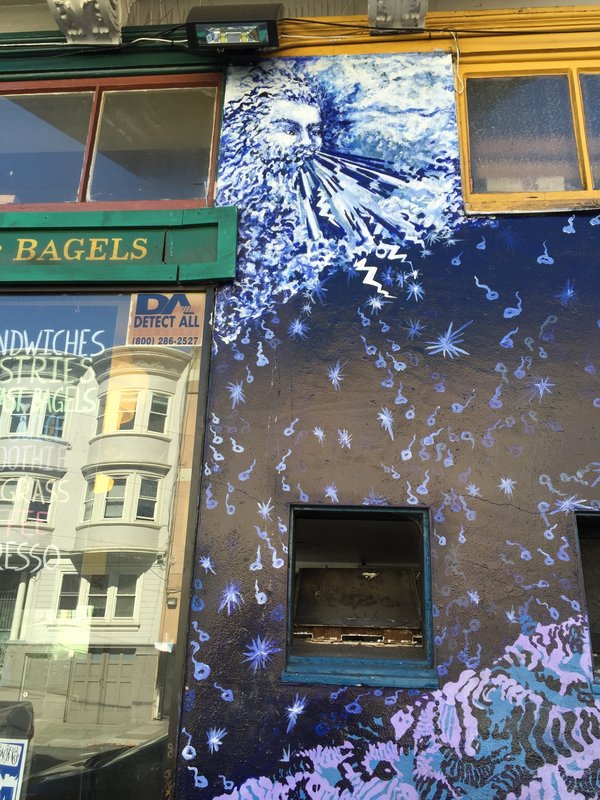 No trip to San Francisco is complete without experiencing the smell of incense that still wafts along Haight Street (between Stanyan and Divisadero streets), which remains resolutely groovy nearly 50 years after the Summer of Love.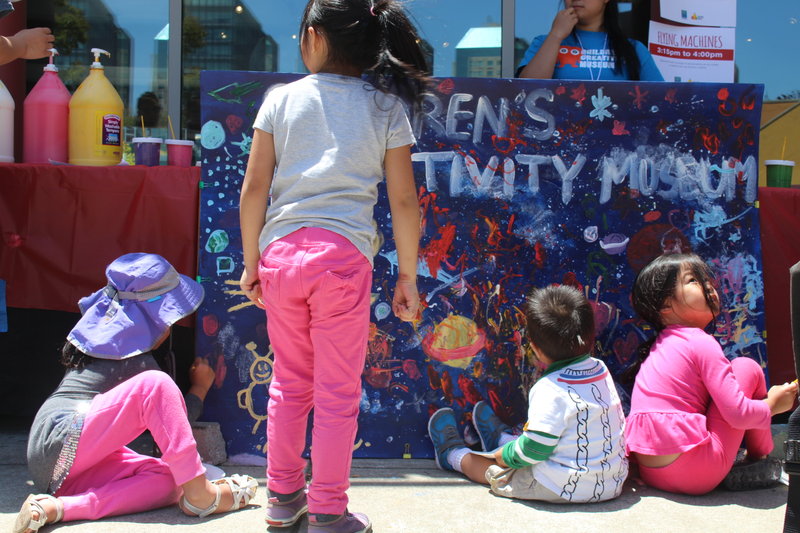 Courtesy of Children's Creativity Museum
San Francisco Travel with Kids
Under 13
Cutting-edge technology takes center stage at the
Children's Creativity Museum
(221 Fourth St.), whether it's crafting clay characters and learning the basics of stop-motion animation or testing new apps and high-tech games in the Innovation Lab. This is an absolute must for your list of "things to do today."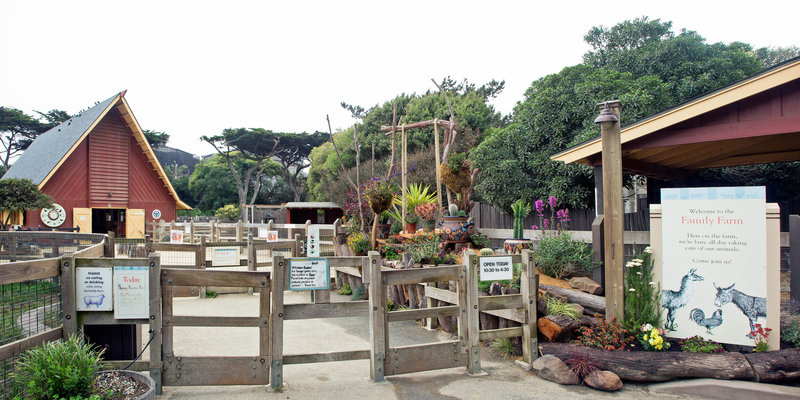 Courtesy of Fisher Family Children's Zoo
What kid wouldn't be mesmerized at the sight of a giant thorny phasmid (more commonly known as a walking stick) or delight in feeding baby farm animals? The emphasis is on personal animal encounters at the San Francisco Zoo's
Fisher Family Children's Zoo
(Sloat Boulevard and Great Highway).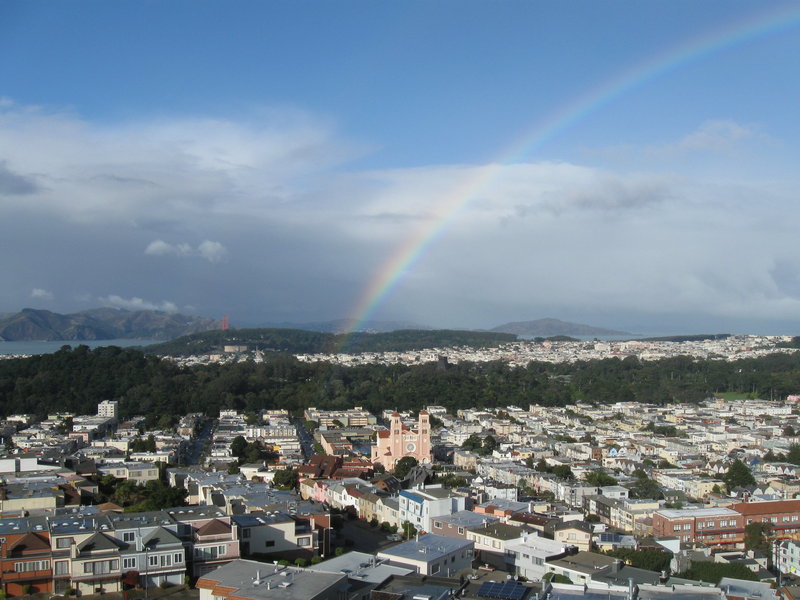 Another popular destination is the top of the hill in
Grandview Park
(14th Avenue and Noriega Street) where the panoramic view is one of the city's best, offering not only visual "Wow!" but an opportunity for an impromptu geography lesson pointing out various city landmarks. The climb up—via five steep flights of stairs—is strenuous, so be watchful if you have younger kids.
The roundup of interactive exhibits at the
Exploratorium
(Pier 15 on The Embarcadero) will pique the curiosity of inquiring and non-inquiring minds alike. The scientific principles at work when you cook an egg and an optical-illusion experiment involving a very famous painting by Leonardo da Vinci are two of the intellectually stimulating offerings.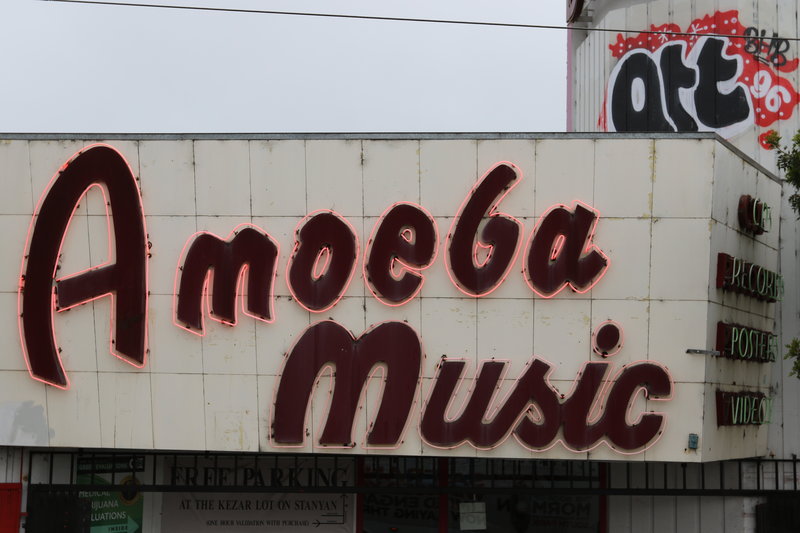 Haight Street (between Stanyan and Divisadero streets) is one of many fun things to do with friends as it still channels 1967 and the Summer of Love. Amoeba Music (1855 Haight St.) has a huge selection of vintage albums and rock posters. For hippie-style jewelry and all things tie-dye, Love on Haight (corner of Haight and Masonic) is the place to go. The aroma of incense fills The Love of Ganesha (1573 Haight St.), a cool shop that sells clothes, crystals, rings, necklaces and groovy trinkets.
Fun Things to do for All Ages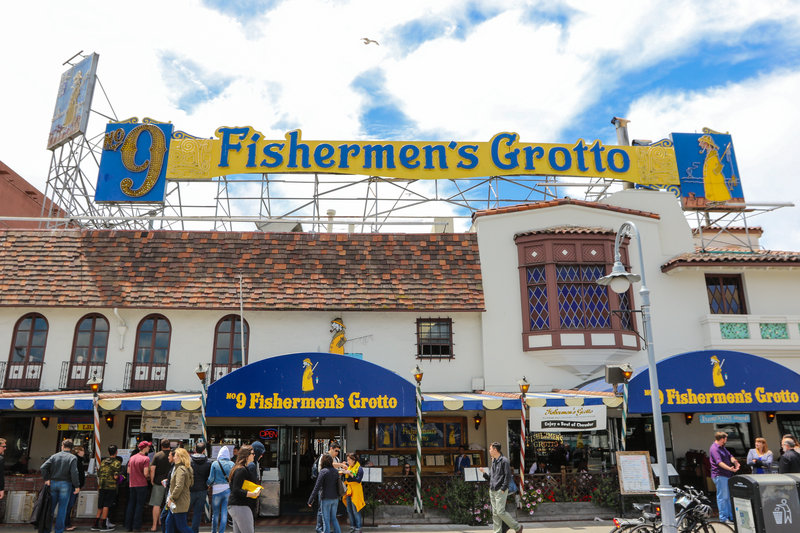 No San Francisco vacation is complete without a visit to
Fisherman's Wharf
(along The Embarcadero from Pier 39 to Ghirardelli Square. This is the place for families to spend a fun-filled day. And if they're around, the antics of sea lions atop the floating pilings at Pier 39 will keep everyone entertained.
How do you get kids interested in history? One way is to take a ferry to
Alcatraz Island
(in San Francisco Bay), the notorious former federal penitentiary that is one of the city's top tourist attractions, and with good reason: The crumbling building's fascinating, and the ferry ride to get there is always fun. Exploring the cell blocks on a night tour increases the spook factor and makes for a great adventure travel experience!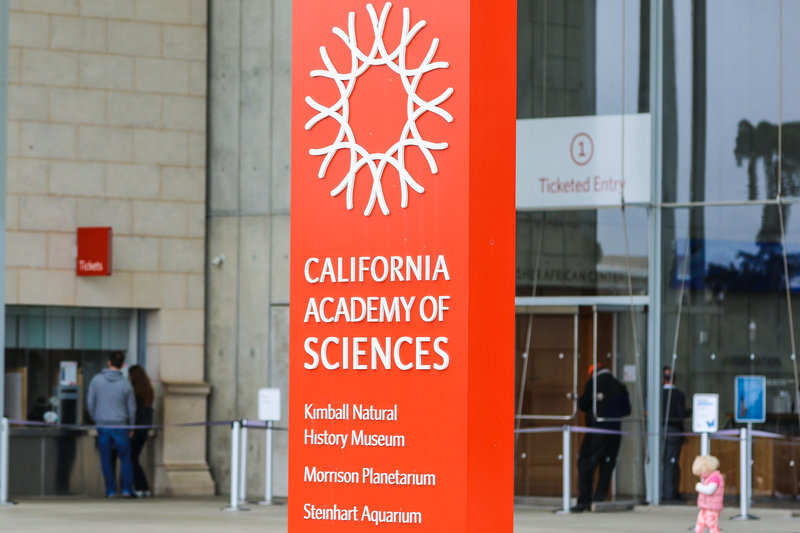 There are tons of things to see and do on your trip to
Golden Gate Park
, but put
The California Academy of Sciences
(55 Music Concourse Dr.) at the top of the list. The tanks full of multicolored tropical fish and other sea creatures are awesome, and the planetarium is spectacularly state of the art. The domed, four-story Osher Rainforest is a re-created environment right down to the steamy humidity, while the undulating living roof is a cool-looking lesson in green sustainability.
Stow Lake (middle of Golden Gate Park) is an idyllic refuge. Rent a paddleboat and putt along in a lush green setting complete with quacking ducks and turtles sunning on logs. Or bring a picnic lunch, hike to the top of 430-foot Strawberry Hill and enjoy the views.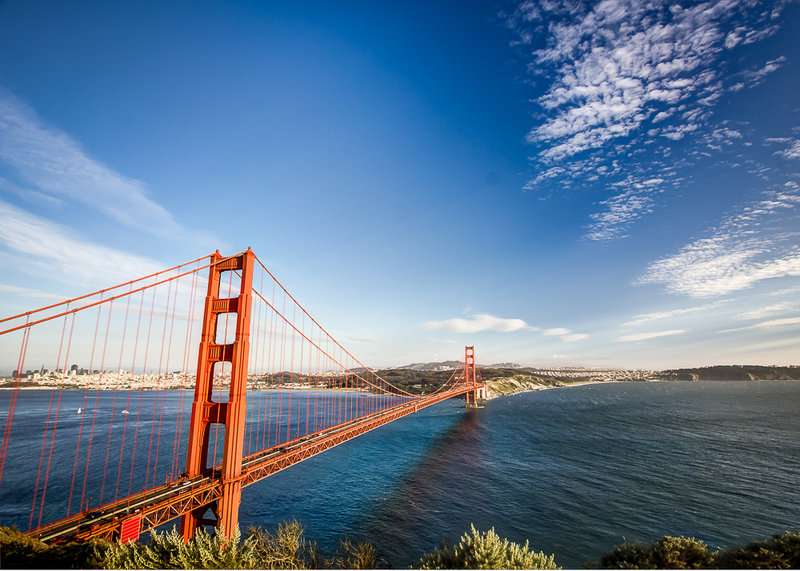 If you're looking for relaxing things to do this weekend, Crissy Field (along the northern bayfront past Fisherman's Wharf) is a great place to take kids and let them run off steam while you enjoy up-close views of the
Golden Gate Bridge
. At this wide-open green space you can throw a Frisbee, fly a kite, stick your toes in San Francisco Bay or take a nice long walk.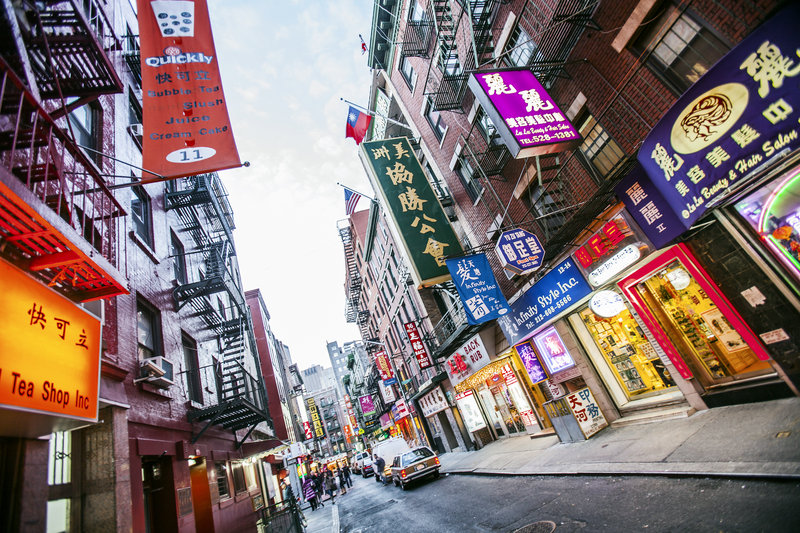 In February, the
Southwest Airlines Chinese New Year Festival & Parade
(throughout Chinatown) is an eye-popping spectacle, complete with floats, costumes and the serpentine Gum Lung (Golden Dragon). But on any day the neighborhood is a fascinating, educational immersion in Asian culture.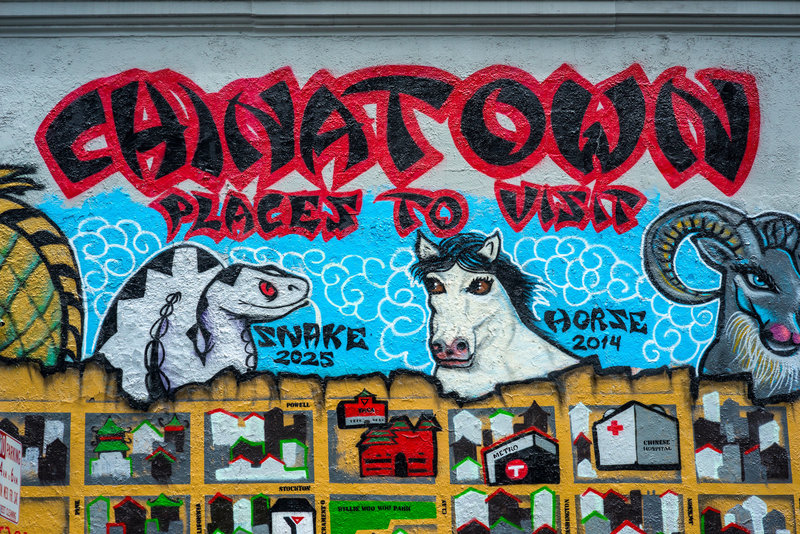 Shopping in San Francisco
Whether it's malls, farmers markets, retail complexes, souvenir shops, stylish boutiques, secondhand stores or designer showrooms, a San Francisco vacation offers cosmopolitan, funky, kitschy and trendy choices guaranteed to keep committed shopaholics blissfully happy.
When it comes to things to do in San Francisco, the handsome brick and cast-iron commercial buildings in historic Jackson Square are a must. They are among the city's oldest, dating from the gold rush era, and most survived the 1906 earthquake. In the 1870s this was a rough-and-tumble part of town known as the Barbary Coast. Wedged between the Financial District, Chinatown and North Beach, it's the best place in the city to browse for high-quality art and antiques.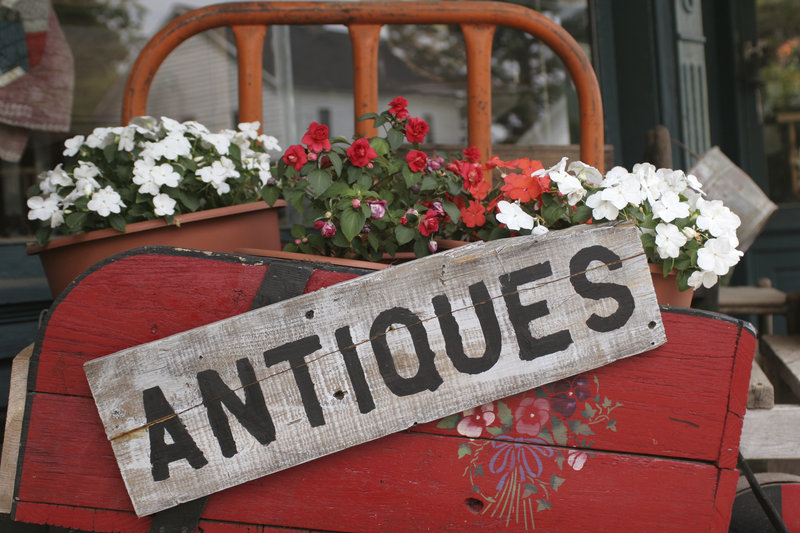 Within a two-block radius along Jackson, Washington and Montgomery streets you can find dealers specializing in fine and decorative arts, 17th- and 18th-century English and European furniture, 19th-century French impressionist paintings, fine rugs, antique posters and maps, early California art and cutting-edge contemporary design. Arader Galleries (432 Jackson St.), paintings, watercolors and prints.
Malls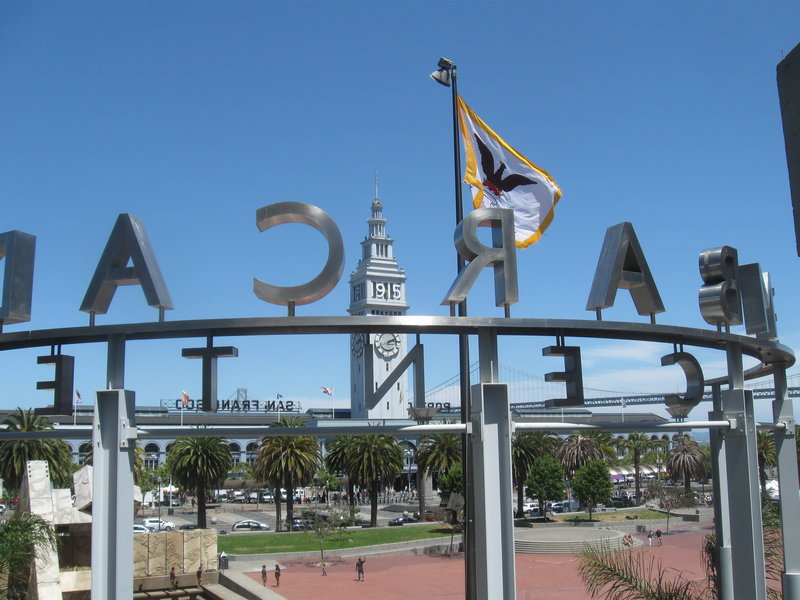 Within easy walking distance of Jackson Square is Embarcadero Center , near The Embarcadero and the waterfront between Sacramento, Clay, Battery and Drumm streets. This mixed-use office and retail development consists of four separate buildings (conveniently called One, Two, Three and Four) that cover a five-block area, each with three levels of semi-open-air shopping and landscaped plazas at the promenade level where you can relax in a green setting above busy downtown streets.
In addition to service businesses and an assortment of casual eateries there's a handful of chains (think Banana Republic, Gap and Sephora), plus the Embarcadero Center Cinema. The Villancourt Fountain in adjacent Justin Herman Plaza (between Four Embarcadero Center and The Embarcadero), an assemblage of massive concrete blocks and shooting sprays of water, is a refreshing sight when the water's running (which seems to be about half the time).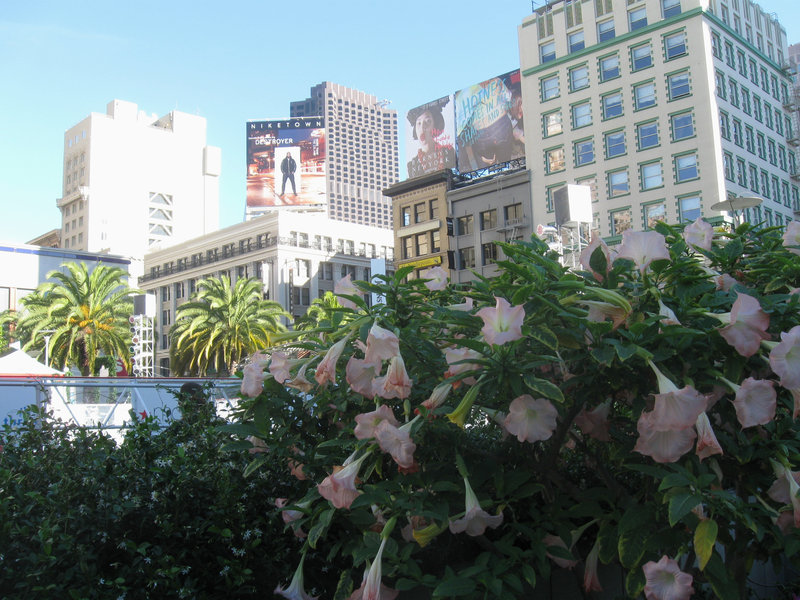 Max out your credit cards at Westfield San Francisco Centre , two blocks from Union Square on Market Street (between 4th and 5th streets). Bloomingdale's and Nordstrom anchor this sleek, nine-story vertical mall and set the upscale tone. In addition to more than 170 specialty retailers—among them American Eagle Outfitters, H&M, J. Crew and Michael Kors—there's a food court with eateries a cut above most mall fast-food choices and a plush nine-screen multiplex.
Farmers Markets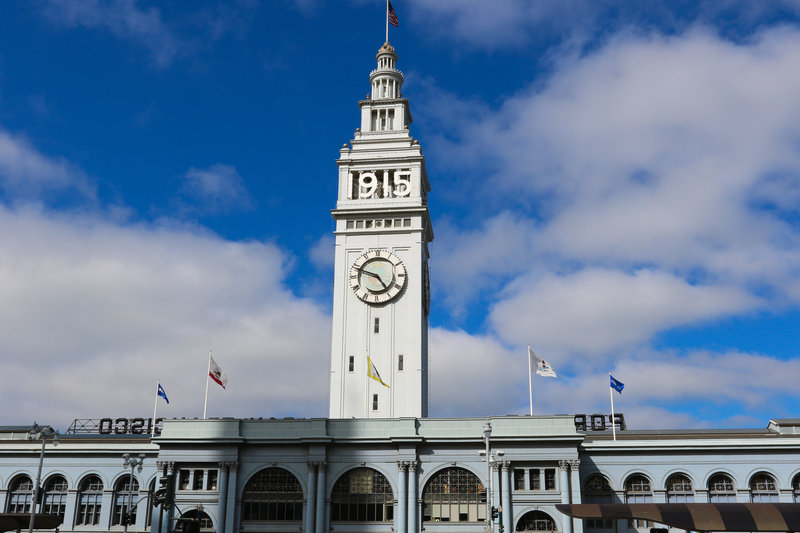 Ferry Building Marketplace is thronged with tourists and locals every day of the week but especially so on Saturday mornings when the Ferry Plaza Farmers Market sets up behind and in front of the building. As farmers markets go this one is fantastic—basically everything is organic, and the seasonal selection of fruits and vegetables, mostly from farms in nearby counties, is dazzling. Flowers, baked goods, jams, jellies and specialty foods are sold as well. Ditch the traditional restaurants and graze your way through the stalls, nibbling on free samples and marveling at the sheer bounty of it all.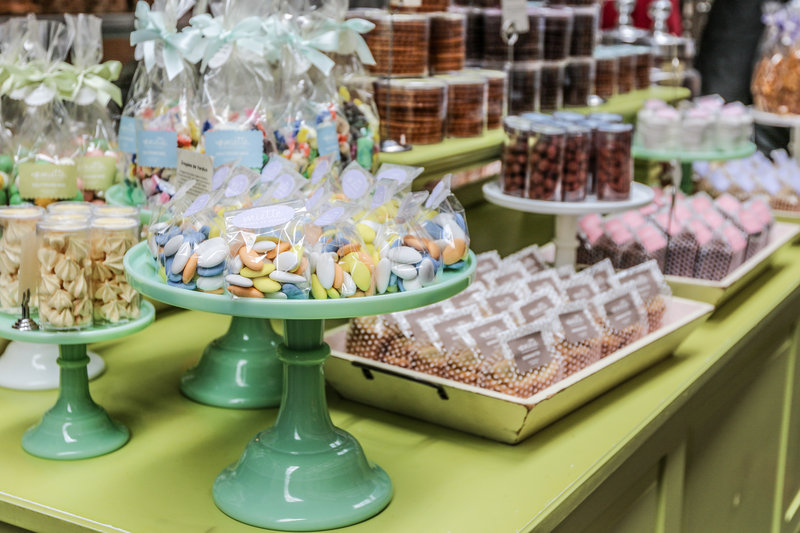 You can get your breakfast here, too, courtesy of the food vendors offering omelets, quesadillas, fried oyster po'boys and much more. The people-watching is fun, the street musicians are cool and the view of the Bay Bridge simply can't be beat.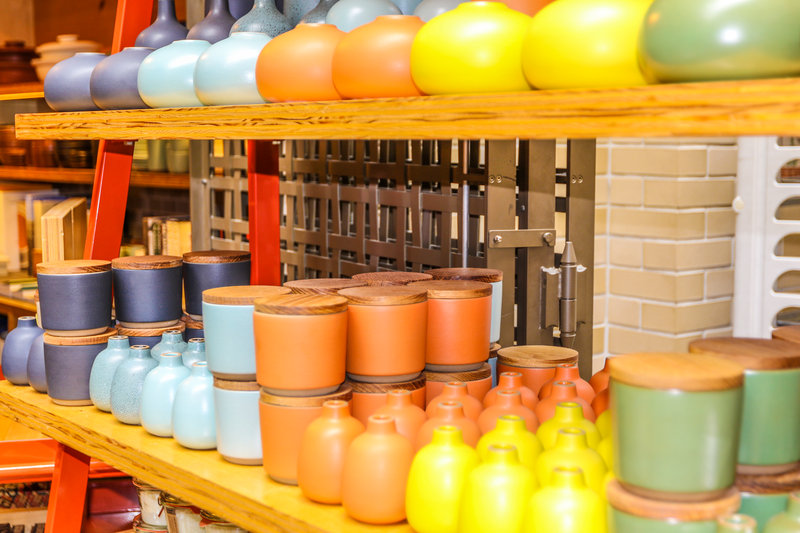 There's more browsing potential just across The Embarcadero from the Ferry Building, where souvenir vendors set up their merchandise every day of the week, although Saturday is the big day. Sure, you'll see jewelry, sunglasses and tie-dye T-shirts, but also interesting art and knickknacks.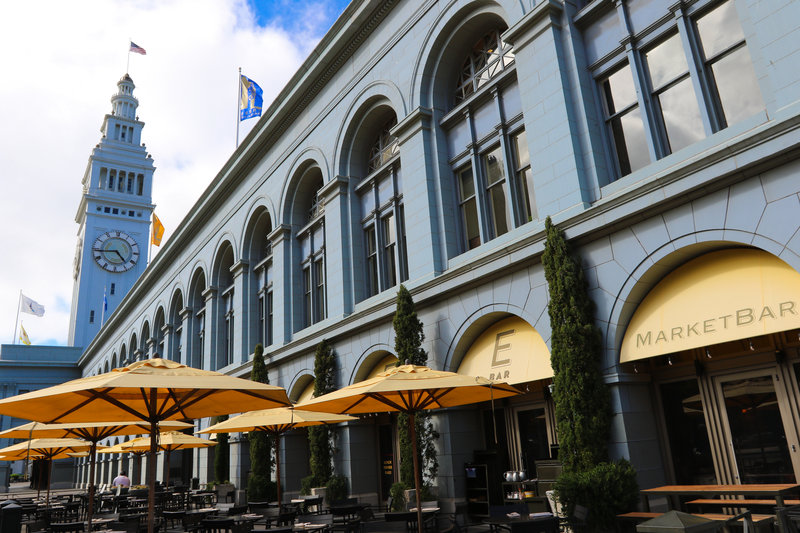 The market, at the foot of (appropriately enough) Market Street, is open Saturday 8-2 and, in smaller versions, on Tuesday and Thursday mornings. After making the rounds—if you aren't loaded down with purchases and especially if it's a sunny day—one of the fun things for couples to do is take a walk along The Embarcadero.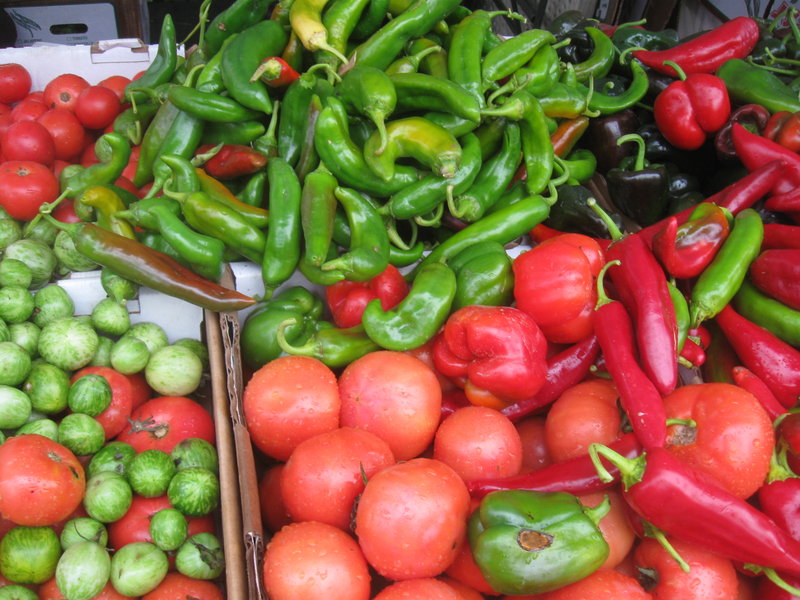 The Noe Valley Farmers Market is held Saturdays 8-1 on 24th Street between Sanchez and Vicksburg streets (across from Martha and Bros. Coffee). In addition to a bounty of organic fruits and veggies sold by local farmers, there's usually live music. Shop for heirloom tomatoes and other seasonal organic produce, plus baked goods, olive oil, honey and granola, at the Castro Farmers Market . It sets up on Noe Street (between Market and Beaver streets) Wednesdays from 4-8 p.m., mid-March to mid-December.
The Alemany Farmers Market , at 100 Alemany Blvd. in Bernal Heights, is a bit more ramshackle (some of the produce is sold out of the back of trucks). There are lots of prepared ethnic foods, along with spices, nuts, hummus and Thai chiles, and food trucks dish up yummy Mexican, Filipino and Afghan dishes. It's open Saturdays 6-2:30. Parking can be problematic, especially before noon, but the market is within walking distance of Muni's #67 bus, which you can board near BART's 24th Street station.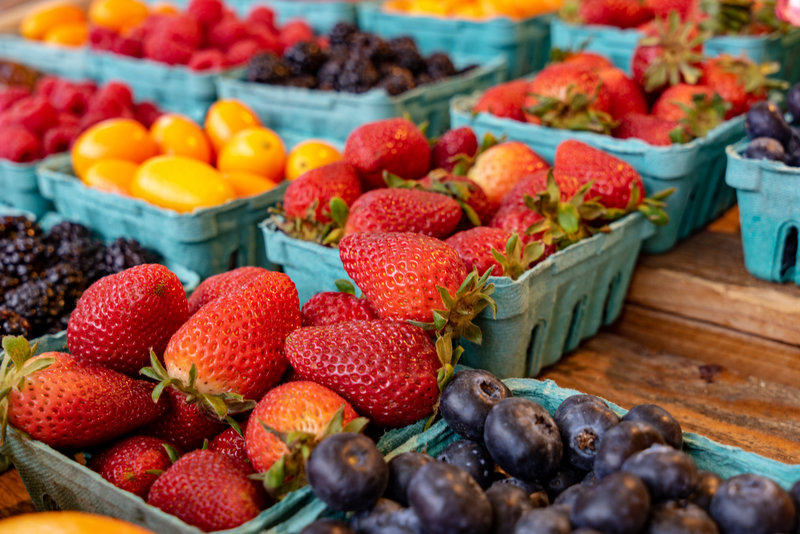 iStockphoto.com/MarkHatfield
The Inner Richmond's Clement Street Farmers Market is held year-round on Sunday from 9 to 2 on Clement (between 2nd and 4th avenues). Organic fruits, veggies and eggs, honey, nuts, cheeses, olive oil, gluten-free baked goods, juices and fresh-cut flowers are some of the goodies you'll find. Street parking is problematic, but if you're lucky enough to find a space you won't have to pay the meter.
Destination Neighborhoods
Although many tourists tend to think of Chinatown as a place to go for dim sum and souvenirs, this bustling city within a city offers a lot more. Shoppers will want to focus on the many establishments lining Grant Avenue, where the merchandise ranges from cheap (back scratchers, plastic Buddhas) to pricey (fine antiques, jade jewelry), and sidewalk displays are meant to lure you inside.
Peking Bazaar (826-832 Grant Ave.) has everything from kimonos and Chinese lanterns to plush panda dolls for the kids. On a more global scale is Michael Fine Art and Antique (400 Grant Ave.). Three floors offer a selection of expensive items like marble statues, decorative glass, bronze mermaids, candelabras and solid gold chess sets. It's nice eye candy even if you don't purchase anything.
Herb shops are located primarily along Washington and Jackson streets and are fun places to go. Even if you're feeling perfectly healthy, step inside a couple just to inhale the aroma of ginseng and tea leaves.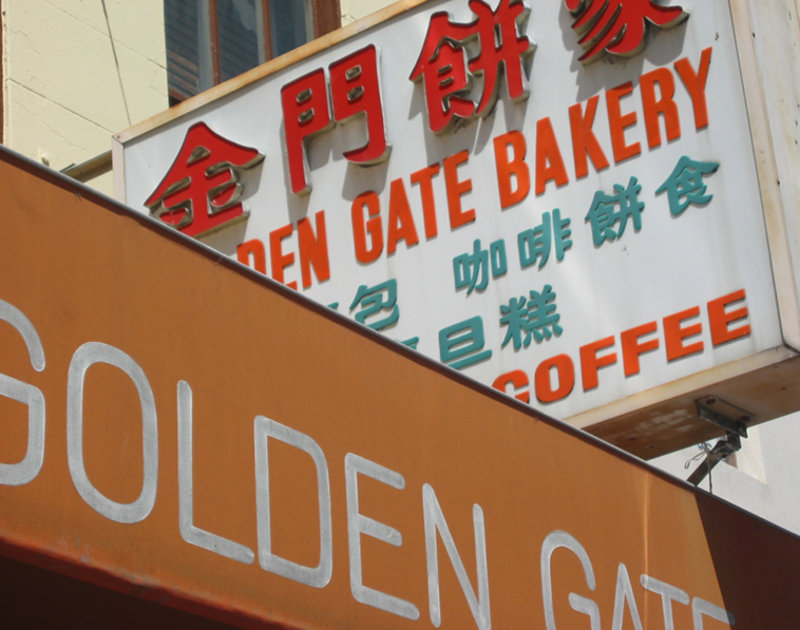 Courtesy of Golden Gate Bakery
The Golden Gate Bakery (1029 Grant Ave.) is a nearby restaurant known for egg tarts—flaky pastry surrounding a smooth custard filling. Loyal customers swear by them. They also sell almond cookies (get a pink box to go) and moon cakes (the sweetness comes from lotus seed paste). Expect to wait in line, and bring cash.
Shopping in Japantown (also known as Nihonmachi) focuses on the Japan Center complex bounded by Post, Geary, Laguna and Fillmore streets; look for kimonos, wind chimes, teapots and bonsai trees. Daiso (22 Peace Plaza) is the Japanese equivalent of a Dollar Store and therefore a boon in this expensive city; it carries everything from bento boxes to cosmetics to flip-flops. Kinokuniya Bookstore , 1581 Webster St., has a wide assortment of manga comics in both Japanese and English, Japanese movies and music, toys and electronics. There's a large children's section in the back of the store.
From Japantown it's a short walk up Fillmore Street to fashionable Pacific Heights, where shopping for women's clothes is chic, trendy and fun—as long as you bring plenty of money. A good place to start is the five-block stretch of Fillmore from California Street north to Pacific Avenue. Smartly dressed fashionistas peruse clothes from top European designers like Ann Demeulemeester and Dries Van Noten at Cielo (2225 Fillmore St.), a high-end boutique. Eileen Fisher (2216 Fillmore St.) is beloved by those who are fashion-conscious but not skinny; the established brand specializes in high-quality, figure-flattering basics like maxi skirts, cardigans and wool trousers.
Edgy apparel by hip designers (think Nanette Lepore and Trina Turk) is displayed in the window at Heidi Says Collections (2426 Fillmore St.). Be forewarned; the goods are definitely on the pricey side. Gallery of Jewels (2115 Fillmore St.) sells lots of items by California designers; prices for rings, necklaces, bracelets and cuff links range from pretty reasonable to stratospheric.
Hop on the #22 Muni bus heading north on Fillmore toward the bay to reach the six-block Union Street shopping district, full of art galleries, jewelry stores and boutiques. Z Gallerie (2154 Union St.) features high-quality home décor—furniture, lighting, dinnerware, artwork. Fog City Leather (2060 Union St.) has a large selection of men's and women's leather jackets, pants, belts and motorcycle vests. They also custom make everything from wallets to murses (men's purses) and do repair work on damaged garments.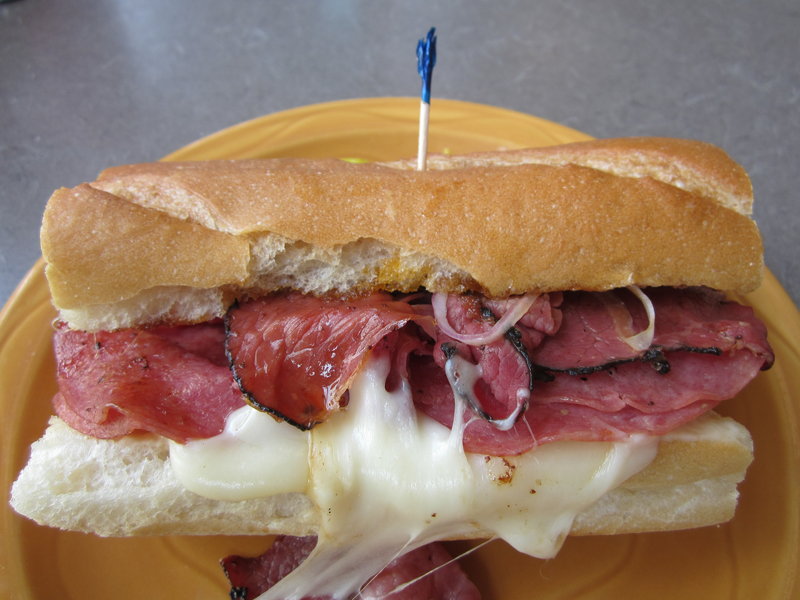 Four blocks north of Union, Chestnut Street (the blocks from Fillmore west to Divisadero) is another neighborhood shopping area where the emphasis is on local businesses and specialty boutiques. Well-to-do Marina homeowners frequent the likes of Williams-Sonoma and Pottery Barn. If you're on vacation and looking for places to eat, pop into Lucca Delicatessen (2120 Chestnut St.), an old-school Italian deli all the way. Narrow and cramped but packed to the gills with meats, cheeses, breads and specialty foods, it's a great one-stop choice for delizioso sandwiches to go or fixings for a picnic on the grass at nearby Marina Green.
If you remember—or want to relive—the counterculture days of the Summer of Love, then a trip to Haight Street is a must. Parts of the Haight still look like they're stuck in 1967, even though the neighborhood as a whole has been gentrifying for years and isn't nearly as gritty as it used to be. Head shops, funky boutiques and vintage clothing stores offer oodles of browsing potential.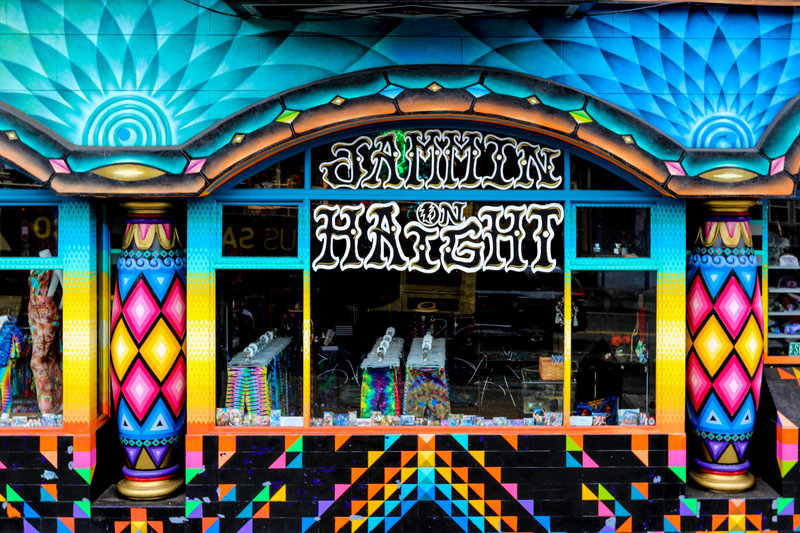 You'll find clothes (Grateful Dead T-shirts plus some contemporary additions like tie-dye catsuits and tank tops), rings and gifts at Love on Haight (corner of Haight and Masonic). Formerly Positively Haight Street, this shop's exterior artwork isn't as groovy as it used to be.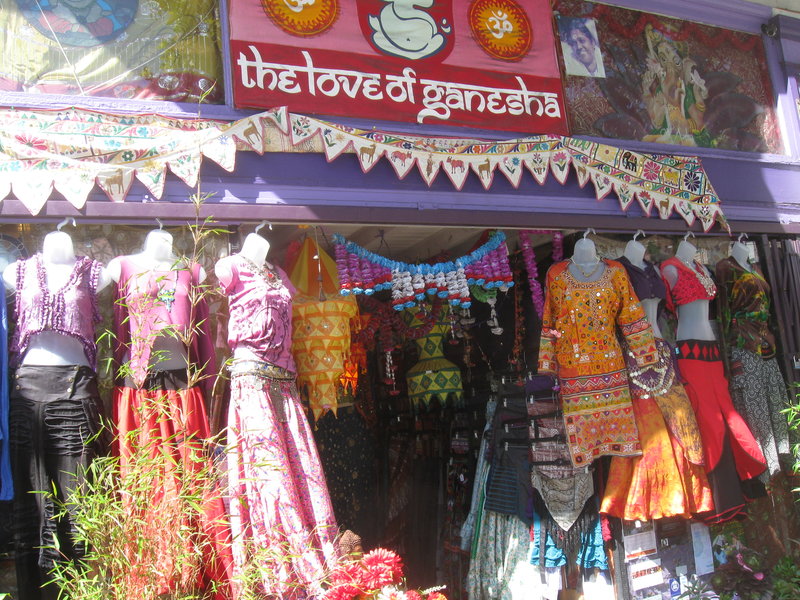 Exotic jewelry, clothing, scarves, trinkets and a great selection of incense can be found at The Love of Ganesha , on Haight near Clayton Street. This shop overflows with good vibes, from the welcoming proprietor to a complimentary cup of lemonade at the door.
With "creepy little things" like doll baby heads and dried puffer fish, Loved to Death (1681 and 1685 Haight St.) appeals to the macabre side. The merchandise ranges from books, art, jewelry, old photographs and home décor to skulls, framed butterflies, dead creatures displayed in shadowbox frames and cool-but-weird wall art.
Haight head shops always have awesome window displays—usually featuring '60s music icons Jerry Garcia, Janis Joplin and Jim Morrison as well as reggae superstar Bob Marley—and Land of the Sun (1715 Haight St.) is no exception. Inside you'll find Dead posters, tie-dye T-shirts, peace necklaces, smoking paraphernalia, candles and other reminders of the Summer of Love.
No Haight visit is complete without a stop at Amoeba Music (at the foot of Haight near Stanyan Street). The selection of albums and CDs in this cavernous space is encyclopedic, plenty of signs identify the different music genres and store staff will knowledgeably steer you in the right direction. The murals that practically cover the building are classic examples of Haight Street graffiti art.
Cliff's Variety (479 Castro St.) is a Castro institution. It's a hardware store and carries all the things you'd expect to find in a hardware store—plus toys, games, gag gifts, crafts and fabrics, bar accessories and kitchen items (everything from cast-iron skillets to teapots).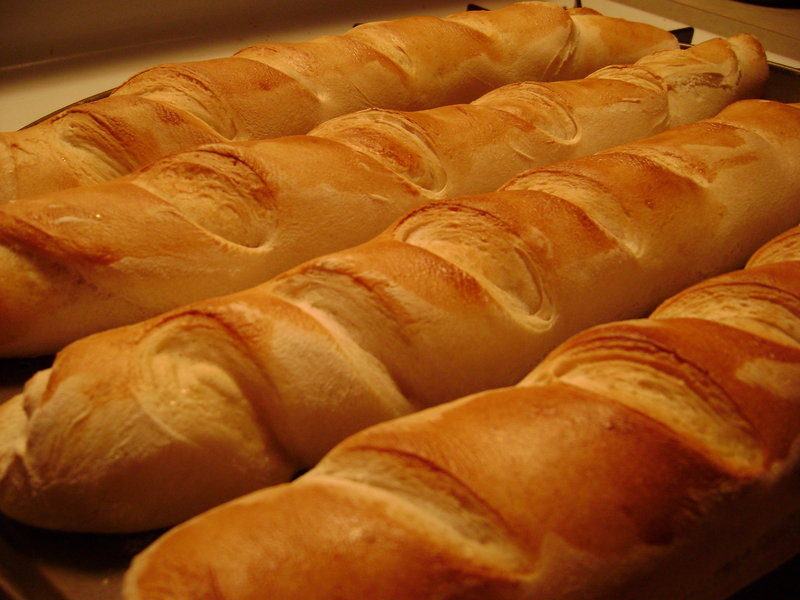 These days the Mission is gentrifying at an alarming rate, but so far 24th Street has remained pretty immune. The dozen or so tree-lined blocks between Guerrero and York streets are chock-full of craft and gift shops, green grocers, panaderías (bakeries) and taquerías, where the tantalizing aroma of grilling meat wafts out of open doorways. Murals and graffiti art cover practically every flat surface. It's one of the city's most rewarding streets to wander.
Valencia Street once had plenty of Mission grit, but now it's crowded with pricey condos. The blocks between 16th and 24th draw hordes of hipsters who congregate at restaurants and clubs, but for the non-hip there are plenty of offbeat shops. One of our favorites is Paxton Gate (824 Valencia St.), filled with all manner of bizarre things (mobiles of tiny bird skeletons instead of alphabet blocks and baby toys, giant insects displayed in glass frames, mounted bat heads). But it's not all bones and taxidermy; there's also a selection of hand-crafted garden tools and unusual plants, primarily succulents and orchids.
Dijital Fix (820 Valencia St.) appeals to audiophiles with trendy Bluetooth speaker systems and synthesizers. Among the nifty gadgets are a bike wheel monkey light, protective iPad sleeves and a chimney humidifier (who knew humidifiers could be so stylish?).
In contrast, the Community Thrift Store (623 Valencia St.) harkens back to the halcyon hippie days of yore with its hodgepodge of funky furniture, vintage clothing, old-fashioned knickknacks, teacups and china, used books and old records. They also donate a portion of their proceeds to local charities.
If you're in need of a chocolate fix, do not pass up Dandelion Chocolate (740 Valencia St.). For one thing, as soon as you walk in the door you'll smell the earthy aroma of rich chocolate. There's an array of chocolate bars and treats like caramel chocolate tarts, plus hot and cold drinks (the Mission hot chocolate is yummy). Or relax for a spell at Borderlands Cafe (870 Valencia St. near 20th Street). This cozy, plant-filled space has quiet nooks with couches and easy chairs, plus a nice selection of coffees and loose-leaf teas.
Specialty Districts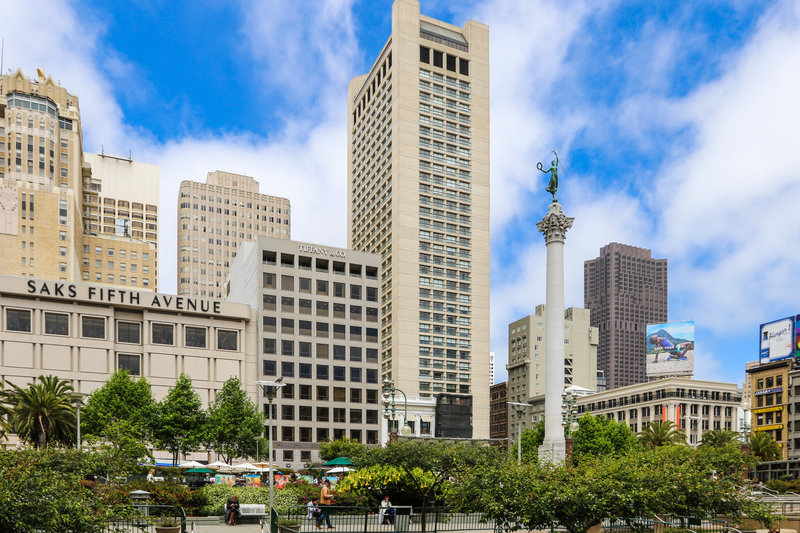 Union Square, bordered north and south by Post and Geary streets and east and west by Powell and Stockton streets, was built in 1850 and named for the pro-Union rallies held here during the Civil War. Framed by date palms and attractively landscaped with exotic plants and flowers, it's the heart of the downtown hangout and shopping scene.
Bordering the square and lining the surrounding streets are major department stores and ultra-chic, ultra-expensive boutiques. A huge Macy's towers above Union Square; Macy's Men's Store occupies a separate multi-floor building just across Stockton Street. Saks Fifth Avenue and Tiffany & Co. rub elbows on Post Street. Neiman Marcus boasts a six-story rotunda topped with an elaborate stained glass dome. In this heady company the likes of Williams-Sonoma and Victoria's Secret are rather small potatoes.
Facing the square on Post Street, at the corner of Stockton, is Apple Union Square . The tech giant's brand-new West Coast flagship, which replaced the former location at Stockton and Market, is fronted by spiffy sliding glass doors that double as huge two-story windows. The customer service section boasts a lineup of living trees, bringing the outdoors inside, while a "forum" area behind the building is open 24/7 and features a 50-foot green wall, free Wi-Fi and a refurbished, landmark 1970 fountain created by San Francisco artist Ruth Asawa.
Maiden Lane was once lined with bordellos; today this small side alley between Stockton Street and Grant Avenue is the location of several fancy-schmancy boutiques. Bring plastic if you plan on hitting Chanel, Hermès, Prada or Marc Jacobs. Nearby Burberry and Cartier are on Post Street between Stockton and Grant Avenue; Giorgio Armani is at Post and Grant.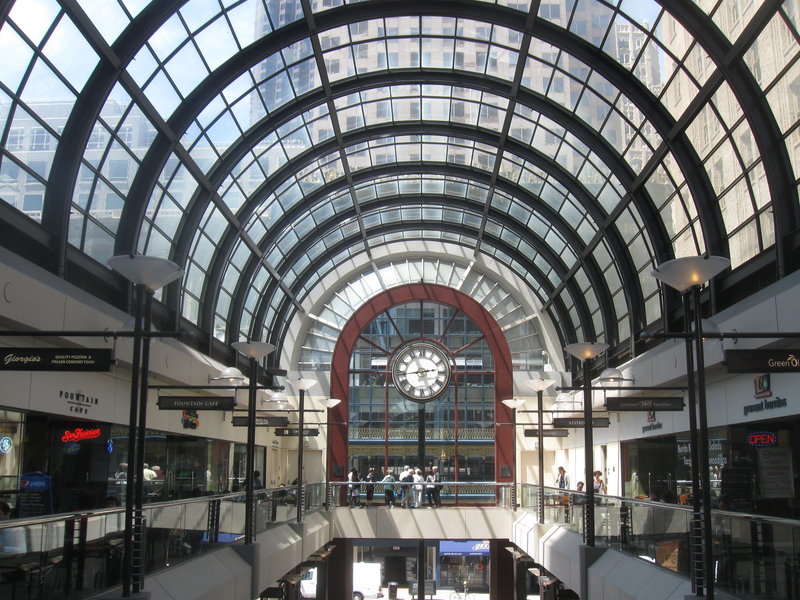 About a block farther at 135 Post St. is Gump's , a San Francisco institution known for distinctive gift items, home and garden accessories, furnishings and Asian-inspired jewelry. Aside from Polo Ralph Lauren, the emphasis at the three-level Crocker Galleria (50 Post St. between Kearny and Montgomery streets) is on casual eateries, sweet shops (cupcakes, chocolates) and local businesses (hair and nail salons, florists). There's also a rooftop seating area. It's closed on Sunday. A small farmers market sets up on the first floor Thurs. 11-3.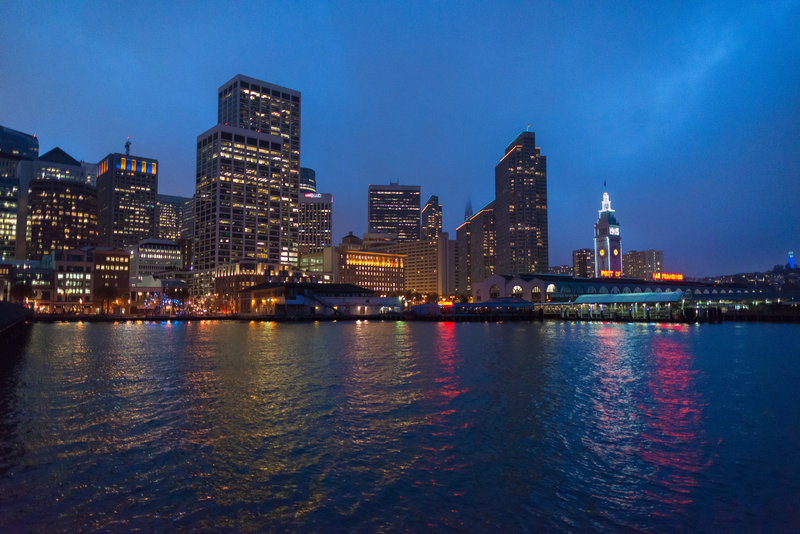 San Francisco Nightlife
Diversity is what this city is all about. The raucous forty-niners knew how to live it up way back when, and that good-time tradition continues. Cool blues, chill jazz, frenetic rock, classy cocktail lounges, bars with history, views with your booze (or some combination thereof)—San Francisco won't disappoint.
Destination Bars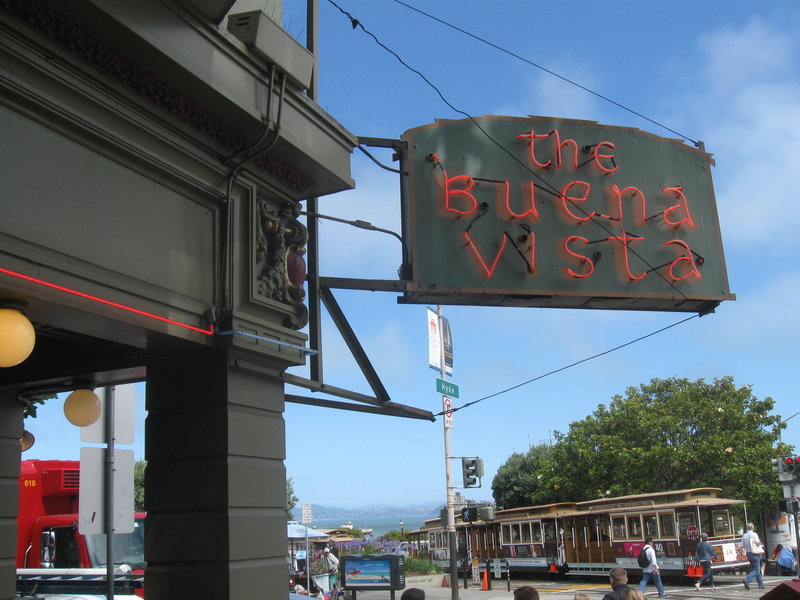 The perfect spot on a cool San Francisco night might just be the Buena Vista Cafe , near Ghirardelli Square and the cable car turnaround at 2765 Hyde St., where you can warm up with an Irish coffee. Legend has it that this is the birthplace of that whiskey-infused cup of joe, but in actuality it's the first place the drink was served in the United States. (in 1952, to be exact). Grab a seat and warm the cockles of your heart after a busy day of sightseeing. Phone (415) 474-5044.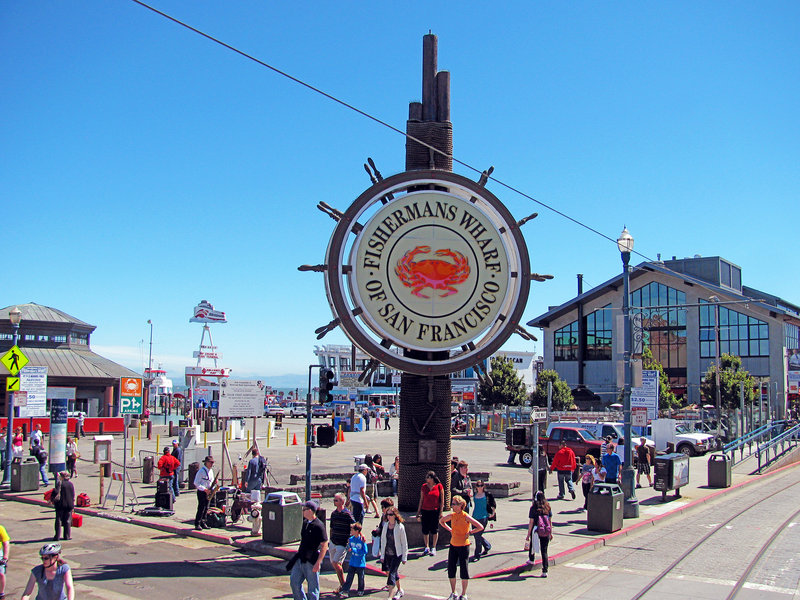 The Gold Dust Lounge (165 Jefferson St.), a longtime Union Square bar, relocated to Fisherman's Wharf in 2013. This space is much larger but retains such signature features as the massive chandeliers and a pressed-tin ceiling complete with cherubs. It's one of San Francisco's fun places to go at happy hour. Phone (415) 397-1695.
In addition to being known as San Francisco's "Little Italy,"
North Beach
is also where you'll find some of the city's most popular late-night hangouts. This is where the beat generation poets caroused in the 1950s, and two bars still recall that era.
Lawrence Ferlinghetti (former owner of the famed City Lights Bookstore), Allen Ginsberg and Jack Kerouac were regulars at Vesuvio Cafe (255 Columbus Ave., just off tiny Jack Kerouac Alley). From the San Fran memorabilia (loads of historic photos) to absinthe on the drinks menu, this place oozes hipster cred. It's cramped and can get crowded; try and snag one of the tiny tables on the second floor.
In an alley just across Columbus at 12 Saroyan Pl. is Spec's Twelve Adler Museum Cafe (Spec's for short), where irreverent cartoons and bizarre antiques cover the walls, and the beers come with crackers and a hunk of cheese to nibble on. Both bars attract a mixed clientele that enjoys reliving a bit of the past. Phone (415) 362-3370 for Vesuvio or (415) 421-4112 for Spec's.
At the
Tosca Café
(242 Columbus Ave.) an espresso machine still stands by the bar and the jukebox is still heavy on operatic standards, but the red booths were upgraded to real leather a couple of years ago. Tosca become one of the city's great places to eat with the addition of an open kitchen, and this iconic bar serves dinner until 1 a.m. (the bar stays open another hour). Phone (415) 986-9651.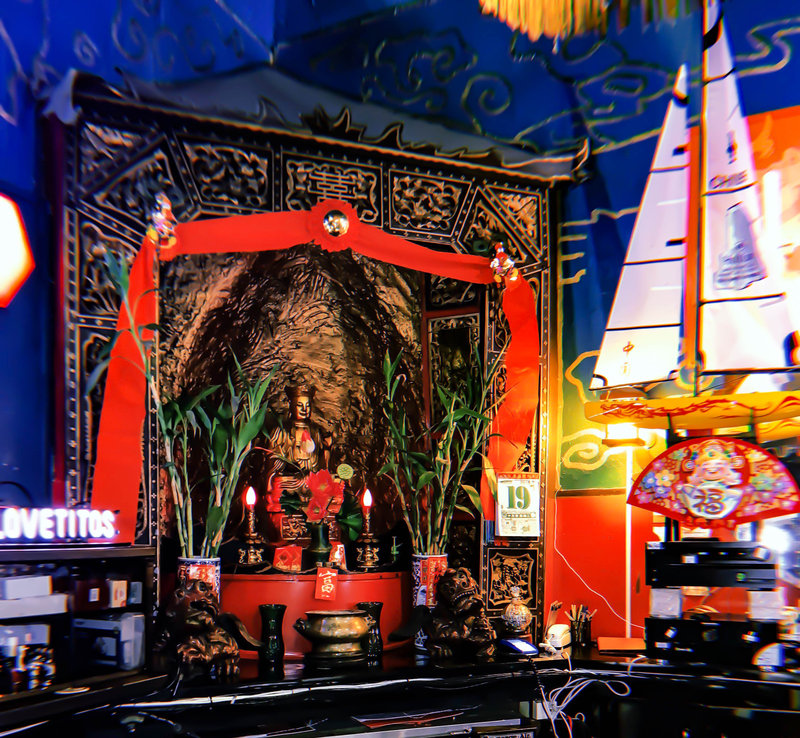 Courtesy of Li Po Cocktail Lounge
Hipsters love Chinatown's Li Po Cocktail Lounge (916 Grant Ave.)—but don't let that stop you from taking a look around. There's more than a little bit of David Lynch atmosphere going on in this dive bar's dark, red back room, with its parade of interesting characters. The signature drink here is a mai tai; if you want something more potent, the Chinese whiskey packs a wallop. Phone (415) 982-0072.
Another no-frills Chinatown joint is Red's Place (672 Jackson St.). It's got friendly bartenders, draws a mix of locals and out-of-towners, and features a wide selection of bottled beers plus Chinese pop tunes on the jukebox. Regulars engage in fervent dice games; ask the bartender to teach you how to play liar's dice. Phone (415) 956-4490.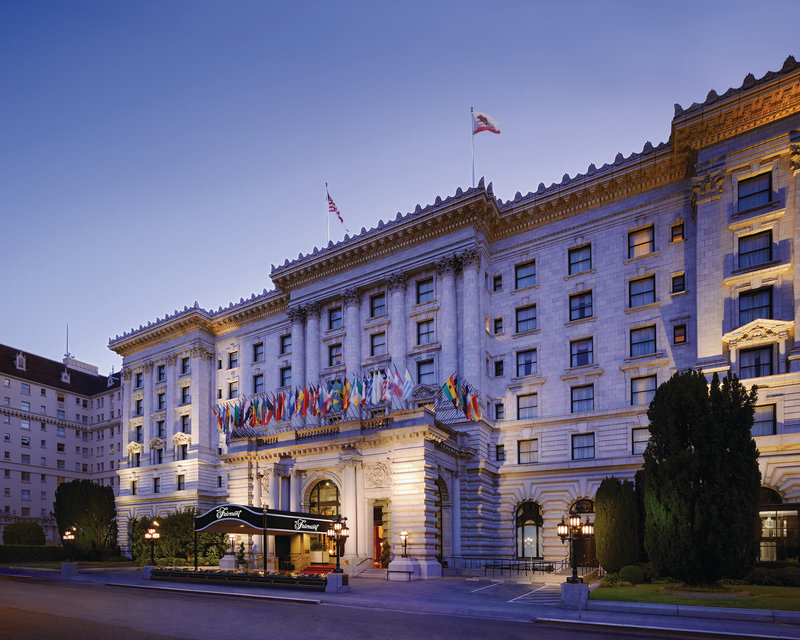 Courtesy of The Fairmont Hotel
Climb to the top of ritzy Nob Hill and The Fairmont San Francisco, then take the elevator downstairs to the Tonga Room & Hurricane Bar . It's tiki kitsch elevated to an art form, from the palm trees, thatched huts and a lagoon with a floating ship (doubling as a bandstand) to the thunderstorm that arrives on cue every 20 minutes. They make a mean mai tai—and yes, your drink comes in a coconut complete with paper umbrella. There's an Asian-inspired buffet on select weekdays during happy hour, and dancing begins at 8 p.m. Phone (415) 772-5278.
If you find yourself in Pacific Heights following an afternoon of shopping and are wondering what to do next—or you're looking for a place to kick-start the evening—sidle on in to Harry's Bar (2020 Fillmore St.). The ambience is casual but not grungy, and the crowd is mostly local residents and young professionals unwinding after a tough day at the office. Phone (415) 921-1000.
The Marina Lounge (2138 Chestnut St.) has been around for decades. There's no pretense here—decent beers on tap, a jukebox heavy on classic rock and '80s hits, a pool table, a couple of old-school video games and a distinct absence of yuppie types. In the Lower Haight, Toronado (547 Haight St.) has plenty of space for locals and tourists to hang while watching playoff games or knocking back brews. Their craft beer selection is notable. Phone (415) 922-1475 for the Marina Lounge, (415) 863-2276 for Toronado.
If you're looking for fun things to do with friends, the Castro is full of casual, friendly hangouts. Although it's a restaurant,
Cafe Flore
also has a full-service bar. The location—at the high-visibility corner of Market and Noe streets—makes this a prime spot to see and be seen. Go for one of the happy hour drink specials and sit outside for the best view of the always-entertaining street parade. The place is packed on warm evenings (or at least what passes for a warm evening in San Francisco), but even if the weather's chilly there are heat lamps and twinkling lights to keep the mood festive. Phone (415) 621-8579.
You won't encounter a lot of attitude at Midnight Sun (4067 18th St.). Convivial crowds gather at this small, laid-back bar for the 2-for-1 drink specials while watching music videos and "RuPaul's Drag Race" on big TV screens. Local drag queen Honey Mahogany is often on hand to emcee events. Twin Peaks Tavern (across from the Castro Muni station), referred to as the "Glass Coffin" for its big windows and more mature clientele, is more amenable to conversation than most other Castro bars. Next door is Hot Cookie, highly regarded for fresh-baked treats. Phone (415) 861-4186 for Midnight Sun or (415) 864-9470 for Twin Peaks Tavern.
Cocktail Lounges
Among the many things for couples to do, a popular choice is Indulging yourselves with cocktails at Top of the Mark , the classy lounge at the top of the InterContinental Mark Hopkins San Francisco that has been a Nob Hill landmark since 1939. The room isn't small but still feels intimate and cozy. Live music (mostly jazz) often enhances the mood, and movie screenings are offered on Tuesday nights in summer. Request a seat along the wall of windows for breathtaking views. Arrive with someone special at twilight, then watch the sun set and city lights come twinkling on for a truly magical experience. Phone (415) 392-3434.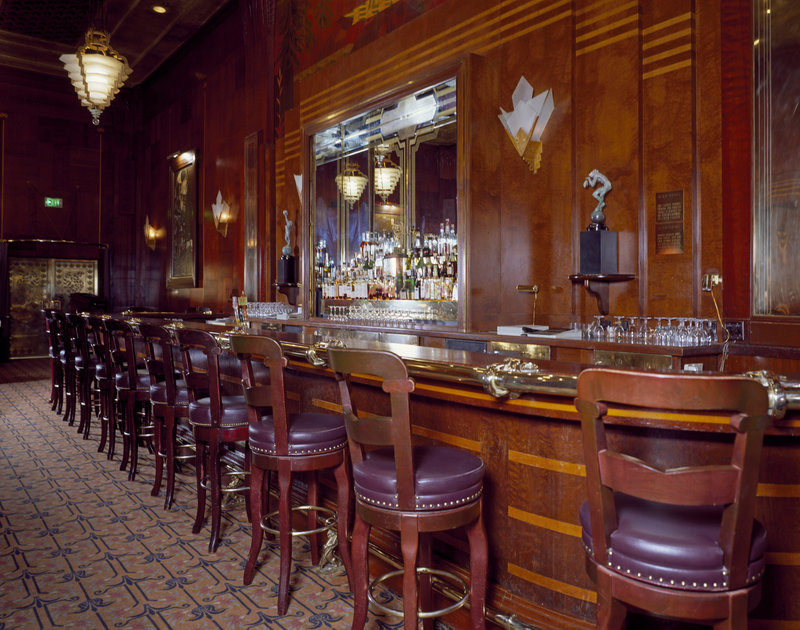 Courtesy of Wikimedia Commons
Cool, sleek and fashionable defines the Redwood Room in the Clift Hotel at Union Square (495 Geary St.). This modern lounge exudes panache, from its redwood paneling to the changing display of digital artwork. Phone (415) 929-2372.
The Starlight Room is a throwback to when a night on the town meant dressing up for an evening at a swanky hotel's top-floor lounge—in this case Union Square's Sir Francis Drake Hotel (450 Powell St.). Cocktails and hors d'oeuvres are served in an opulent setting complete with red velvet booths, silk draperies and imported chandeliers. The dance floor can get crowded on weekend evenings. Sunday afternoon shifts gears with the very popular "Sunday's a Drag" hosted by local celebrity and drag performer Donna Sachet; in addition to the show there's an all-you-can-eat buffet brunch. Phone (415) 395-8595.
Dance Clubs
Locals and tourists looking for things to do this weekend can start at SoMa (South of Market Street) where the city's hippest clubs are concentrated. Two standbys are the DNA Lounge (375 11th St.) and 1015 Folsom (the name is the address). Both are invariably packed and loud. Depending on the night, DNA might feature DJ sets, name bands or the Hubba Hubba Revue, a burlesque and variety show. At Folsom, DJs whip the crowds into a frenzy with hip-hop and electronic jams. Phone (415) 626-1409 for DNA, (415) 991-1015 for Folsom.
111 Minna Gallery (Minna Street at 2nd Street) leads a double life—art gallery by day, special event/dance club at night. It's a large space with high ceilings, and there's edgy, thought-provoking art everywhere—on the walls, on the bar, on the DJ platforms. Monthly dance party events include "Back to the '90s vs. 2000s." Phone (415) 974-1719.
Mezzanine (444 Jessie St. at Mint Street) is a cavernous, brick-walled space with a booming sound system that showcases live and electronic music—everything from salsa to hip-hop to electro-funk disco. When bands aren't playing, hot DJs take over. Multimedia art and fashion shows are regularly scheduled; purchasing advance tickets for these events is strongly recommended. Phone (415) 625-8880.
Temple Nightclub (540 Howard St.) has two dance floors. The floor on the main level is more spacious than at many other clubs; the music is mostly house. Downstairs it's crowded and sweaty and the music is mostly hip-hop. Phone (415) 312-3668. Butter (354 11th St.) calls itself a "white trash bistro," a theme borne out by Miller High Life served in paper bags and trailers (including a vintage Winnebago) that are part of the décor. DJs favor songs from the '90s and early '00s. Phone (415) 863-5964.
Note: Parts of SoMa can be sketchy, particularly after dark. If you're going to hit the clubs, go with a group. And neither Union Square nor SoMa is parking friendly; take a cab or use public transportation.
Rock and Blues Clubs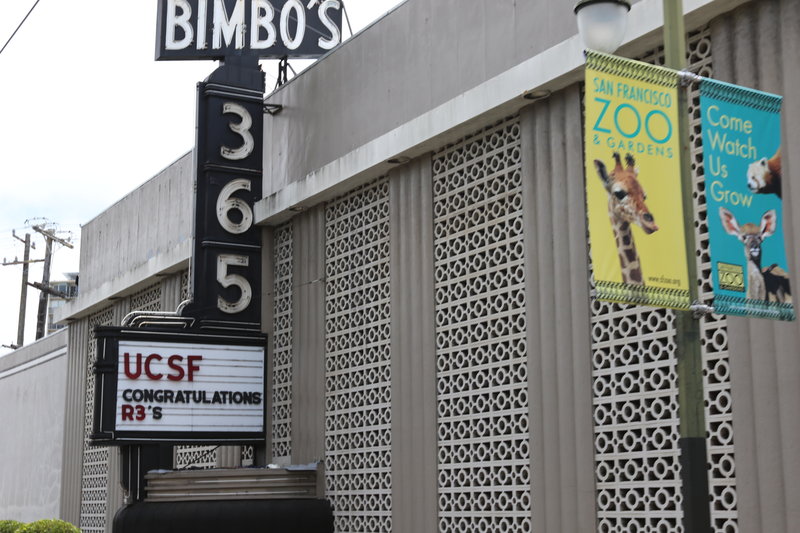 Complete your San Francisco vacation by visiting one of the cities many rock and blues clubs starting in the swanky and retro main room of Bimbo's 365 Club (1025 Columbus Ave.), a North Beach institution that's been in business since 1951. Tables and chairs in the red-accented room are arranged in a U-shape around a stand-or-dance area in front of the stage. The concert schedule is varied—rock bands, jazz artists, world music, stand-up comics—and plenty of big names appear. Arrive early if you want to snag a good table seat; phone (415) 474-0365.
Another San Francisco mainstay is the Boom Boom Room (1601 Fillmore St. at Geary). This was a blues spot in the 1930s, although nowadays you'll hear R&B, funk and soul as well. Check out the assemblage of old photos from past gigs on the club's walls. Legendary blues artist John Lee Hooker was affiliated with the Boom Boom Room in the late 1990s. Phone (415) 673-8000.
Former Steve Miller Band member Boz Scaggs opened Slim's (333 11th St.) back in the '80s, and it's one of the better places in town to see a rock band. Drink prices are reasonable and the sound system is decent. There's also a fair amount of street parking available in the vicinity, always a plus in this city. Phone (415) 255-0333.
Bottom of the Hill (1233 17th St.) is at the bottom of Potrero Hill. Pop, punk and noise bands, many local, play to young, enthusiastic crowds seven nights a week. The back patio is good for taking a break and chilling with friends. Go with a group, since the neighborhood tends to get a little sketchy late at night. Phone (415) 626-4455.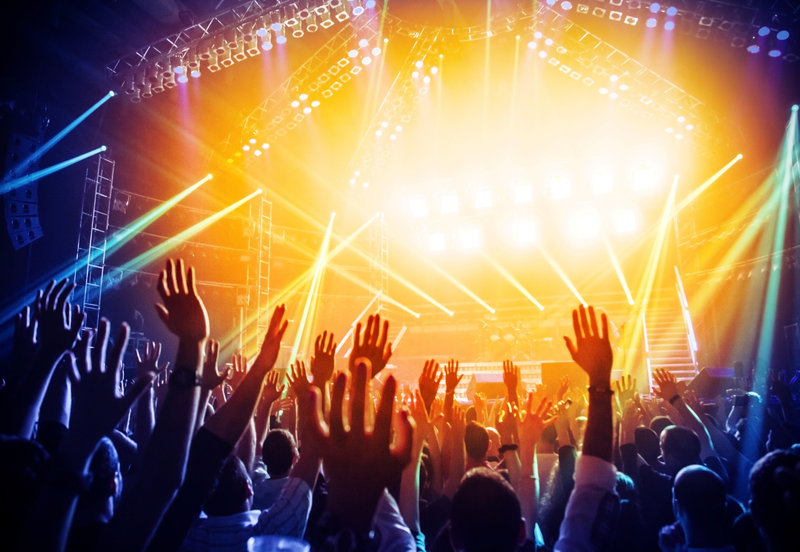 Shutterstock.com/Anna Omelchenko
The Great American Music Hall (859 O'Farrell St.) started out in 1907 as a bordello; Sally Rand entranced audiences with fan dances during the 1930s, and it was a Moose Lodge in the '50s. Graced with marble columns and a frescoed ceiling, GAMH books a variety of rock and indie acts. You can pay general admission and stand in front of the stage or pay more to sit at a balcony table and have dinner. Phone (415) 885-0750.
The Fillmore (1805 Geary Blvd. at Fillmore) was a big name in the '60s San Francisco music scene: Promoter Bill Graham brought local rock bands like the Grateful Dead, Jefferson Airplane and Quicksilver Messenger Service as well as visionaries like Jimi Hendrix to his ballroom for concert "happenings" complete with psychedelic light shows. It's still the venue of choice for many performers today. Phone (415) 346-6000.
Another longtime rock palace is The Warfield (982 Market St.), a former vaudeville theater. The cozy ambience—complete with a beautifully detailed gold-leaf ceiling—is perfect for watching acts old and new do their thing. Note: Parking in the vicinity is practically nonexistent, but the theater is a short walk from the Powell Street Muni station. Phone (415) 345-0900.
The Chapel (777 Valencia St.) has rustic/industrial décor and a concert schedule featuring the usual buzzed-about names. Be forewarned that the venue sells out quickly depending on who's playing. If you can't make the show, hang out on the patio. Phone (415) 551-5157.
The Independent (628 Divisadero St., a block west of Alamo Square) is another popular joint with a good sound system and surprisingly non-funky bathrooms. The room is small enough that you have no trouble seeing the stage but big enough that it doesn't feel claustrophobic. Get tickets well in advance for shows by up-and-coming bands; they usually sell out quickly. Phone (415) 771-1421.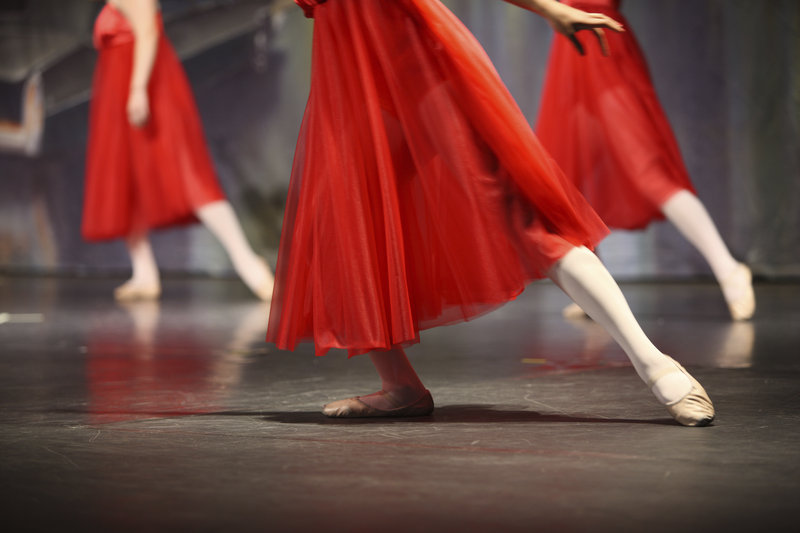 San Francisco Performing Arts
San Francisco's tempestuous 19th-century adolescence was more attuned to drinking and gambling than refined pleasures. Even so, 15 legitimate theaters operated amid the saloons of the Barbary Coast. But today residents and visitors on vacation take advantage of a world-class symphony, opera and ballet companies, and theatrical fare from touring Broadway blockbusters to a full house of offbeat experimental productions.
Two major performing arts facilities are just west of the Civic Center. A bronze Henry Moore sculpture squats in front of Louise M. Davies Symphony Hall. The building's wraparound design places seating around and even behind the orchestra. Opera, dance and performing arts troupes perform at the War Memorial Opera House, opposite the Davies. This venerable structure looks just like it did in 1931.
When planning your trip, be sure to check the San Francisco Chronicle's Datebook section, published in the newspaper's Sunday edition, which carries complete listings of area theaters and nightspots as well as information about upcoming events. TIX Bay Area offers cash-only, half-price tickets for selected theater, dance and music events on the day of the performance, and also serves as a Ticketmaster ticket outlet (for credit card purchases). It is located inside the Union Square Garage, accessible through the Geary Street entrance; phone (415) 433-7827.
Dance
Ballets are fun things to do with friends, especially the innovative new productions performed by the San Francisco Ballet at the War Memorial Opera House. The company's repertory season lasts from late January into early May, although the Nutcracker Suite is performed in December. For the box office, phone (415) 865-2000 Mon.-Fri. 10-4.
Across the bay, the Oakland Ballet has been presenting its own revivals and contemporary productions since 1965. The season begins in fall; performances take place at the Paramount Theatre of the Arts, 2025 Broadway near the 19th Street BART station. Phone (510) 465-6400 for information.
Film
The Bay Area is a mecca for film lovers. Independent film-making tradition thrives here: Documentaries and experimental features are produced on cut-rate budgets throughout the city. Many movie theaters in San Francisco show primarily art house or foreign films, and film showings at several colleges and universities also ensure a wide variety of fare.
Travel to San Francisco almost requires a visit to the Castro Theatre (429 Castro St.). It doesn't matter what's playing ; buy a ticket, because it's worth the price of admission just to see the lavish interior of this Moorish/Art Deco-style jewel and behold the Wurlitzer organ rising from beneath the stage for a brief musical performance before the movie begins. In addition to a varied schedule of films (lost classics, repertory series, cult cinema, Hollywood blockbusters, you name it), the theater is the site of frequent special events. It's also dark on occasional evenings; check the website or phone (415) 621-6120 to find out what's happening.
Film buffs should ask their travel advisor about local cinema offerings. The following theaters show a mix of foreign and independent films in addition to repertory programs and revivals of old classics. The Embarcadero Center Cinema is on the promenade level at One Embarcadero Center, at the corner of Battery and Clay streets; phone (415) 352-0835. The Opera Plaza Cinema is at 601 Van Ness Ave.; phone (415) 771-0183. The Clay Theatre is at 2261 Fillmore St.; phone (415) 561-9921. The Roxie Theater is at 3117 16th St.; phone (415) 863-1087. The Yerba Buena Center for the Arts is at 701 Mission St.; phone (415) 978-2787.
Music
Under the direction of Michael Tilson Thomas, the San Francisco Symphony performs in Louise M. Davies Symphony Hall from September through June and is one of the most popular things for couples to do in the city. Guest conductors and internationally known soloists round out the repertoire of standards. The box office is open Mon.-Fri. 10-6, Sat. noon-6 and two hours before concerts on Sun.; phone (415) 864-6000.
As a free alternative to the often sold-out symphony productions, orchestral and band concerts take place summer Sundays in the natural amphitheater of Sigmund Stern Memorial Park, Sloat Boulevard and 19th Avenue; phone (415) 252-6252 for concert information. Golden Gate Park also is the scene of concerts throughout the year.
During the academic year both students and faculty perform at the San Francisco Conservatory of Music at 50 Oak St. Phone (415) 503-6277 for 24-hour schedule and price information, or (415) 864-7326 Mon.-Fri. 10-12:30 and 1:30-4 for tickets. Occasional classical music concerts take place at the Nob Hill Masonic Center, 1111 California St.; phone (415) 776-7457, or (877) 598-8497 (Ticketmaster) for tickets.
Jazz lovers have no need to wonder what to do in San Francisco as the SFJAZZ Center, 201 Franklin St. (at Fell Street) in Hayes Valley, functions as a hub for music, art and culture, encouraging interactions between audiences and musicians. The season, which runs from January to early June, features extended residencies by a wide spectrum of noted jazz artists. Summer sessions also are presented. Performances take place at the state-of-the-art Robert N. Miner Auditorium, which can be adjusted from 350 to 700 seats. Phone (866) 920-5299 for the box office.
A performance space at the former High School of Commerce was reborn as the Nourse Theater (275 Hayes St., between Van Ness and Franklin streets). It was closed for more than 30 years before a restoration project in 2012 refurbished the 1,600-seat hall, preserving original architectural details while installing state-of-the-art lighting and sound. The Nourse is the home of City Arts & Lectures, a series of onstage conversations with leading figures in science, literature and the performing arts. For ticket information phone (415) 563-2463.
Opera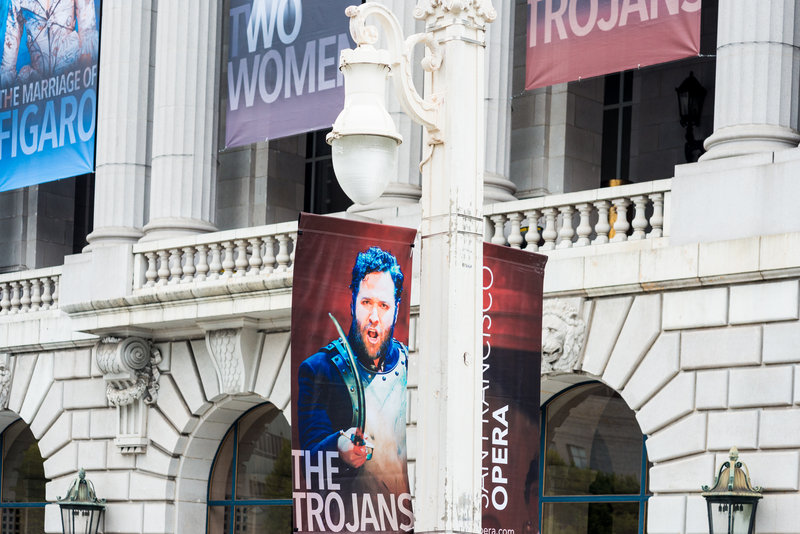 The San Francisco Opera, founded in 1923, is the resident company at the War Memorial Opera House. International names frequently appear during the season, which begins in early September and lasts into December, with two additional months of performances in June and July. Many performances are sold out long in advance, but standing-room tickets are always made available the day of the performance; they go on sale (cash only and one per person) at the box office, 301 Van Ness Ave., beginning at 10 a.m. For performance and additional ticket information, phone (415) 864-3330 Mon. 10-5, Tues.-Sat. 10-6.
Theater
Major touring plays and productions of Broadway shows are presented at the Curran Theatre (445 Geary St.) and the Orpheum Theater (1192 Market St.). Musicals run at the Golden Gate Theater (1 Taylor St.) and at the Curran. Phone (415) 358-1220 for the Curran; (415) 551-2000 for the Orpheum and Golden Gate theaters.
The American Conservatory Theater (ACT) is San Francisco's major repertory group and presents plays at the 1910, Edwardian-style Geary Theater (405 Geary St.) and the more intimate Strand Theater (1127 Market St.); phone (415) 749-2228.
Lamplighters Music Theatre, another repertory company, specializes in operettas and musical spoofs, with an emphasis on Gilbert & Sullivan musicals. Performances take place at various venues, including the Yerba Buena Center for the Arts, 700 Howard St. at 3rd Street, and the Taube Atrium Theater, 401 Van Ness Ave. Phone (415) 227-4797 for schedule and ticket information.
One of the most fun places to go in the city for a uniquely San Francisco theater experience is "Beach Blanket Babylon" at Club Fugazi at 678 Beach Blanket Babylon Blvd. (formerly Green Street). This feel-good show, which has been running since 1974, features cabaret-style entertainment, outlandish costumes and a constantly updated parade of pop culture characters. These days theatergoers will encounter everyone from Bernie Sanders and Sia to characters from "Game of Thrones" and "Orange is the New Black." Phone (415) 421-4222 for reservations.
The Lorraine Hansberry Theatre (762 Fulton St.) showcases the works of African-American writers; phone (415) 345-3980. The Magic Theatre in Building D at Fort Mason, Marina Boulevard and Buchanan Street in the Marina District, presents West Coast premieres and occasional solo shows; phone (415) 441-8822. And Fort Mason's Cowell Theater, Marina Boulevard at Buchanan Street (at the end of Pier 2), features one-man shows and other performances; phone (415) 345-7575.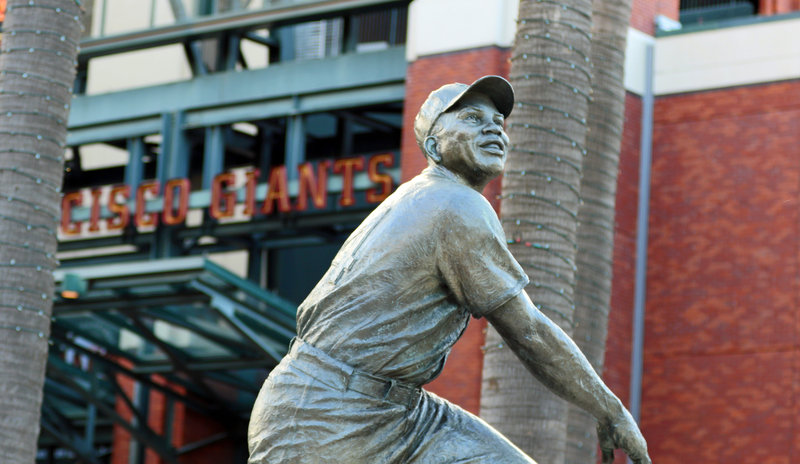 San Francisco Sports and Recreation
Bay Area fans vigorously support their hometown teams, and San Francisco's and Oakland's professional and college lineup—the Giants, Oakland A's, 49ers, Golden State Warriors, Raiders and Sharks—offer plenty to cheer for. In addition to the spectator sports venues listed below, the Cow Palace, 2600 Geneva Ave. at Santos Street in nearby Daly City, is a venue for rodeos, ice shows and other events; phone (415) 404-4111.
San Francisco's wilder side is within the 76,500-acre Golden Gate National Recreation Area. The city's northern and western shorelines offer scenic views and miles of walking trails, a peaceful vacation getaway for bird-watchers, beachcombers, hikers, bicyclists, surfers and nature lovers.
Baseball
Led by young pitching ace Madison Bumgarner, the San Francisco Giants won the 2014 World Series, their third Series win in the last 5 years. The Giants play at AT&T Park. The stadium is right off The Embarcadero at 24 Willie Mays Plaza, seven blocks south of Market Street and just south of Pier 40. Phone (877) 473-4849 for ticket information. The rival Oakland A's play at the Oakland-Alameda County Coliseum, I-880 at the 66th Avenue exit in Oakland; phone (877) 493-2255.
Basketball
Led by Stephen Curry, the Bay Area's Golden State Warriors achieved the seemingly impossible during the final game of the 2016 NBA season, defeating the Memphis Grizzlies to notch their 73rd win and break the Chicago Bulls' wins record set in 1996. The Warriors play at Oracle Arena in Oakland, off I-880 at either the 66th Avenue or Hegenberger Road exits. Phone (510) 986-2222 for ticket information.
Area universities whet hoop appetites as well. In San Jose, the San Jose State University Spartans play their home games at the Event Center at San Jose State University, 7th and E. San Carlos streets; phone (408) 924-7589. The University of California Golden Bears play at Haas Pavilion in Berkeley; phone (510) 642-3277 or (800) 462-3277. And fans of the University of San Francisco Dons head to War Memorial Gymnasium, 2335 Golden Gate Ave.; phone (415) 422-2873.
Football
Bay Area football fans divide their attention between two NFL teams. The San Francisco 49ers have won the Super Bowl five times. From 1971 to 2013 they played home games at Candlestick Park, built in the late 1950s for baseball's San Francisco Giants. This city landmark near the San Francisco Bay shoreline is being disassembled manually by construction crews (local residents opposed an implosion) to make way for new housing, a mall and a hotel.
The 49ers play at Levi's Stadium, in Santa Clara at 4900 Marie P. DeBartolo Way and Tasman Avenue. Convenient access to the stadium is off major highways US 101, I-880, the Lawrence Expressway and the San Tomas Expressway. The venue has stadium-wide Wi-Fi capability and enormous HD video screens, features a green roof atop the suite tower on the west side and has three solar bridges that connect to the main parking area. For ticket information phone (415) 464-9377.
On game days, Caltrain provides service from San Francisco that connects with Valley Transportation Authority (VTA) light rail trains and buses at the Mountain View Transit Center, Evelyn Avenue and Castro Street. Caltrain passengers must purchase a separate ticket to ride VTA light rail; adult day passes can be purchased at Caltrain station ticket machines. For schedules and more information check the Caltrain or VTA websites or phone VTA at (408) 321-2300. 49ers games are always fun things to do with friends.
The Oakland Raiders play at the Oakland-Alameda County Coliseum; phone (510) 864-5020 for Raiders ticket information.
Hockey
South of San Francisco Bay, the San Jose Sharks players circle their prey. The Bay Area's NHL representatives take to the ice at the SAP Center at San Jose, 525 W. Santa Clara St. at Autumn Street. For schedule and ticket information phone (408) 999-5757.
Bicycling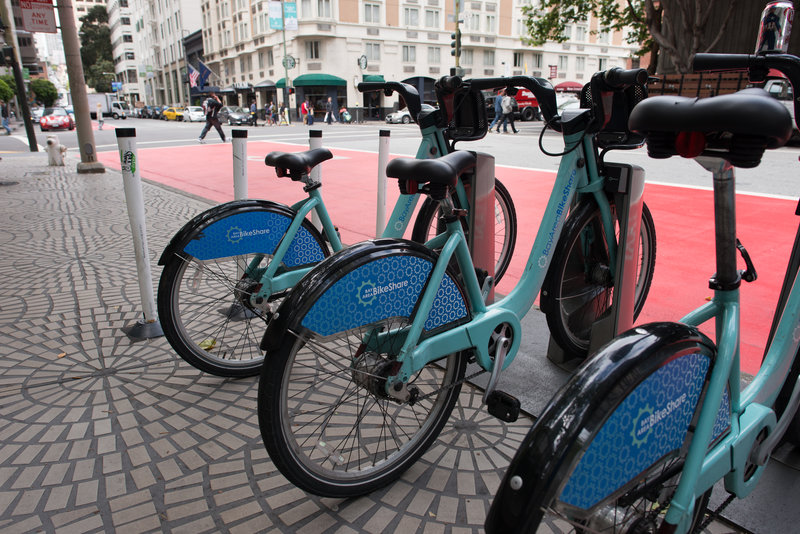 Many San Franciscans avoid the city's formidable traffic congestion by riding a bike, and for visitors it's a great way to get some exercise on their trip while getting from point A to point B or seeing the sights. The steep hills do present a logistical challenge unless you're in great shape. Two of the flattest—and safest—areas to ride a bike are parallel to the Great Highway that runs along the ocean and in Golden Gate Park.
Bay City Bike provides rentals, maps, tours and recommended itineraries for those who want to pedal their way around the Bay Area. Two routes are especially popular: north across the Golden Gate Bridge to Sausalito, then returning by ferry; and through the Presidio into Golden Gate Park. Bikes can be rented at four locations in the Fisherman's Wharf area—2800 Leavenworth St., 2661 Taylor St., 2830 Jones St. and 501 Bay St. A fifth location is at 1669 Haight St. For more information phone (415) 346-2453.
Bike rentals are located along Stanyan Street and Geary Boulevard near Golden Gate Park. Golden Gate Park Bike and Skate, 3038 Fulton St. at 6th Avenue, is another convenient rental outlet for a ride through Golden Gate Park, the Presidio or across the Golden Gate Bridge. Rollerblades and roller skates also can be rented; phone (415) 668-1117. Several area touring companies organize longer jaunts to the Sonoma wine country and other scenic spots outside the Greater Bay Area.
Blazing Saddles offers bike rentals as well as tours. One of the fun things for couples to do is biking the popular route along the San Francisco Bay Trail over the Golden Gate Bridge to Sausalito; the return trip by ferry. This 9-mile-long route, which can be done as either a self-guiding or guided excursion, is quite scenic, stays close to the bay and covers mostly flat terrain, with the last 3 miles to Sausalito going downhill. Bikes can be rented at six Fisherman's Wharf locations, (4715 Hyde St., 2555 Powell St., 465 Jefferson St., 550 North Point St., 757 Beach St. and Pier 41) as well as at 433 Mason St. in Union Square. For more information phone (415) 202-8888.
Ford GoBike enables you to rent a bike from a solar-powered electronic kiosk, ride to your destination and return it at the closest kiosk. You can take a single ride or buy a day pass or annual membership. Single 30-minute ride $3 (available only through the app); $9.95 for a day pass or $124 per year with unlimited 45-minute trips.
Most kiosks are located in the Financial District, along Market Street and in the vicinity of Civic Center, with a planned expansion to other city neighborhoods, including the Mission, the Castro, Upper Market and Hayes Valley. The program is especially popular with commuters due to the emphasis on short trips. For more information phone (855) 480-2453.
Fishing
At Lake Merced, south of the San Francisco Zoo, anglers can fish for largemouth bass, trout and catfish. Fly-casting pools are south of the bison paddock in Golden Gate Park, next to the Angler's Lodge; bring your own equipment. There's a municipal fishing pier in Aquatic Park, at the northern end of Van Ness Avenue. You can also cast a line from Pier 7 on The Embarcadero, a short walk north of the Ferry Building.
For a different kind of adventure travel, guided sport-fishing excursions ply the waters of San Francisco Bay for striped bass and giant sturgeon; outfitters are concentrated along Jefferson Street in the vicinity of Fisherman's Wharf.
Golf
Rain may dampen fairways during winter and temperatures can also be on the nippy side, but otherwise San Francisco's year-round mild weather is nearly ideal for golf. With space at such a premium, however, there are only a few public courses within the city limits.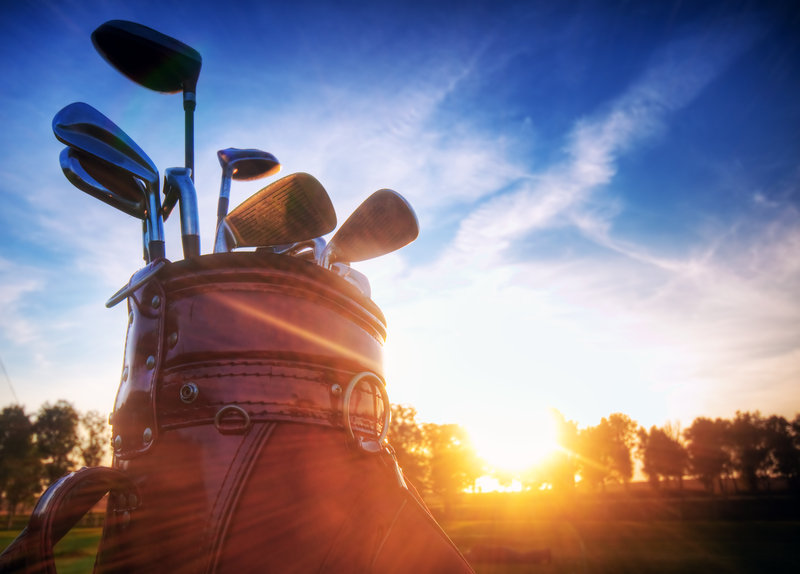 Shutterstock.com/PHOTOCREO Michal Bednarek
Two municipal courses are open to the public at TCP Harding Park, at Harding Road off Skyline Boulevard. The championship Harding Park Course has a backdrop of cypress-lined Lake Merced; the Fleming 9 Course features six par-3 and three par-4 holes. Phone (415) 664-4690.
The Lincoln Park Golf Course is at 34th Avenue and Clement Street in Lincoln Park. The layout includes glimpses of the ocean; phone (415) 221-9911. The Presidio Golf Course is on Finley Road at Arguello Boulevard; phone (415) 561-4661. There's also a nine-hole course at the western end of Golden Gate Park at 47th Avenue and John F. Kennedy Drive; phone (415) 751-8987.
Hiking
A 4-mile stretch of sandy coastline, Ocean Beach parallels the Great Highway that runs along San Francisco's Pacific back door. It offers few frills, but the flat terrain is ideal for an extended hike.
One of the most delightful getaways in San Francisco is the Coastal Trail, which runs above the rocky shoreline at Lands End from 32nd Avenue west to the Sutro Baths site. At the signed detour to Mile Rock Beach (at the trail's approximate midpoint), descend a set of steep steps down to a rock-strewn beach with crashing waves and a view of the Golden Gate Bridge. It's hard to believe this serene, spectacularly scenic trail is in a densely packed urban area.
Mount Tamalpais State Park and the Marin Headlands, just across the Golden Gate Bridge in Marin County, offer hiking routes ranging from gentle to strenuous. Trails at higher elevations have the added bonus of sweeping San Francisco views. Miles of hiking trails run through the Presidio as well.
Also in neighboring Marin, Muir Woods National Monument has paved walkways threading through a reserve of towering redwoods. There's no more majestic place in the Bay Area to commune with nature.
The top of Bernal Heights Park, off Bernal Heights Boulevard in the Bernal Heights neighborhood, offers fantastic 360-degree views of the downtown skyline, San Francisco Bay and the hills of the East Bay. This is one of the sunniest areas in the city, and the windswept slopes of Bernal Hill often escape the afternoon fog that can roll in elsewhere. A network of dirt trails winds around the hill's flanks and up to the summit.
For a good workout, hike to the top of Buena Vista Park (access off Haight Street, Buena Vista Avenue E. or Buena Vista Avenue W.). A crisscrossing network of paved walking paths and wooden steps offers various ways to get there. Although you'll be huffing and puffing, the trails are shady. At the summit is a flat oval space where you can catch your breath and admire the tree-framed views. Despite being a popular place for city dwellers to walk their dogs, it's seldom crowded.
Nearby Corona Heights Park is also a hill, bare and rocky rather than cloaked in trees. A trail winds around the hill to the top, where the 360-degree views of downtown San Francisco, the Bay Bridge, Twin Peaks, the Potrero Hills and the Castro, Noe Valley and Haight-Ashbury neighborhoods are spectacular on clear days. To get there, take Castro Street north to 16th Street, then 16th Street west to Museum Way.
Jogging and Walking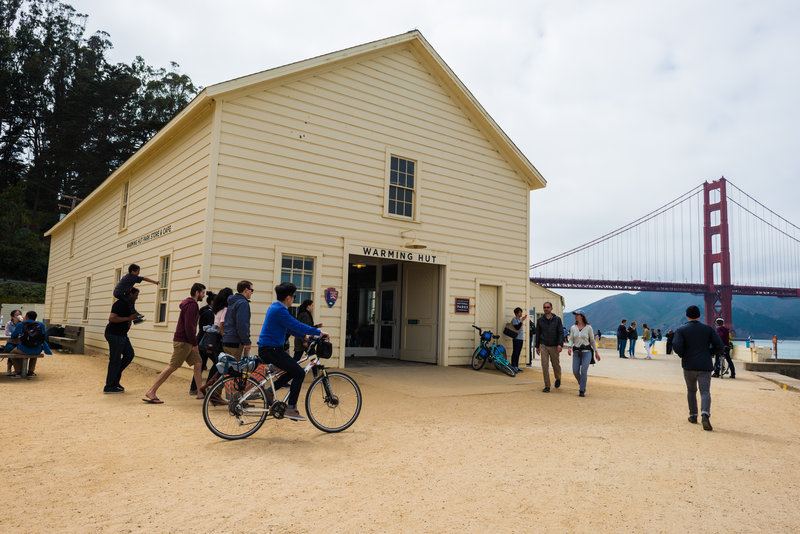 Stroll the foot trails in Golden Gate Park from the eastern boundary to the ocean, admiring the gardens and verdant parklands along the way; just remember that the distance is 3 miles and you'll have to walk back (or hop on a Muni bus).
If you don't mind whipping winds, the pedestrian walkway along the east side of the Golden Gate Bridge offers breathtaking views. It's 1.7 miles across, so unless you're up for the trek back, arrange to have someone pick you up at the north end.
One of the city's most popular jogging areas is the paved Golden Gate Promenade, part of the regional Bay Trail. It runs the length of Crissy Field to Fort Point and up to the southern end of the Golden Gate Bridge (via a stairway). There's beach access, a salt marsh habitat frequented by many types of birds and great views of the bridge. This level stretch is used by cyclists and in-line skaters as well as walkers and joggers.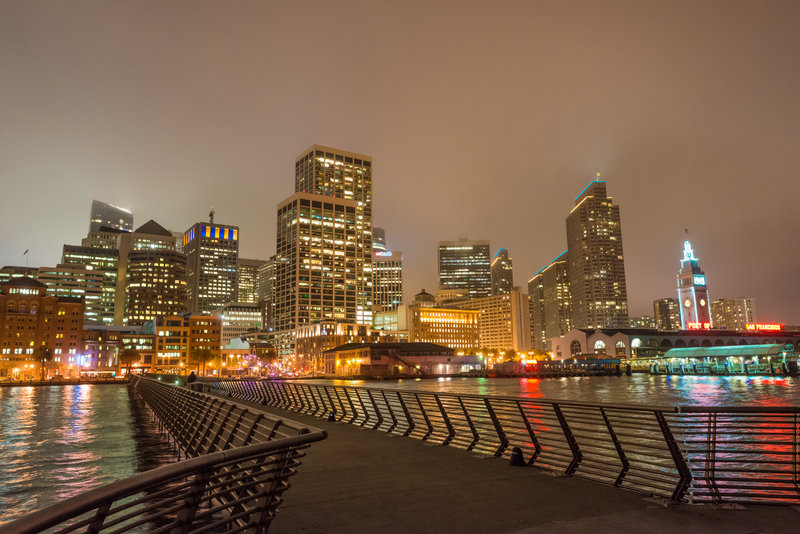 The Embarcadero is a wonderful place to take a brisk early morning walk. From Pier 39 at Fisherman's Wharf south to the Ferry Building the sidewalk is wide and the views of the bay, the Bay Bridge and Alcatraz Island are terrific. Two blocks south of the Ferry Building is Rincon Park, a narrow strip of green bordering The Embarcadero where you can ponder "Cupid's Span," a giant sculpture of a bow and arrow created by Claes Oldenburg and Coosje van Bruggen.
If it's plain old exercise you're looking for, simply step outside your hotel room door. The city's seven principal hills provide both a good workout and scenic vistas galore, and some of the steepest sidewalks have built-in stairways. For starters, puff your way up Lombard Street from Leavenworth to Hyde—the famous block dubbed "the crookedest street in the world"—then turn around and take the much easier way back down, stopping at one of the wonderful nearby restaurants to renew your energy.
Tennis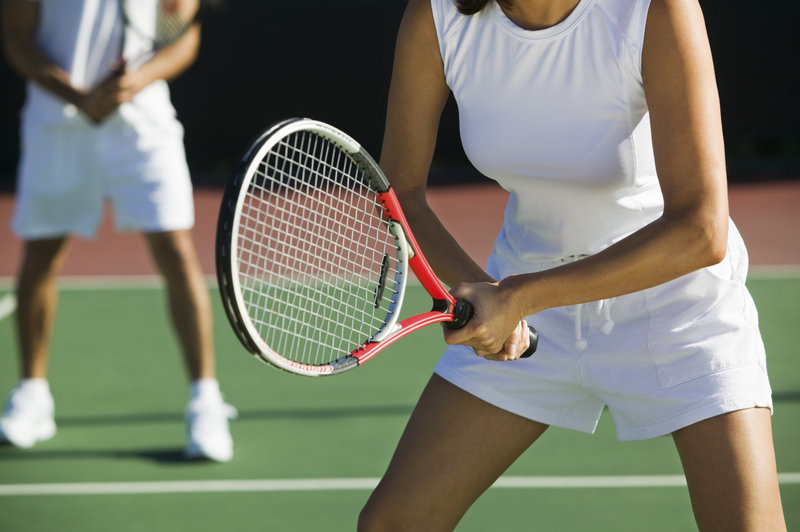 IPGGutenbergUKLtd/iStockphoto.com
There are courts in Golden Gate Park off John F. Kennedy Drive opposite The Conservatory of Flowers. A fee is charged and reservations are recommended on weekends; phone (415) 753-7001. The San Francisco Recreation and Parks Department maintains some 150 public courts available on a first-come, first-served basis, as well as eight indoor swimming pools and an outdoor pool; for more information phone (415) 831-2700.
Water Sports
Sailing the blue waters of San Francisco Bay offers year-round enjoyment and a close-up look at the San Francisco waterfront, Alcatraz and Angel islands, the Golden Gate Bridge and the San Francisco-Oakland Bay Bridge. Currents are tricky, however, so unless you're an accomplished skipper it's best to leave the sailing to experienced hands. Boat rentals and charters are available throughout the greater Bay Area.
Row, paddle and electric boats can be rented at Stow Lake in Golden Gate Park—perfect for a lazy afternoon sojourn around Strawberry Hill, which rises from the middle of this man-made body of water. Phone (415) 386-2531 for rates and information.
Another perfect afternoon on the water is a ferry ride to Sausalito or Tiburon. The Blue & Gold Fleet, departing from Pier 41 at Fisherman's Wharf, offers daily service to both of these picturesque waterfront communities, along with bay sightseeing cruises.
San Francisco Sightseeing
Sightseeing tours of San Francisco are available by land, sea and air; if your time is limited, we highly recommend the bus tours that touch upon city highlights.
Boat Tours
If you're not sure what to do to start your day, tours of the harbor operate from Fisherman's Wharf. In addition to 1-hour bay cruises, The Red and White Fleet also schedules combination boat and bus tours.
If you're interested in seeing what life on Alcatraz Island was like, be sure and buy your tickets ahead of time, as the tours frequently sell out. Ferries operated by Alcatraz Cruises depart for "The Rock" from Pier 33 on The Embarcadero. Reservations 2 weeks or more in advance are recommended during the summer months and around holidays; phone (415) 981-7625.
The Angel Island-Tiburon Ferry runs daily. The schedule varies with the season; phone (415) 435-2131 for information. Angel Island State Park, offers picnic facilities, beaches and hiking trails. The park includes the Angel Island Immigration Station.
The Blue and Gold Fleet offers 60-minute bay cruises that depart Pier 39 daily at frequent intervals. The company also offers San Francisco, Muir Woods, Sausalito, Tiburon, Alcatraz and Angel Island tours by boat; phone (415) 705-8200.
Hornblower Cruises and Events
, Pier 3 on The Embarcadero, offers daily dinner and lunch cruises and weekend brunch cruises aboard the motor yacht California Hornblower. Live music is provided with dinner and brunch, and there are dance floors on two decks. Other cruises are offered. Reservations are required; phone (415) 788-8866.
Bus and Van Tours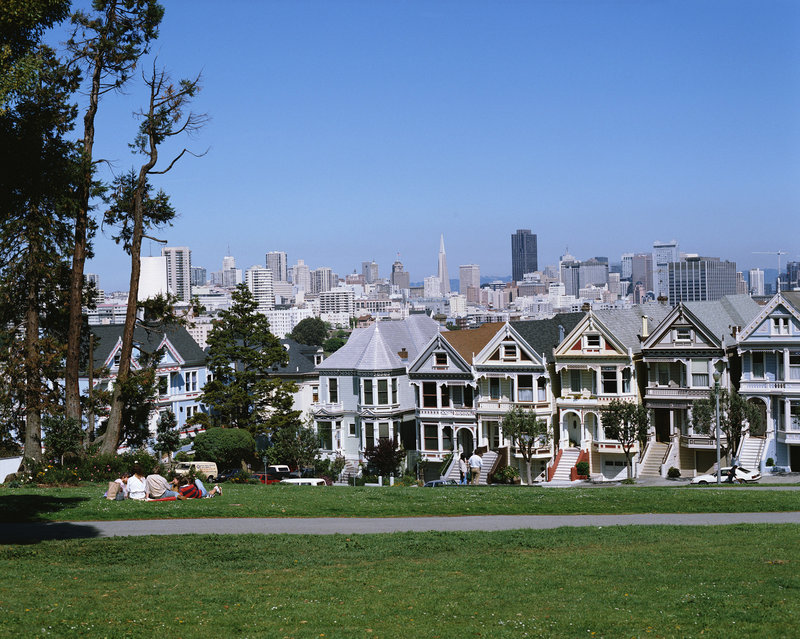 Getty Images/Scenics of America/PhotoLink
Numerous companies offer limousine tours of San Francisco, the Bay Area and Wine Country. The Blue & Gold Fleet offers motorcoach tours to destinations like the Napa and Sonoma valleys, Monterey, Carmel-by-the-Sea and Yosemite National Park; phone (415) 705-8200. When it comes to things for couples to do in San Francisco, a limousine tour couldn't be more romantic.
Driving Tours

Getty Images/Jeremy Woodhouse
Skyline Boulevard (SR 35) follows the peninsula divide south of the city into the Santa Cruz Mountains, offering simultaneous scenic views of the bay and ocean.
Upon presentation of your AAA membership card, AAA Northern California, Nevada & Utah can furnish a map with a suggested tour covering much of San Francisco. The 49-Mile Scenic Drive map also is available from the San Francisco Convention & Visitors Bureau Visitor Information Center on the lower level of Hallidie Plaza at Market and Powell streets (near the cable car turnaround).
Segway Tours
Looking for fun things to do with friends? Zip around on a Segway tour.
Electric Tour Company
Guided Walking Tours
This self-guiding tour takes about 2 hours, depending on your pace and the number of stops you make along the way.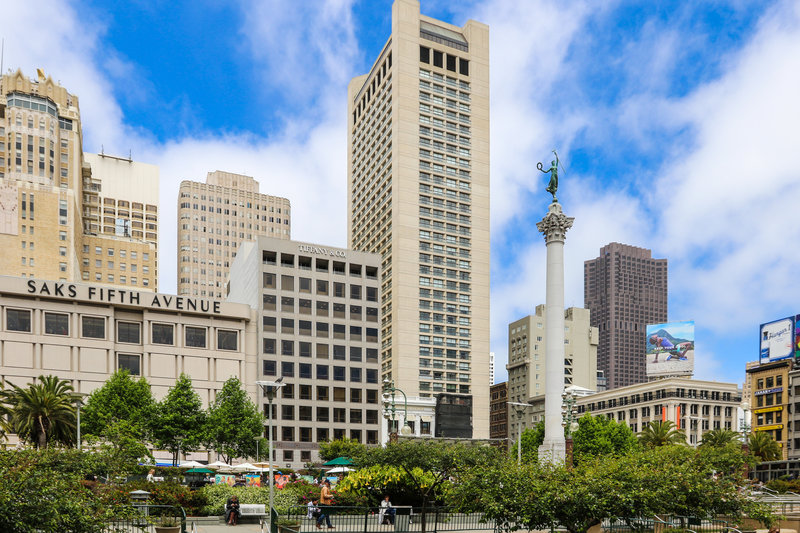 Let's face it—San Francisco is known for its treacherous hills, which can tax even the fittest walkers. This tour, however, takes advantage of flat stretches, although you'll still want to wear a pair of comfortable shoes. If you're unwilling or unable to navigate the steeper sections of certain streets, you can always hop on a Muni bus or cable car.
Union Square is the starting point. The Powell-Hyde cable car stops on the south (Geary Street) side. Garage parking is pricey, but if you must drive the underground Union Square Garage can be accessed from Geary Street (one-way westbound). Rates are cheaper at the Sutter-Stockton garage at 444 Stockton St. (between Sutter and Bush streets).
Note: Ongoing construction of Muni's T Third Line in the vicinity of Geary and Stockton streets creates occasional traffic and pedestrian disruptions; follow marked detours where necessary.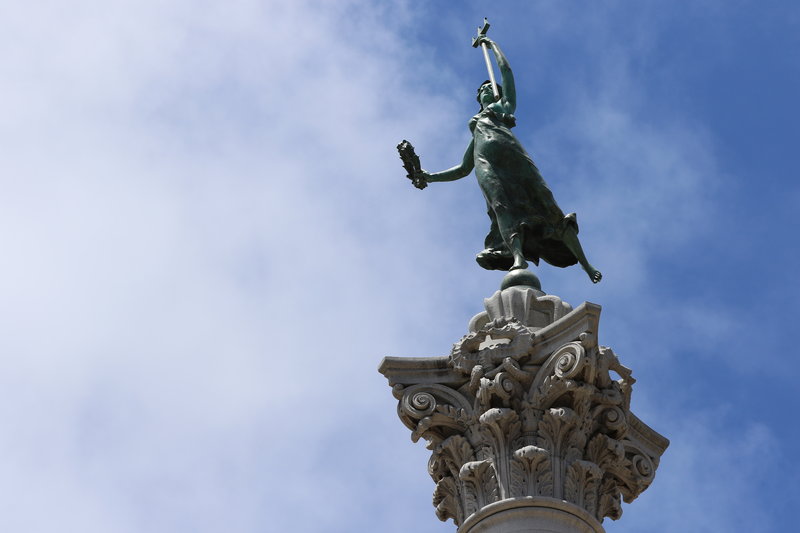 Built in 1850, this paved plaza was named for the demonstrations held in support of Union troops at the start of the Civil War. Standing at the center is the 97-foot-tall Dewey Monument, erected in 1903 to honor Commodore George Dewey's 1898 Manila Bay victory over the Spanish. A Goddess of Victory statue tops this needle-shaped column.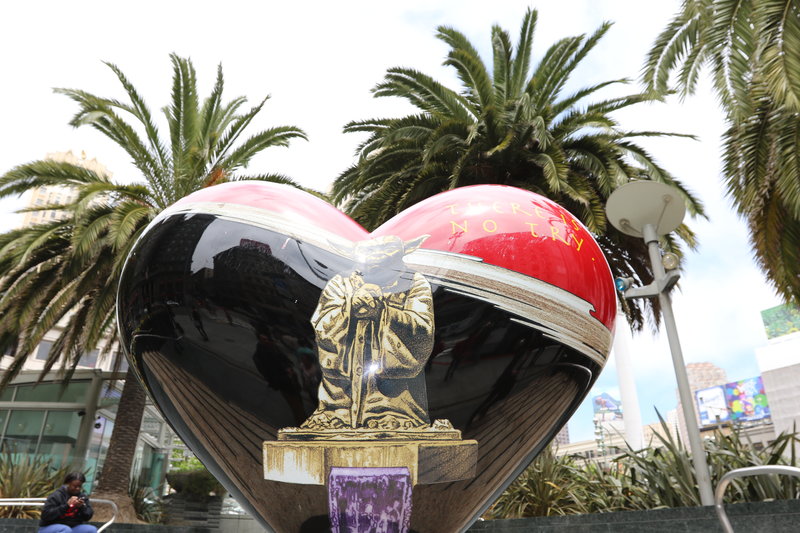 Union Square is the heart of the downtown hangout scene. Sidewalk vendors sell flowers, streetcar bells clang and car horns ceaselessly honk. People relax on benches, nap on grassy areas and fill umbrella-shaded tables at the Emporio Rulli café.
The historic Westin St. Francis (335 Powell St.) not only survived the 1906 earthquake but served breakfast on the morning of the disaster. The hotel's spectacular lobby features an antique grandfather clock and long served as a local meeting place, thereby coining the well-known request "Meet me at the St. Francis" (the catchphrase also appears on the city's cable cars).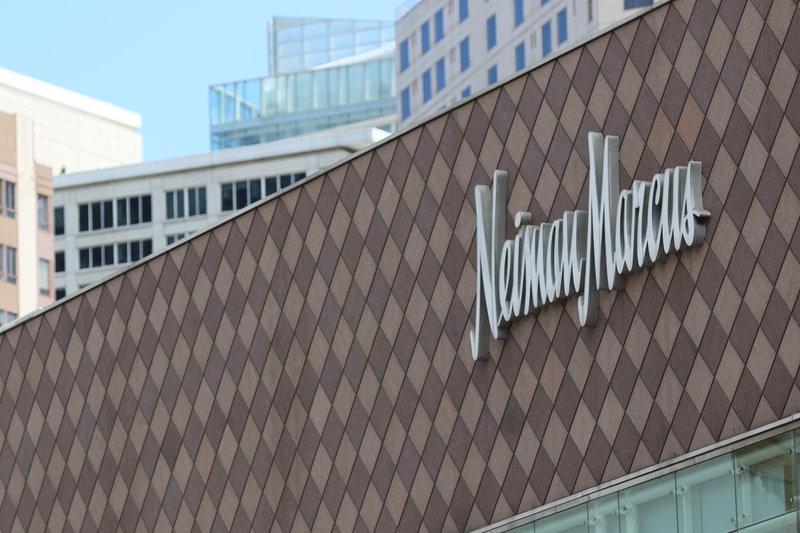 A huge Macy's faces Union Square's south side. Saks Fifth Avenue rubs elbows with Tiffany & Co. Neiman Marcus, at Geary and Stockton streets, boasts a six-story rotunda topped with an elaborate stained-glass dome. An arched ceiling features a mural of a sailing ship and crowns The Rotunda, a fancy-schmancy restaurant where the well-heeled convene for afternoon tea.
Apple Union Square, at the corner of Post and Stockton, is up-to-the-minute cool, with giant windows providing a view of the square and all the latest technological gadgetry on display.
From Union Square, walk along Maiden Lane east to Grant Avenue. This short, narrow side street was lined with bordellos during the raucous Barbary Coast era more than 150 years ago. At Grant turn left and head to Post Street. Here die-hard shoppers will want to detour temporarily left and/or right and check out the high-end clothing retailers.
Past Post Street, continue on Grant to the corner of Bush Street and the symbolic entryway into Chinatown, a green-tiled gate bedecked with golden dragons. Dedicated in 1970, it was a gift to the city from the Republic of China. The carved stone guard dogs standing guard at each side are supposed to ward off evil.
You'll explore Chinatown later, but for now turn right on Bush, walk two blocks to Montgomery Street and turn left. You've entered the concrete canyons of "Wall Street West," the Financial District. Deals have been made here since the 1850s, when prospectors returned from gold mines flush with treasure that needed to be protected, thereby creating a demand for banks.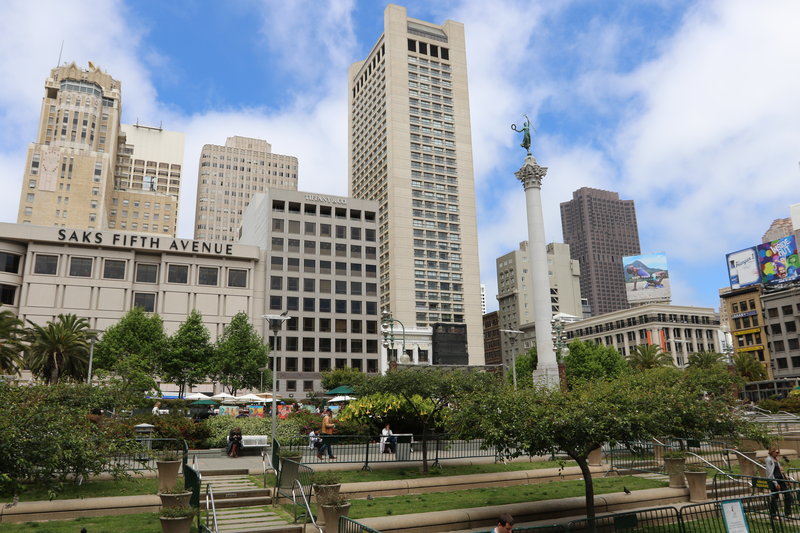 San Francisco's skyscrapers are architecturally varied. Lean and seemingly striped, 44 Montgomery (just north of Post) was built to house Wells Fargo's world headquarters. The concrete and steel structure stands 561 feet tall. The Mills Building, 220 Montgomery St. (at Bush), was built in 1892 (the tower was added in 1907). It occupies most of the block; various artworks are on display in the large lobby.
At 435 feet, the 1928 Russ Building (235 Montgomery St., just north of Bush) was the city's tallest until the 1960s, when construction of the Transamerica Pyramid began. Back then it was referred to simply as "the skyscraper." The Gothic design was modeled after the Chicago Tribune tower.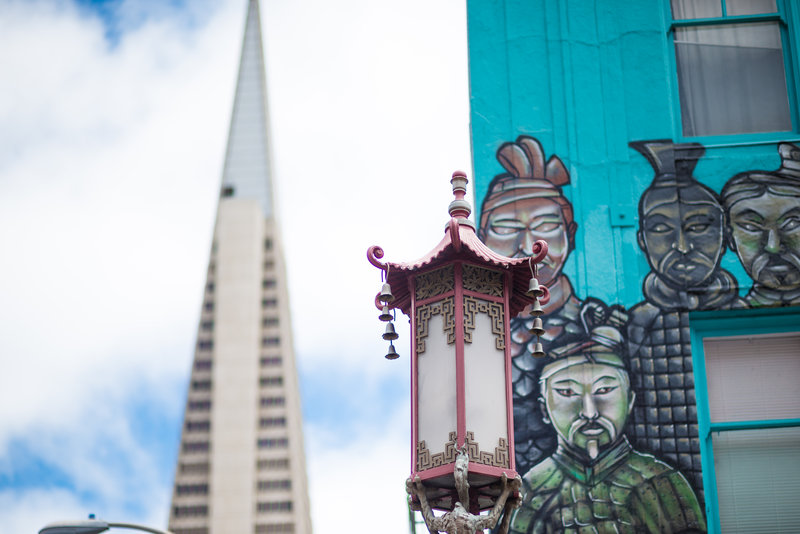 Speaking of "the pyramid," San Francisco's tallest building can be seen looking north. Standing at 600 Montgomery St. where Columbus Avenue meets Washington Street, this 48-story skyscraper has nearly 6,000 windows and is topped by a 212-foot-tall spire.
In its shadow is the Jackson Square Historical District, which dates from the gold rush era. The brick buildings with iron shutters that line Gold and Balance streets contain antique shops and restaurants. Victorian-style lampposts accentuate the old-timey feel.
Continue on Montgomery to California Street and turn left. Carved concrete, marble, brown stone and red brick decorate the facades of banks and office buildings, and extravagant chandeliers hang from lobby ceilings. The 52-story skyscraper at 555 California St., formerly known as the Bank of America Center, has an accordion-like exterior that features carnelian marble.
It's a short but relatively steep two-block climb up California back to Grant Avenue. Old St. Mary's Cathedral stands on the right, sandwiched between sleek high-rises and contrasting Chinese-style architecture. Built in 1854, this Catholic church is believed to be the first cathedral in California. It survived the 1906 earthquake and subsequent fires; following renovation, it was rededicated in 1909. Across the street in St. Mary's Square is a 12-foot-tall metal and granite statue of Dr. Sun Yat-sen, founder of the Republic of China.
Turn right onto Grant Avenue. Originally called Calle de Fundacion, this is Chinatown's main drag. Red and yellow flag pennants flutter above the narrow street, entwined dragons decorate lampposts, and store window and market signs are predominantly in Chinese. Apartment buildings, some with laundry-draped balconies, stand above the shops and businesses.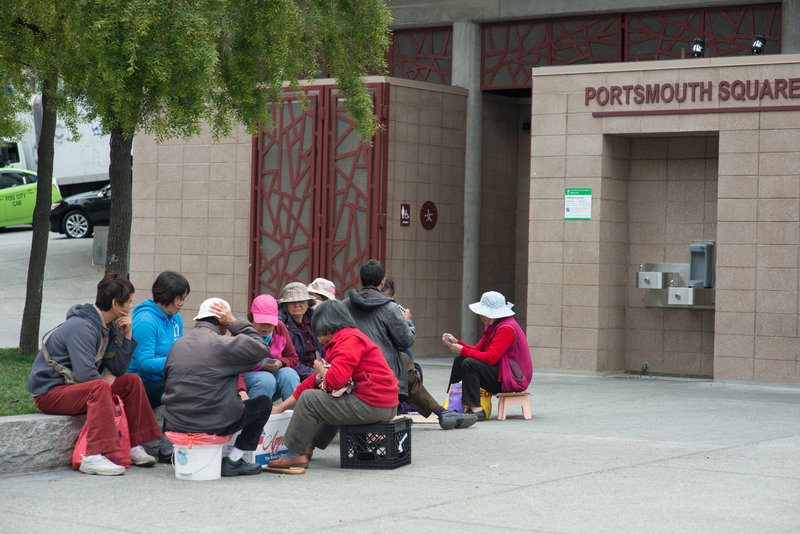 Numerous restaurants advertise dim sum specials, their employees handing out menus to passers-by. Stores sell fine antiques and jade sculpture. Sidewalk bins are filled with Chinese Barbie dolls, plastic Buddha statues, tea sets, embroidered slippers, postcards, bamboo flutes, three-for-$10 T-shirts, mah-jongg games and cricket toys that produce an ear-splitting shriek.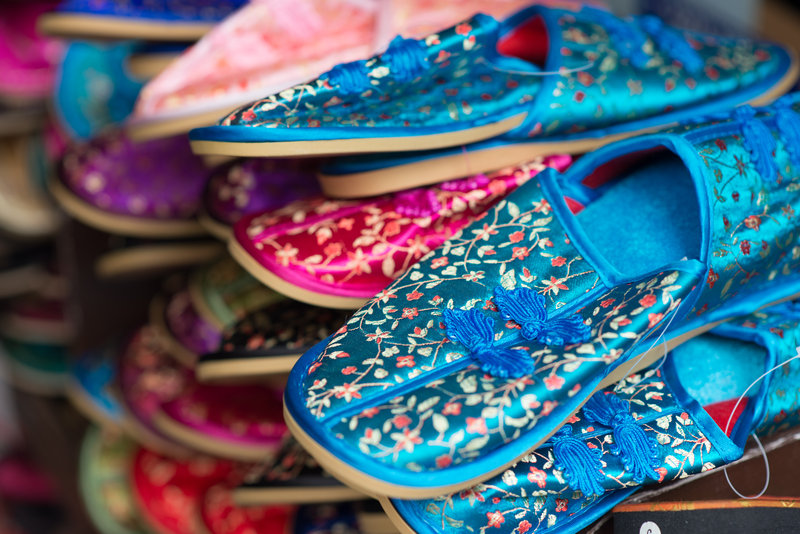 Do a little browsing. The Canton Bazaar (616 Grant Ave.) is a popular import shop. The Chinatown Kite Shop (717 Grant Ave.) sells fish kites and hand-painted paper kites, while the Wok Shop (718 Grant Ave.) peddles all sorts of housewares. Then check out the dragons adorning the columns and guarding the front doors at the Bank of America branch (at the corner of Grant and Sacramento).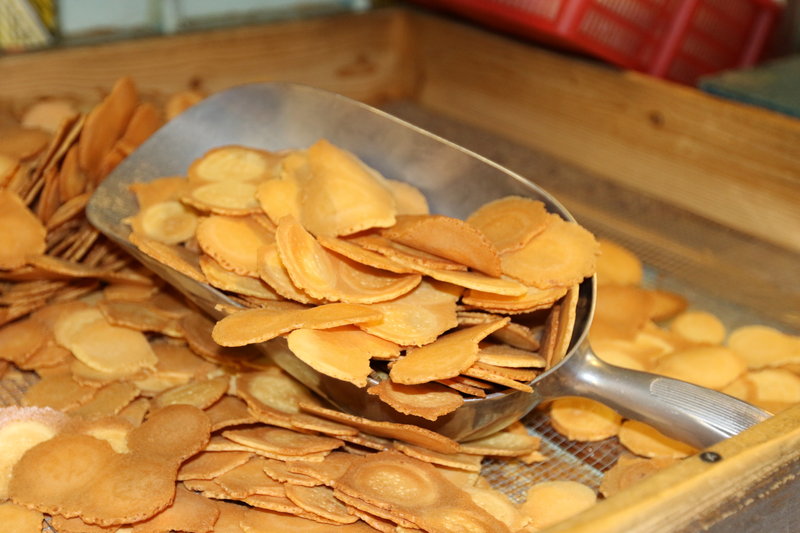 Continue up Grant five blocks to Pacific Avenue, turn left and walk a block to Stockton Street, then turn left again and walk down Stockton. Instead of souvenir shops, Stockton has mostly produce markets, bakeries and delicatessens, the latter often featuring a row of skinned ducks (with the heads still attached) hanging upside down in the window.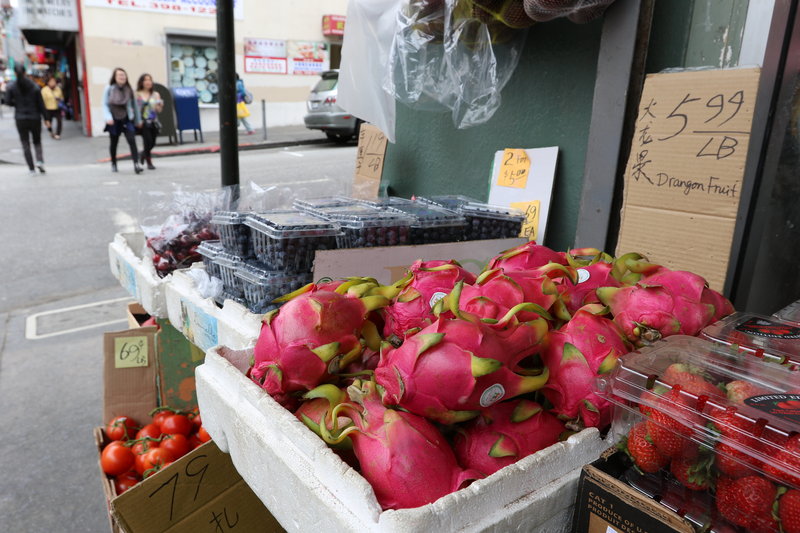 Saturday mornings on Stockton explode with activity. Residents pack the sidewalks, grocery shopping and socializing. Elderly women inspect the fresh water chestnuts and giant jackfruit with a keen eye, and street vendors hawk Chinese newspapers.
At Sacramento Street turn right and walk a block to Powell Street. This is the one uphill slog along the route (just keep telling yourself it's good exercise). Once you reach Powell the reward is a vista looking east toward downtown. That's one of the good things about San Francisco's hills; they offer elevated vantage points from which to view the cityscape.
Turn left onto Powell. Among the tony hotels you'll pass is the Sir Francis Drake (450 Powell St.). Take a peek inside this historic 1928 hotel; the public spaces have a swanky, old-school grandeur.
If you're feeling hungry, stop at Sears Fine Foods (439 Powell St.), another historic spot that's been in business since 1938. The house specialty is Swedish pancakes—18 of the crepe-like morsels, served with whipped butter and warm maple syrup—and you can order them until 3 p.m.
Continue down Powell to Post Street and you're back at Union Square, where the tour began.
Self-guiding Walking Tours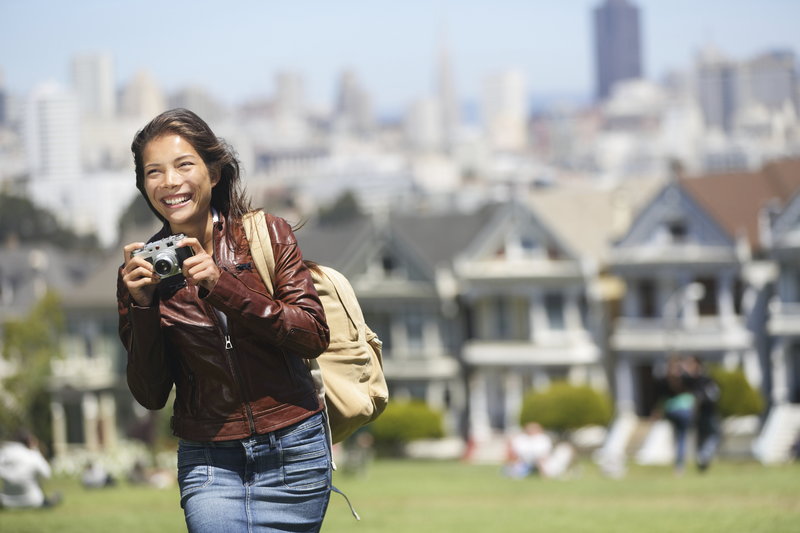 A classic postcard image—and one making an appearance in many a tourist photo—is the row of Victorians along Steiner Street at Alamo Square. If you stand in the right spot you can capture these elegant facades backed by the downtown skyline. Bordered by Steiner, Scott, Fulton and Hayes streets, the square is actually a grassy hilltop park, and a pleasant spot for an afternoon bench break or an early evening stroll.
Get to Know San Francisco Street Art
San Francisco is filled with awesome street art, which is on particularly vibrant display in the Mission. Artistic expression is represented in almost equal measure by graffiti and murals. Graffiti can be seen practically everywhere there's a surface to scrawl on, while murals adorn walls, churches, the sides of buildings, garage doors and alleyways. You could spend all day hitting Mission streets and checking out the art.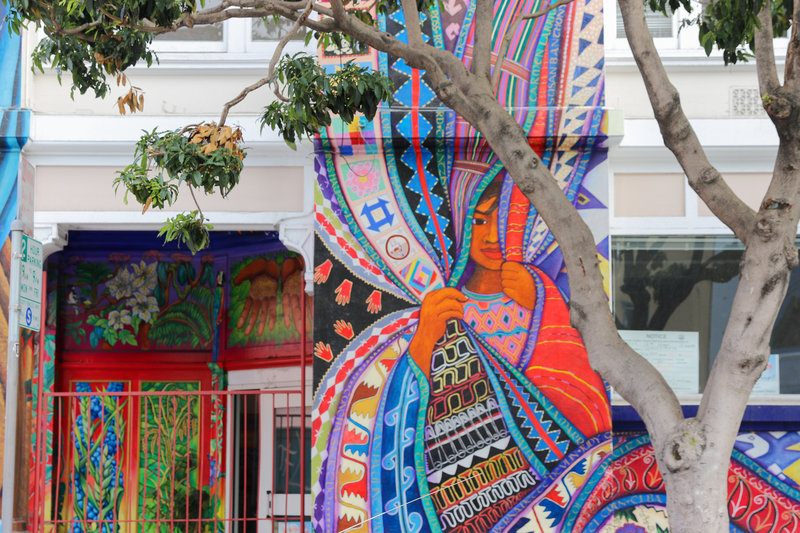 MaestraPeace, the stunning mural that covers two exterior walls of the four-story
Women's Building
(on 18th Street a block west of Valencia Street), is the work of seven female artists. The sheer vibrancy of the colors is remarkable; these walls practically sing. Note how the fabric patterns, human figures and historical scenes blend right into the building's structural elements.
La Llorona's Sacred Waters, the large wall mural at the corner of 24th and York streets, is the work of California muralist, printmaker, painter, educator and activist Juana Alicia. It's also known as the Blue Mural for obvious reasons; except for a bright red stripe at the roofline and a couple of well-placed red accents this mesmerizing work is executed entirely in shades of blue.
The Unique Character of Graffiti
It's along Mission alleys where art and graffiti often mix to striking creative effect. One example: narrow Osage Alley, off 24th Street between Mission and Bartlett streets. The weathered brick walls are covered with a blizzard of graffiti, but look down at the sidewalk and you'll see a row of identical images of singer-songwriter Lou Reed from the cover of Reed's 1972 album "Transformer."
Public Art Installations
Long-term public art installations are mounted regularly at Pier 14 on The Embarcadero (just south of the Ferry Building). In recent years they've included a giant spider sculpture by Louise Bourgeois; the Raygun Gothic Rocketship, a metallic, 40-foot-tall retro-futuristic artwork; and SOMA, a free-form metal sculpture equipped with LED lights that could be interactively manipulated to produce a range of colors, mimicking neuron patterns in the brain.
For fun places to go, you can't miss out on San Francisco's amazing sights. A sightseeing tour is a cost-effective way to get the most out of your vacation, discover new restaurants and enjoy what makes San Francisco such a compelling destination.
For exercise walk around Stow Lake, actually a moat that encircles Strawberry Hill. A stone footbridge crosses the north end, and makes the perfect spot for a quiet romantic walk if you're looking for things for couples to do; from there you can hike to the top of the hill. Little Lloyd Lake, just off John F. Kennedy Drive, is a quiet spot with a couple of benches where you can relax and listen to the contented quacking of a resident flock of mallards. The group of stone columns standing at the edge of the water, dubbed Portals of the Past, was part of a Nob Hill house destroyed by the great 1906 earthquake.
From the Haight it's an easy walk (or board a 33 Muni bus on Haight Street) to the Castro. A constant and occasionally outrageous parade of people pass through the junction of Castro, Market and 17th streets, the Castro's focal point. Standing at the corner of Castro and Market is Twin Peaks Tavern, one of the neighborhood's oldest bars. In less liberated times the walls hid patrons who had to slip in unnoticed, whereas now big glass windows reveal a laid-back crowd of folks who congregate for drinks and socializing.
The streets surrounding the square offer shoppers major retailers like Macy's, Neiman Marcus, Saks Fifth Avenue, Gump's and the flagship location of Williams-Sonoma, complete with a demonstration kitchen where you can take a cooking class. High-fashion boutiques are sprinkled along Geary, Post and Sutter streets and little Maiden Lane, a narrow alley that runs between Stockton and Kearny streets.
Even if you don't buy anything, Emporio Armani (166 Grant Ave.) is worth wandering through; it's housed in an early 20th-century building that was once a bank and retains that era's old marble columns, along with a contemporary minimalist layout highlighting metal and wood. Alessi (424 Sutter St.) features high-quality housewares that resemble—and are priced like—works of art.
Art galleries are on Geary, Post and Sutter streets. Check out the complex of galleries at 49 Geary St., spotlighting contemporary and emerging Bay Area artists, photography and the works of modern masters like Jasper Johns and Roy Lichtenstein. Many galleries are open late the first Thursday of the month.
There's more history next door at Vesuvio. Order the house drink (rum, tequila, and orange and cranberry juice served in a bucket glass with a lime) named after Beat Generation icon and "On the Road" author Jack Kerouac, who frequented the bar. Loaded with gritty atmosphere, the joint attracts artists, musicians, poets and all-around characters.
After dinner head to Caffe Trieste, on Vallejo Street between Columbus and Grant avenues. Dark wood walls covered with nostalgic old photos will put you in the mood to linger over espresso or a cup of the house-roasted coffee. If you hit this place on the right evening you'll be treated to poetry readings or live music.
AT&T Park, at the south end of The Embarcadero, is home to the 2010, 2012 and 2014 World Series champion San Francisco Giants, much beloved by Bay Area sports fans. In addition to winning ways (23 National League pennants and 20 World Series appearances to date), the team boasts such notable Hall of Famers as Juan Marichal, Gaylord Perry and the one and only Willie Mays.
By Greg Weekes
Parks and Recreation
Nature Like You've Never Seen It
Discover Hidden Corners
Get to Know San Francisco's Art Scene
Favorite Local Restaurants
Inside the Walls of Alcatraz
Cable Cars and Noteworthy Sites
If there's any time left to explore beyond the city limits, one noteworthy destination is Muir Woods National Monument , on the southwestern slope of Mount Tamalpais. The drive north from the Golden Gate Bridge on SR 1 is formidably twisting but grandly scenic, and the romantic views are amazing if you're looking for things for couples to do; if you're not up to maneuvering the road's serpentine curves, take advantage of one of the many sightseeing tour companies that offer excursions to this AAA GEM.
Muir Woods preserves and protects one of California's last old-growth stands of coast redwoods. These ancient trees can grow more than 250 feet tall, have trunks up to 15 feet in diameter and live for hundreds of years. A paved walking trail leads from the visitor center to the aptly named Cathedral Grove, a majestic concentration of towering redwoods.
Traffic bound for Muir Woods can be heavy on weekends, so plan accordingly if you're driving. Continue north on SR 1 to reach the pristine beaches, grassy dunes and numerous hiking trails at spectacular Point Reyes National Seashore .
See all the AAA recommended
By Greg Weekes
San Francisco is one of the world's great food cities, offering globally inspired cuisine and restaurants that range from humble neighborhood joints to pillars of fine dining. People come here just to eat, because it's all good. You can even find entire vacation packages booked around food tours.
Catch of the Day
Famous on Film
Must-Eat Destinations
Taking In Chinatown
En Italiano
Spice It Up Mexican-Style
Other Local Restaurants
The Great Burger Debate
Staples of the San Francisco Foodie Scene
Coffee, Breakfast and Bakery
Historic Eats
See all the AAA Diamond Rated
In addition to its many cultural and historic landmarks, this destination hosts a number of outstanding festivals and events that may coincide with your visit.
Spring into Vacation Fun
Cultural Immersion
Bay to Breakers
By the 1980s running boom the number of race participants had swelled to more than 100,000, and these days tens of thousands of people join in the trek along downtown streets and across the length of Golden Gate Park. Over the years different traditions also have emerged, from Batman and Wonder Woman costumes to occasional displays of public nudity. Today the party vibe is such that serious runners usually get an early start before the route becomes crowded with revelers.
Mix It Up at Carnaval and Other Festivals
Music and History
Show Your Pride
Take in a Show
Delicate Desserts
Italian Heritage
Cars, Cows and Ceremonies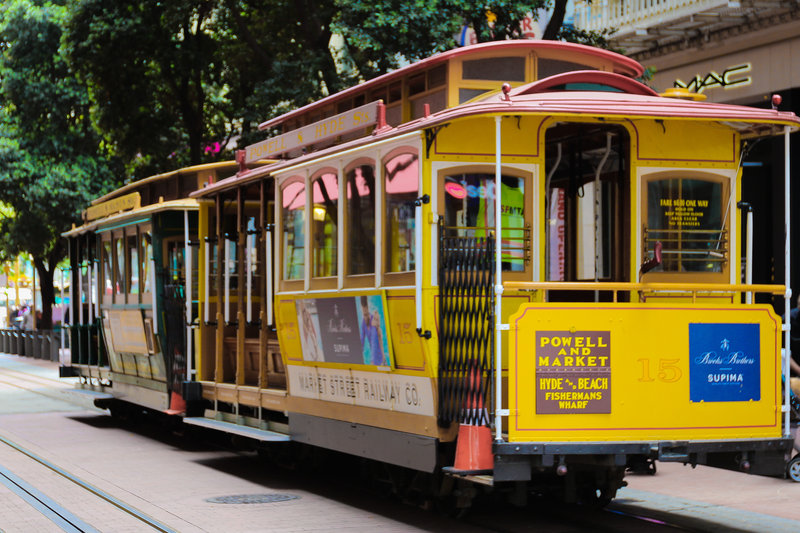 Attraction Passes
If you're looking for fun things to do with friends, check out San Francisco's top sights and save money by buying combination passes that cover admission to multiple attractions.
San Francisco CityPASS
offers a 42 percent savings off the normal cost of individual tickets for several San Francisco attractions. These attractions include a Muni & Cable Car 3-Day Passport (good for three days of unlimited rides on all Muni buses, light rail, streetcars and cable cars); The California Academy of Sciences in Golden Gate Park; the Blue & Gold Fleet Bay Cruise Adventure; the Aquarium of the Bay; and an option ticket for either the Exploratorium or the de Young Museum and the Legion of Honor.
The validity period for each San Francisco CityPASS ticket booklet is 9 consecutive days, beginning with the first day of use. CityPASS is available online at CityPASS.com, at the San Francisco Travel Visitor Information Center at Market and Powell streets (Hallidie Plaza, lower level) or from the participating attractions.
The
Go San Francisco Card
is an all-access pass that allows visitors to save up to 55 percent on admission to nearly 30 Bay Area attractions. The card is purchased by the day (1, 2, 3 or 5 consecutive calendar days). Attractions include The California Academy of Sciences, Exploratorium, the San Francisco Museum of Modern Art, the Escape From the Rock cruise and a hop-on, hop-off bus tour, as well as other popular activities and sightseeing tours.
The Go San Francisco Card is available online or by calling (800) 887-9103.
A Day in the Mission
Perhaps no neighborhood more vividly reflects the current ideological divide between "the way San Francisco used to be" and the kind of city it is becoming today than the Mission. In some ways this enclave rich in Latino history and culture—the city's oldest neighborhood—is a battleground where decades-old traditions are butting up against an influx (some would say invasion) of gentrification brought on by the latest tech boom.
Of course skyrocketing rents and evictions are very real and serious issues to residents. Visitors, on the other hand, will find the Mission a feast for the senses, an intoxicating commingling of sights and sounds known for its nearby restaurants. And the fact that it's one of San Francisco's sunniest and least foggy neighborhoods is a definite plus when it comes to day tripping.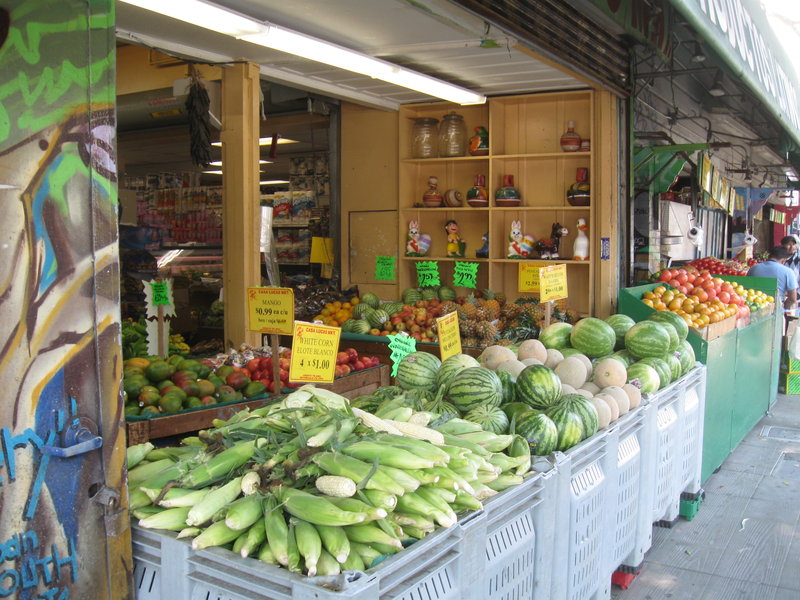 Generally speaking, the Mission is bounded north and south by 16th and 26th streets and east and west by Potrero Avenue and Guerrero Street. It's a neighborhood that's particularly rich when it comes to art and food, and any exploration should include one or both.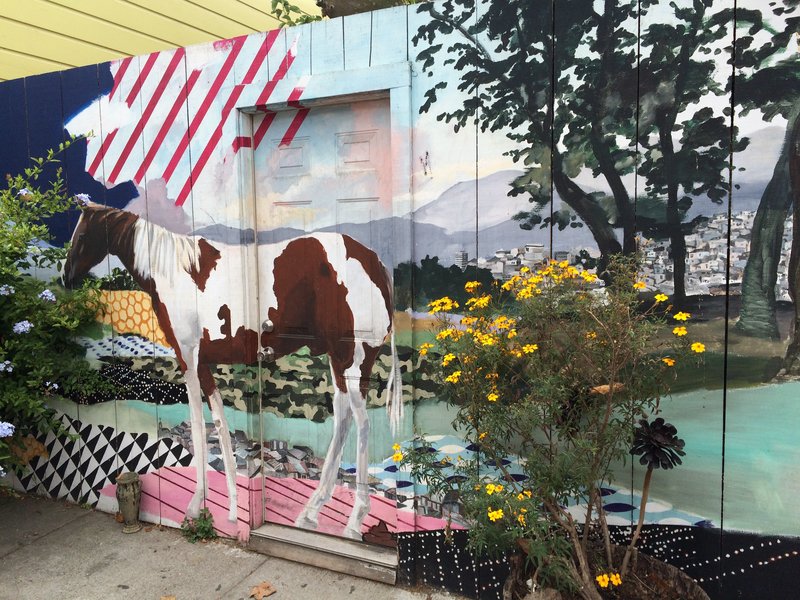 You won't find a more vibrant and varied display of street art created by and for the people anywhere else in the city (although Haight-Ashbury runs a close second). Start by checking out Balmy Alley. This narrow alleyway's walls, fences and garage doors are used as canvases. The subject matter is varied—everything from rainbow-hued, ethnically diverse family scenes to sharp critiques of well-heeled San Franciscans' hipster pretensions. What's especially cool is that vegetation, whether it's a pot of succulents or a flowering vine exuberantly hanging from the roofline of a building, is an integral part of the overall artistic composition.
The Beauty of Urban Street Art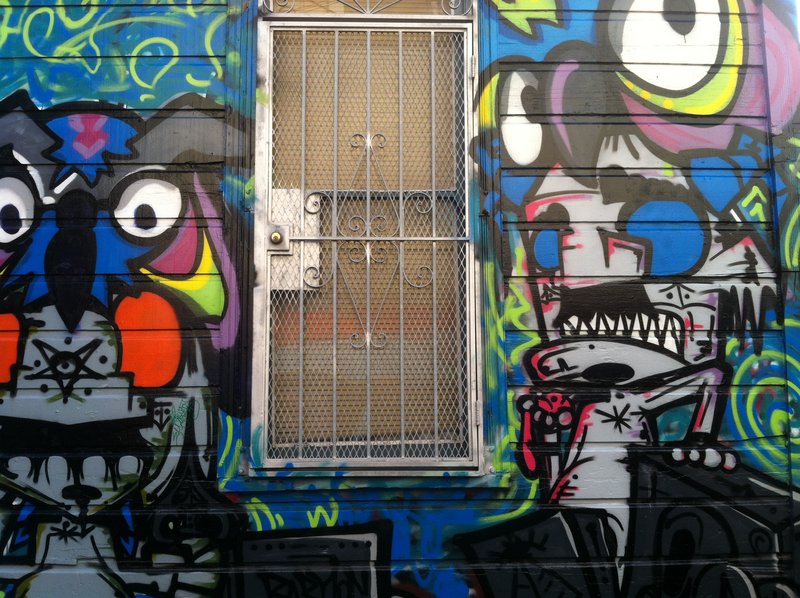 If you didn't live in the neighborhood you'd probably never know about Lilac Alley (from 24th south to 26th Street between Mission and Capp streets), since its primary purpose is to provide access to private garages and the back doors of businesses. But it's jam-packed with street art. Garage doors are covered with intricate geometric patterns, beastly faces, Mayan gods, scantily clad women, cartoon characters and the occasional anti-gentrification screed. Lilac Alley also has lots of crazy graffiti scrawled everywhere.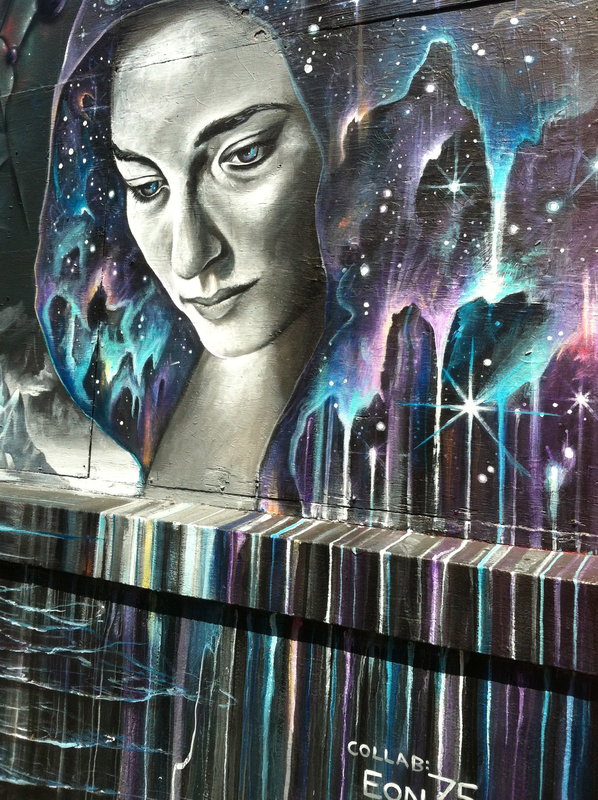 Last but not least, Clarion Alley (from Valencia to Mission Street, just south of 17th Street) boasts an inspired mishmash of psychedelic designs, space aliens, free-form graffiti and pointed political messages. Although you're apt to see other tourists taking photos during the day, this is an alleyway in every sense, from the odd wandering panhandler to the occasional sharp smell of urine. But hey, it's the city.
Since street artists are constantly flexing their creative muscles, the mural art in all three of these alleys changes now and then, especially in response to topical events. You may even encounter an artist working on a new creation. It makes repeat visits rewarding.
Local Restaurants
As far as food goes, many aficionados of Mexican cuisine maintain that the best taquerias in the city are in the Mission. A number of Mission joints turn up regularly on various best-of lists, primarily because they're real-deal authentic. Take a walk along 24th Street from late morning on and you'll almost certainly encounter the intoxicating aroma of grilling meat wafting out of open doorways, making the area one of the most enticing places to eat in the city.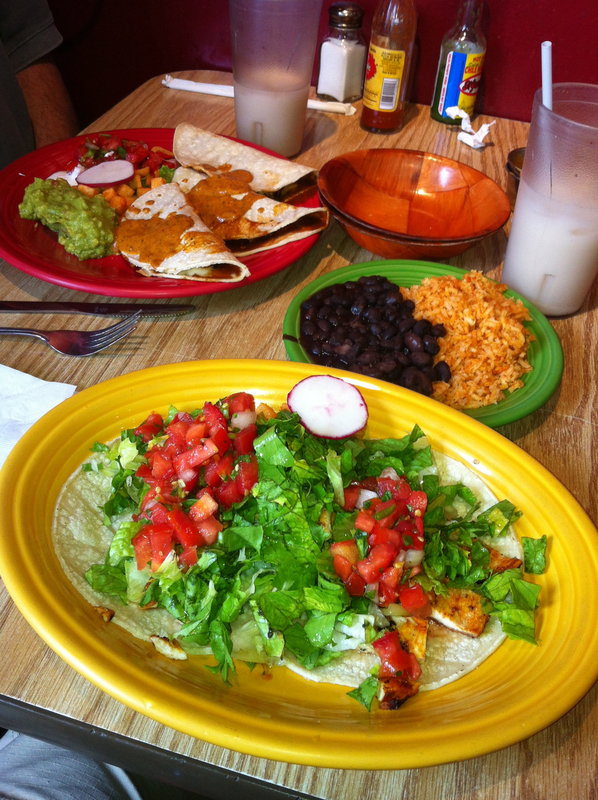 The best burritos, quesadillas, salsas and other taqueria staples are hotly debated, but all things considered you can't go wrong at La Taqueria (2889 Mission St.), Taqueria San Francisco (2794 24th Street) or Taqueria Cancun (2288 Mission St.). Even in the midst of the trendy, pricey eateries along hipper-then-hip Valencia Street stands El Toro Taqueria (598 Valencia St.), where an efficient assembly line of workers whip up carne asada burritos, fajita combo plates and other tasty, no-frills grub.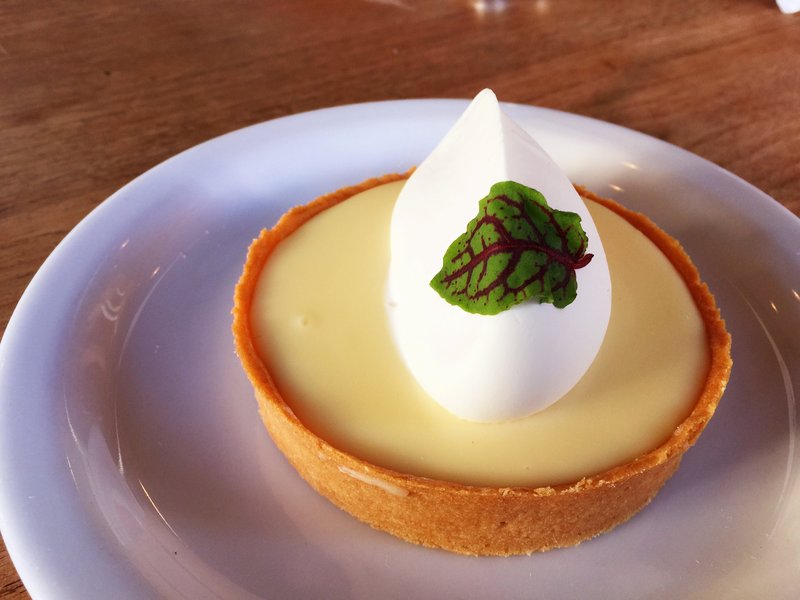 Tartine Bakery & Cafe (600 Guerrero St.) is another place foodies favor, but for morning buns and chocolate croissants rather than tacos. The baked goods, cakes, scones, cookies and tarts at this very popular bakery earn raves, and the cappuccino is pretty darn good, too. To avoid the line that often extends out the door, go early and/or on a weekday, especially if you're intent on snagging a table inside this small, bustling space.
Hidden Stairways
San Francisco is a city of hills, and the dictates of such undulating geography mean that it is also a city of stairways—some 300 of them scattered throughout the city. For residents, they're often a practical necessity or a convenient shortcut to get from point A to point B. From a tourist perspective, these stairways are often worth seeking out, not only for the exercise and the views but because—in a town that does such a good job putting a crimp in your budget—they're free.
Some stairways, like the Lyon Street Steps (see attraction listing), have greater visibility and thus a higher profile. Finding the Vulcan Steps, on the other hand, seems like unlocking a mystery. The foot of the stairway is on Ord Street, a block off 17th Street; it leads up to Levant Street in a residential neighborhood located between the Haight and the Castro.
The stone steps are shaded by trees and bordered by luxuriant vegetation. The houses lining them are architecturally varied, and accessible only on foot. It's a quiet little enclave that truly feels hidden, and if you're looking for things for couples to do, this is the perfect place for a quiet, intimate walk hand-in-hand.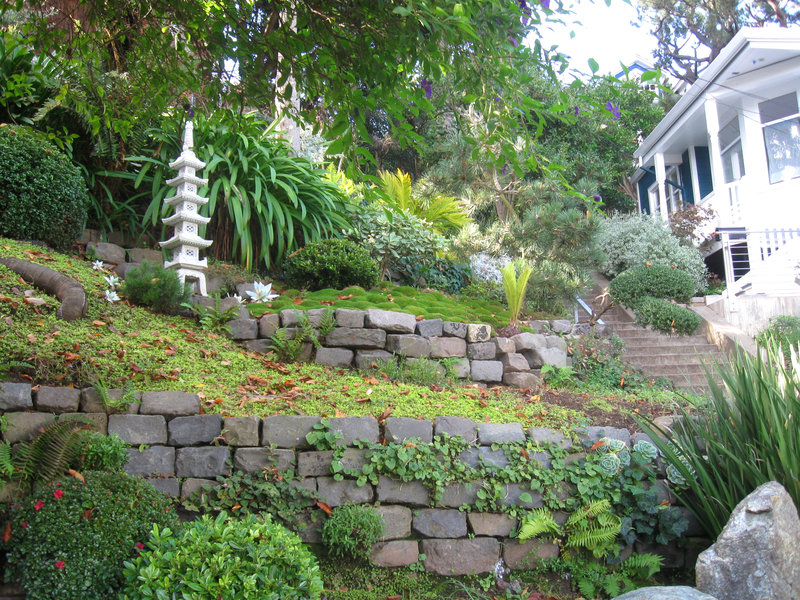 Half a block back toward 17th Street, the Saturn Steps run parallel to the Vulcan Steps, connecting Ord and Saturn streets. There are gardens along these steps as well, and a brick terrace with benches where you can sit and take in the view.
The Vallejo Street Stairway is built into the side of Russian Hill. These steps begin heading uphill at a point between Mason and Taylor streets, about three blocks west of Columbus Avenue. Three separate terraces not only provide a chance to catch your breath but offer different vistas.
Ina Coolbrith Park (at Taylor Street) offers an unobstructed view of downtown San Francisco and landmarks like the soaring Transamerica Pyramid and Coit Tower, which sticks up above tree-crowned Telegraph Hill like a small appendage. A bit farther up is a landscaped rock garden and a couple of benches. Here the lovely views of North Beach and San Francisco Bay are framed by trees.
Cross Taylor Street and keep climbing to the top of the steps, which end at Jones Street. On the other side of a stone wall from the hilltop cul-de-sac is a little postage stamp of a park, complete with a manicured, tree-shaded patch of grass. On sunny days, the view of the bay and Alcatraz Island from this elevated perch is stunning.
The Chestnut Street Steps are a block north and two blocks west of the famous block of Lombard Street billed as "the crookedest street in the world." If you stand at the bottom of this short, steep stairway and look up, the practical obstacles to street construction will be obvious.
Angling off to the right is Culebra Terrace, one of many charming little alleyways that contribute to San Francisco's reputation as one of the world's most picturesque cities. Climb to the top of the steps for a nice view looking down to Chestnut Street below.
City of Souls
Real estate has never been a hotter—and these days, pricier—commodity in San Francisco. Even back in the late 19th century, when a robust young city was experiencing booming growth, it was decided that land was just too scarce and too valuable to waste on the dead.
First came a decree forbidding burials within city limits, and later an ordinance evicting cemeteries. Between 1923 and 1941 laborers disinterred hundreds of thousands of San Francisco graves and moved them south to the town of Colma. This 2-square-mile municipality subsequently became known as the "city of souls," the only place of its kind in the world. Today more than 1.5 million souls are laid to rest in Colma, and many residents are employed in the funeral industry.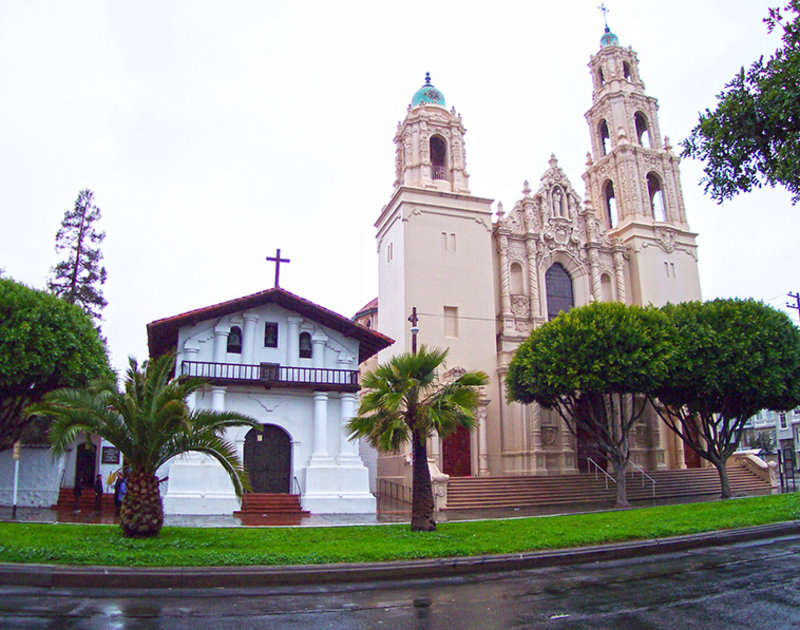 San Francisco's first recorded burial took place in 1776 at the Mission San Francisco de Asis (Mission Dolores). The U.S. Army established a military cemetery at the Presidio of San Francisco in 1854. These are the only two burial grounds remaining of the more than two dozen that existed at the turn of the 20th century. Relocating the city's four largest cemeteries—Calvary, Laurel Hill, Masonic and Odd Fellows—reclaimed 160 acres of land.
Many heirs and the Catholic Diocese opposed the desecration of hallowed ground, however. Of special concern were the graves of city pioneers, war veterans and statesmen. Legal challenges dragged on for decades, and in some cases it took that long to locate relatives of the deceased, as so many official records were destroyed in the 1906 earthquake. Wealthy families could arrange for private burials, but thousands ended up in mass graves. Unclaimed headstones became recycled stone for public works projects; in Buena Vista Park it's still possible to discern faint epitaphs embedded in the storm drains. For photographers wondering what to do with vacation days, you can spend an afternoon tracking down these unique street features that speak to San Francisco's hidden history.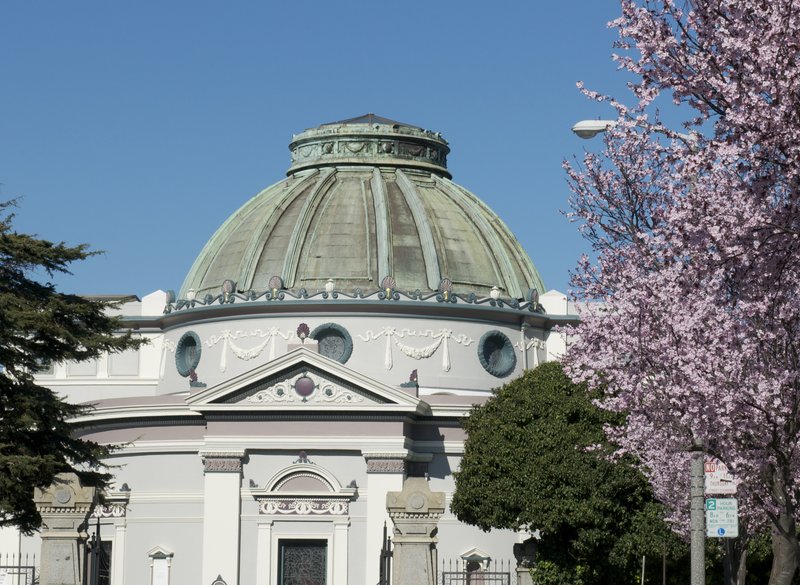 In 1993, crews working on a major seismic strengthening construction project at Legion of Honor unearthed some 300 corpses dating to the gold rush era. A Serbian burial ground lies beneath the 13th tee at the Lincoln Park Golf Course. The Richmond neighborhood and the campus of the University of San Francisco both stand on old graveyards. The San Francisco Columbarium, built in 1898 as the centerpiece of the Odd Fellows Cemetery, survives as a repository for cremated remains. This domed Beaux Arts building holds thousands of urns—a few bearing famous names—and niches are still available.
Today Colma's cemeteries attract the curious as well as those paying their respects. Like the original sites in San Francisco, most are laid out by nationality or faith. They include two Chinese cemeteries, one Japanese, two Jewish, one Italian, one Serbian, one Greek Orthodox, one Catholic, four nondenominational—and one for pets.
Colma's Cypress Lawn Memorial Park, which inherited 35,000 graves from San Francisco, is noted for its park-like, beautifully landscaped grounds and elaborate mausoleums. Here are grandiose monuments to Andrew Hallidie, inventor of the cable car; mining tycoon James C. Flood; and the family of William Randolph Hearst.
Colma is the final resting place for Joe DiMaggio, buried at Holy Cross Catholic Cemetery, and Wyatt Earp, who lies with his third wife, Josephine, at the Hills of Eternity Jewish Cemetery. Joshua A. Norton, self-proclaimed Emperor of the United States and Protector of Mexico, rests in peace at Woodlawn Cemetery; an estimated 30,000 people attended the funeral of "Emperor Norton I" in 1880.
Colma is 9 miles south of San Francisco, off I-280 at the Daly City exit. Cemeteries are open daily to the public, and driving tour maps are available from the Colma Historical Association at 1500 Hillside Blvd.; phone (650) 757-1676. The association's delightfully ironic motto: "It's great to be alive in Colma."
The Lincoln Highway
The horseless carriage rolled onto the American landscape in the 1890s. By 1910 there were more than 450,000 registered automobiles, yet the country still lacked a public road system.
Organized movements for better roads brought issues to the attention of the federal government, which had not participated in major road construction since it funded the National Road project in 1806.
But one particular initiative captured the public's support with a unique idea. In 1913 Carl Fisher—the man who built the Indianapolis Motor Speedway in 1909—and automobile industry leaders chartered the Lincoln Highway Association for the purpose of defining a direct coast-to-coast automobile route.
The LHA's first official act was to delineate a 3,389-mile, 12-state continuous route from New York to California—one that would be passable before the opening of the 1915 Panama-Pacific International Exposition in San Francisco. Although not perfect, the thruway was ready as promised, and a motion picture of America's transcontinental highway was shown at the exposition. Over time, the association improved surfaces by using better materials, shortened the driving distance with realignments and published guidebooks about the Lincoln Highway. Automobile touring had never been so good.
Through example, the LHA educated the public as well as state and federal governments about the value of good roads for almost 15 years. The 1919 moving of a military convoy over the "Lincolnway" foretold the utility of an integrated highway system for national defense and interstate commerce.
With the 1921 Federal Highway Act came the funds for states to construct and maintain connecting arteries. Four years later the United States adopted a highway numbering system, and most of the Lincoln route became US 30, 40 and 50. The association disbanded in 1928, but not before it engaged Boy Scout troops across the country to place some 3,000 concrete Lincoln Highway markers along the route in all 12 states: New York, New Jersey, Pennsylvania, Ohio, Indiana, Illinois, Iowa, Nebraska, Wyoming, Utah, Nevada and California. Many of these markers still exist.
San Francisco's Lincoln Park marked the western terminus of the Lincoln Highway. To get there from the Nevada border, motorists entered California through Truckee and negotiated the Sierra Nevada via historic Donner Pass; an optional route from Carson City took motorists along the southern shore of Lake Tahoe, followed the American River toward Placerville, then went through Folsom. The roads converged at Sacramento and the highway continued south through Lodi to Stockton, west through Livermore to Hayward, then north into Oakland, where a ferry served as the only connector to San Francisco until a bridge was completed in 1936. Another route from Sacramento approached Oakland from the north through Davis and Vacaville.
For more information about the old Lincoln Highway contact the Lincoln Highway Association, P.O. Box 308, Franklin Grove, IL 61031; phone (815) 456-3030.
Travel Tips
San Francisco temperatures are noted for their consistency; they normally do not rise above 90 or fall below 40 degrees. August and September are the warmest months, with highs in the low 70s and lows in the mid-50s; in January, the coolest month, highs average in the mid-50s, lows in the mid-40s. Daily temperature ranges are small, usually 15 degrees or less.
What is distinctive are the micro-climates that create different conditions in localized areas. City neighborhoods at or near the coast are often cloudier and/or foggier than those farther inland, and Bay Area coastal communities like Pacifica and Half Moon Bay are cooler and often cloudier than East Bay locations like Vallejo and Oakland. The Mission is typically designated the city's warmest and sunniest neighborhood. San Francisco weather also can be unpredictable: sunny, mild days in the middle of winter, overcast, raw days in the middle of summer, and mornings that start out sunny (or gloomy), only to switch back and forth several times as the day progresses.
Precipitation totals about 21 inches annually, more than 80 percent of it falling from November through March. Winter storms can bring occasional heavy rains, but thunderstorms are infrequent. From May through September it hardly ever rains. Morning fog frequently rolls in off the ocean; it usually dissipates before noon but can re-form again in the late afternoon, accompanied by a strong sea breeze.
When in doubt, dress in layers. Wear an extra shirt, a sweater, a light jacket or a windbreaker that can be easily tied around the waist if need be. An all-weather coat and an umbrella will come in handy during the winter months. San Francisco is a casual city, but dressing up for dinner at an upscale restaurant or an evening at the symphony is always appropriate.