Best Restaurants in San FranciscoOur favorites include some of this destination's best restaurants—from fine dining to simple fare.
By Greg Weekes
San Francisco is one of the world's great food cities, offering globally inspired cuisine and restaurants that range from humble neighborhood joints to pillars of fine dining. People come here just to eat, because it's all good. You can even find entire vacation packages booked around food tours.
At the top end of the scale is Saison , where Joshua Skenes and sushi chef Jiro Lin team up to create culinary magic via tasting menus that take full advantage of the Bay Area's vast array of seasonal ingredients. This is French-influenced California cuisine with an emphasis on impeccable freshness and extraordinary flavors. And it's definitely a once-in-a-blue-moon dining choice: You'll be presented with up to 15 courses, dinner will last more than 3 hours (and the meal starts without you if you show up late), menus are not posted in advance and the check is guaranteed to be stratospheric. But you don't go to Saison just to eat dinner; it's a full-blown gastronomic experience, enhanced by an open kitchen that heightens the anticipation of what savory thrill is coming next.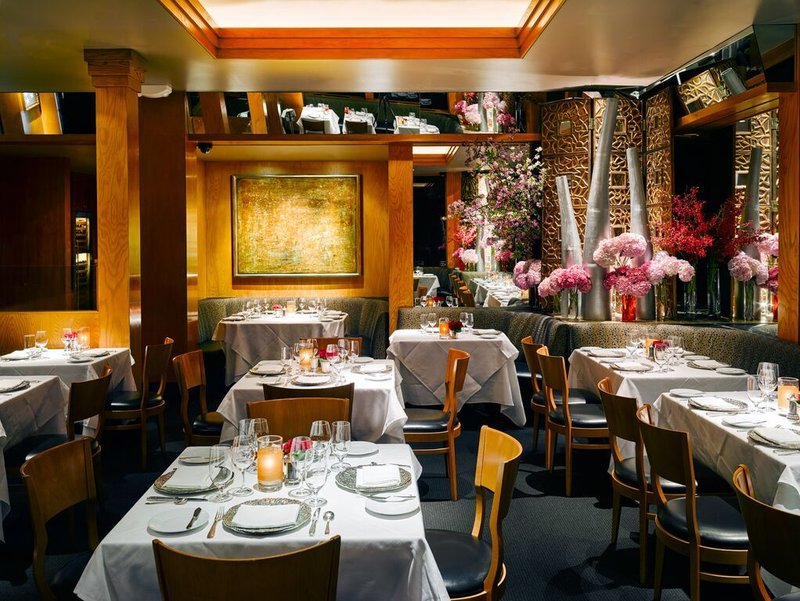 Gary Danko/Douglas Friedman
Another foodie favorite among local restaurants is award-winning chef Gary Danko 's 75-seat Fisherman's Wharf restaurant. The décor is a blend of relaxed California modern and Upper East Side NYC swank, enhanced by museum-quality paintings and dramatic pin-spot lighting. Service matches the setting—unfailingly professional but also genuinely friendly. The menu is seasonal and California inspired, with French accents. Dungeness crab salad with avocado, citrus, bulgur and a mustard-tarragon vinaigrette isn't so much a creatively out-of-the-box appetizer as it is divinely delicious. Entrées like roasted quail stuffed with quinoa, mushrooms and foie gras are similarly noteworthy. And lemon soufflé cake with a raspberry sorbet is simple yet delectable. The extensive wine list includes more than 1,200 selections. Be advised that reservations are essential, and not easy to come by.
Another outstanding choice for special occasion dining is Boulevard . The waterfront Embarcadero location (in the French Mansard-style Audiffred Building) is classic San Francisco, and the décor—dark wood, decorative iron accents and mosaic floors—adds to the stylish ambience. California red abalone with king trumpet mushrooms and pine nuts is a terrific first course, and for an entrée you can't go wrong with wood oven-roasted sea bass or a pork prime rib chop accompanied by creamed kale, Brussels sprouts and a chestnut and parsnip mash. For dessert butterscotch pudding is gussied up with chocolate crackle ice cream and mini dark chocolate truffles. Service is professional but friendly. Reservations are advised, and be prepared to pay top dollar for the experience.
Catch of the Day
flickr / CC BY/Prayitno
San Francisco is synonymous with seafood, and some of the city's best seafood restaurants are located at, appropriately, Fisherman's Wharf. Of course clam chowder in a sourdough bread bowl is a touristy Wharf staple, and it's served at the Fog Harbor Fish House , on the second floor at Pier 39. The big windows and bay views will immediately put you in a maritime mood, and it's one of the top places to eat for locals and tourists alike. Seafood cioppino is unsurprisingly the house specialty, brimming with crab, shrimp, scallops, clams, mussels and fresh fish in a tomato-herb broth. Other seafood winners (the menu is 100 percent sustainable) include grilled swordfish, fish and chips and whole Dungeness crab. Oh—and the blue cheese garlic bread is delish.
Another Fisherman's Wharf mainstay is Scoma's Restaurant , tucked away by the water at Pier 47. The vibe is vintage all the way—timeworn red carpeting, faded photographs of Hollywood celebrities on wood-paneled walls, white-jacketed waiters. And the menu is similarly old school. Start with lobster bisque or spice-seared albacore. Swordfish piccata is beautifully broiled, the meat fresh and moist. Order one of the mixed seafood grills or Pasta Diplomatica (two small lobster tails, shrimp, scallops and clams with linguine) and you'll probably be taking leftovers with you. Scoma's is pricey, but you're paying for the experience as well as the food.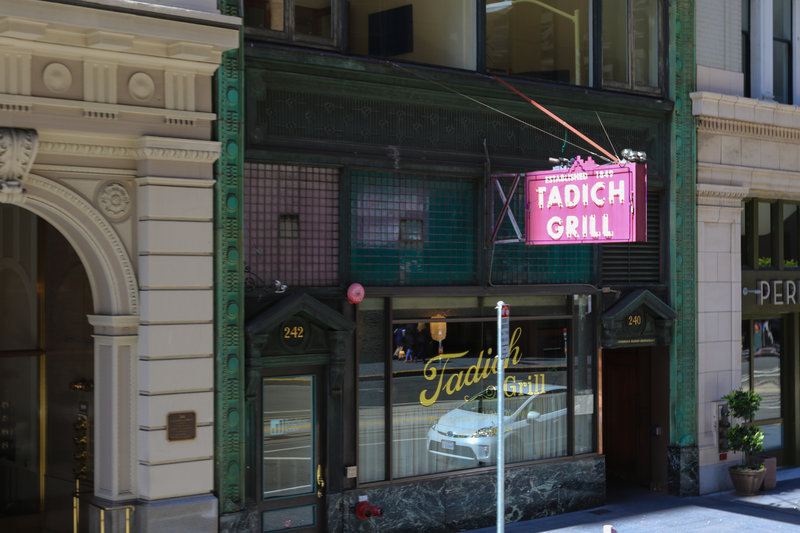 AAA/Thuyvi Gates
Tadich Grill has been in business more than 160 years, so the restaurant must be doing something right. It's a classy joint frequented by business types who gather for two-fisted power lunches. Service can be on the brusque side, but you almost expect that in a place like this. This isn't the only San Francisco restaurant vying for bragging rights when it comes to seafood cioppino, and here it's done well; you'll be sopping up every last bit of broth with a crusty piece of sourdough. Other house favorites are crab Louis, a traditionally prepared oysters Rockefeller and, for non-seafood lovers, old-fashioned pot roast with mashed potatoes. Reservations aren't accepted, and there's frequently a line to get in.
Yet another seafood hot spot is Bar Crudo , in the North of the Panhandle (NoPa) neighborhood. We suggest going during happy hour, when you can get a break on prices ($1 oysters, for example). The menu is small and changes seasonally, although crowd-pleasing favorites like the lobster-beet salad with fresh burrata, arugula and pistachios are usually always available. The crudo sampler (arctic char, tuna, butterfish and scallops) is another popular choice. If you're not in the mood for raw fish, a bowl of piping-hot seafood chowder—fortified with potatoes and Applewood-smoked bacon—is comfort food that's especially satisfying on a chilly day. Beer lovers have an extensive list to choose from.
Famous on Film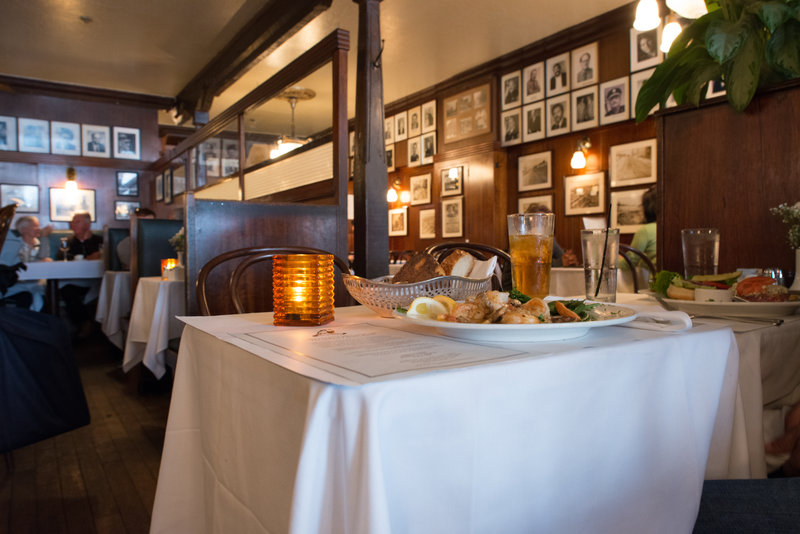 AAA/Thuyvi Gates
Two blocks south of Union Square, John's Grill is classic San Francisco. The oak-paneled walls and period furnishings ooze century-old atmosphere. It's no wonder author Dashiell Hammett made the restaurant a setting in "The Maltese Falcon"; you can almost imagine Sam Spade sitting at the bar. The menu of steaks, seafood, pasta and salads is basic but done right; try broiled salmon with hollandaise sauce or "John's Steak," a thick, bone-in New York cut. Desserts are similarly no-nonsense—New York cheesecake or, for something less decadent, seasonal berries. It's touristy, usually packed and therefore noisy, so don't go if you want an atmosphere conducive to intimate conversation.
Taking In Chinatown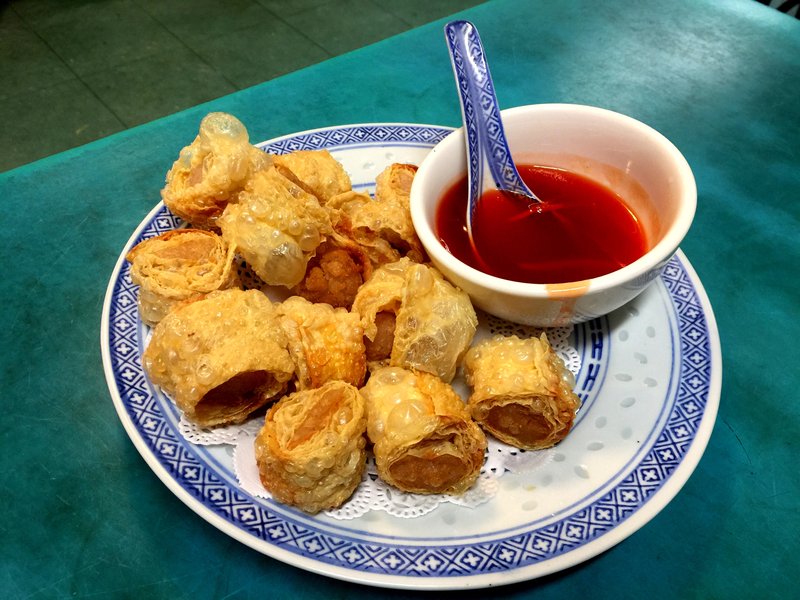 AAA/Inspector 512
Chinatown is famous for its restaurants and dim sum emporiums, and many of them are deservedly popular, catering to tourists with standard plates of beef lo mein and sweet-and-sour pork. But as its name makes clear, Lucky Creation Vegetarian Restaurant dispenses with animal products entirely. From "chicken" curry to chow mein, everything is strictly meat-free, although you'll swear you're eating meat. And traditional vegetarian dishes, like taro-stuffed mushrooms with baby bok choy, are just as delicious. For dessert have a lotus seed cake—flaky and slightly sweet—with your tea. Lucky Creation is a hole in the wall, but you're not coming here for a ritzy dining experience, just good vegetarian cooking.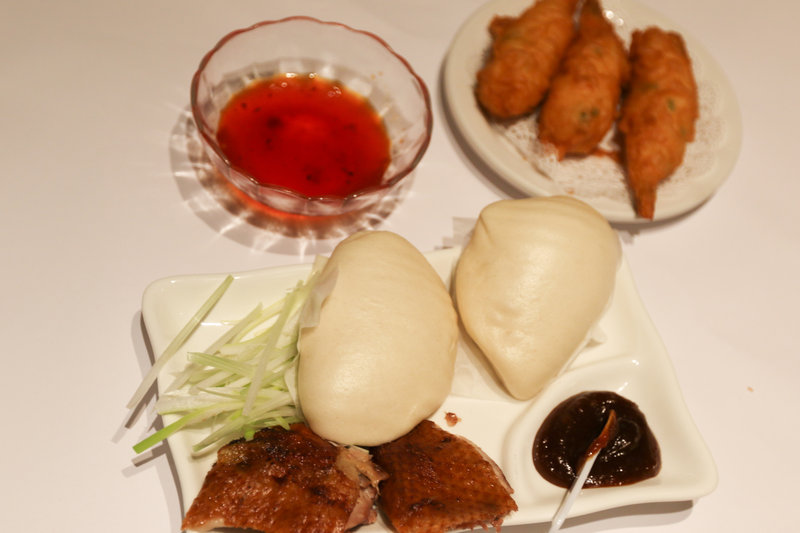 AAA/Thuyvi Gates
Ambience is also not a notable feature at San Tung Chinese Restaurant. The décor is utilitarian, the noise level high and service is just so-so, but regulars nevertheless flock to this Inner Sunset eatery for heaping quantities of tasty Chinese home cooking, and they all rave about the signature dish: fried chicken wings. These crispy, sweet, spicy morsels come both "wet" and "dry" (dry is the original), and either way you're given different dipping sauces to slather them in. The wings are a featured lunch special, along with string beans sautéed with garlic, shrimp and leek dumplings, noodles with peanut sauce and many other choices. A word of advice: Street parking is scarce, so unless you live in the neighborhood take public transportation.
Mission Chinese Food epitomizes this city's hipster vibe: It's basically a Mission District dive that specializes in Americanized yet innovative takes on traditional Chinese dishes. First off, don't expect refinement. There's often a long wait at the door after you sign the clipboard (no reservations). The long, narrow, dimly lit dining room has a bare-bones ambience, the background music is loud, and service is on the inattentive side. The food, however, is full of bold, spicy flavors. General Tso's veal rib has a crispy exterior from being dry-fried and is topped with a thick, onion-filled sauce, while kung pao pastrami, strongly salty, incorporates potatoes, celery, roasted peanuts and chili paste. Lamb cheek meat, bok choy and pickles are the main ingredients in tingly lamb face noodle soup. Heed the dragon symbol denoting dishes that pack heat; they're not kidding.
En Italiano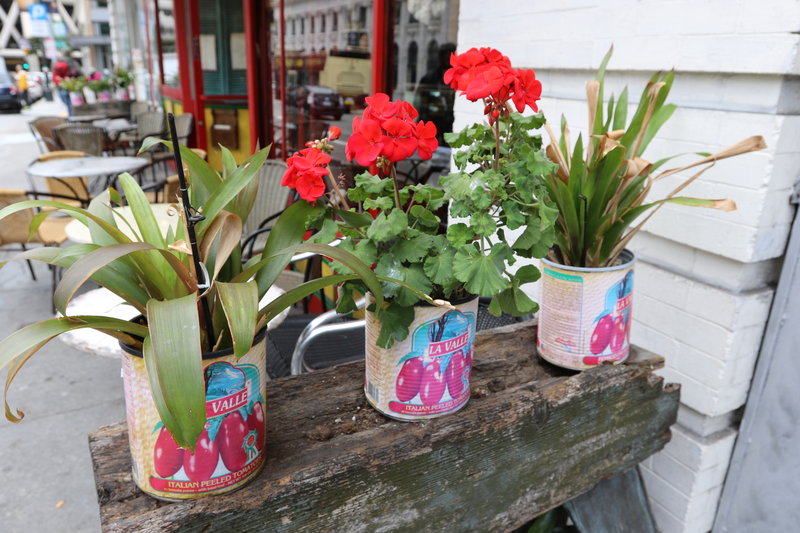 AAA/Thuyvi Gates
There are more charming Italian restaurants than you can shake a breadstick at in North Beach, so narrowing the choice to one is a daunting proposition. But although it's off Columbus Avenue and thus misses out on that street's vibrant outdoor café atmosphere, Tommaso's Restaurant is deservedly popular. It's also quaint as can be, from the whitewashed walls to the straw-covered Chianti bottles. The menu is straight-up traditional. Caprese salad—tomatoes, basil and mozzarella—is delicious simplicity. Spaghetti with meatballs is the real deal, homey and utterly satisfying. And the thin-crust pizza with mushrooms and Italian sausage, brought out piping hot from the wood-fired pizza oven, will not only have you singing the restaurant's praises but eagerly planning your next visit.
Spice It Up Mexican-Style
AAA/Greg Weekes
Of course the Mission—the entire city, really—is brimming with Mexican taquerias, and like many San Franciscans, we're huge Taqueria Cancun fans, and with good reason. Their tasty, no-frills food totally rocks. The menu has no surprises, and that's a good thing. Get the carnitas plate, shredded pork that's moist and flavorful, with fried bits adding crunch. Mix the creamy pinto beans with some of the rice and pile it on a tortilla with a helping of the meat—YUM. The salsa fresca is nice and fresh, and the yummy salsa verde isn't too hot. The atmosphere is festive, with a Mexican shrine on one wall and rows of rainbow-colored flag pennants hanging from the ceiling, and the cooks dish up orders really fast, keeping the waiting line manageable. It's cash only, and closed on Tuesday.
Gracias Madre, on the other hand, is anything but a hole-in-the-wall joint. Although located on a stretch of Mission Street thick with panaderías and produce markets, it stands out because the hip clientele and sophisticated take on Mexican food seem more suited to, say, SoMa—with prices to match. Subdued lighting and lovely art create an intimate atmosphere, although most of the rustic wood tables are communal. The exclusively vegan dishes emphasize organic, locally sourced ingredients; try butternut squash enchiladas or pozole, a traditional Mexican pork and hominy stew that in this version skips the meat. Desserts change frequently, but if it's on the menu the Mexican chocolate cake is a tasty ending.
Other Local Restaurants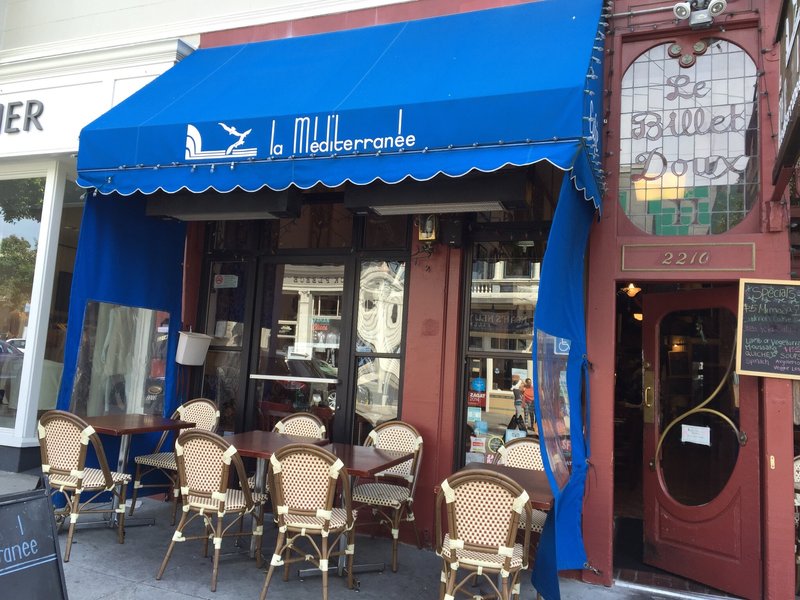 AAA/Inspector 512
If you're looking for things to do today, La Mediterranee is a favorite for lunch—and especially a lingering late lunch, if you've got the time—since this cozy Pacific Heights eatery is reminiscent of a Parisian bistro. We hate to lean on the word "charming," but that's exactly what this place is; a vintage poster here, a Persian rug there, interesting art on the walls. The menu focuses on Mediterranean flavors with a healthy dollop of Middle Eastern influence. A salad of organic greens topped with grilled, marinated chicken, apples, almonds and feta is one of the lunch specials, as is lule kebab, a skewer of spice-infused, ground lamb meatballs with onions and tomatoes served over rice pilaf. For dessert, a cup of Moroccan mint tea goes well with the house-made baklava. There's another location at Noe and Market streets.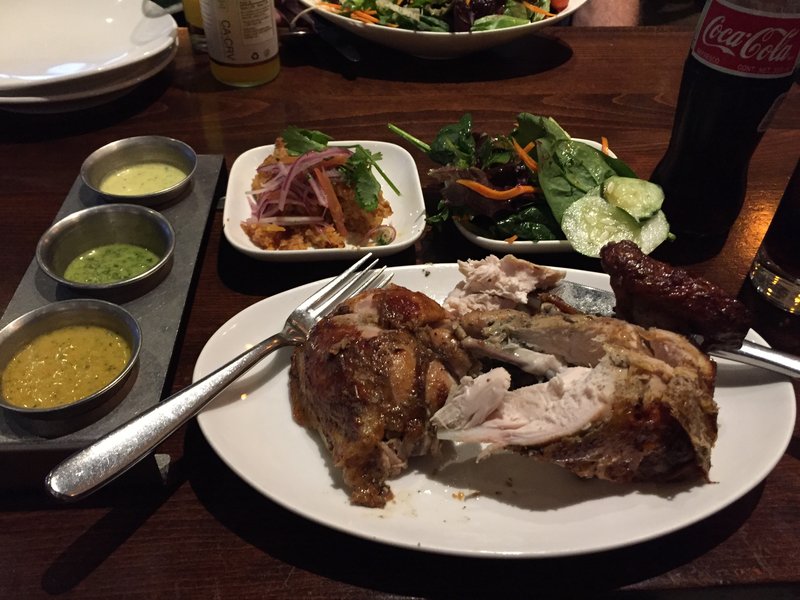 AAA/Greg Weekes
Get acquainted with Peruvian cuisine at Limon Rotisserie . This small, casual Mission restaurant specializes in pollo a la brasa, rotisserie chicken with a crispy skin that's moist, tender and flavorful, served with three dipping sauces (be forewarned; the rocoto molido is fiery). You'll also want to try such Peruvian specialties as ceviche mixto, a trio of fish, calamari and tiger shrimp that tastes fresh and has a chile kick. The sweet potato fries are thin, crispy and addictive, and tacu-tacu—mashed, sautéed rice and beans—is delicious. Service is fast and friendly.
The Great Burger Debate
Best burger in San Francisco? It's a subject that inspires almost as much debate as the best taqueria. When longtime institution Joe's Cable Car Restaurant closed in 2014 burger fans began checking out other options, and one place that earns their seal of approval is NOPA . The polar opposite of a greasy-spoon diner, this two-level space is graced with high ceilings and perpetually packed with beautiful people. Grass-fed chuck is ground in house for NOPA's thick, juicy burger, served on a grilled brioche bun. The pickled red onions on the side make a flavorful topping, and the accompanying fries are hot and crispy. A word of advice: Don't walk in without reservations, especially on a weekend; you'll wait forever for a table. Also try to sit upstairs, where the noise level is lower and there's a view of the goings-on in the open kitchen below.
Staples of the San Francisco Foodie Scene
Zuni Café has been around for what seems like forever, a Market Street institution that exemplifies the "daily changing menu, seasonal organic ingredients" California cuisine concept. Windows in this two-level space let in lots of natural light. Salads, burgers and pizzas are all popular, but the house specialty is chicken for two, a whole bird roasted in Zuni's brick oven, served atop a warm bread salad doused in the chicken drippings and spiked with mustard greens, scallions, dried currants and pine nuts. (Take note: It requires about an hour to prepare.) The accompanying shoestring fries, which you can also order as an appetizer, are the bomb—not too greasy and served with house-made ketchup. Be prepared for waits that are on the long side, even if you have reservations.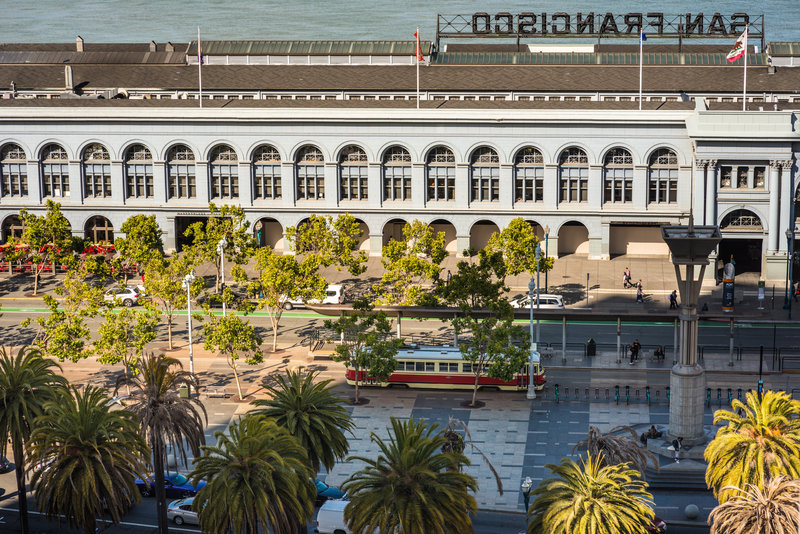 AAA/Thuyvi Gates
The Ferry Building at the foot of Market Street is a San Francisco landmark—and a major destination for foodies. The city's biggest farmers market (the Ferry Plaza Farmers Market, held on Saturday morning) sets up outside, and the building also houses Ferry Building Marketplace and several restaurants that draw devoted crowds.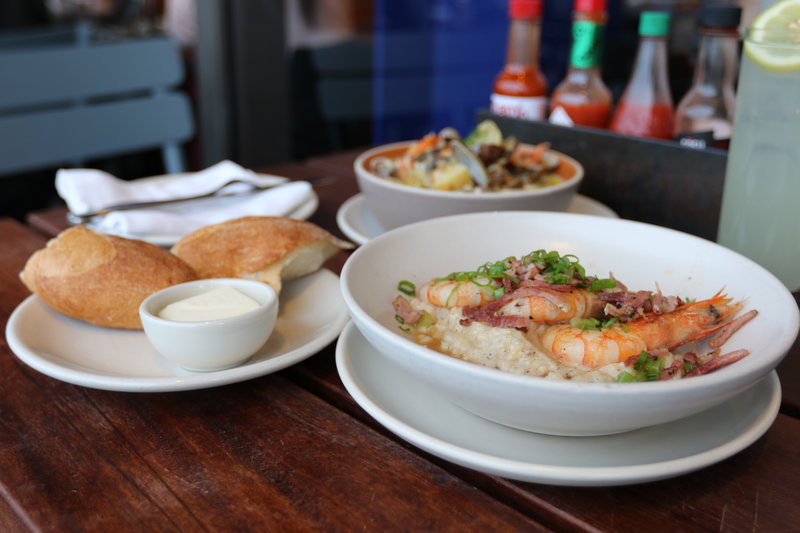 AAA/Thuyvi Gates
The outdoor tables behind the Ferry Building are similarly sought after at Hog Island Oyster Co . As the name makes clear, oysters are the thing here, and you can get them freshly shucked, grilled or on the half shell as part of a sampler platter. The clam chowder is chock-full of Manila clams in the shell, potatoes, bacon and fresh herbs swimming in a briny broth. Hog Island serves Acme Bread Co. baguettes for sopping up every last bit of broth and cocktail sauce, and you can pick up some bread to go at Acme's Ferry Building location. It's massively popular at lunchtime and reservations aren't accepted, so plan accordingly; we suggest getting in line before it opens, especially on weekends.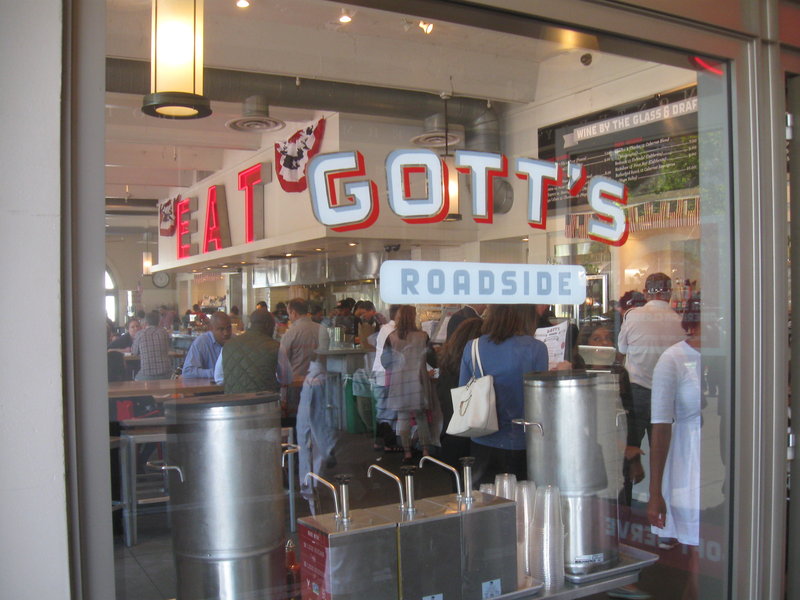 AAA/Greg Weekes
The Niman Ranch beef patties at Gott's Roadside come in eight variations; try the green chile cheeseburger with grilled onions, salsa verde and charred jalapeño mayo on a toasted egg bun (you can also substitute a turkey patty for beef). Regulars recommend the ahi burger—the tuna is seared rare and served with ginger wasabi mayo and Asian slaw—and sweet potato fries dusted with chile spice. The kid-friendly mini hot dogs deep-fried in batter are like potato chips; even adults can't eat just one. Although you'll contend with crowds, Gott's is a perfect spot for a nosh after a morning spent strolling along The Embarcadero.
Coffee, Breakfast and Bakery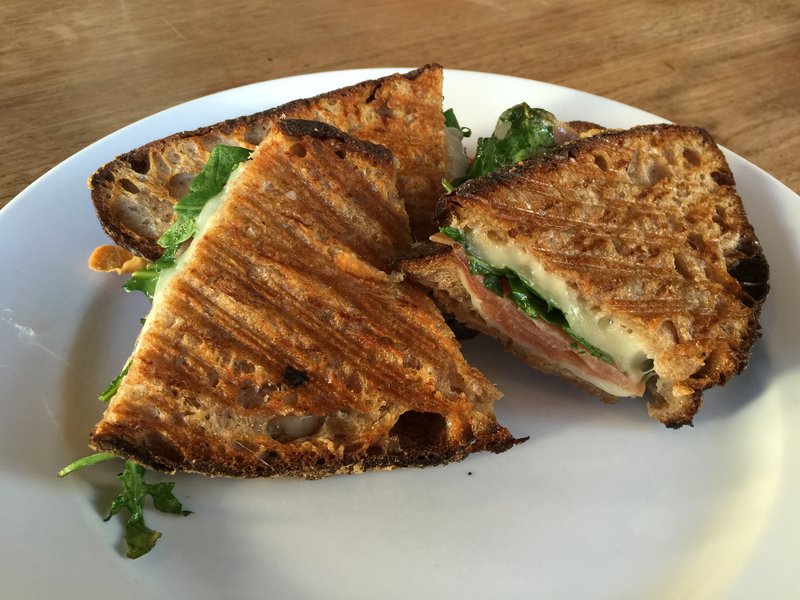 AAA/Inspector 512
At Tartine Bakery & Cafe the aroma of brewing coffee and the array of pastries in the display cases—buttermilk scones, coconut cream tarts, chocolate croissants—will suck you right in. Their country loaf is terrifically crusty on the outside, pillowy soft on the inside and bursts with earthy flavor. Many San Franciscans swear it's the best sourdough bread in the city, which is high praise indeed, and even at a steep $9.25 it's worth every penny (order ahead or pick up a loaf at the bakery after 4:30 p.m.). If you're lucky enough to snag a table (they always seem to be full, and there's always a line out the door), linger over a steaming bowl of café au lait.
Historic Eats
Another San Fran institution is Tommy's Joynt, which opened way back in 1947. You can't miss this mural-covered building at the corner of Geary and Van Ness streets. The clientele is a mix of tourists and longtime regulars, and the vibe is old-school all the way. Grab a tray, get in line and get ready to order at one of the carving stations where knife-brandishing cooks slice roast turkey, ham, beef brisket and pastrami for a no-frills sandwich served on a sourdough roll. In addition to daily specials, Tommy's offers house favorites like spaghetti and meatballs and buffalo stew over rice. There's also a classic saloon-style bar on the premises with a great selection of draft and craft beers, ciders, lagers and ales.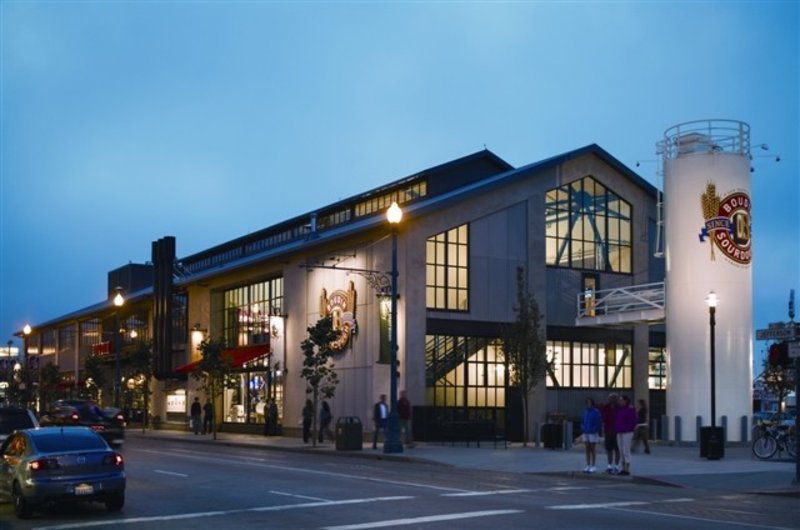 Boudin Bakery
In business even longer—since 1849—San Francisco's Boudin Bakery is as famous for its sourdough as the city is for summer fog. At the original Fisherman's Wharf location of Boudin Bakery & Cafe watch bakers make the bread, then line up to purchase a loaf while it's still warm. Clam chowder in a sourdough bread bowl is the signature menu item, but you can also order a Waldorf salad, vegetarian tomato soup or seafood and andouille sausage gumbo, all served with some freshly baked 'dough.
See all the restaurants for this destination.
See all the restaurants for this destination.