San Francisco Events
In addition to its many cultural and historic landmarks, this destination hosts a number of outstanding festivals and events that may coincide with your visit.
San Francisco's packed events calendar kicks off with the Sea Lions' Arrival at Pier 39 , a celebration welcoming the crowd-pleasing pinnipeds back to Pier 39's K-Dock. The sea lions, mostly young males, spend the winter in San Francisco Bay, feeding on herring, maneuvering for prime basking spots on the floating platforms—and seeming to mug for tourists' iPhone cameras. They first showed up at Pier 39 after the 1989 Loma Prieta earthquake, disappeared almost completely in 2009 (a vanishing act thought to be related to a reduced herring population) and have since made a partial comeback.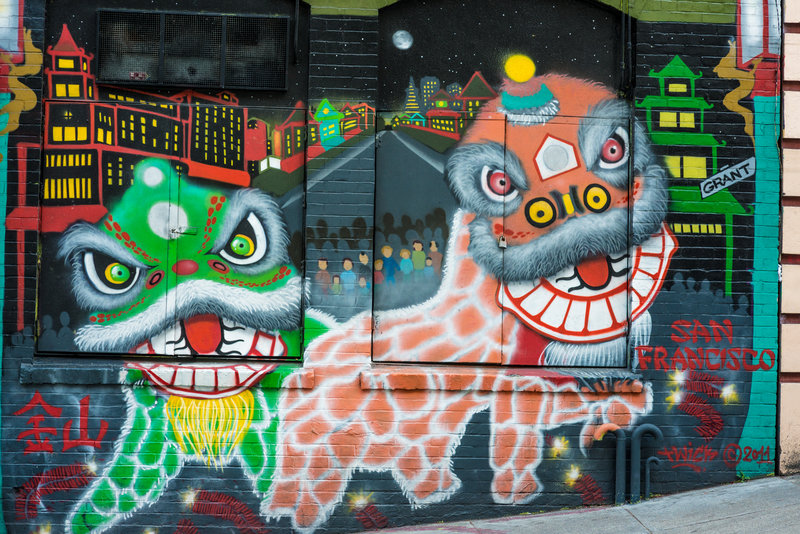 AAA/Thuyvi Gates
It's followed by an explosion of color—the Southwest Airlines Chinese New Year Festival & Parade . Held in January or February in Chinatown , the annual procession of stilt walkers, acrobats, lion dancers and ornate floats draws up to 500,000 spectators. The finale features a 250-foot-long golden dragon and a massive explosion of firecrackers.
Spring into Vacation Fun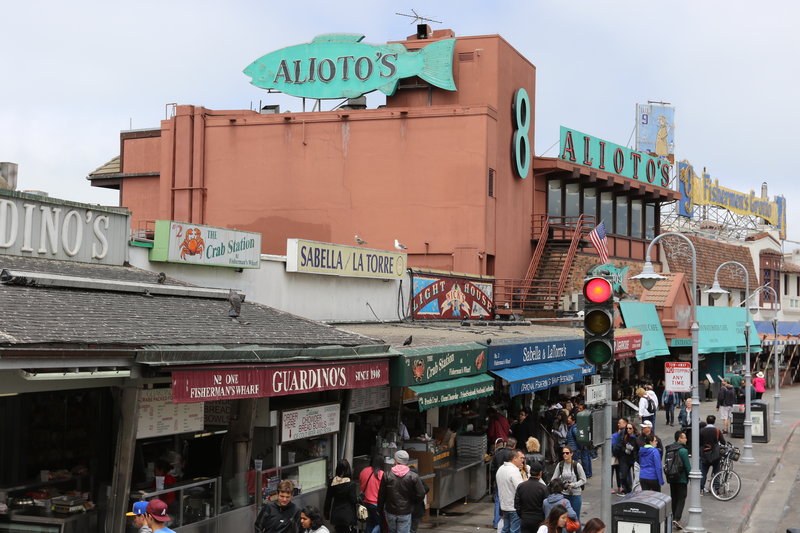 AAA/Thuyvi Gates
Springtime in San Francisco is welcomed with a bevy of events. It arrives early at Fisherman's Wharf (around mid-February) courtesy of the Tulipmania Festival , when thousands of jewel-colored tulips—along with other spring flowers like daffodils, English primroses and Iceland poppies—burst forth from barrel planters in the vicinity of Pier 39. Sponsored by the San Francisco Orchid Society, the Pacific Orchid and Garden Exposition at The Hall of Flowers in Golden Gate Park features thousands of exotic varieties from around the world. The three-day event takes place in late February.
For fun things to do with friends, the St. Patrick's Day Parade & Festival takes place the Saturday before March 17 and includes religious services at St. Patrick's Church. The parade begins at 2nd and Market streets and proceeds up Market Street to Civic Center Plaza.
Another springtime celebration is the San Francisco Flower & Garden Show , held at the San Mateo County Event Center in early April. The 5-day celebration of all things green not only spotlights beautiful gardens but offers practical tips for the home gardener, courtesy of guest speakers at some 100 seminars and workshops. Among other things, you'll find out how to successfully garden in small spaces and nurture a healthy edible garden. The event also includes a roundup of well-known Bay Area chefs and wine producers.
Presented by a charitable organization whose members cross-dress as nuns and wear Kabuki-inspired makeup to call attention to gender and religious issues, the Sisters of Perpetual Indulgence Easter Celebration is campy fun, San Francisco style. There's an Easter egg hunt for kids on Easter Sunday morning, but the real entertainment commences afterward, with a bonnet contest, musical performances and various adult-oriented shenanigans. It usually takes place in Golden Gate Park .
Cultural Immersion
Two consecutive weekends in mid-April bring the Northern California Cherry Blossom Festival , an elaborate display of Asian culture and customs. Most events take place at the Japan Center complex at Post and Buchanan streets and the adjacent blocks of Japantown. The festival's Grand Parade begins at the Civic Center, proceeds up Polk to Post Street and ends at Post and Fillmore streets. If you're looking for fun places to go, this festival offers numerous opportunities to discover new places and immerse yourself in Asian cultures.
The 2-week San Francisco International Film Festival , which begins in early April, has been held nearly every spring since 1957. The works of adventurous filmmakers are screened at a handful of theaters, including the Victoria Theatre and the Alamo Drafthouse New Mission.
Bay to Breakers
Mid-May brings the Bay to Breakers 12K race. The name Bay to Breakers was adopted in 1965, and it also describes the course—from a starting point a block east of The Embarcadero (and San Francisco Bay) to the finish line at the Great Highway at the western end of Golden Gate Park (and the ocean's crashing waves). The east-west route across the city officially measures 7.46 miles.
By the 1980s running boom the number of race participants had swelled to more than 100,000, and these days tens of thousands of people join in the trek along downtown streets and across the length of Golden Gate Park. Over the years different traditions also have emerged, from Batman and Wonder Woman costumes to occasional displays of public nudity. Today the party vibe is such that serious runners usually get an early start before the route becomes crowded with revelers.
Mix It Up at Carnaval and Other Festivals
Carnaval San Francisco , a multicultural, Mardi Gras-inspired street festival with a Latin American/Caribbean vibe, takes place in the Mission District over Memorial Day weekend. The main event is the Grand Parade, which begins at Bryant and 24th streets, proceeds west to Mission Street and then up Mission to 17th Street and the festival area. The parade is followed by a masquerade ball. Expect plenty of wildly colorful costumes, exuberant dancing and hip-shaking music.
For the Union Street Festival , which takes place the first weekend in June, six blocks of Union Street are transformed into "worlds" focusing on such topics as fashion, technology and health. Craft beer and wine-tasting pavilions offer gourmet culinary pairings, and food and craft vendors are also on hand if you're looking for places to eat or to try out samples of your newest fave restaurants.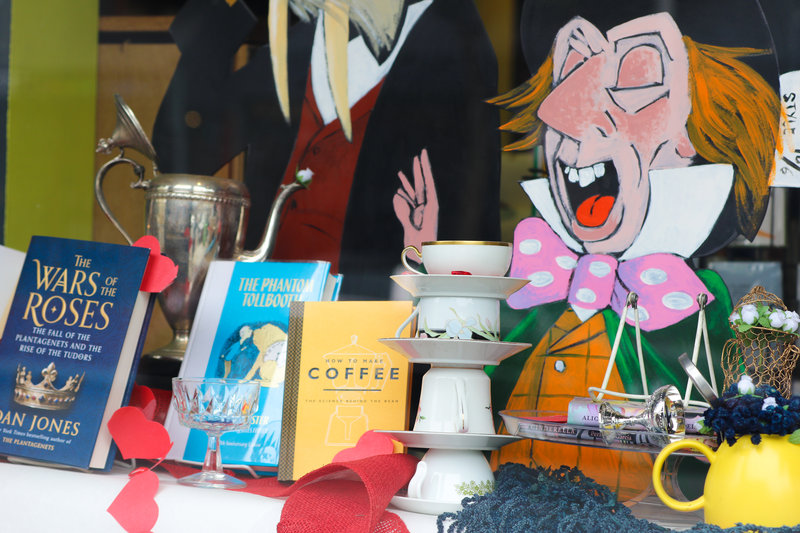 AAA/Thuyvi Gates
The Haight-Ashbury Street Fair , the second weekend in June, celebrates the cultural history, diversity and overall grooviness of one of San Francisco's best-known neighborhoods. In addition to arts and crafts, food booths and a family-oriented area, live music takes place on two stages. In keeping with the Haight's long tradition of street art, each year a poster contest is held, and many of the creative posters advertising the event have become collector's items.
Music and History
A trio of events takes place in early to mid-June. The San Francisco Jazz Festival brings the biggest names in jazz to the San Francisco Jazz Center and other venues around the city for a program of more than 30 concerts. The lineup of talent includes established names as well as up-and-coming talent and features artists from around the world who are creating traditional as well as adventurous new jazz sounds.
The Juneteenth Festival commemorates the end of slavery in the United States with a day of festivities that includes a parade along Fillmore Street between Eddy and Geary streets, a health fair, a classic car show and a petting zoo. The North Beach Festival is a lively street fair that includes a juried arts and crafts show, a pizza-tossing contest, a play area for kids and live entertainment.
The 3-day Outside Lands Music and Arts Festival in Golden Gate Park , held in early August, is a huge event that has upped the ante when it comes to music festivals. The lineup of acts and DJs includes not only established big-name superstars but the newest buzzed-about bands and artists. Along with the performances there's food, wine, beer and exhibits of cutting-edge art. This festival is also noteworthy for emphasizing going green for everything from purified water stations to waste disposal. Parking is basically nonexistent; festivalgoers are strongly encouraged to use public transportation.
Show Your Pride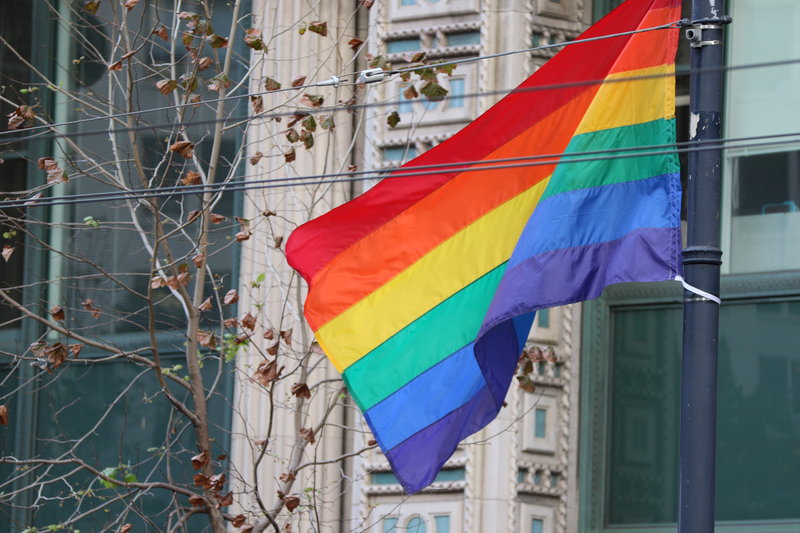 AAA/Thuyvi Gates
June is also Gay Pride Month, when visitors from all over the world come to San Francisco for a packed schedule of parties, dances, and film and arts festivals. The 2-day highlight in late June is the Lesbian, Gay, Bisexual and Transgender SF Pride parade up Market Street. With entertainment on more than 20 stages and venues—including the Main Stage in Civic Center Plaza, next to City Hall—this is the largest LGBT gathering in the country.
Held in conjunction with Pride and presented by Frameline, the San Francisco International LGBTQ Film Festival showcases the work of filmmakers from around the world. The 11-day schedule of gay, lesbian, bisexual and transgender-themed films includes features, documentaries, short films and web series. Most showings take place at the Castro Theatre; other venues include the Roxie Theater and the Victoria Theatre.
Take in a Show
All the world's a stage for the San Francisco Shakespeare Festival , which presents free weekend in-the-park productions of the Bard's plays throughout the month of September. Performances take place at the Presidio's Main Post Parade Ground Lawn (between Graham Street and Keyes Avenue) and at the Jerry Garcia Amphitheater in McLaren Park (40 John F. Shelley Dr.).
If experimental theater is more your style, the 2-week San Francisco Fringe Festival in mid-September spotlights local, national and international companies starring in some 200 low-priced performances—everything from comedy and drama to magic shows and free-wheeling experimental fare. Shows take place at the EXIT Theatre, 156 Eddy St. (two blocks from the Powell Street BART station). Tickets can be purchased online in advance or on the day of the show on a first-come, first-served basis.
Delicate Desserts
Calling all chocoholics! The Ghirardelli Chocolate Festival the second weekend in September is a celebration that will appeal to the sweet tooth in everyone. More than 50 vendors showcase yummy products like chocolate-covered almond biscotti and a mini version of the Ghirardelli ice cream sundae, and dessert experts offer culinary demonstrations. A Chocolate & Wine Pavilion is especially popular. The event takes place at—naturally— Ghirardelli Square .
Italian Heritage
Thousands of people congregate in North Beach for the Italian Heritage Parade on the Sunday nearest Columbus Day. The festivities begin at Fisherman's Wharf with the customary blessing of the fishing fleet, followed by a parade of handcrafted floats winding its way to the "fisherman's church," the Church of Saints Peter and Paul at Washington Square. For a true celebration of Italian heritage, dine al fresco at one of the restaurants on Columbus Avenue along the parade route.
Cars, Cows and Ceremonies
Over two weekends in mid- and late October the Cow Palace is the scene of the Grand National Rodeo, Horse and Livestock Show , which features rodeo events, prize-winning horse and livestock exhibits and the coronation of Miss Grand National Rodeo. Cheer on professional cowboys as they compete in bronc-busting, barrel-racing, bull-riding and steer-wrestling contests.
The San Francisco International Auto Show revs up in late November at the Moscone Center. In addition to showcasing new model year vehicles, attendees can get a look at classic cars, exotic sports cars from the world's major manufacturers, and a lineup of electric, hybrid and alternative fuel vehicles.
The Macy's Union Square Tree Lighting Ceremony ushers in the holiday season on the Friday after Thanksgiving. Macy's 83-foot-tall Great Tree, decorated with twinkling, energy-efficient LED lights and some 1,500 ornaments, is erected in the middle of the square. Live performances accompany the lighting ceremony. The illumination festivities bring hordes of onlookers, so taking public transportation is definitely advised. Union Square's seasonal ice-skating rink opens to the public at the beginning of November.
Rounding out the year in late December is the Redbox Bowl , which brings top college football teams from the Pac-12 and Big 10 conferences to Levi's Stadium.
See all the AAA recommended events for this destination.