San Francisco in 3 DaysThree days is barely enough time to get to know any major destination. But AAA travel editors suggest these activities to make the most of your time in San Francisco.
Day 1: Morning Head out to San Francisco's northwestern corner and Lands End . Back in the 1870s this was wild and woolly country far beyond the city limits, but today it's a serene refuge from crowds, congestion and the ceaseless honking of car horns. Poke around the Sutro Baths , the ruins of a once-fashionable seaside spa, then stop by the Lands End Lookout for some educational background about the Lands End area (and to use the restroom facilities if need be).
Then tramp along the cypress-lined Coastal Trail—the views of the Marin Headlands and the rocky, wave-battered Pacific coastline below are stunning. You can follow the trail all the way to the end (at the junction with 32nd Street). At the approximate midway point, a signed detour off the trail leads down a winding series of steps to Mile Rock Beach . Watch waves crash against the rocks while sitting on a log at this lovely, secluded cove, then hike the dirt trail that winds up a steep hill to a vantage point offering spectacular views.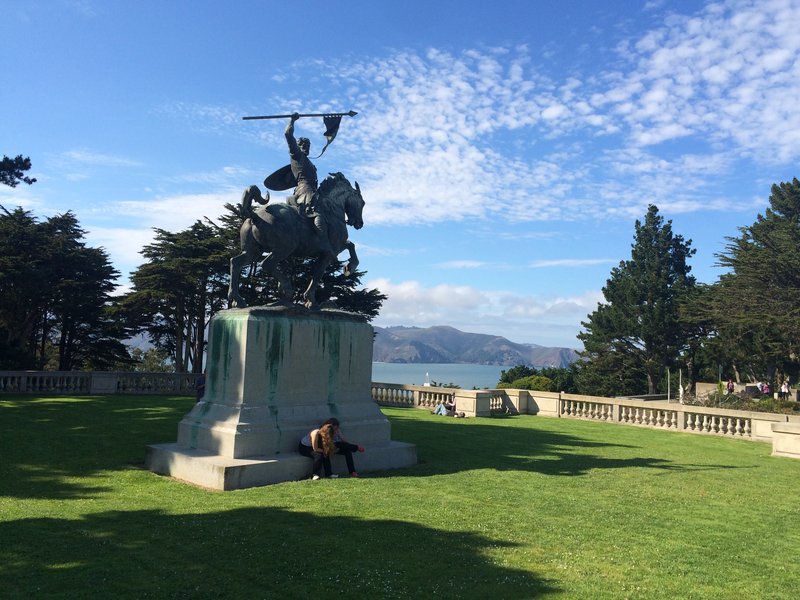 AAA/Greg Weekes
Contemplate the rest of your day at the Legion of Honor in company with a bronze cast of Pierre Auguste Rodin's "The Thinker." This museum's impressive art collection includes paintings by such masters as Anthony Van Dyck, Claude Monet and Pablo Picasso, plus English and French porcelain and noteworthy Rodin sculptures.
If you're looking for places to eat, try out the Korean barbecue at Jang Soo BBQ. They serve delicious dishes complemented with homemade sauces that elevate the experience. The restaurant is only a few minutes from the Cliff House that has a beautiful ocean view, and occasionally you can spot sea lions from May through October.
Day 1: Afternoon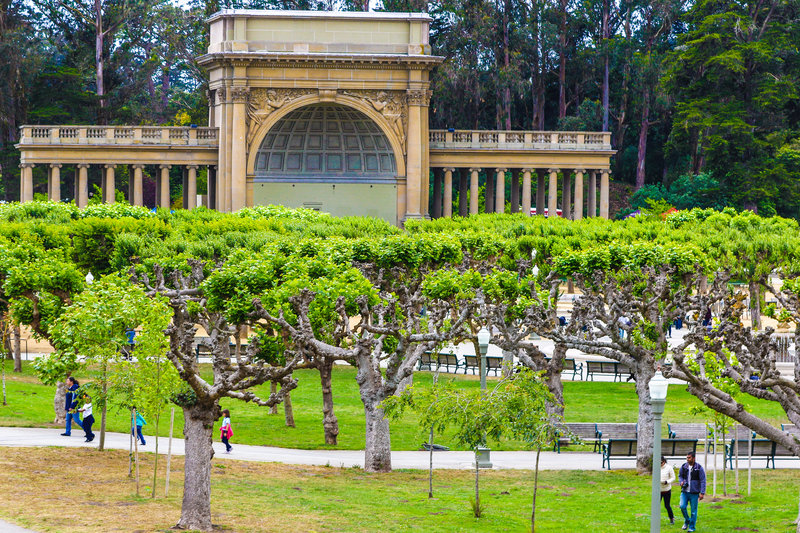 AAA/Thuyvi Gates
You could easily spend an entire day at Golden Gate Park , the city's beloved, rectangular swath of green 3 miles long and a mile wide, so prioritizing what you want to see and do is paramount. Museum lovers should immediately head to the de Young Museum , which has outstanding collections of art from the Americas, Africa, New Guinea and Oceania, or The California Academy of Sciences , home to a state-of-the-art planetarium and numerous green-friendly exhibits (don't miss the undulating roof, a living carpet of native California plants).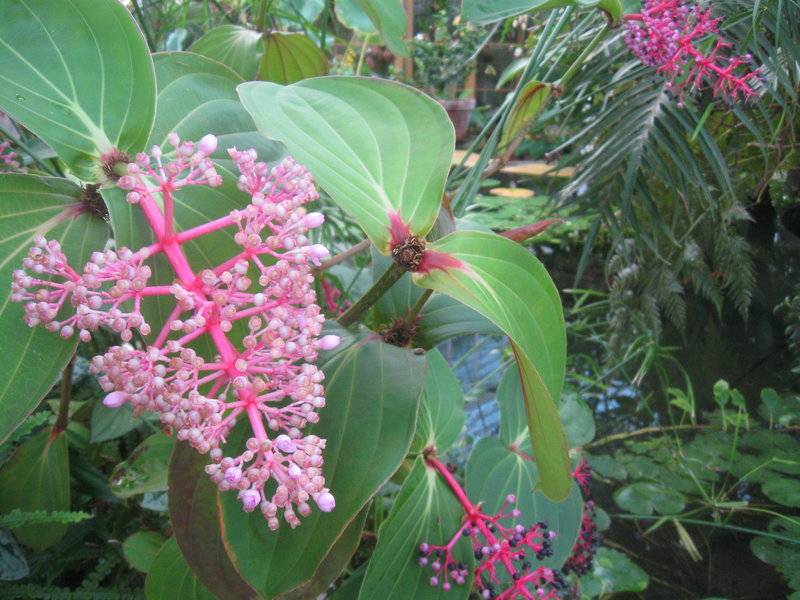 AAA/Greg Weekes
The park's exuberantly lush gardens and woodlands are particularly enticing for nature lovers and gardeners. Meditate in the Japanese Tea Garden , a small, precisely landscaped retreat of still ponds, stone sculptures and shaded paths, or stroll among orchids, tropical blooms and bizarre-looking aquatic plants in the Victorian-style The Conservatory of Flowers . Pause and reflect among redwood trees at the volunteer-maintained National AIDS Memorial Grove. Then wander past rhodies ablaze with blooms (May and June are the peak months) in the Rhododendron Dell, where there are also wooded paths to stroll. Adjacent to the dell is the Primitive Plant Garden, full of cycads and giant tree ferns.
For exercise walk around Stow Lake, actually a moat that encircles Strawberry Hill. A stone footbridge crosses the north end, and makes the perfect spot for a quiet romantic walk if you're looking for things for couples to do; from there you can hike to the top of the hill. Little Lloyd Lake, just off John F. Kennedy Drive, is a quiet spot with a couple of benches where you can relax and listen to the contented quacking of a resident flock of mallards. The group of stone columns standing at the edge of the water, dubbed Portals of the Past, was part of a Nob Hill house destroyed by the great 1906 earthquake.
For lunch, Pacific Catch Westcoast Fish House (1200 9th Ave.) is a popular neighborhood restaurant just south of the park. The seafood here is made with Asian, Hawaiian and Latin American influences.
Day 1: Evening"If you're going to San Francisco, be sure to wear some flowers in your hair." Heed the hippie anthem of the Summer of Love (that would be 1967) and head to Haight-Ashbury, the former epicenter of the counterculture that still has a groovy vibe. Check out the head shops, vintage clothing boutiques and funky gift shops along Haight Street, or search for obscure vinyl LPs at Amoeba Music (1855 Haight St.).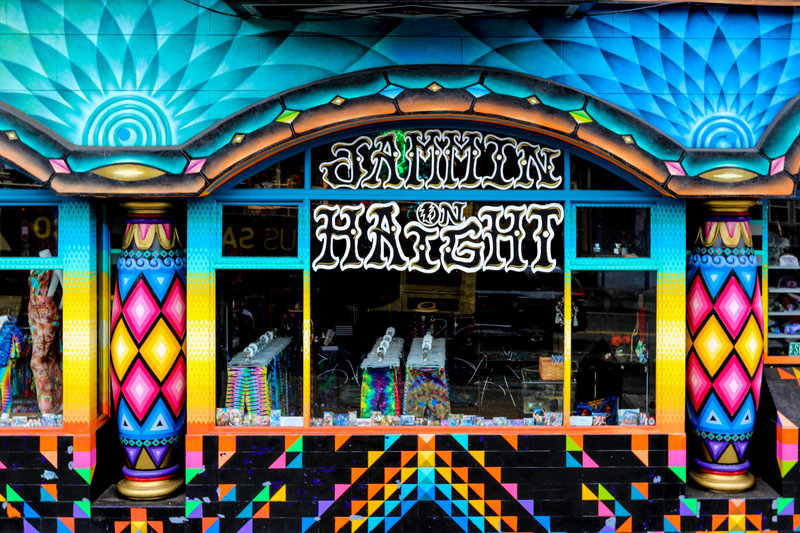 AAA/Thuyvi Gates
The Haight is known for the psychedelic art adorning many storefront walls and Victorian houses known as "painted ladies." They range from expensively renovated to endearingly shabby and often display rainbow colors. The purple Victorian at 710 Ashbury St. (between Frederick and Waller) was once a communal pad where the Grateful Dead crashed back in the day.
From the Haight it's an easy walk (or board a 33 Muni bus on Haight Street) to the Castro. A constant and occasionally outrageous parade of people pass through the junction of Castro, Market and 17th streets, the Castro's focal point. Standing at the corner of Castro and Market is Twin Peaks Tavern, one of the neighborhood's oldest bars. In less liberated times the walls hid patrons who had to slip in unnoticed, whereas now big glass windows reveal a laid-back crowd of folks who congregate for drinks and socializing.
Burger joints, taquerias and other casual restaurants abound. For yummy lobster rolls, crab cakes or fish and chips, try the Woodhouse Fish Company (2073 Market St.).
The Castro Theatre (429 Castro St.), a grand old movie palace, has a beautifully opulent interior complete with a Wurlitzer organ that rises from beneath the stage for a pre-show musical performance. Films run heavily to repertory series and revivals of old classics, with the occasional Hollywood blockbuster thrown in. Many special events and live appearances also take place; phone (415) 621-6120 or check the website for schedule information.
Day 2: MorningSpend the morning hanging out along The Embarcadero, the waterfront street that hugs San Francisco's northeastern perimeter. Seagulls wheel and cry and joggers get in an early run against the scenic backdrop of the San Francisco-Oakland Bay Bridge , the city's other iconic span. Make your first stop Ferry Building Marketplace , which can be a fun way to spend a morning sampling a unique array of foods.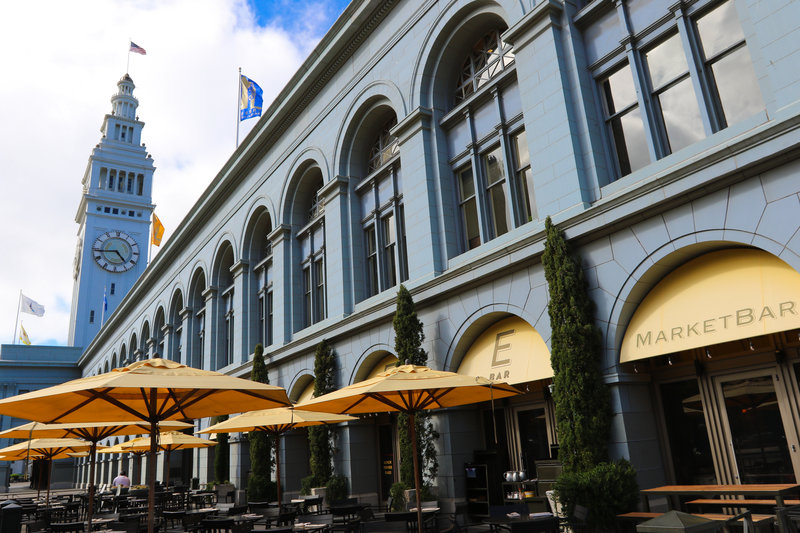 AAA/Thuyvi Gates
The Ferry Building serves as a busy ferry terminal for trans-bay commuters and also houses specialty food retailers and restaurants. Pick up a ciabatta loaf at the Acme Bread Company or locally produced jams and honey at The Village Market. Customers queue at Blue Bottle Coffee, popular local purveyor of individually brewed concoctions. The busy space was remodeled to reduce the perennially long wait in line. Equally popular—and larger—is Peet's Coffee & Tea, a fave for caramel macchiatos, white chocolate mochas, iced coffees and other goodies.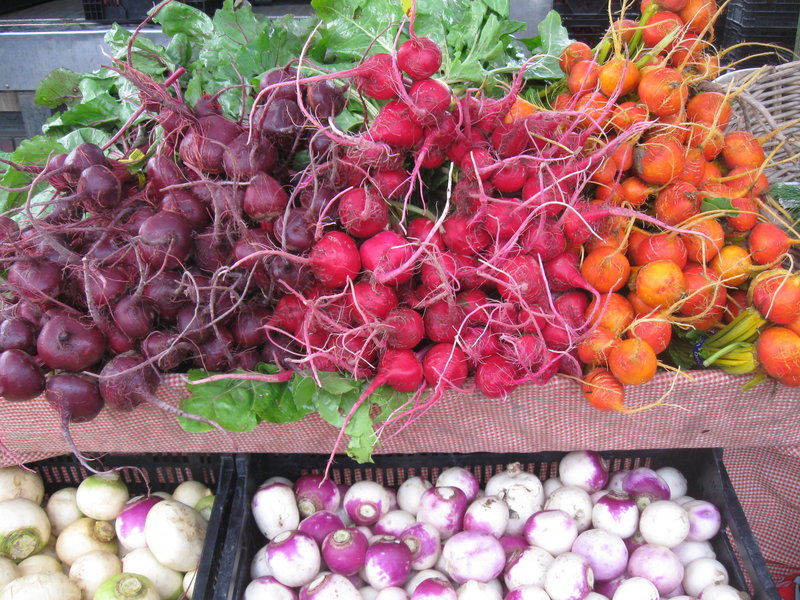 AAA/Greg Weekes
Three times a week—on Tuesday, Thursday and Saturday mornings—the Ferry Plaza Farmers Market sets up in front of the Ferry Building. Saturday is the big one, with vendor stalls in the rear as well, all selling a bounty of organic fruits and vegetables, cheeses and prepared foods. Gorgeous bouquets of flowers stand in buckets of water, bunches of fragrant fresh herbs fill wooden bins and local farms offer free samples. It's one of San Francisco's most popular weekly events.
A wide sidewalk and lively maritime activity makes The Embarcadero a great place for a walk. If you're up for exercise that comes with a bonus of lovely views, head north on The Embarcadero to Broadway, turn left and walk four blocks to Sansome Street, then turn right and walk four blocks up to Filbert Street and the foot of the Filbert Steps . The steps ascend the east side of Telegraph Hill , past gardens and increasingly panoramic vistas of the bay as elevation is gained. It's a healthy climb, but once at the top you're at the base of Coit Tower , where there are more views—and the walk back down is a heck of a lot easier.
Day 2: Afternoon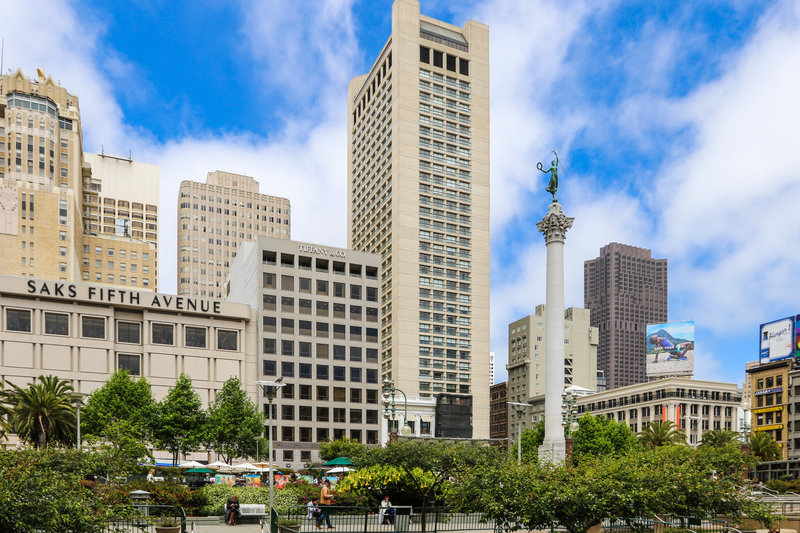 AAA/Thuyvi Gates
Union Square is the heart of downtown San Francisco. This block-square paved plaza, fringed with date palms, is a popular gathering place where people meet, socialize or just spend an afternoon hanging out. During the winter months there's an ice-skating rink, and the annual lighting of an enormous Christmas tree in late November draws massive crowds and marks the official start of holiday season festivities.
The streets surrounding the square offer shoppers major retailers like Macy's, Neiman Marcus, Saks Fifth Avenue, Gump's and the flagship location of Williams-Sonoma, complete with a demonstration kitchen where you can take a cooking class. High-fashion boutiques are sprinkled along Geary, Post and Sutter streets and little Maiden Lane, a narrow alley that runs between Stockton and Kearny streets.
Even if you don't buy anything, Emporio Armani (166 Grant Ave.) is worth wandering through; it's housed in an early 20th-century building that was once a bank and retains that era's old marble columns, along with a contemporary minimalist layout highlighting metal and wood. Alessi (424 Sutter St.) features high-quality housewares that resemble—and are priced like—works of art.
Art galleries are on Geary, Post and Sutter streets. Check out the complex of galleries at 49 Geary St., spotlighting contemporary and emerging Bay Area artists, photography and the works of modern masters like Jasper Johns and Roy Lichtenstein. Many galleries are open late the first Thursday of the month.
AAA/Thuyvi Gates
Explore nearby Chinatown . Grant Avenue shops sell everything from cheap souvenirs to fine jewelry. One block over on Stockton Street, crowds navigate past bulging sidewalk bins of produce and windows displaying whole fish, various animal parts, dessert buns and brightly packaged home remedies.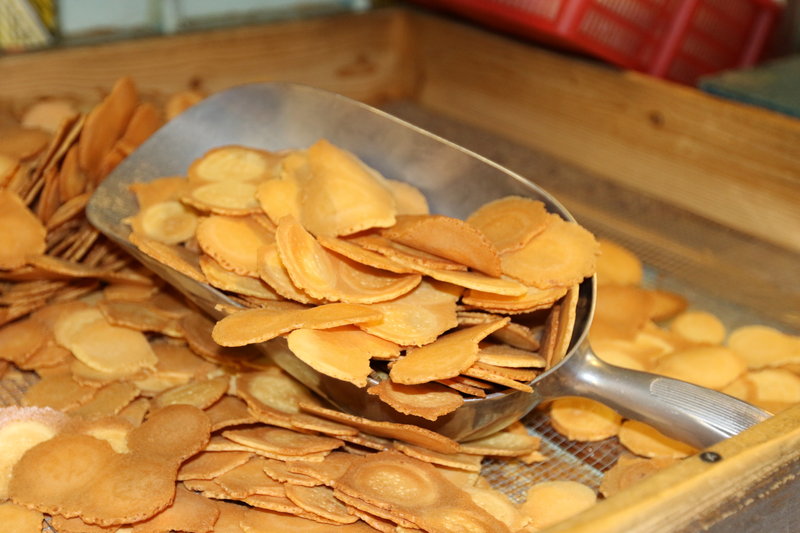 AAA/Thuyvi Gates
Eastern Bakery (720 Grant Ave.) sells mooncakes, a rich, dense pastry filled with sweet bean paste and one or two salty egg yolks. At the Golden Gate Fortune Cookie Factory in tiny Ross Alley, workers position fortunes and drape hot dough over steel rods to form that distinctive fortune cookie shape. Free samples are offered, and you can buy a bag to go.
Day 2: EveningStroll Washington Square, a small, grassy North Beach park shaded by cypresses and poplars, frequented by pigeons, dog walkers and practitioners of tai chi, and overlooked by the twin spires of the neo-Gothic Saints Peter and Paul Church . The cathedral has long served a parish of Italian immigrants, and baseball great Joe DiMaggio famously posed in front of it for wedding pictures with new bride Marilyn Monroe.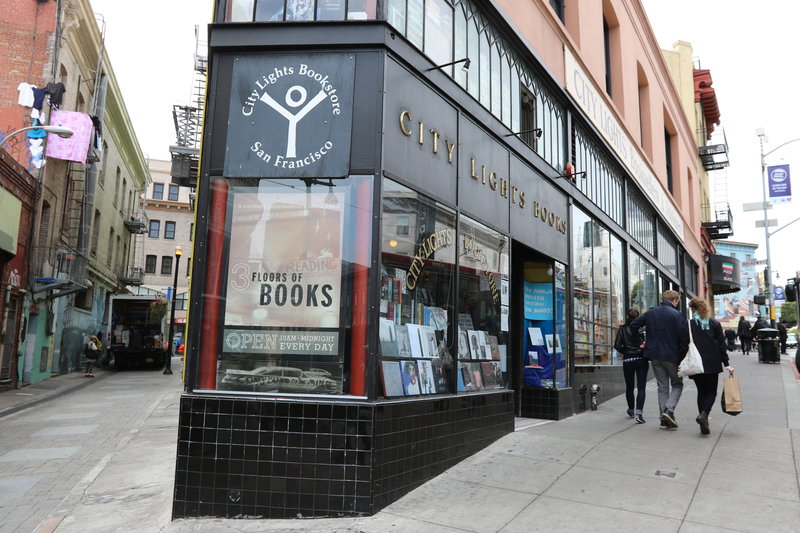 AAA/Thuyvi Gates
City Lights (261 Columbus Ave.), founded in 1953 by poet Lawrence Ferlinghetti, is a landmark independent bookstore with a history of progressive politics. The era of tour buses pulling up for a glimpse of beret-clad "beatniks" is long gone, but this is still a place where book lovers and bohemians in spirit come to browse and attend regularly scheduled events and author readings.
There's more history next door at Vesuvio. Order the house drink (rum, tequila, and orange and cranberry juice served in a bucket glass with a lime) named after Beat Generation icon and "On the Road" author Jack Kerouac, who frequented the bar. Loaded with gritty atmosphere, the joint attracts artists, musicians, poets and all-around characters.
Columbus Avenue is lined with restaurants, and their sidewalk tables are perpetually filled. But take our advice and head to Tommaso's Restaurant, less than a block off Columbus on Kearny Street. Whitewashed walls and straw-covered bottles exude charm, and the food is delizioso. Order a thin-crust pie that emerges piping hot from the wood-fired pizza oven with toppings like fresh burrata cheese, prosciutto, anchovies or sliced meatballs.
After dinner head to Caffe Trieste, on Vallejo Street between Columbus and Grant avenues. Dark wood walls covered with nostalgic old photos will put you in the mood to linger over espresso or a cup of the house-roasted coffee. If you hit this place on the right evening you'll be treated to poetry readings or live music.
Day 3: Morning
AAA/Inspector 511
Wondering what to do on your last day in San Francisco? Alcatraz Island is one of the city's most popular tourist destinations. Purchase a timed ticket in advance (up to a week ahead during the summer months) at Pier 33, the only departure point for ferries to Alcatraz. If you board the first departure at 8:45 a.m., you'll be able to explore at leisure before the crowds start arriving.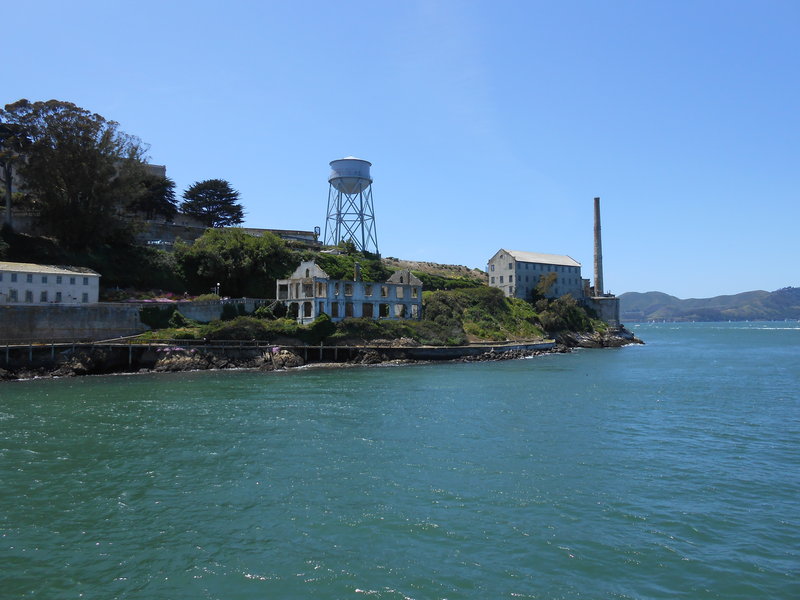 AAA/Inspector 76
Immortalized in movies like 1962's "The Birdman of Alcatraz" and the Clint Eastwood-starring "Escape From Alcatraz," the infamous federal penitentiary that stood on this small, rocky island for almost 30 years has a reputation akin to myth. Today's reality is a bit more prosaic: prison facilities in various states of disrepair. The recreation yard is a dismal-looking, fenced-in concrete rectangle, and the cells in the main prison building—each equipped with a toilet, tiny sink and single bunk—are depressingly small and grim. A guided audio tour, narrated by former inmates and correctional officers, provides details about daily life on "The Rock."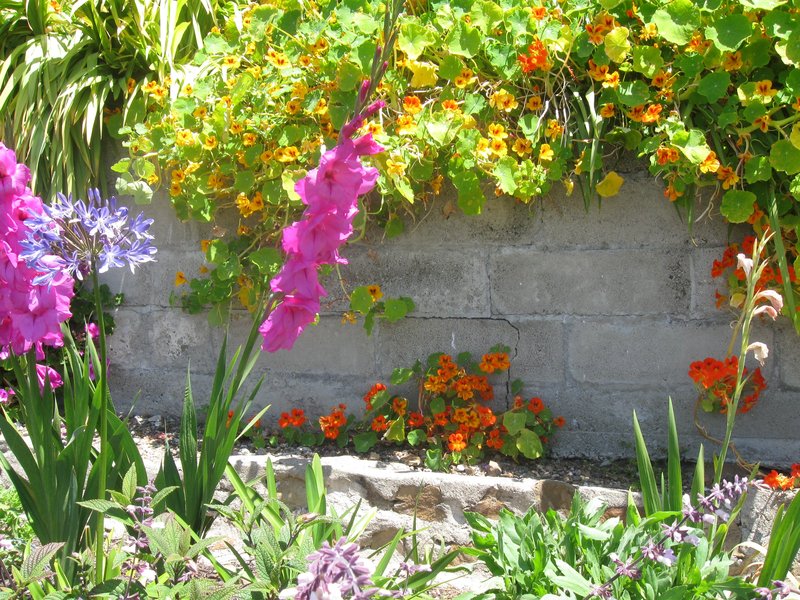 AAA/Greg Weekes
Adding unexpected beauty to the setting are The Gardens of Alcatraz , created and maintained by both inmates and the families of prison guards who resided on the island. When the penitentiary closed in 1963 the carefully tended landscape became overgrown and wild, but a dedicated group of volunteers has kept the gardens spruced up. Hardy, sustainable plants and flowers native to South Africa and the Mediterranean basin, regions with a climate similar to San Francisco's, thrive on the island. Since there are no natural predators, Alcatraz is also a bird sanctuary, and you'll see cormorants, snowy egrets and lots of Western gulls.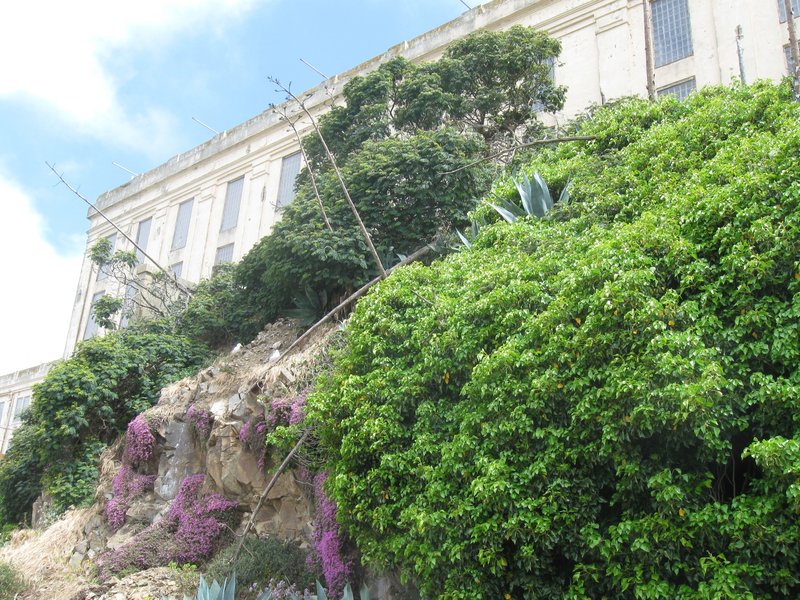 AAA/Greg Weekes
In just days, you can experience San Francisco, which is like no other place in the world. Shop affordable airfare and you can manage an entire vacation on a budget, while still discovering heaps of fun places to go.
Day 3: Afternoon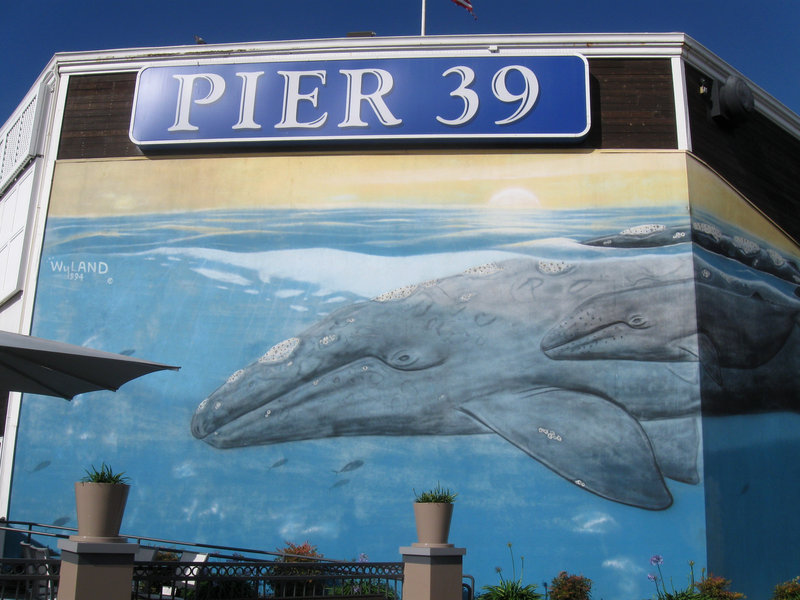 AAA
Disembark the Alcatraz ferry and walk up The Embarcadero to Pier 39 and Fisherman's Wharf . The hodgepodge of restaurants and souvenir shops is a fun area to wander. Depending on the time of year, sea lions are crowd pleasers at the pier.
Eating clam chowder in a sourdough bread bowl is a quintessential San Francisco experience, and there are several casual eateries where you can sample this treat. One place you won't find it, though, is the Crab House at Pier 39 , where the bread bowls are filled with crab chowder instead and the specialty of the house is "killer crab" roasted in a secret garlic sauce. Tureens brimming with crab cioppino, garlic-steamed clams or zuppa di pesce (seafood stew) are popular as well.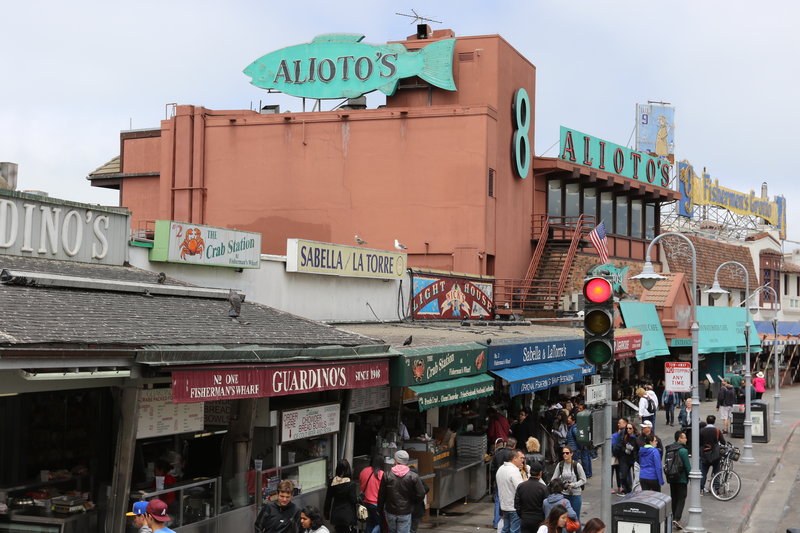 AAA/Thuyvi Gates
For more upscale dining, Alioto's has big windows with views of the bay and rows of docked boats, plus favorites like Sicilian-style fried prawns and pan-roasted rockfish with wild mushrooms. The restaurant opened as a fresh fish stall in the 1920s and still has a street stand where you can watch busy cooks cracking and packing heaps of Dungeness crabs turned ruddy reddish-orange from immersion in a pot of boiling water.
Chocoholics will want to savor the wares in the Ghirardelli Chocolate Shop at Ghirardelli Square , where there's also a display of original chocolate manufacturing equipment. Sourdough bread aficionados head to Boudin at the Wharf: Museum & Bakery Tour to pick up sourdough and other fresh-baked loaves to go at the on-site shop.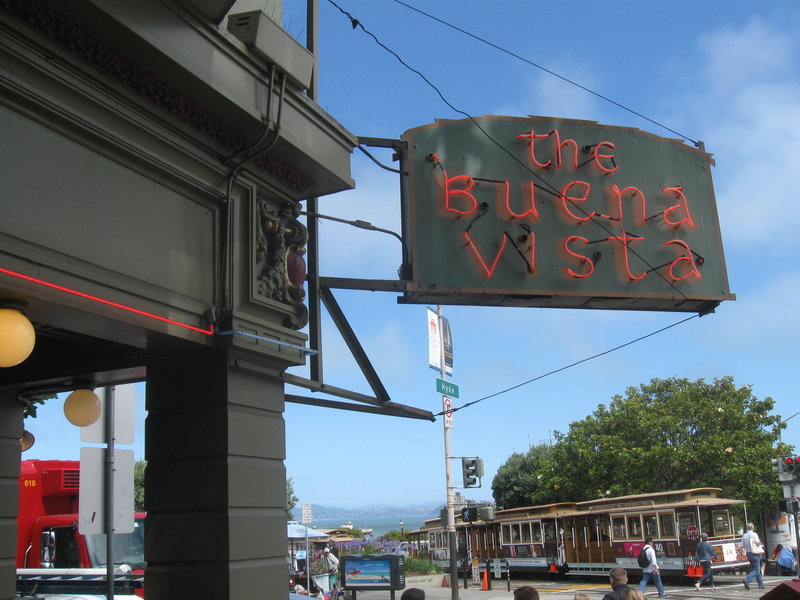 AAA/Greg Weekes
Burn off the calories at San Francisco Maritime National Historical Park , where historic vessels are docked at the Hyde Street Pier, and then take a walk to the end of the Municipal Pier at adjacent Aquatic Park. Afterward, celebrate your fortitude with a glass of piping-hot Irish coffee. The whipped cream-capped brew was first introduced to American drinkers at The Buena Vista Cafe, at the corner of Hyde and Beach streets. If you're not in the mood for a jolt of whiskey-infused java order Pilsner on tap, otherwise known as a "pull one."
Day 3: Evening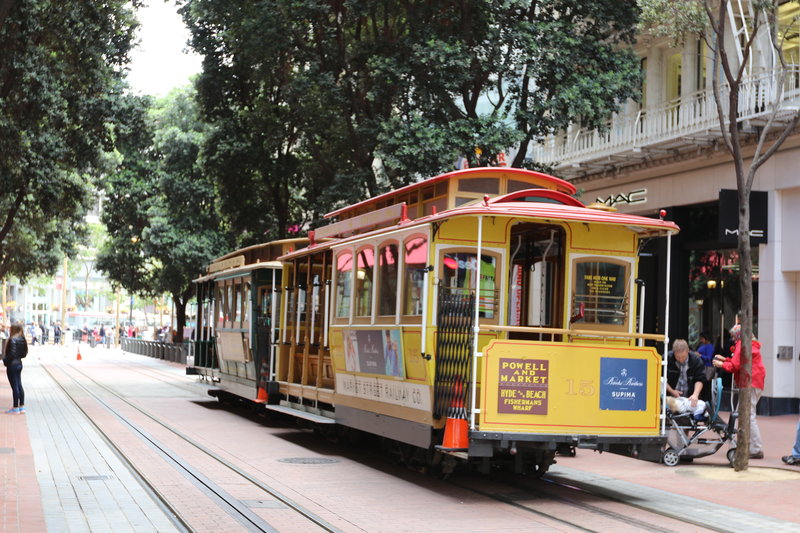 AAA/Thuyvi Gates
From the Buena Vista head to the Hyde Street boarding area of the Powell-Hyde cable car line. Hop aboard (after waiting in the inevitable line) and hang on tight as the car lurches up Hyde to Lombard Street and a peek at the famously steep one-block section that winds in a series of sinuous S-curves down to Leavenworth Street.
This route passes the Cable Car Museum and Powerhouse Viewing Gallery , where visitors can learn about the massive engine-and-wheel system that powers the world's last manually operated cable car system. Take the cable car all the way to Market Street (via Powell Street), then walk down Market to The Embarcadero (or get on Muni at the Powell Street station and disembark at the Embarcadero station).
AT&T Park, at the south end of The Embarcadero, is home to the 2010, 2012 and 2014 World Series champion San Francisco Giants, much beloved by Bay Area sports fans. In addition to winning ways (23 National League pennants and 20 World Series appearances to date), the team has boasted such notable Hall of Famers as Juan Marichal, Gaylord Perry and the one and only Willie Mays.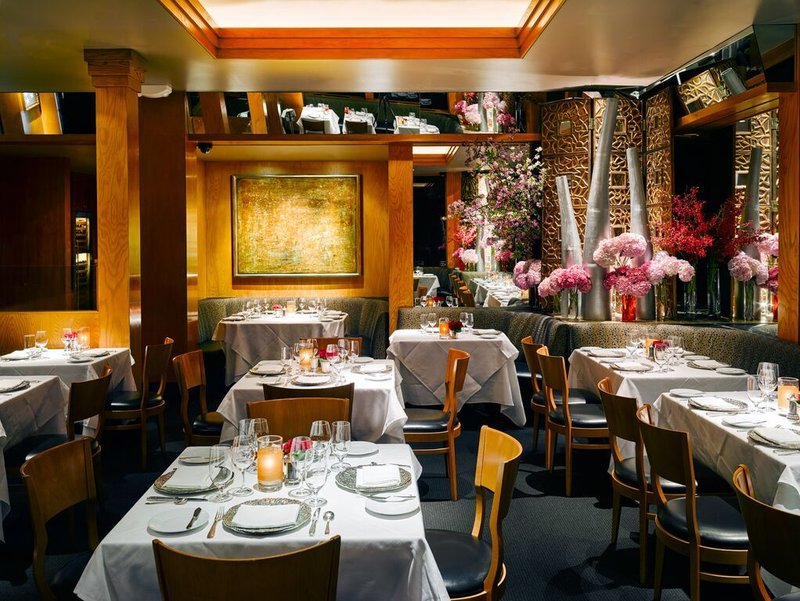 Gary Danko/Douglas Friedman
If you don't have tickets, you're not a baseball fan or it's not baseball season—and you're in the mood for something special—have dinner at Gary Danko . (Don't, however, expect to just waltz in; advance reservations are essential.) The small space—only 75 seats—is exquisitely appointed. Danko, a James Beard Foundation award winner and critically acclaimed American chef, employs classic techniques to prepare extraordinary, seasonally based dishes. The five-course tasting menu and wine pairing is admittedly pricey, but the food and service are absolutely top notch. You'll want to dress up for the occasion.