San Francisco Sports and RecreationBay Area fans vigorously support their hometown teams, and San Francisco's and Oakland's professional and college lineup—the Giants, Oakland A's, 49ers, Golden State Warriors and Sharks—offer plenty to cheer for. In addition to the spectator sports venues listed below, the Cow Palace, 2600 Geneva Ave. at Santos Street in nearby Daly City, is a venue for rodeos, ice shows and other events; phone (415) 404-4100.
San Francisco's wilder side is within the 76,500-acre Golden Gate National Recreation Area. The city's northern and western shorelines offer scenic views and miles of walking trails, a peaceful vacation getaway for bird-watchers, beachcombers, hikers, bicyclists, surfers and nature lovers.
Baseball Led by young pitching ace Madison Bumgarner, the San Francisco Giants won the 2014 World Series. The Giants play at Oracle Park. The stadium is right off The Embarcadero at 24 Willie Mays Plaza, seven blocks south of Market Street and just south of Pier 40. Phone (415) 972-2000 for ticket information. The rival Oakland A's play at the RingCentral Coliseum, I-880 at the 66th Avenue exit in Oakland; phone (877) 493-2255.
BasketballLed by Stephen Curry, the Bay Area's Golden State Warriors achieved the seemingly impossible during the final game of the 2016 NBA season, defeating the Memphis Grizzlies to notch their 73rd win and break the Chicago Bulls' wins record set in 1996. The Warriors play at Oracle Arena in Oakland, off I-880 at either the 66th Avenue or Hegenberger Road exits. Phone (510) 569-2121 for ticket information.
Area universities whet hoop appetites as well. In San Jose, the San Jose State University Spartans play their home games at the Event Center at San Jose State University, 7th and E. San Carlos streets; phone (408) 924-6360. The University of California Golden Bears play at Haas Pavilion in Berkeley; phone (800) 462-3275. And fans of the University of San Francisco Dons head to War Memorial Gymnasium, 2335 Golden Gate Ave.; phone (415) 422-2873.
FootballBay Area football fans divide their attention between two NFL teams. The San Francisco 49ers have won the Super Bowl five times. From 1971 to 2013 they played home games at Candlestick Park, built in the late 1950s for baseball's San Francisco Giants. This city landmark near the San Francisco Bay shoreline is being disassembled manually by construction crews (local residents opposed an implosion) to make way for new housing, a mall and a hotel.
The 49ers play at Levi's Stadium, in Santa Clara at 4900 Marie P. DeBartolo Way and Tasman Avenue. Convenient access to the stadium is off major highways US 101, I-880, the Lawrence Expressway and the San Tomas Expressway. The venue has stadium-wide Wi-Fi capability and enormous HD video screens, features a green roof atop the suite tower on the west side and has three solar bridges that connect to the main parking area. For ticket information phone (415) 464-9377.
On game days, Caltrain provides service from San Francisco that connects with Valley Transportation Authority (VTA) light rail trains and buses at the Mountain View Transit Center, Evelyn Avenue and Castro Street. Caltrain passengers must purchase a separate ticket to ride VTA light rail; adult day passes can be purchased at Caltrain station ticket machines. For schedules and more information check the Caltrain or VTA websites or phone VTA at (408) 321-2300. 49ers games are always fun things to do with friends.
HockeySouth of San Francisco Bay, the San Jose Sharks players circle their prey. The Bay Area's NHL representatives take to the ice at the SAP Center at San Jose, 525 W. Santa Clara St. at Autumn Street. For schedule and ticket information phone (408) 999-5757.
Bicycling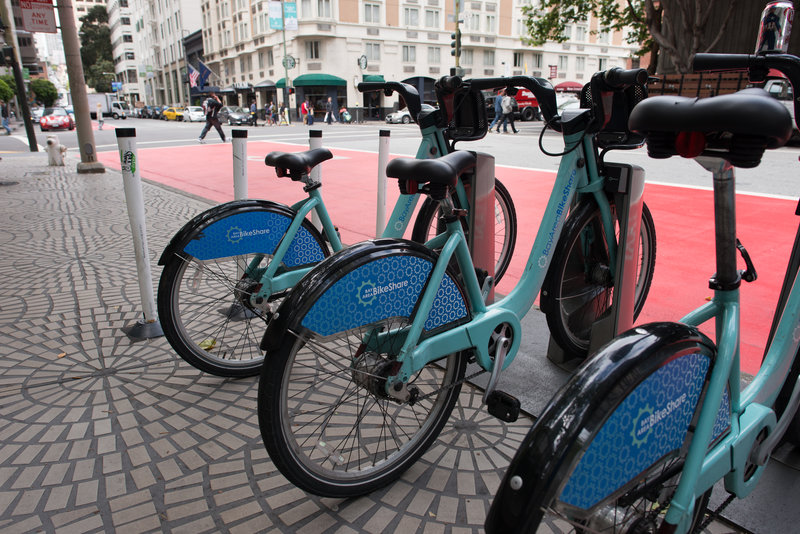 AAA/Thuyvi Gates
Many San Franciscans avoid the city's formidable traffic congestion by riding a bike, and for visitors it's a great way to get some exercise on their trip while getting from point A to point B or seeing the sights. The steep hills do present a logistical challenge unless you're in great shape. Two of the flattest—and safest—areas to ride a bike are parallel to the Great Highway that runs along the ocean and in Golden Gate Park.
Bay City Bike provides rentals, maps, tours and recommended itineraries for those who want to pedal their way around the Bay Area. Two routes are especially popular: north across the Golden Gate Bridge to Sausalito, then returning by ferry; and through the Presidio into Golden Gate Park. Bikes can be rented at four locations in the Fisherman's Wharf area—2800 Leavenworth St., 2661 Taylor St., 2830 Jones St. and 501 Bay St. A fifth location is at 1669 Haight St. For more information phone (415) 346-2453.
Bike rentals are located along Stanyan Street and Geary Boulevard near Golden Gate Park. Golden Gate Park Bike and Skate, 3038 Fulton St. at 6th Avenue, is another convenient rental outlet for a ride through Golden Gate Park, the Presidio or across the Golden Gate Bridge. Rollerblades and roller skates also can be rented; phone (415) 668-1117. Several area touring companies organize longer jaunts to the Sonoma wine country and other scenic spots outside the Greater Bay Area.
Blazing Saddles offers bike rentals as well as tours. One of the fun things for couples to do is biking the popular route along the San Francisco Bay Trail over the Golden Gate Bridge to Sausalito; the return trip by ferry. This 9-mile-long route, which can be done as either a self-guiding or guided excursion, is quite scenic, stays close to the bay and covers mostly flat terrain, with the last 3 miles to Sausalito going downhill. Bikes can be rented at six Fisherman's Wharf locations, (2715 Hyde St., 2555 Powell St., 465 Jefferson St., 550 North Point St., 757 Beach St. and Pier 41) as well as at 433 Mason St. in Union Square. For more information phone (415) 202-8888.
Ford GoBike enables you to rent a bike from a solar-powered electronic kiosk, ride to your destination and return it at the closest kiosk. You can take a single ride or buy a day pass or annual membership. Single 30-minute ride $3 (available only through the app); $10 for a day pass or $124 per year with unlimited 45-minute trips.
Most kiosks are located in the Financial District, along Market Street and in the vicinity of Civic Center, with a planned expansion to other city neighborhoods, including the Mission, the Castro, Upper Market and Hayes Valley. The program is especially popular with commuters due to the emphasis on short trips. For more information phone (855) 480-2453.
FishingAt Lake Merced, south of the San Francisco Zoo & Gardens, anglers can fish for largemouth bass, trout and catfish. Fly-casting pools are south of the bison paddock in Golden Gate Park, next to the Angler's Lodge; bring your own equipment. There's a municipal fishing pier in Aquatic Park, at the northern end of Van Ness Avenue. You can also cast a line from Pier 7 on The Embarcadero, a short walk north of the Ferry Building.
For a different kind of adventure travel, guided sport-fishing excursions ply the waters of San Francisco Bay for striped bass and giant sturgeon; outfitters are concentrated along Jefferson Street in the vicinity of Fisherman's Wharf.
GolfRain may dampen fairways during winter and temperatures can also be on the nippy side, but otherwise San Francisco's year-round mild weather is nearly ideal for golf. With space at such a premium, however, there are only a few public courses within the city limits.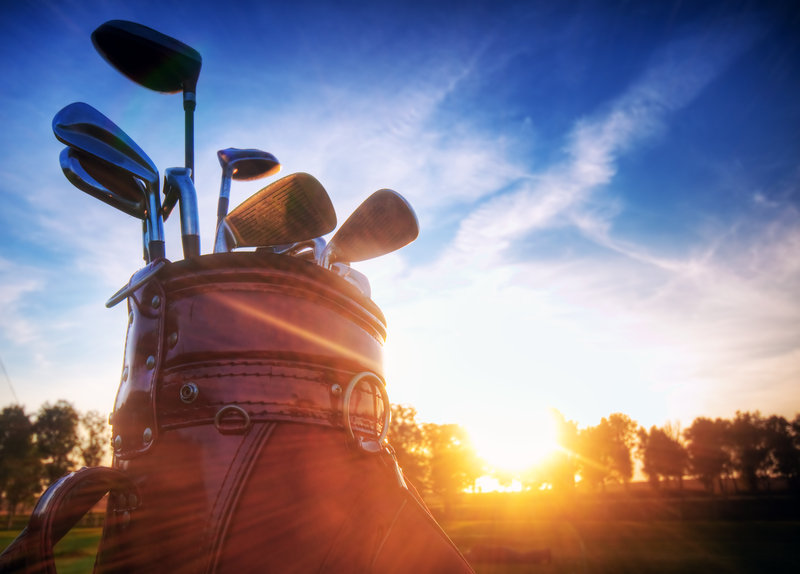 Shutterstock.com/PHOTOCREO Michal Bednarek
Two municipal courses are open to the public at TCP Harding Park, at Harding Road off Skyline Boulevard. The championship Harding Park Course has a backdrop of cypress-lined Lake Merced; the Fleming 9 Course features six par-3 and three par-4 holes. Phone (415) 664-4690.
The Lincoln Park Golf Course is at 34th Avenue and Clement Street in Lincoln Park. The layout includes glimpses of the ocean; phone (415) 221-9911. The Presidio Golf Course is on Finley Road at Arguello Boulevard; phone (415) 561-4661. There's also a nine-hole course at the western end of Golden Gate Park at 47th Avenue and John F. Kennedy Drive; phone (415) 751-8987.
HikingA 4-mile stretch of sandy coastline, Ocean Beach parallels the Great Highway that runs along San Francisco's Pacific back door. It offers few frills, but the flat terrain is ideal for an extended hike.
One of the most delightful getaways in San Francisco is the Coastal Trail, which runs above the rocky shoreline at Lands End from 32nd Avenue west to the Sutro Baths site. At the signed detour to Mile Rock Beach (at the trail's approximate midpoint), descend a set of steep steps down to a rock-strewn beach with crashing waves and a view of the Golden Gate Bridge. It's hard to believe this serene, spectacularly scenic trail is in a densely packed urban area.
Mount Tamalpais State Park and the Marin Headlands, just across the Golden Gate Bridge in Marin County, offer hiking routes ranging from gentle to strenuous. Trails at higher elevations have the added bonus of sweeping San Francisco views. Miles of hiking trails run through the Presidio as well.
Also in neighboring Marin, Muir Woods National Monument has paved walkways threading through a reserve of towering redwoods. There's no more majestic place in the Bay Area to commune with nature.
The top of Bernal Heights Park, off Bernal Heights Boulevard in the Bernal Heights neighborhood, offers fantastic 360-degree views of the downtown skyline, San Francisco Bay and the hills of the East Bay. This is one of the sunniest areas in the city, and the windswept slopes of Bernal Hill often escape the afternoon fog that can roll in elsewhere. A network of dirt trails winds around the hill's flanks and up to the summit.
For a good workout, hike to the top of Buena Vista Park (access off Haight Street, Buena Vista Avenue E. or Buena Vista Avenue W.). A crisscrossing network of paved walking paths and wooden steps offers various ways to get there. Although you'll be huffing and puffing, the trails are shady. At the summit is a flat oval space where you can catch your breath and admire the tree-framed views. Despite being a popular place for city dwellers to walk their dogs, it's seldom crowded.
Nearby Corona Heights Park is also a hill, bare and rocky rather than cloaked in trees. A trail winds around the hill to the top, where the 360-degree views of downtown San Francisco, the Bay Bridge, Twin Peaks, the Potrero Hills and the Castro, Noe Valley and Haight-Ashbury neighborhoods are spectacular on clear days. To get there, take Castro Street north to 16th Street, then 16th Street west to Museum Way.
Jogging and Walking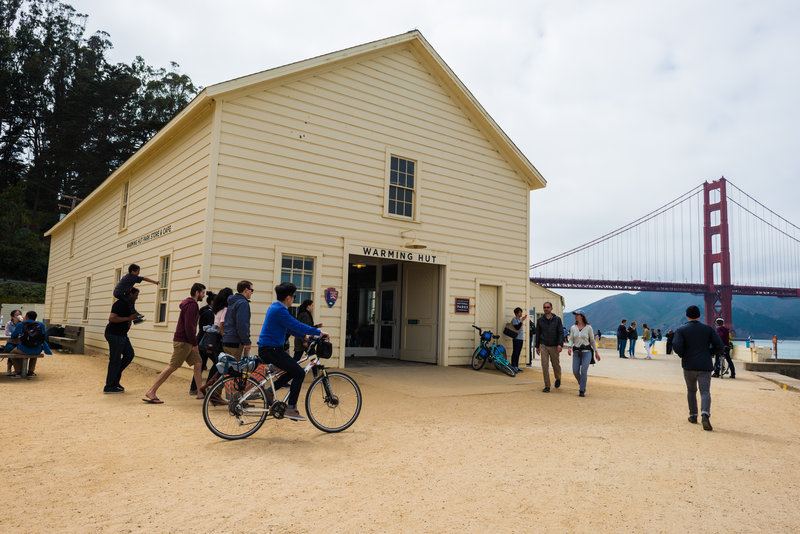 AAA/Thuyvi Gates
Stroll the foot trails in Golden Gate Park from the eastern boundary to the ocean, admiring the gardens and verdant parklands along the way; just remember that the distance is 3 miles and you'll have to walk back (or hop on a Muni bus).
If you don't mind whipping winds, the pedestrian walkway along the east side of the Golden Gate Bridge offers breathtaking views. It's 1.7 miles across, so unless you're up for the trek back, arrange to have someone pick you up at the north end.
One of the city's most popular jogging areas is the paved Golden Gate Promenade, part of the regional Bay Trail. It runs the length of Crissy Field to Fort Point and up to the southern end of the Golden Gate Bridge (via a stairway). There's beach access, a salt marsh habitat frequented by many types of birds and great views of the bridge. This level stretch is used by cyclists and in-line skaters as well as walkers and joggers.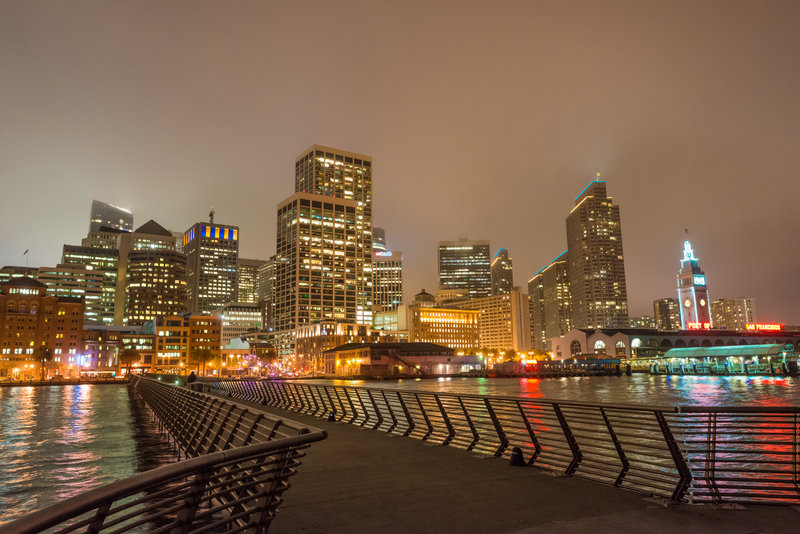 AAA/Thuyvi Gates
The Embarcadero is a wonderful place to take a brisk early morning walk. From Pier 39 at Fisherman's Wharf south to the Ferry Building the sidewalk is wide and the views of the bay, the Bay Bridge and Alcatraz Island are terrific. Two blocks south of the Ferry Building is Rincon Park, a narrow strip of green bordering The Embarcadero where you can ponder "Cupid's Span," a giant sculpture of a bow and arrow created by Claes Oldenburg and Coosje van Bruggen.
If it's plain old exercise you're looking for, simply step outside your hotel room door. The city's seven principal hills provide both a good workout and scenic vistas galore, and some of the steepest sidewalks have built-in stairways. For starters, puff your way up Lombard Street from Leavenworth to Hyde—the famous block dubbed "the crookedest street in the world"—then turn around and take the much easier way back down, stopping at one of the wonderful nearby restaurants to renew your energy.
Tennis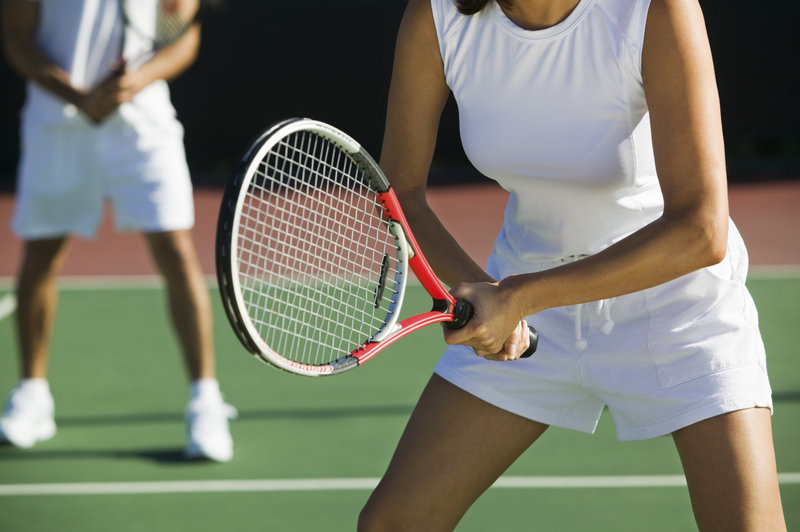 IPGGutenbergUKLtd/iStockphoto.com
There are courts in Golden Gate Park off John F. Kennedy Drive opposite The Conservatory of Flowers. A fee is charged and reservations are recommended on weekends; phone (415) 753-7001. The San Francisco Recreation and Parks Department maintains some 150 public courts available on a first-come, first-served basis, as well as eight indoor swimming pools and an outdoor pool; for more information phone (415) 831-2700.
Water SportsSailing the blue waters of San Francisco Bay offers year-round enjoyment and a close-up look at the San Francisco waterfront, Alcatraz and Angel islands, the Golden Gate Bridge and the San Francisco-Oakland Bay Bridge. Currents are tricky, however, so unless you're an accomplished skipper it's best to leave the sailing to experienced hands. Boat rentals and charters are available throughout the greater Bay Area.
Row, paddle and electric boats can be rented at Stow Lake in Golden Gate Park—perfect for a lazy afternoon sojourn around Strawberry Hill, which rises from the middle of this man-made body of water. Phone (415) 386-2531 for rates and information.
Another perfect afternoon on the water is a ferry ride to Sausalito or Tiburon. The Blue & Gold Fleet, departing from Pier 41 at Fisherman's Wharf, offers daily service to both of these picturesque waterfront communities, along with bay sightseeing cruises.