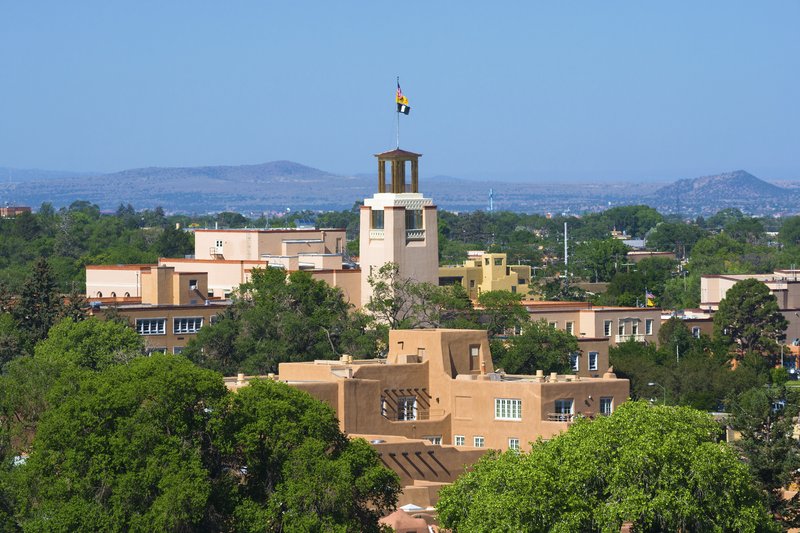 Davel5957/iStockphoto.com
Under a bright blue desert sky, surrounded by mountains and ancient pueblo villages, Santa Fe's short, earthen-hued adobe buildings huddle around a central plaza. Native and Hispanic Catholic influences blend effortlessly in this small capital city, which was occupied by Pueblo Indians, Spanish colonists and Mexican explorers before a U.S. flag flew atop the plaza. Once a site for bullfights, battles, cattle grazing and promenades, the plaza remains the nucleus of Santa Fe. A block from the Cathedral Basilica of St. Francis of Assisi and abutting the Palace of the Governors, it's here where festivals are held, where teenagers gossip into the wee hours and where visitors congregate before heading to the art museums, churches, galleries and historic buildings for which the city is known.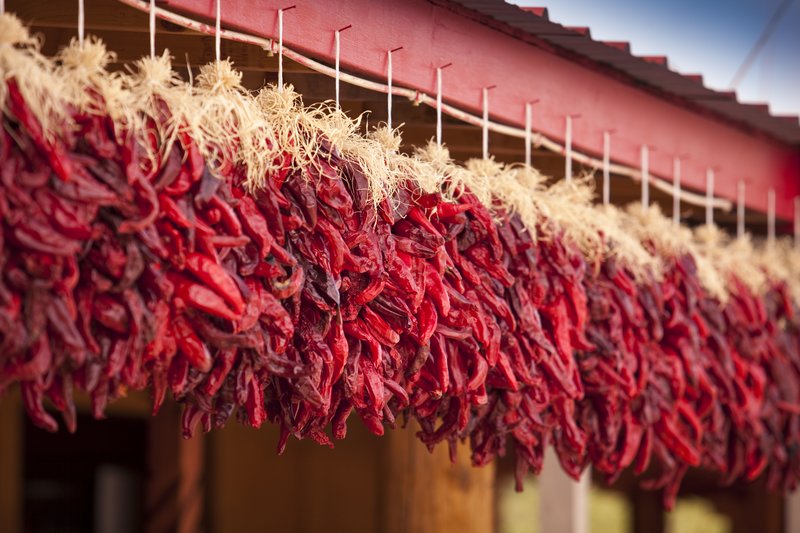 Santa Fe's distinctive style is evident—you'll find it in the adobe haciendas and quiet courtyards; spicy, chile-laced Southwestern cuisine; churches, chapels and cathedrals; cultural celebrations; and museums and galleries filled with vivid folk art, Native American pottery, contemporary expressions and Hispanic devotional art. Artists and creative sorts have been drawn to Santa Fe for its minimal, rugged landscape since the 1920s, and more recently it has blossomed into an arts community of international merit and an important destination for art lovers.
In Depth
Having celebrated its 400th birthday in 2010, you'd think Santa Fe would stop, take a deep breath and rest on that considerable achievement. Not a chance. While this city treats preservation of the past as paramount, there are always new things to see. You can return a dozen times and still leave with new discoveries and experiences under your belt.
The high desert country that surrounds New Mexico's capital city, however, is timeless. Undulating hills that stretch to the horizon in all directions are a study in shades of buff, beige and brown. The landscape is speckled with clumps of Artemisia tridentate—more commonly known as sagebrush—a hardy shrub with silvery-gray leaves, a pungent fragrance and a tolerance for arid conditions. In the distance, mountains stand like sentinels—the Jemez range to the northwest, the Sangre de Cristos to the northeast. It's an austere but awesome natural setting heightened by remarkably clear air and the intense azure blue of the vast New Mexico sky.
Surely it's a setting that captivated Spanish explorer Juan de Oñate. In 1598 he led the initial effort to colonize the region that was claimed for the Spanish Crown as the province of Santa Fé de Nuevo México. Ten years later the newly appointed Spanish governor, Don Pedro de Peralta, founded a city that was to be the seat of power for all imperial holdings north of the Rio Grande. Peralta lived up to the Spanish penchant for cumbersome titles, naming it La Villa Real de la Santa Fé de San Francisco de Asis—the Royal Town of the Holy Faith of St. Francis of Assisi.
In 1610 Santa Fe became the provincial capital. It's a designation the city has retained ever since, except for a brief period during the Pueblo Revolt of 1680 when Indian villages banded together to expel the colonizers. That same year a mission was established to serve as headquarters for a second power in the region: the church. Franciscan fathers fanned out to usher the Indians into the Christian fold; according to a 1617 report, 14,000 souls had been converted. Four hundred years later the sturdy walls of the San Miguel Mission Church are still intact.
Spanish colonists adopted a tried-and-true method of construction for their own churches, government buildings and other structures. The Pueblo Indians used adobe, a mixture of earth, straw and water that was shaped into bricks and dried in the sun. The bricks were stacked and bonded together with more adobe. Pueblo walls were frequently several feet thick, with entry to their dwellings through an opening in the rooftop accessed via ladder. These walls efficiently kept the interiors cool in summer and warm in winter.
Innovations like mud-brick fireplaces and hornos (outdoor ovens) were added. A few buildings from this era survive today. The Oldest House on E. De Vargas Street (across from the San Miguel Mission Church) was built around 1646; although the "oldest" title also is claimed by houses in Connecticut, Florida and Massachusetts, this is the only one made of adobe. Another place to see adobe dwellings in their original state (minus doors and windows that were added later) is at Taos Pueblo.
Question: What's a non-authentic adobe? Answer: Most of the buildings in town. In 1912 a code was passed requiring the use of a style called Spanish Pueblo Revival. It incorporated the defining features of local architecture, which included earth-toned, flat-topped buildings, wood-beamed ceilings (vigas), and door and window frames painted white or turquoise. But the majority of houses and commercial structures in the city have stucco surfaces that mimic adobe, referred to amusingly as "Santa Fake" and faux-dobe (foe-dough-bee).
Authentic adobe or not, Santa Fe still looks like no other place in the country. "The City Different" prides itself on the cultivation of "Santa Fe style." It's a term that goes beyond decorative details like clay pots, cow skulls, Southwestern blankets and Native American artifacts (there are plenty of those).
Santa Fe style embraces the use of natural materials to enhance the stark natural beauty of the landscape. That's why you'll see, along with the omnipresent adobe, weathered stone walls and picturesque fences made from tree branches lashed together. And everything is suffused with the elusive quality of light that has long attracted painters and photographers, a constant interplay between piercing sun and flickering shadow that's downright mesmerizing.
By Spanish decree the original town was laid out around a central square, bordered on one side by the seat of government (the Palace of the Governors, which looks much the same now as it did 4 centuries ago), and on the other by a church (the present-day Cathedral Basilica of St. Francis of Assisi). A grid of narrow streets and alleyways radiated out from this central point. Today, of course, these streets are lined with shops, local restaurants, art galleries and museums, forming a compact downtown core that's best experienced on foot.
A magnet for residents and visitors alike, The Plaza is a popular destination morning, noon and evening. It has tree-shaded green lawns and plenty of benches where you can relax and take in the scene. Street musicians contribute a frequent soundtrack. In summer flower baskets hang from the ornamental wrought-iron lampposts, and during the Christmas holidays walkways and rooftops glow with the soft light from farolitos, small paper bags holding sand and a single lit candle. The Plaza is Santa Fe's heart, a perfect starting point for exploring a city that's different in the most delightful way.
Guided downtown walking tours, led by docents from the New Mexico History Museum, depart from the blue gate at the Palace of the Governors April to October; phone (505) 476-5200. Historic Walks of Santa Fe also offer guided walking tours departing from various hotels; phone (505) 986-8388.
Given all this history and culture, it's no surprise that the city's events calendar is packed. Rodeo de Santa Fe, which takes place in late June, draws big crowds who cheer on hundreds of cowboys and cowgirls competing in barrel racing, bull riding, calf roping and steer wrestling.
The Fiestas de Santa Fe has been observed since 1712. Always taking place the weekend after Labor Day, it features mariachi concerts, an arts and crafts festival at The Plaza, lectures, entertainment and traditional mass services. The festivities culminate with the ritual burning of Zozobra, a 50-foot-tall marionette effigy known as Old Man Gloom, in order to dispel the travails of the previous year (it's advised not to bring young children to this particular event).
Celebrate Santa Fe's culinary side at the Santa Fe Wine and Chile Fiesta. Dozens of local restaurants and West Coast wineries participate in this foodie extravaganza. Activities include wine seminars, cooking demos and guest chef tours, which combine a visit to attractions like El Rancho de las Golondrinas or Georgia O'Keeffe's former home in the town of Abiquiu with a chef-prepared gourmet lunch. The Grand Tasting, the fiesta's keynote event, is a delicious treat.
Search out high-quality keepsakes at the Santa Fe International Folk Art Market; this July event showcases the work of artists from more than 80 countries. The Traditional Spanish Summer Market in late July celebrates Hispanic heritage through art, music and dance. The Indian Market in late August is Santa Fe's oldest and largest market, celebrating emerging and established artists from some 100 tribes.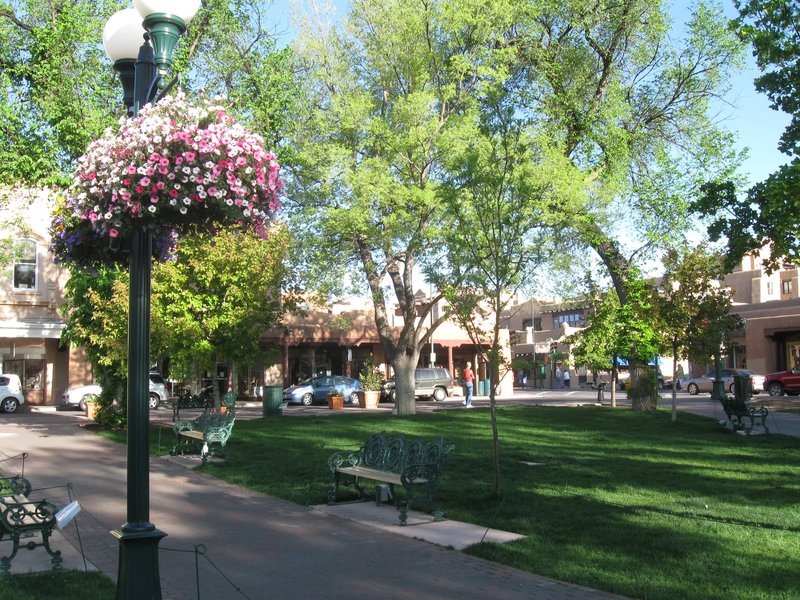 What to Do in Santa Fe
Hang out at The Plaza (officially Santa Fe Plaza), the heart of the city. People gather at the square morning, noon and night to relax, socialize and browse. Sit on a bench and have your morning coffee before hitting the maze of shops that surround this pretty, peaceful green space.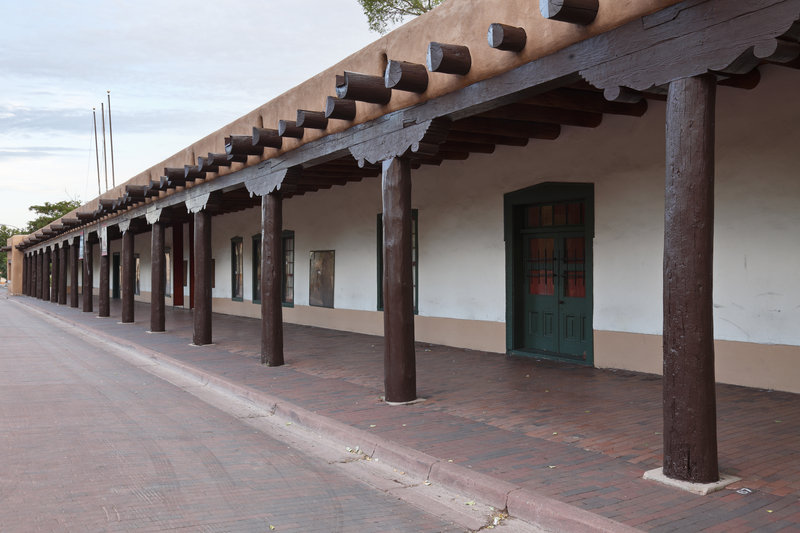 compassandcamera/iStockphoto.com
Check out the crafts, jewelry, sand paintings and other artworks created by Native American artisans that are for sale under the portal (porch) of the
Palace of the Governors
bordering one side of The Plaza. Then step inside this low-slung adobe building and take a look at exhibits that chronicle Santa Fe's long history.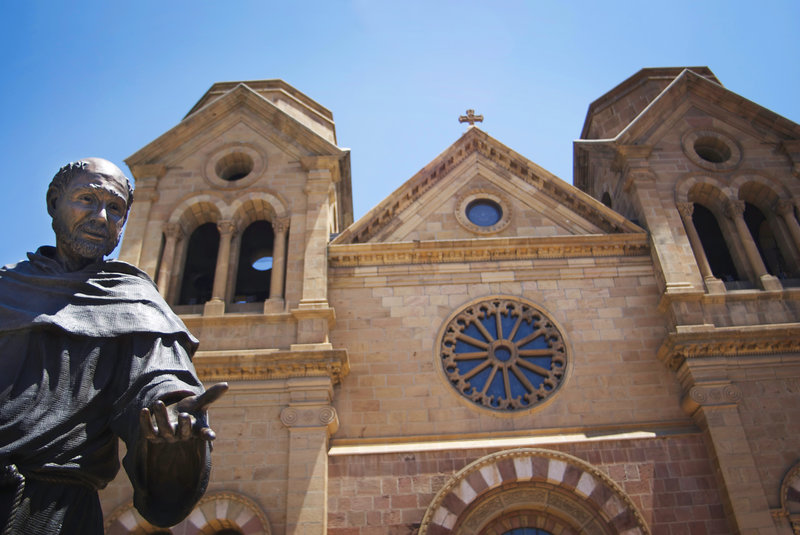 amygdala_imagery/iStockphoto.com
Relax in the tree-shaded garden at the
Cathedral Basilica of St. Francis of Assisi
. This venerable building, the first church in New Mexico to be designated a cathedral basilica, anchors the east side of The Plaza and towers over its adobe neighbors.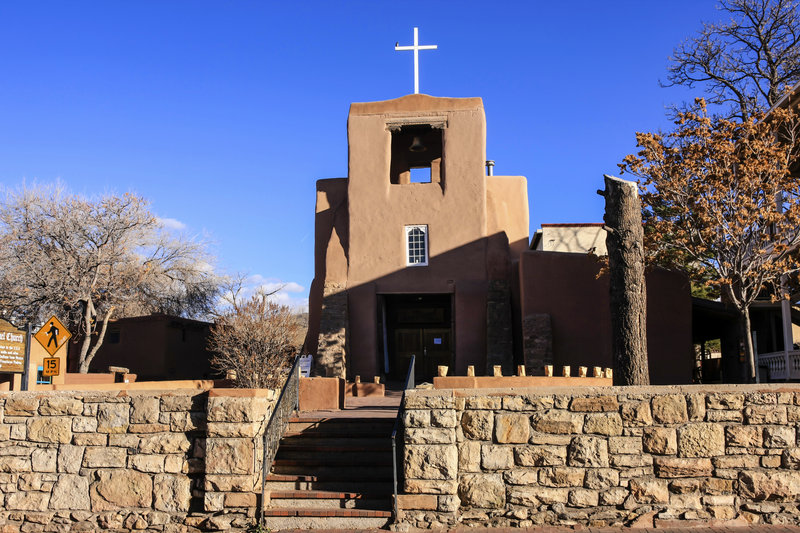 csfotoimages/iStockphoto.com
The sturdy adobe walls of the
San Miguel Chapel
have stood for more than 4 centuries. The church's sanctuary, with its massive wooden ceiling beams and beautiful hand-carved reredos (altar screen), is simple—and simply lovely.
Seek out little Sena Plaza, one of the city's hidden delights. A serene, plant-filled courtyard with a burbling fountain, the plaza is surrounded by buildings that were once the center of a 19th-century hacienda and today house shops and places to eat. On a pleasant evening the outdoor patio at
La Casa Sena Restaurant
is a delightful spot to dine al fresco while listening to live music.
Spend an afternoon wandering in and out of the art galleries along Canyon Road. Not only is this residential neighborhood one of the city's loveliest things to see, but many galleries feature public gardens filled with creative sculptures and other works of art. Don't miss the Wiford Gallery's collection of wind sculptures by Utah artist Lyman Whitaker, delicate-looking copper and stainless steel creations that twirl in the slightest breeze.
Have a classic New Mexican breakfast at
Tia Sophia's
. Locals love this cheerful little restaurant a block from The Plaza. You can't go wrong with green chile huevos rancheros or blue corn cheese enchiladas and a basket of puffy, cinnamon sugar-dusted sopaipillas.
When it's time for lunch, head to
Cafe Pasqual's
. Named for the folk saint of Mexican and New Mexican kitchens, this festively decorated eatery bustles all day—and with good reason. Dishes like carne asada, mole enchiladas and an awesome green chile cheeseburger are made to order, expertly spiced and absolutely delicious. If you're suitably inspired by the city's culinary excellence, sign up for a cooking class at the Santa Fe School of Cooking, just steps away from the plaza on San Francisco Street.
Attend a summer performance given by the highly regarded Santa Fe Opera. This stunningly modern open-air theater has an ace in the hole: a dramatic natural backdrop courtesy of the Sangre de Cristo Mountains.
From New Mexican carved wood cupboards (trasteros) to Mexican mayólica (tin-glazed earthenware) to Indonesian shadow puppets, the collections at the
Museum of International Folk Art
are noteworthy. Don't miss the colorfully creative miniature village scenes by Spanish and Latin American artists.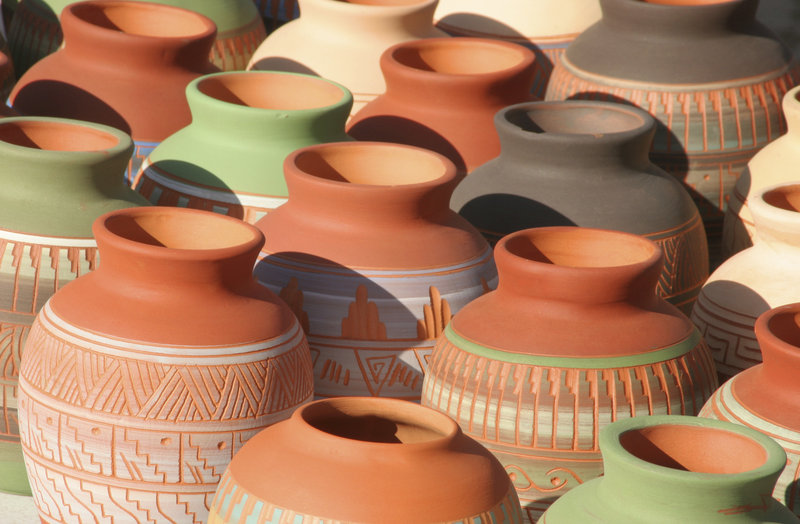 Shopping in Santa Fe
Shopping is a favorite way to while away the time in Santa Fe, but where you go depends on your vacation agenda. Downtown is shopping central, with stores and boutiques catering to just about every taste (and disposable income level). Serious art collectors for whom money is no object head for Canyon Road, while the up-and-coming Railyard District offers additional shopping opportunities.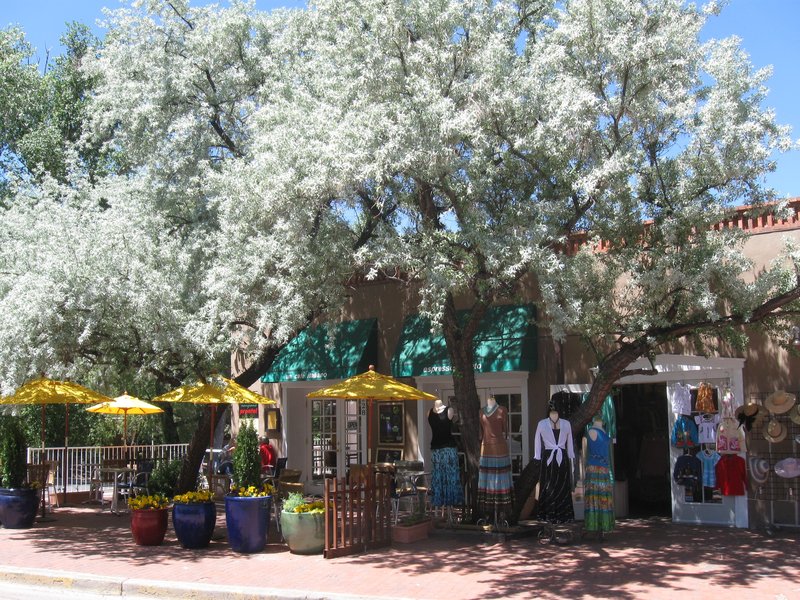 Many shops traffic in the usual T-shirts and Southwestern-themed souvenirs, but you also can find more offbeat and specialized merchandise. The mini-malls are as good a place as any to start. Plaza Mercado (entrances on San Francisco, Galisteo and Water streets) has more than 30 specialty retailers.
The Santa Fe Arcade (60 E. San Francisco St. on the south side of The Plaza) is a sleek three-level indoor mall with trendy shops specializing in stylish Western wear, custom-made boots, home accessories and gold and silver jewelry. Malouf on the Plaza specializes in pricey, high-end clothing and accessories: designer fashions, handbags, jewelry and shoes for her; shirts, ties, sportswear and tailored apparel for him.
Art galleries are scattered throughout downtown. POP Gallery (125 Lincoln Ave., next to the New Mexico History Museum) displays photography, jewelry and modern art and sculpture in varied media. Most of the items are expensive, but there are some reasonable deals to be had. D R Fine Art Santa Fe (123 Galisteo St.) sells contemporary Southwest landscape paintings by David Rothermel. Moon Rabbit Toys (112 W. San Francisco St.) stocks toys from all over the world, an eclectic array of stuffed animals, high-quality jigsaw puzzles and the latest must-owns for serious gamers.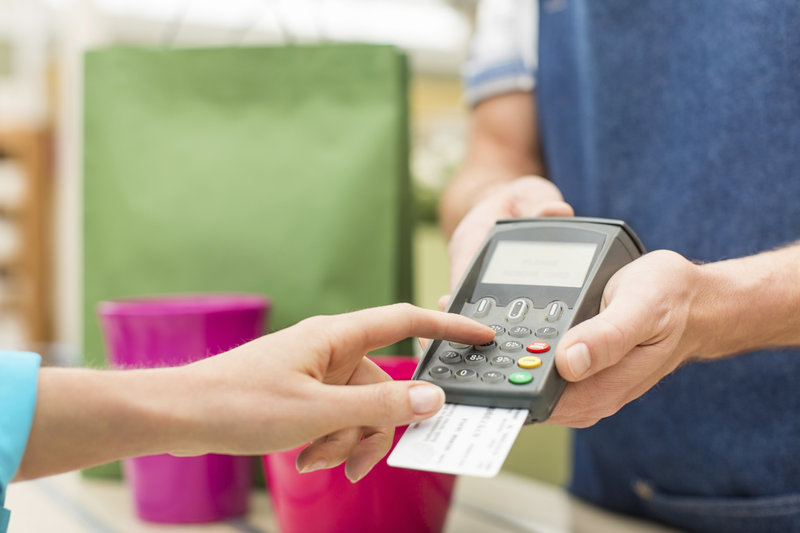 londoneye/iStockphoto.com
The Shops at La Fonda at the La Fonda Hotel (100 E. San Francisco St.) offer clothing, designer jewelry, handmade textiles, folk art and kitchen accessories. Also at the hotel is Señor Murphy's candy shop, where you can sample goodies like chocolate piñon nut clusters. Across the street is the O'Farrell Hat Company, selling customized cowboy hats and "Santa Fe sticks," locally handcrafted canes and walking sticks made from fine hardwoods.
The buildings surrounding Sena Plaza (125 E. Palace Ave. opposite The Plaza) were once part of one big single-family residence, with multiple rooms for family members as well as various tradesmen. The shops here sell pottery, ceramics and touristy gifts. A courtyard (accessible only through two narrow entryways on Palace Avenue) has shade trees, benches, a fountain and an arbor; it's a secluded little spot to relax for a spell.
Few cities in the country offer a better selection of Native American art. Ortega's on the Plaza (101 W. San Francisco St.) carries Navajo weavings, Zuni fetishes, traditional turquoise jewelry, silver-studded belts, pottery and other treasures, along with a beautiful array of beadwork.
For a more personalized shopping experience, wander among the displays of traditional and contemporary jewelry, arts and crafts, pottery, sand paintings and other handmade items sold under the portal (porch) of the Palace of the Governors (105 W. Palace Ave.). Vendors spread their wares on blankets on the sidewalk outside this long adobe building. Although the casual setting might imply that haggling is acceptable, prices are usually fixed (though often a bargain compared with many shops). And it's fun to meet the artists and learn about their work.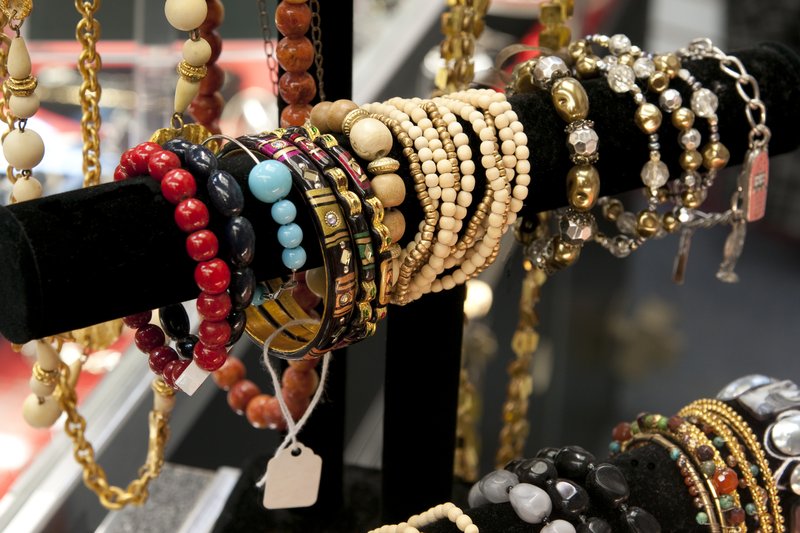 Michael Czosnek/iStockphoto.com
Within walking distance of downtown, Canyon Road (between East Alameda Street and Acequia Madre) is the upscale center of the Santa Fe art scene. The 10 or so blocks between Paseo de Peralta and Palace Avenue constitute a "gallery row" of festively decorated adobes trading in all manner of fine art, from paintings and sculpture to rugs, jewelry and custom-designed furniture.
Galleries dealing in contemporary works include Patricia Carlisle Fine Art (554 Canyon Rd.) and the Waxlander Gallery & Sculpture Garden (622 Canyon Rd.). At the Wiford Gallery (403 Canyon Rd.) there's an outdoor garden with Utah artist Lyman Whitaker's contemporary wind sculptures, delicate-looking copper and stainless steel creations that twirl whenever there's a breeze. Western-themed paintings by artists representing the early Taos and Santa Fe schools are displayed at the Nedra Matteucci Galleries (1075 Paseo de Peralta).
The Railyard District (along Guadalupe Street between Paseo de Peralta and Montezuma Avenue) is also worth investigating. Casa Nova (530 S. Guadalupe St.) has a little bit of everything—vibrantly colorful furniture, dinnerware, baskets, wall decorations and handicrafts, mostly created by African artists.
For Southwestern agricultural specialties like locally grown white corn, cactus honey and an incredible variety of heirloom tomatoes and dried chiles, check out the Santa Fe Farmers Market in the Railyard (Guadalupe Street at Paseo de Peralta). The Saturday market sets up 7-1 during the summer months, 8-1 the rest of the year; a Tuesday market is open 7-1 from June through September and 8-1 in May, October and November. Everything from pottery to hand-blown glass can be found at the Railyard Artisan Market, held in the Farmers Market Pavilion building Sundays 10-4, year-round.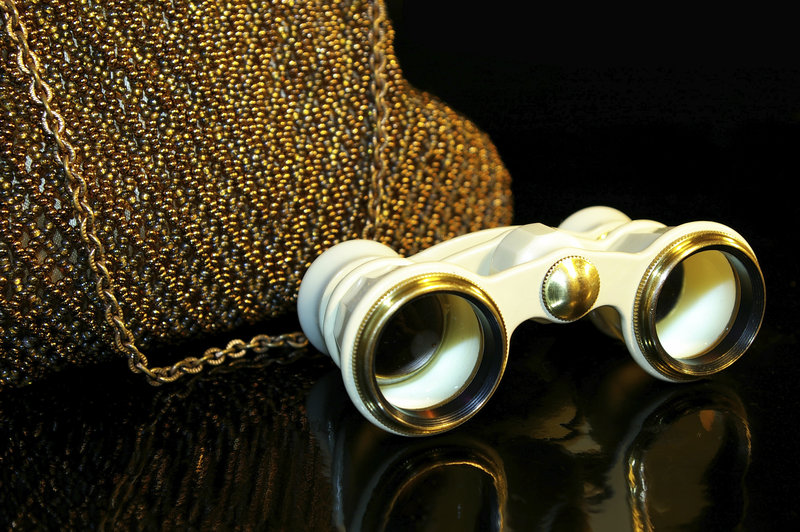 VYCHEGZHANINA/iStockphoto.com
Santa Fe Nightlife
Given Santa Fe's close relationship with the fine arts, it's no surprise that highbrow cultural events top the social calendar. First and foremost is the Santa Fe Opera, where classics like "Madame Butterfly," contemporary works and world premieres are performed in a state-of-the-art, open-air venue that has the Sangre de Cristo and Jemez mountains as a backdrop. This may be the only opera company in the world that has to compete with a spectacular sunset for the audience's attention. The show actually begins a couple of hours earlier, when opera goers begin arriving with lavish tailgate picnics in tow. Attendees also can take advantage of a preview buffet set up on the landscaped rehearsal grounds.
Some 40 performances are offered in July and August. Single ticket prices range $32-$225, depending on the seating section and performance date, and are nonrefundable. A roof covers all seating areas, but evenings can occasionally be cool, rainy or both. The facility is located 7 miles north of downtown Santa Fe on the west side of US 84/285 (exit 168). The box office is open Mon.-Fri. 9-5 (Mon.-Sat. 9-5 during the season); phone (505) 986-5900 or (800) 280-4654.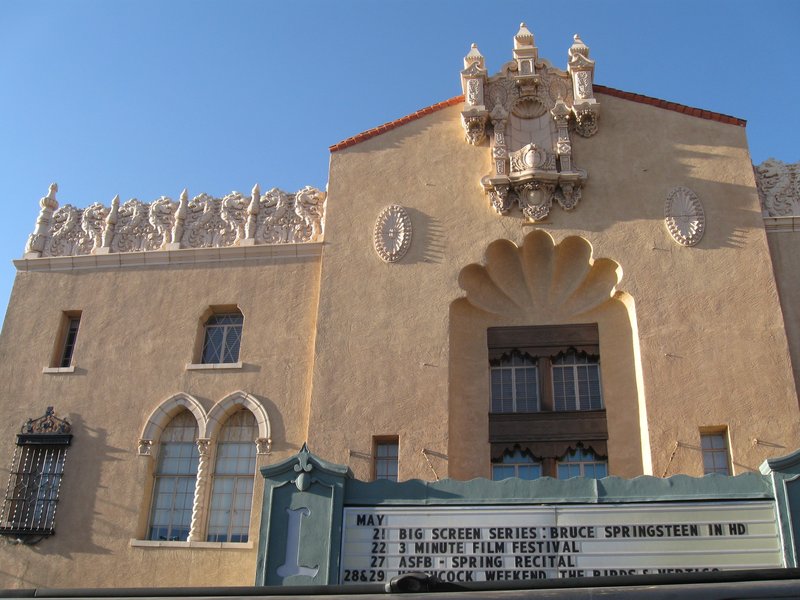 A variety of events—from the Santa Fe Chamber Music Festival, performances by the Santa Fe Symphony Orchestra and the Aspen Santa Fe Ballet, and popular music headliners to theater, ballet and classic film festivals—take place at the Lensic Performing Arts Center (211 W. San Francisco St.). The Lensic opened in 1931 as a movie palace and vaudeville theater; a major renovation in 2001 retained the building's distinctive Spanish-style facade and rooftop line of undulating sea serpents. Phone (505) 988-1234 for the box office.
The Pink Adobe (406 Old Santa Fe Tr. across from the San Miguel Mission Church) has been around since 1944, when Rosalea Murphy opened the doors of her restaurant. Locals refer to it as "the Pink," and the restaurant's Dragon Room Lounge is a popular hangout with the artsy crowd. The ambience is classy: dim lighting, walls decorated with carved wood dragons, and a bar with elm trees growing through the roof. Live music runs to jazz, salsa and flamenco, and the specialty margaritas pack a potent punch. Phone (505) 983-7712.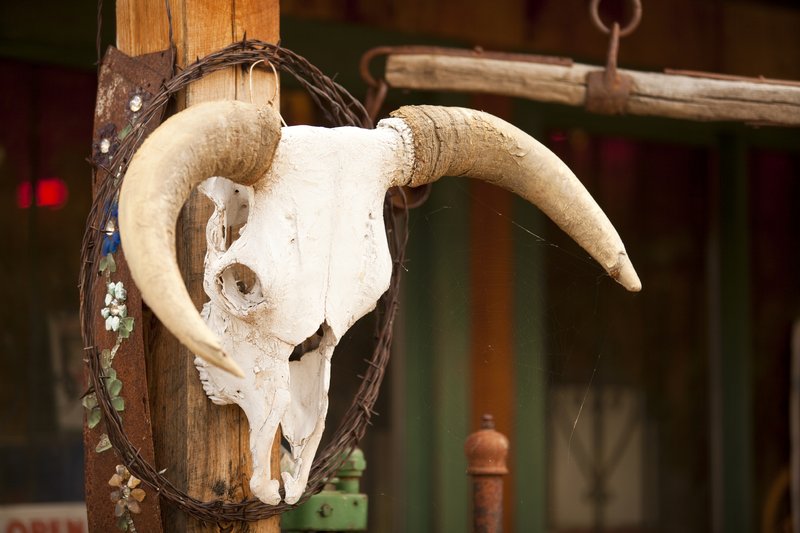 More raucous is dive bar Evangelo's (200 W. San Francisco St.). In the basement (Underground at Evangelo's) local rock and reggae bands tear it up several nights a week. The mahogany bar dispenses a variety of imported brews. Cowgirl BBQ (319 S. Guadalupe St.) has a big outdoor patio with a lantern-festooned tree, country bands, Cowgirl Karaoke nights and—parents take note—a Kid Corral to keep the young 'uns happy.
Or among the other nice things to do downtown, you could take an evening stroll. Weather permitting (meaning if it isn't too chilly), The Plaza is a pretty, peaceful spot to relax on a bench, enjoy an ice cream cone and people watch. You may even be treated to an impromptu concert by a couple of jamming musicians.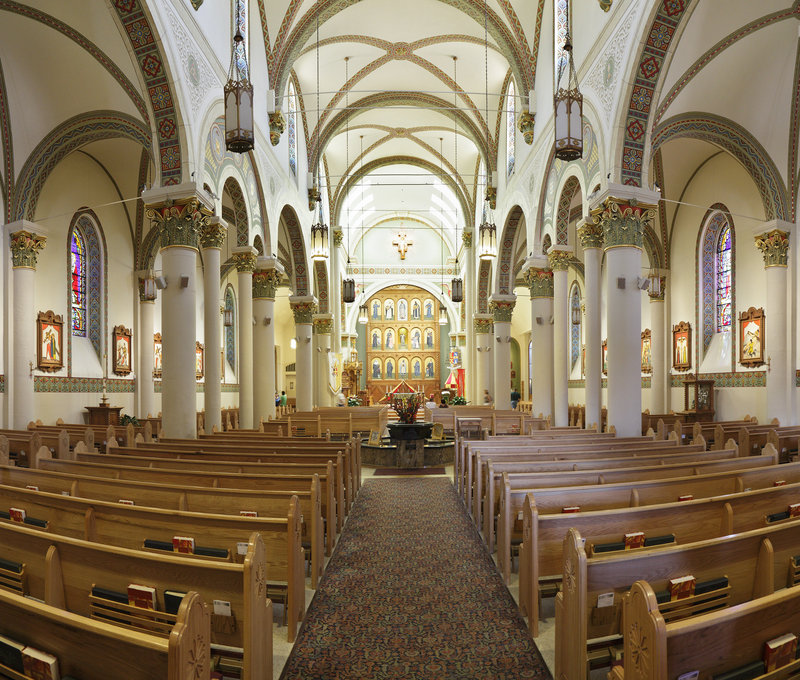 compassandcamera/iStockphoto.com
1-day Itinerary
AAA editors suggest these activities for a great short vacation experience.
Morning
Spend the morning hanging out downtown at The Plaza. Lushly leafy in the summer and warmed by rows of luminaria candles during the winter holiday season, this square block of trees, walkways and welcoming benches is meeting place central in Santa Fe. Have breakfast with the locals at
Tia Sophia's
(a block away at 210 W. San Francisco St.), touted for its authentic New Mexican grub. You can't go wrong with eggs, pinto beans and a blue corn cheese enchilada topped with red or green chile (or both).
Then grab coffee and explore. The
Cathedral Basilica of St. Francis of Assisi
, bordered by a lovely little park, has an imposing Romanesque architectural style that provides a dramatic contrast to the surrounding low adobe buildings, all tan colors and rounded contours. Immerse yourself in Georgia O'Keeffe's minimalist genius at the
Georgia O'Keeffe Museum
; the small but outstanding collection of her paintings is easily appreciated in an hour.
Shop. Downtown Santa Fe is packed with fun places to go, from trendy mall-type retailers (the Santa Fe Arcade, on The Plaza's south side) to souvenirs galore at the Five & Dime General Store and all things Southwestern at Ortega's on the Plaza (101 W. San Francisco St.), where you'll find Native American jewelry, pueblo pottery, Navajo weavings, beaded necklaces and other exquisitely crafted items. Browse for keepsakes in front of the
Palace of the Governors
, where Native American artists spread their wares on the sidewalk. Inside the building, once Spain's seat of government for the American Southwest, exhibits chart Santa Fe's 4-century history.
Afternoon
Shopping and sightseeing always work up an appetite, so head to
Cafe Pasqual's
(on Don Gaspar Avenue just off The Plaza) for lunch. You may well have to wait—this is a small place—but it's worth it for inventively prepared dishes like the bison burger with caramelized onions and roasted green chiles.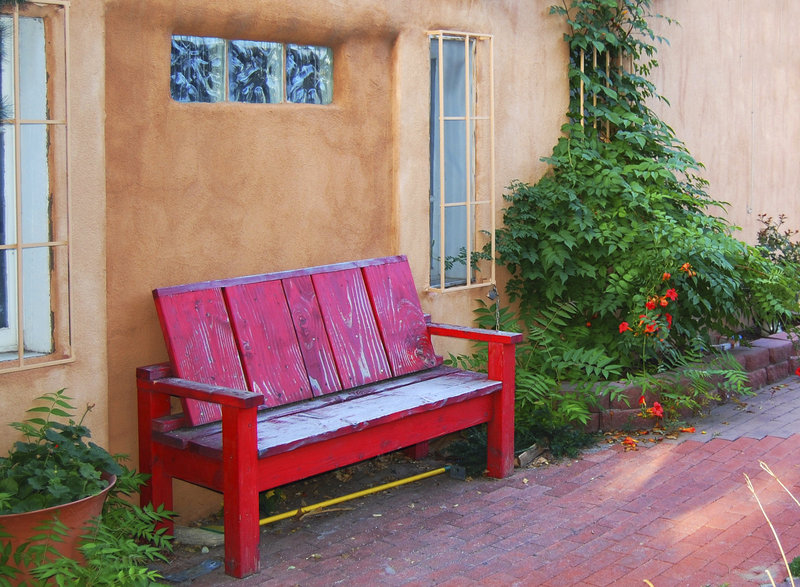 ivanastar/iStockphoto.com
Walk if off with a stroll down Old Santa Fe Trail to the
San Miguel Chapel
. Built in 1610, its simple, sturdy adobe walls enclose an interior with a timber-beamed ceiling and a breathtaking, hand-carved wooden reredos (altar screen) with paintings and statues of saints. Next door is the equally impressive
Loretto Chapel
, where a staircase leading to the choir loft incorporates two complete turns without any visible means of support; legend claims it was built by a mysterious carpenter who then vanished without a trace.
A couple of miles south of town via Old Santa Fe Trail is Museum Hill, where twin museums compete for your attention. The
Museum of Indian Arts and Culture
presents rotating exhibits covering everything from Huichol art to Native American couture. Here, Now and Always is an introduction to the American Southwest's indigenous communities told through poetry, story and song. At the
Museum of International Folk Art
peruse wood carvings, retablos (devotional paintings created on sheets of tin), masks, costumes, dolls and toys from North America, Latin America, Europe, Africa and the Middle East.
Not interested in slogging through a museum? Walk along Canyon Road, running 10 blocks between East Alameda and Acequia Madre streets. A selection of upscale art galleries—most of them housed in handsome adobe buildings—exhibit paintings, sculpture, pottery, rugs, custom-designed furniture and other high-quality items. They're fun to duck into even if your credit card never sees the light of day. Then chill for a bit in the outdoor garden at the Wiford Gallery (403 Canyon Rd.) while contemplating the array of copper and stainless steel wind sculptures that are set into motion at the slightest breeze.
Evening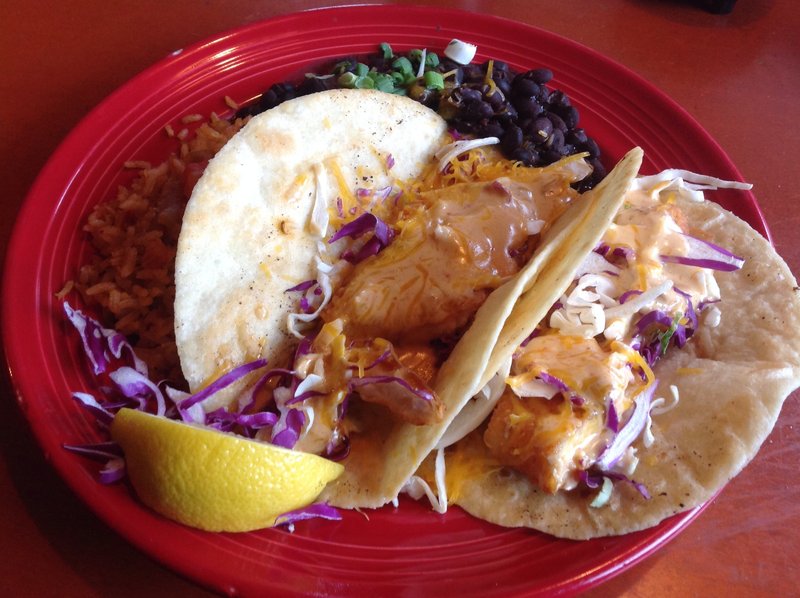 The Pink Adobe (406 Old Santa Fe Tr.) is a local institution, and the restaurant's Dragon Room Lounge is a fun place to have a before-dinner drink and mingle with Santa Fe's artsy crowd. If you're in the mood for an elegant dinner, make an evening of it at the
Coyote Cafe
. This refined yet cozy restaurant serves some of the most creatively prepared food in town—order the signature pepper-crusted elk tenderloin—and the wait staff provides top-notch service. Much more down home is the
Cowgirl Bar and Grill
(319 S. Guadalupe St.), with a tree-shaded patio, live music, "cowgirl karaoke" nights and specialties like Frito pie, mesquite-smoked beef brisket and butternut squash casserole.
In the mood for a day trip? Three villages are a short drive away, and visiting any one of them will reward you with fascinating insight into Tewa Indian culture and customs, especially if you time your trip to coincide with feast day celebrations.
Inhabited since 1200 A.D., Tesuque Pueblo celebrates the Corn Dance in June and observes the Feast of San Diego in November. Best known for its striking black-on-black pottery, San Ildefonso Pueblo is home to many artists; the pueblo museum and several shops display and sell their work. One of the largest Tewa villages, Ohkay Owingeh stages a number of ceremonial dances, including the Dance of the Matachines on Christmas Day. As an outsider you should show respect during religious ceremonies, and always ask about videotaping or photographing before doing so.
Designated a UNESCO "Creative City," Santa Fe is a haven for anyone who is creatively inspired, and many events focus on art, culture, music and fine food. They range from poetry readings, Native American art shows and folk art markets to chile and wine celebrations and music festivals that mash up flamenco, jazz and tribal rhythms with soothing New Age sounds, chamber orchestras and desert chorales.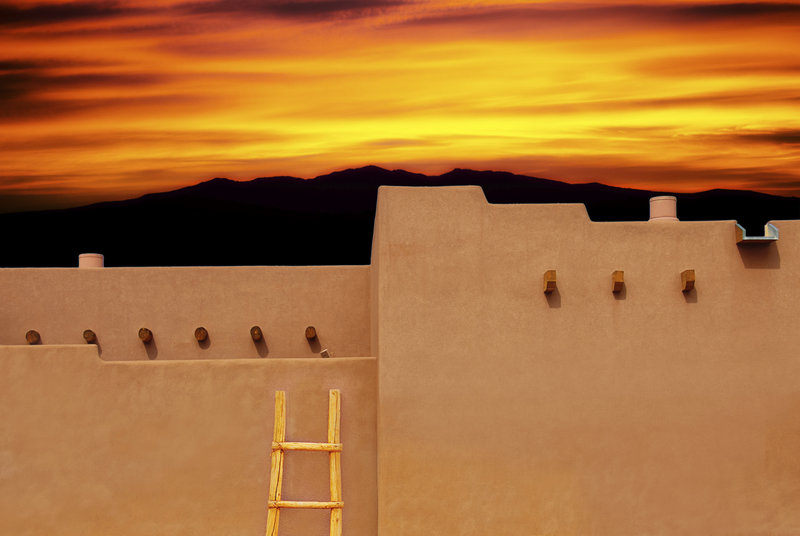 ivanastar/iStockphoto.com
Pueblo Etiquette
When Spanish conquistadors arrived in northern New Mexico in the 1500s, they encountered a vast network of Indian villages dating back centuries. The Spaniards referred to Native Americans as Pueblo Indians, after the Spanish word for town. About 25 pueblos remain today, and many of the people who live on these lands still adhere to traditional ways and speak the Tewa language in addition to Spanish or English.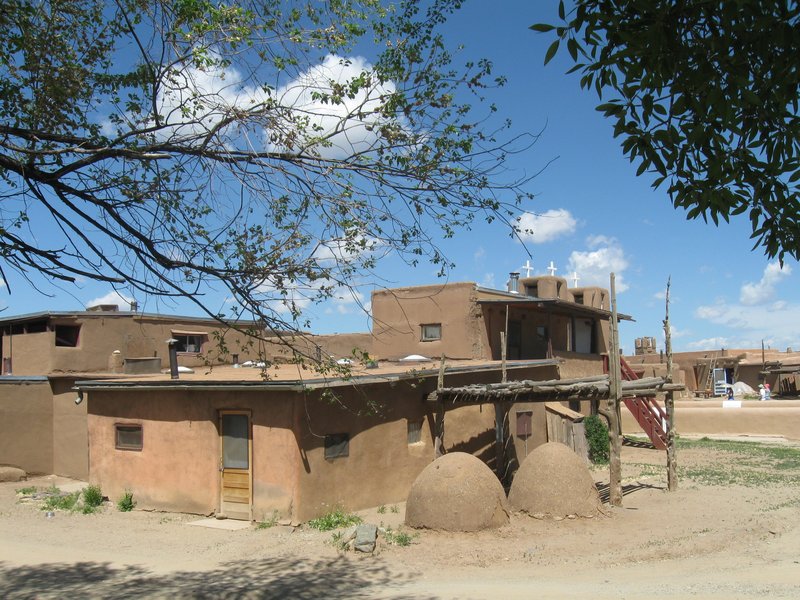 If you're wondering what to do on your New Mexico vacation, visiting a pueblo is a wonderful way to experience a different culture. One of the most accessible for tourists is
Taos Pueblo
, right outside of Taos. The ceremonial village—the only section of the pueblo open to visitors—is considered sacred, and about 150 Taos Indians choose to live here as their ancestors did, without benefit of conveniences like electricity and plumbing.
Primitive-looking yet ingenious devices are scattered throughout the village. Lattice-like drying racks were used for harvested corn, pumpkin, squash and bean crops, and to cure wild game meat for food and animal hides for clothing. Beehive-shaped, outdoor adobe ovens called hornos are still used to bake Indian fry bread.
Most pueblos celebrate annual feast days coinciding with a Catholic patron saint designated by the early Spanish missionaries. A blend of ancient harvest traditions and Catholic religious practices, they combine traditional dances with singing and drumming; some also incorporate private ceremonies, processions and masses.
Taos Pueblo celebrates the San Geronimo Feast Day on Sept. 30 with traditional pole climbing. The Buffalo and Deer Dance is performed on the Jan. 23 feast day at San Ildefonso Pueblo. One of the smallest pueblos, but one with a very rich heritage, is Tesuque Pueblo, where the Corn Dance takes place the first weekend in June and the Feast Day of San Diego is celebrated on Nov. 12.
Nambé Pueblo, about 18 miles north of Santa Fe, sits at the base of the Sangre de Cristo Mountains; the Nambé Falls Ceremonial on July 4, which includes dances and an arts and crafts fair, is a popular event with both pueblo residents and tourists. Some pueblos also hold celebrations on Christmas Day, and most celebrate Día de El Rey (King's Day) on Jan. 6.
Many pueblos are open to the public, and visitors are usually welcome on feast days. It's advisable to confirm if the pueblo is open on the day you plan to visit; contact the Eight Northern Indian Pueblos Council at (505) 747-1593, or inquire at Tourism Santa Fe.
Feast day or not, it's important to follow common-sense etiquette. Most pueblos have strict rules regarding photography, filming and even sketching, so ask regarding what type of cameras are allowed and if fees are required. Ignoring these rules could result in the confiscation of your equipment.
Laptops, iPads and cellphones are usually not welcome on pueblo grounds. Refrain from photographing religious sites (chapels or kivas), and always ask if you can photograph tribal members or their personal property before doing so. If you happen to receive an invitation to someone's home accept graciously, but refrain from offering payment or a tip.
Ceremonial dances are no different than any religious rite. The participants are in a prayerful state, and quiet, respectful behavior is expected. Refrain from loud talking, clapping, dancing along or wandering around during a dance. If photographing dancers, keep a respectful distance during the ceremony and between dances.
You are a guest while on pueblo land; do not enter or peek into a resident's home unless a sign on the door welcomes visitors. Children should not climb on walls or look into windows. Kivas and cemeteries are generally off limits; also heed all signs that designate restricted access areas. Different pueblos have different rules (for example, wading is forbidden in Red Willow Creek at Taos Pueblo), so make sure you're familiar with them before you set off exploring.