Pueblo Etiquette When Spanish conquistadors arrived in northern New Mexico in the 1500s, they encountered a vast network of Indian villages dating back centuries. The Spaniards referred to Native Americans as Pueblo Indians, after the Spanish word for town. About 25 pueblos remain today, and many of the people who live on these lands still adhere to traditional ways and speak the Tewa language in addition to Spanish or English.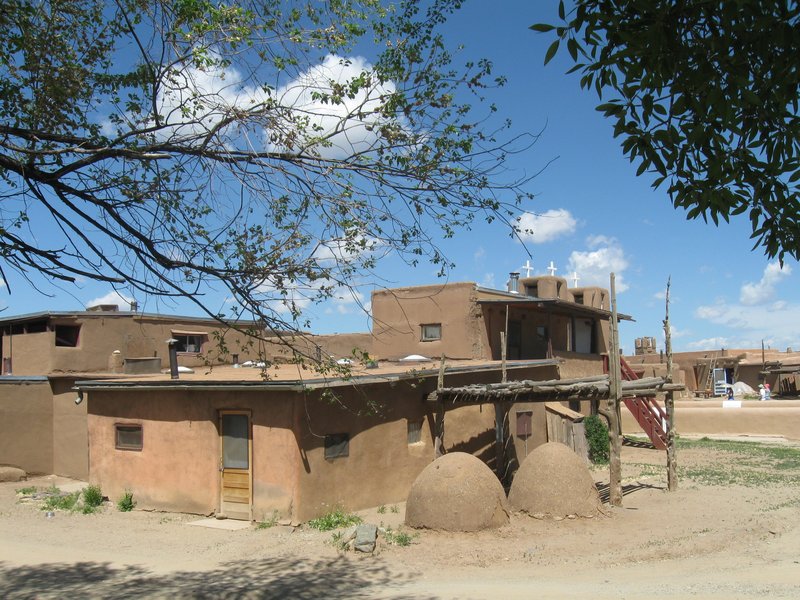 AAA/Greg Weekes
If you're wondering what to do on your New Mexico vacation, visiting a pueblo is a wonderful way to experience a different culture. One of the most accessible for tourists is Taos Pueblo , right outside of Taos. The ceremonial village—the only section of the pueblo open to visitors—is considered sacred, and about 150 Taos Indians choose to live here as their ancestors did, without benefit of conveniences like electricity and plumbing.
Primitive-looking yet ingenious devices are scattered throughout the village. Lattice-like drying racks were used for harvested corn, pumpkin, squash and bean crops, and to cure wild game meat for food and animal hides for clothing. Beehive-shaped, outdoor adobe ovens called hornos are still used to bake Indian fry bread.
AAA/Greg Weekes
Most pueblos celebrate annual feast days coinciding with a Catholic patron saint designated by the early Spanish missionaries. A blend of ancient harvest traditions and Catholic religious practices, they combine traditional dances with singing and drumming; some also incorporate private ceremonies, processions and masses.
Taos Pueblo celebrates the San Geronimo Feast Day on Sept. 30 with traditional pole climbing. The Buffalo and Deer Dance is performed on the Jan. 23 feast day at San Ildefonso Pueblo. One of the smallest pueblos, but one with a very rich heritage, is Tesuque Pueblo, where the Corn Dance takes place the first weekend in June and the Feast Day of San Diego is celebrated on Nov. 12.
Nambé Pueblo, about 18 miles north of Santa Fe, sits at the base of the Sangre de Cristo Mountains; the Nambé Falls Ceremonial on July 4, which includes dances and an arts and crafts fair, is a popular event with both pueblo residents and tourists. Some pueblos also hold celebrations on Christmas Day, and most celebrate Día de El Rey (King's Day) on Jan. 6.
Many pueblos are open to the public, and visitors are usually welcome on feast days. It's advisable to confirm if the pueblo is open on the day you plan to visit; contact the Eight Northern Indian Pueblos Council at (505) 747-1593, or inquire at Tourism Santa Fe.
Feast day or not, it's important to follow common-sense etiquette. Most pueblos have strict rules regarding photography, filming and even sketching, so ask regarding what type of cameras are allowed and if fees are required. Ignoring these rules could result in the confiscation of your equipment.
Laptops, iPads and cellphones are usually not welcome on pueblo grounds. Refrain from photographing religious sites (chapels or kivas), and always ask if you can photograph tribal members or their personal property before doing so. If you happen to receive an invitation to someone's home accept graciously, but refrain from offering payment or a tip.
Ceremonial dances are no different than any religious rite. The participants are in a prayerful state, and quiet, respectful behavior is expected. Refrain from loud talking, clapping, dancing along or wandering around during a dance. If photographing dancers, keep a respectful distance during the ceremony and between dances.
You are a guest while on pueblo land; do not enter or peek into a resident's home unless a sign on the door welcomes visitors. Children should not climb on walls or look into windows. Kivas and cemeteries are generally off limits; also heed all signs that designate restricted access areas. Different pueblos have different rules (for example, wading is forbidden in Red Willow Creek at Taos Pueblo), so make sure you're familiar with them before you set off exploring.