About Sequoia and Kings Canyon National Parks In central California, stretching northward from 35 miles east of Visalia to 55 miles east of Fresno, and from the foothills of the San Joaquin Valley to the crest of the High Sierra, these two parks abut one another and are managed together. Sequoia is the second-oldest national park, behind Yellowstone National Park.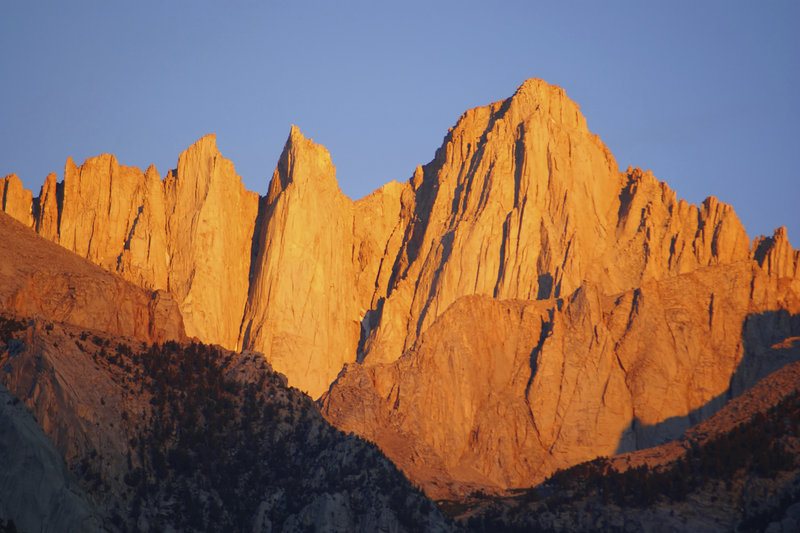 amygdala_imagery/iStockphoto.com
One way to turn back the clock some 3,000 years is to take a trip through Sequoia and Kings Canyon National Parks. The landscape is studded with the largest of trees, the giant sequoia (Sequoiadendron giganteum). Many of the trees are more than 200 feet high and some have trunks more than 30 feet in diameter. Mount Whitney, at 14,505 feet the highest point in the contiguous United States, is on the eastern edge of Sequoia National Park.
Although the sequoias sparked the formation of these parks, magnificent forests of sugar and ponderosa pine, white and red fir and incense-cedar also exist here. Sugar pines have been known to grow to a base diameter of 11 feet.
Its variable climate has endowed this region with a significant variety of plants. About 1,530 species of trees, shrubs, plants and flowers have been identified, including 22 deciduous tree and 26 evergreen tree species.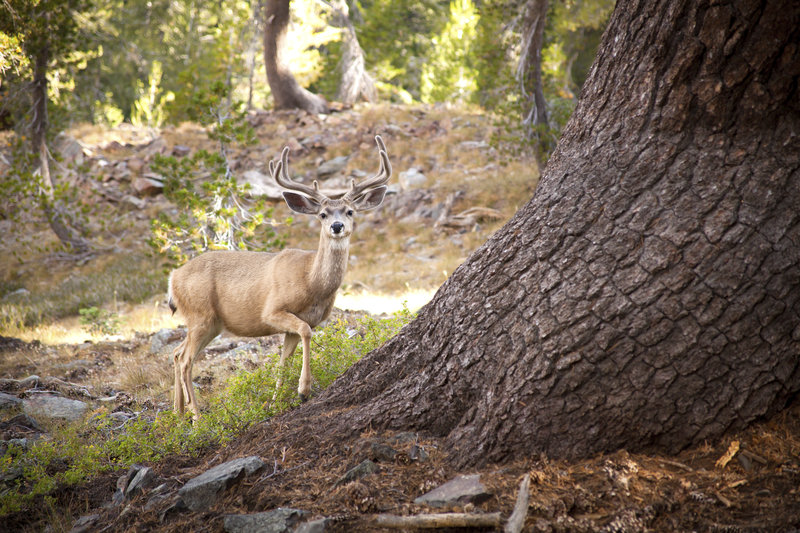 jaredbp/iStockphoto.com
Mule deer, marmots, chipmunks and squirrels are common. Because American black bears frequently are seen in campgrounds, proper food storage is strictly enforced. Raccoons, gray foxes and bobcats can be seen occasionally at night. Rarely seen, however, are Sierra bighorns and mountain lions. About 216 species of birds, including the golden eagle, have been spotted, and the streams along with some high-country lakes support rainbow, brook, brown and golden trout.
Only trails penetrate the alpine wilderness of both parks; therefore, the beauties of the High Sierra and backcountry are available only to hikers and those on horse, mule, burro or llama. Park trails are off-limits to bicyclists.
General InformationSequoia and Kings Canyon National Parks are open all year, although the more remote areas are inaccessible in winter. High mountain passes are seldom open to travel before July 1. The roads to Giant Forest, Lodgepole and the Big Stump entrance are open all year; however, the Generals Highway between Lodgepole in Sequoia National Park and Grant Grove in Kings Canyon may be closed by heavy snow for periods during winter. Tire chains may be required at any time.
Connecting the two national parks is the Generals Highway, a 46-mile-long scenic road that extends from SR 198 at Ash Mountain in Sequoia National Park through Giant Sequoia National Monument to SR 180. The highway reaches 7,600 feet at Big Baldy Saddle. Note: From Ash Mountain to Giant Forest, the road is particularly difficult for motor homes and large trailers. The road is not recommended for vehicles longer than 22 feet. An alternate route for longer vehicles is SR 180 from Fresno through Kings Canyon National Park, a straighter, less steep and wider road. Vehicle combinations over 40 feet are prohibited between Hospital Rock and Giant Forest.
Sequoia Shuttle offers transportation to the Giant Forest Museum within Sequoia National Park from Visalia, Exeter and Three Rivers. The shuttle operates Memorial Day weekend through Labor Day; reservations are required. Phone (877) 287-4453.
Accommodations generally are open all year. While most campgrounds usually operate from Memorial Day through Labor Day, several campgrounds are open all year.
Lodgepole and Grant Grove/Kings Canyon visitor centers, in Sequoia and Kings Canyon National Parks, respectively, are hubs for activities. Naturalists give illustrated talks or campfire programs in summer at Cedar Grove, Grant Grove, Lodgepole and Potwisha amphitheaters. Schedules of programs and daily guided walks are posted on park bulletin boards. The parks' free newspaper contains seasonal information. It is available at park entrance stations and visitor centers.
A state fishing license is required for all persons 16 years and over. The $49.94 fee is good for a year for residents but only 10 days for non-residents. A 2-day resident or non-resident license costs $25.10. A second-pole license is $15.69. Hunting is permitted in season.
Trips over the hundreds of miles of backpacking trails are popular by horse, mule, burro and llama. Current information is available at the park visitor centers and in the park newspaper. Guided trail rides and pack trips or rental saddle stock are available from Grant Grove and Cedar Grove. Pack trips also can be arranged from the Owens Valley area on the east side of the Sierra. Cross-country ski and snowshoe rentals are available at Grant Grove and Wuksachi Lodge.
Headquarters for both parks, which are administered jointly, is at Ash Mountain, on the Generals Hwy. in Three Rivers via SR 198. The Foothills Visitor Center includes a photographic exhibit depicting life in the foothills.
ADMISSIONADMISSION to the parks is $35 per private vehicle, good for 7 days, or $20 per person arriving by other means.
PETSPETS are permitted only if they are on a leash, crated or otherwise restricted at all times. They are prohibited on all trails and in buildings and may not be left unattended at any time.
ADDRESSADDRESS inquiries to the Superintendent, Sequoia and Kings Canyon National Parks, 47050 Generals Hwy., Three Rivers, CA 93271-9700; phone (559) 565-3341.
Points of Interest
Attractions Alta Peak
General Grant and Redwood Mountain Groves