About Virginia Beach Although there have been a few additions to the Virginia Beach coastline since the first English settlers stepped ashore here on April 26, 1607, exquisite natural vistas continue to entice explorers to this windswept patch at the mouth of Chesapeake Bay. The vast assortment of must-sees and must-dos involve the great outdoors—after all, this is a beach town! You'll encounter bicyclists and inline skaters whizzing along the attractive, resort-strewn oceanfront, creative sand castle builders inspired by speckled shores, and laid-back surfers awaiting a wicked swell.
After relaxing by the seaside, kayak through First Landing State Park , at Cape Henry on US 60, or practice your swing at such challenging links as The Signature at West Neck, 3100 Arnold Palmer Dr.; Red Wing Lake Golf Course, 1144 Prosperity Rd.; and Hell's Point Golf Club, 2700 Atwoodtown Rd.
Fishing charters can be arranged at several neighborhood marinas, including Virginia Beach Fishing Center, 200 Winston Salem Ave., and Long Bay Pointe Marina, 2109 W. Great Neck Rd. Anglers summering in the area also will enjoy the 4-day Virginia Beach Billfish Tournament in August.
If worms and hooks aren't your idea of fun, cruise out to see bottlenose dolphins and humpback whales at play in their natural habitat. Seasonal excursions depart from the Virginia Aquarium & Marine Science Center. Those on land also will discover a boundless array of wildlife viewing opportunities in Virginia Beach—from exploring the Seashore to Cypress Birding Trail, frequented by migrant shorebirds, songbirds and raptors, to hiking through Back Bay National Wildlife Refuge.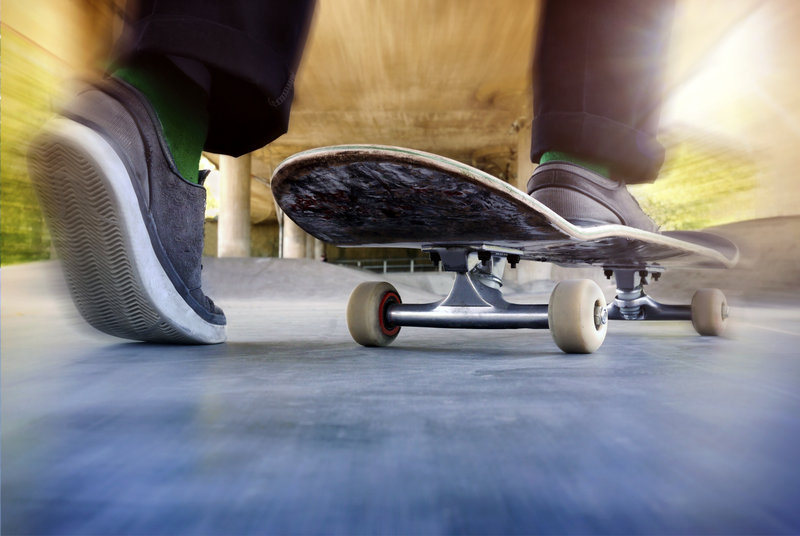 mikdam/iStockphoto.com
While Virginia Beach's natural beauty is undeniable, the locale is home to a number of alluring man-made attractions as well. Bring lunch—and your skateboard—to Mount Trashmore Park, which features a skate park and picnic shelters as well as two mountains formed out of solid waste and clean soil, an environmentally friendly demonstration garden and a 1.45-mile walking trail. Or, climb to the top of the Old Cape Henry Lighthouse, one of the first public works facilities authorized by Congress, built here in 1792. Its replacement, the 1881 Cape Henry Lighthouse, is one of the tallest cast-iron lighthouses in the United States.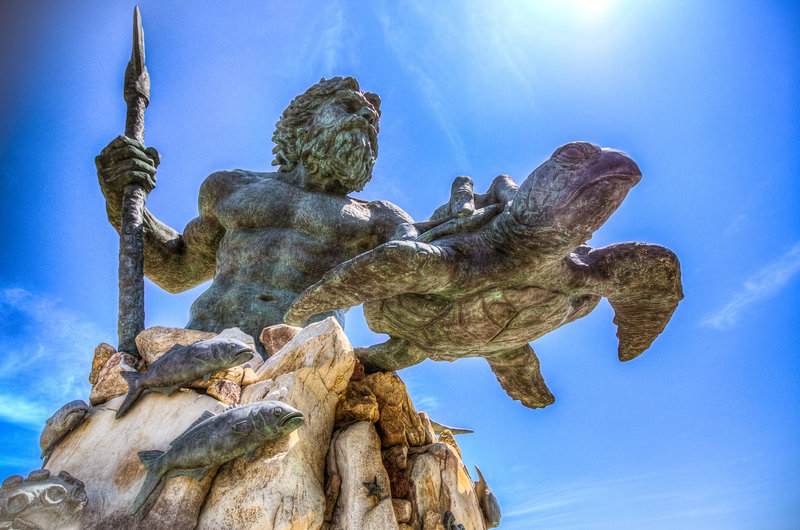 flickr/PROm0122
Stroll the 3-mile boardwalk and you'll come across King Neptune—a 34-foot-tall cast bronze statue of the mythological sea god. Holding court at 31st Street and Atlantic Avenue, the commanding figure is the centerpiece of the Virginia Beach Neptune Festival , a well-attended September event featuring arts and crafts shows, fireworks and sports competitions. A variety of festivals also take place at BeachStreetUSA (Atlantic Avenue between Fifth and 34th streets), where wacky and talented street performers entertain throngs of sun-kissed tourists daily from Memorial Day through Labor Day.
Visitor Centers Virginia Beach Visitor Information Center 2100 Parks Ave. Virginia Beach, VA 23451. Phone:(757)385-7873 or (800)822-3224
ShoppingWhile most visitors to Virginia Beach come for the sparkling sand and water and assorted beach activities, there's a shopper in every group, and Virginia Beach doesn't disappoint.
There's an unwritten law that says you have to bring back kitschy souvenirs from your beach vacation, and Virginia Beach has plenty to offer. Find that perfect T-shirt, beach towel, seashell necklace, picture frame, pair of flip-flops—you get the idea. And you won't have to venture far from the beach. Atlantic Avenue, just one block removed from the water, has blocks upon blocks of souvenir shops. Saltwater taffy, anyone?
Also on Atlantic Avenue is The Shoppes at 31 Ocean , a decidedly more chic shopping venue. The 31 Ocean part of the name refers to the center's location at Atlantic Avenue and 31st Street. In-vogue fashions, beach-related items, gift shops and several restaurants are the focus here.
Just a few minutes' drive inland from the oceanfront is The Shops at Hilltop at First Colonial and Laskin roads, a large open-air shopping center that is divided into three sections: Hilltop North, East and West. With more than 120 stores, including 27 restaurants, you can shop for hours among the clothing boutiques and gift, jewelry and home accessories shops and then have a nice meal.
Town Center of Virginia Beach , a mixed-use shopping complex with a performing arts center, hotels and residences, covers a 17-block area at Independence and Virginia Beach boulevards and Constitution Drive. Upscale shops and restaurants include Ann Taylor Loft, Brooks Brothers, Cheesecake Factory and Ruth's Chris Steak House.
Visitors also can check out Lynnhaven Mall (701 Lynnhaven Pkwy.), one of the largest malls on the East Coast. The retail giant features a movie theater, three department stores (Dillard's, JCPenney and Macy's), and more than 180 specialty stores and eateries.
NightlifeYou come to Virginia Beach to enjoy the beach and all it has to offer—the sand, the surf, the boardwalk, coastal dining and certainly the nightlife. Lounges and restaurants in numerous beachfront hotels and restaurants have live music during the summer. Just meander the boardwalk until you've found your groove, then join the fun.
Summer evenings the beachfront transforms into BeachStreetUSA. Festive outdoor entertainment (almost always free) extends mostly from 17th through 25th streets on Atlantic Avenue and spills over onto the stages at 7th, 13th 17th, 24th, 25th and 31st streets. Music of all types, street performers, magic shows and fireworks displays take place on select nights throughout the summer; the visitor center can give you information about who's performing when and where.
In the Oceanfront area, you'll find live music nightly at Abbey Road (203 22nd St.). The casual pub, which was named for the Beatles' album and boasts it carries 101 international beers, features mostly acoustic rock groups. Hot Tuna Bar & Grill (2817 Shore Dr.) has a devoted following who come for their signature yellowfin tuna and stay for the high-energy dance music cranked out by local bands and DJs. Phone (757) 425-6330 for Abbey Road or (757) 481-2888 for Hot Tuna Bar & Grill.
The open-air amphitheater Veterans United Home Loans Amphitheater (3550 Cellar Door Way) is the place to go for major concerts. You can sit on the lawn or under a pavilion roof and listen to music's biggest names play under the Virginia stars; phone (757) 368-3000. Presenting dance, music and theater performances is the more intimate Sandler Center for the Performing Arts, at 201 Market St. at the Town Center of Virginia Beach, a 17-block shopping, dining and nightlife area. Phone (757) 385-2787.
Things to Do Atlantic Wildfowl Heritage Museum
Back Bay National Wildlife Refuge
Capt. Jack's Pirate Ship Adventures
Christian Broadcasting Network
Princess Anne County Training School/Union Kempsville High School Museum
Virginia Aquarium & Marine Science Center
Virginia Beach Surf & Rescue Museum
Virginia Museum of Contemporary Art
Recreational Activities
Kayaking Chesapean Outdoors