Recreation in Yellowstone National ParkBiking, swimming, backpacking, fishing, hiking—whatever your interest, make sure you experience these recreational highlights and fun things to do in Yellowstone National Park, as chosen by AAA editors.
Covering more than 2.2 million acres, Yellowstone National Park is one of the largest recreation destinations in the Rockies. This vast mountain playground offers 1,200 miles of hiking and horseback trails, 300 miles of paved biking roads, hundreds of campsites and the largest high-altitude lake in North America for boating and fishing. Sporting equipment is available for rent or purchase at general stores and marinas throughout the park.
A Few Notes of Caution
With an average elevation of 8,000 feet, Yellowstone poses an unexpected challenge for many visitors who live at significantly lower elevations. Some notice only mild effects from the reduced oxygen and low humidity, while others experience headaches, nausea, shortness of breath, dizziness, fatigue and insomnia. To minimize the symptoms, avoid strenuous exercise for the first few days—give your body time to adjust. Rest, eat lightly, avoid alcohol and drink plenty of bottled water.
Drinking from lakes or streams isn't advised without boiling or treating the water first; parasites can cause intestinal illness. On the other hand, don't consider simmering hot springs to be a potable source. Dozens of people have been scalded or killed at Yellowstone by accidentally falling into thermal pools—and we won't mention the fools who went swimming.
Yellowstone is one of the most successful wildlife sanctuaries in the world, and you'll share the roads and trails with bison, elk, moose, gray wolves, coyotes, black bears and grizzlies. According to park regulations, you must stay at least 100 yards (the length of a football field) away from bears and at least 25 yards away from all other large animals. Bison may look slow and docile, but they can charge at speeds up to 30 miles per hour—faster than any of the hapless tourists who've met the sharp end of a horn. Don't feed or approach any wildlife, especially females with young. If an animal reacts to your presence, you're too close.
Get Out on a Hiking Trail
Here's a small sampling of day hikes. The 1.1-mile Observation Point Loop Trail climbs from Old Faithful to a prominent overlook on the Upper Geyser Basin. The 5-mile Lone Star Geyser Trail follows a level path from Old Faithful to a solitary geyser that erupts every 3 hours. The 5-mile Fairy Falls Trail from the Midway Geyser Basin leads to a secluded 200-foot waterfall. The 6-mile Mount Washburn Trail rewards climbers with a panoramic view of the park; trailheads are at the Chittenden and Tower Canyon parking areas.
Look for Wildlife
Bird-watching and wildlife viewing adds an extra thrill to every hike. Though the park's high altitude and harsh winter conditions limit the diversity of birds, you'll still glimpse majestic North American species such as bald eagles, sand hill cranes and trumpeter swans. The stars at Yellowstone are the mammals—big ones. Herds of elk and bison roam the valleys, often stopping traffic. Moose and bighorn sheep are rarer. But everyone comes to Yellowstone looking for bears. Most grizzlies and black bears stick to the backcountry; your best bet for spotting these illusive creatures is with a powerful zoom lens or binoculars. The National Park Service and Adventure Yellowstone offer guided hikes and backcountry tours. Photo safaris with the park concessioner leave from the Lake Yellowstone Hotel , Old Faithful Inn and Mammoth Hot Springs Hotel & Cabins .
Explore on Two Wheels
Bicycling in the park is permitted on public roads and designated paths, but not on backcountry trails or boardwalks. Xanterra Parks and Resorts rents bicycles at the Old Faithful location in the park. Rental is by the hour, half-day and full day. All bicyclists should wear helmets; the roads are often narrow and congested, and there are no dedicated bike lanes.
Biking/hiking trails are in Mammoth along Bunsen Peak and Golden Gate roads; on Freight Fountain and Lone Star Geyser roads at Old Faithful; Riverside Trail to Barnes Road at the west park entrance; Natural Bridge Road in the Lake area; and Chittenden Road to the summit of Mount Washburn. From Old Faithful, bicyclists can follow the paved trail past Castle and Daisy geysers to Morning Glory Pool.
Travel by Horseback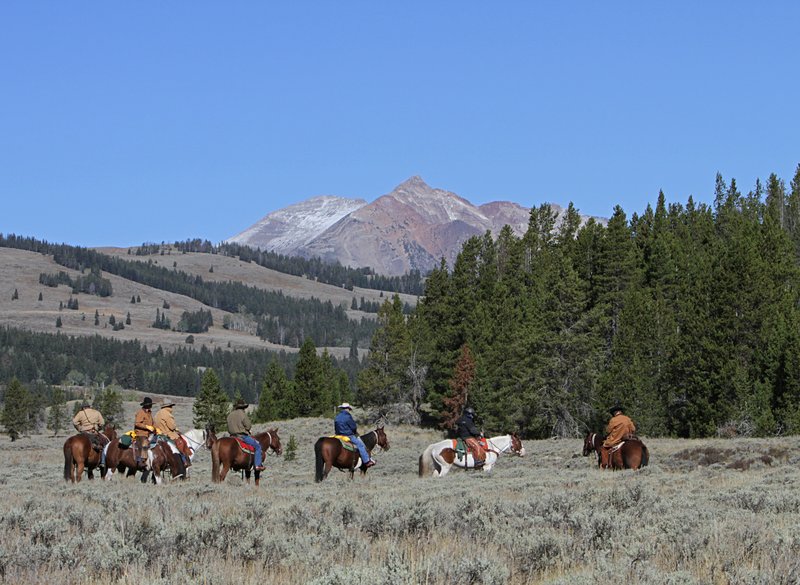 NPS/Jim Peaco
Guided horseback rides are an exciting way to see this destination, and trail rides leave from corrals at Mammoth Hot Springs, Roosevelt Lodge and Canyon Village. Children must be at least 8 years old and 48 inches tall; the weight limit for adults is 240 pounds. A 1-hour ride costs about $47.
Yellowstone Camping and Picnicking Options
Campers at Yellowstone will find a dozen developed campgrounds as well as hundreds of backcountry sites. The National Park Service manages Indian Creek Campground , Lewis Lake Campground , Mammoth Hot Springs Campground , Norris Campground , Pebble Creek Campground , Slough Creek Campground and Tower Fall Campground . Sites are available on a first-come, first-served basis.
The park's concessioner, Xanterra Parks & Resorts, operates Bridge Bay Campground , Canyon Campground , Grant Village Campground , Fishing Bridge RV Park and Madison Campground . Reservations are accepted; reserve your site early, especially during peak season (early July to late August).
There are nearly 50 picnic areas in the park, offering some of the most scenic dining in the Rockies. The following sites have fire grates: Arch Park, Bridge Bay, Grant Village, Nez Perce, Norris Meadows, Snake River, Spring Creek and Whiskey Flat. Gas stoves may be used in other areas. There's no water at any picnic area; most have pit toilets. You can pick up groceries at any Yellowstone Park General Stores, or order a box lunch from your hotel—just place your order the night before, and it'll be ready in the morning. (The peanut butter and banana sandwiches are particularly delicious.)
Cast a Line in a Nearby Lake
Fishing enthusiasts have their pick of mountain streams, river and lakes, including the 136-square-acre Yellowstone Lake . Fishing charters are available at the Bridge Bay Marina. Anglers ages 16+ must purchase a fishing permit. A 3-day park permit costs $18; a 7-day permit is $25; a season permit is $40. Children under 16 may fish without a permit if they are fishing under the direct supervision of an adult who has a valid park fishing permit or they may obtain a free permit signed by an adult. Pick up a copy of the NPS fishing guidelines when buying your license at any ranger station, visitor center or Yellowstone Park General Stores.
Yellowstone follows a catch-and-release program for native fish, including cutthroat trout, arctic grayling and mountain whitefish. Non-native rainbow trout and brown trout are exempt. Only barbless hooks are allowed. Fun places to go for family fishing include Blacktail Deer Creek and the Gardner River in Mammoth, Aster Creek in Grant, Sylvan Lake near the east entrance, the Gibbon River in Norris and Goose Lake at Old Faithful. The fishing season extends from Memorial Day weekend to the first Sunday in November.
Rent a Boat
The Bridge Bay Marina rents motorboats and rowboats for a spin around Yellowstone Lake. Private boats require an operating permit. For canoeing and kayaking, the park offers a drop-off service into the backcountry of Yellowstone Lake; information is available at the marina. Vessels aren't permitted on rivers or streams; jet skis and personal watercraft are prohibited anywhere in the park.
Things to Do in Winter
When winter comes to Yellowstone, all park roads close to wheeled vehicles with the exception of the north entrance to Mammoth Hot Springs and the road to Tower Junction and the northeast gate (from Silver Gate to Cooke City). Depending on the weather, this can happen as early as mid-October. Snowcoaches and snowmobiles become the only way to reach the interior.
From mid-December to early March, the park concessioner offers snowcoach transportation and narrated sightseeing tours from the west entrance at West Yellowstone, the south entrance at Flagg Ranch and Mammoth Hot Springs, all reaching the Old Faithful area. (Snowcoaches are basically heated vans on skis.) Other sightseeing destinations include the Grand Canyon, Norris Geyser Basin and Lamar Valley. The average ride is $117-$145 for adults, $58-$110 for ages 3-11.
Snowmobile rentals and guides are available at Mammoth Hot Springs and Old Faithful, and the park's roads are groomed for winter touring. Guided snowmobile trips are $154-$234 for single, double and triple ride models. Cross-country skiers and snowshoers also share the trails; the Mammoth Hot Springs Hotel and Old Faithful Snow Lodge offer rental equipment and lessons. Snowcoaches transport Nordic skiers to groomed trails in the Mammoth, Canyon, Tower, Northeast and Old Faithful areas. Both winter lodges also maintain ice-skating rinks; skate rentals are free to hotel guests.