Top Things to Do in Yellowstone National Park Join the crowd at Old Faithful to witness Yellowstone's most famous geyser eruption, one of the top things to do in Yellowstone National Park. Named by the Washburn Expedition in 1870, Old Faithful remains a reliable—and impressive—sight.
Pull up a rocking chair at the Old Faithful Inn. This rustic log masterpiece evokes the golden era of national park architecture. The second-floor porch offers a fine view of Old Faithful.
Get to know the other geysers—Castle, Grand, Riverside, Beehive, Daisy—that roar and spout across the Upper Geyser Basin . The boardwalk loop will take you within feet of boiling springs, hissing vents and sapphire pools.
Experience the true meaning of awe at Artist Point, which overlooks the golden chasm and thundering waterfalls of the Grand Canyon of the Yellowstone .
Looking for more adventurous things to do? Feel the spray on your face by hiking down the path from the north rim—or the more challenging Uncle Tom's Trail from the south—to the brink of the Lower Falls. More than 2 million gallons of water rush over this precipice every minute.
Have a picnic on Yellowstone Lake . One of the largest high-altitude lakes in the world, this crystal mountain pool has 110 miles of shoreline. Don't think about a swim after lunch, though—the water rarely gets above 45 degrees.
Practice your wildlife photography skills in the Hayden and Lamar valleys, where bison, elk, moose, black bears, grizzlies and gray wolves roam. The National Park Service and Adventure Yellowstone offer guided hikes and backcountry tours.
Walk across the oldest—and hottest—terrain in the park, the Norris Geyser Basin . Etched in shades of rust, orange and green, this lunar landscape changes almost overnight.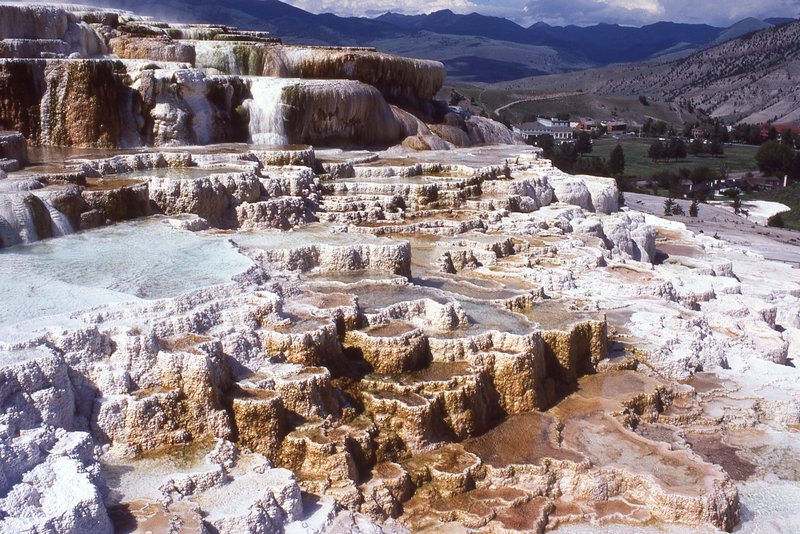 iStockphoto.com/Robert_Ford
Visit old Fort Yellowstone and climb the travertine terraces of Mammoth Hot Springs . Flowing from underground springs, these mountainous tiers of chalky rock are living sculptures.
Watch the rise and fall of a giant lava lamp at the Canyon Visitor Education Center , which describes the vast subterranean volcano heating the earth below Yellowstone. It's one of the fun things to do with kids in the park.