Introduction When confronted by the spectacular scenery of Zion Canyon, 19th-century Mormon homesteaders and early visitors of other faiths drew upon their religious beliefs to help them describe it. Angels Landing. Great White Throne. West Temple. Court of the Patriarchs. Altar of Sacrifice. You can't say the names of Zion Canyon's landmarks without sounding like you're quoting from the Old Testament.
But it's not hard to see why those early pioneers and adventurers became religiously rapt. Take the Great White Throne. With steep walls soaring more than 2,000 feet above the canyon floor and a light-colored profile easy to recognize just about wherever you go—as if the sculpted sandstone were itself omnipresent—the peak seems a worthy seat for the Almighty indeed. And should His winged attendants need a suitable perch, Angels Landing, facing the Great White Throne from across the narrow canyon, is perfectly situated.
The summits surrounding Court of the Patriarchs—Abraham, Isaac and Jacob—are easy to imagine as three venerable heads bent together, looking down in judgment into the meandering river valley below. Near the canyon's entrance, the flat Temple Cap formation atop the West Temple has vertical walls as if it were man-made, and once you've seen the mountain-size red streaks below the Altar of Sacrifice, its name hardly needs explanation.
The area was first protected in 1909 as a national monument called Mokuntuweap, a name given to the canyon by its earlier Paiute inhabitants. But Mormon residents had long called the place Zion, a Hebrew name interpreted to mean a place of refuge, and Mokuntuweap was changed in 1918, a year before it became a national park. The red-rock finger canyons that distinguish the park's Kolob section were included within park boundaries in 1956—Kolob being a term from Mormon scripture referring to the star nearest the throne of God.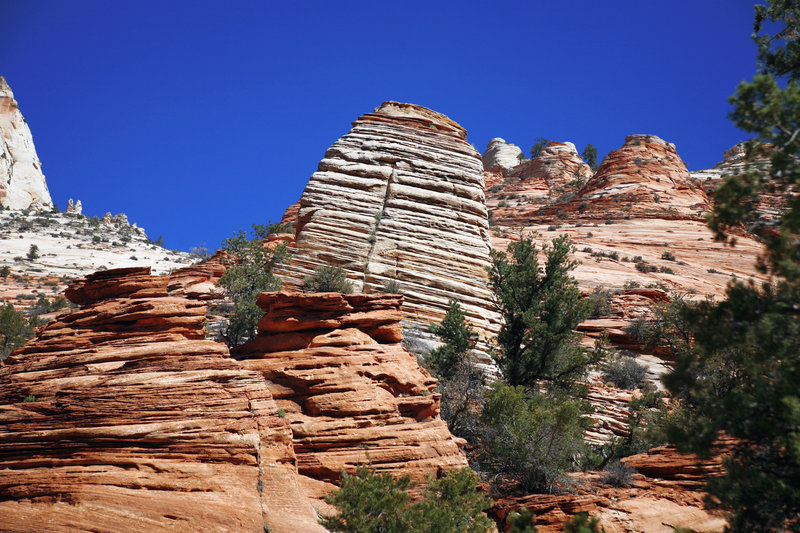 123RF.COM/konstantin32
Today Zion National Park is a destination that consistently ranks within the top 10 most visited national parks in America. Millions come every year to gaze in awe at what one early traveler called "A New Valley of Wonders," and for many the experience will be likened to an encounter with the Divine.