AAA Inspection Details
Noteworthy by meeting the industry-leading standards of AAA inspections.
Presentation, Ingredients, Preparation, Menu
Attentiveness, Knowledge, Style, Timeliness, Refinement
Style, Materials, Tables, Seating, Ambience, Comfort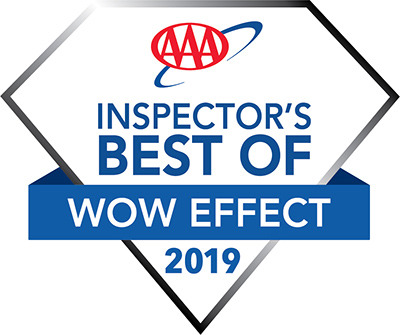 Iconic and kind of exotic just like some of the meats, my special tip is to ask for a table in the back to get the most out of the quirky design.
AAA Inspector Notes
Classic. This longstanding eatery has a distinctive A-frame entrance and opens up to a dark and rustic room with a one-of-a-kind design that includes cool wood carvings and a phone at each table to call other diners. A special fondue experience awaits, with hot rock fondue being a particular favorite. Beef, buffalo, chicken, ostrich, rattlesnake, lobster and shark are among meats available for dipping. Appetizers include smoked British Columbia trout and escargot. Of course, they also serve steaks.
Reservation
Reservations suggested.
Location
207 Banff Ave T1L 1B4
More Information
Casual Dining. Lunch and dinner served. Open late. Full bar.