AAA Inspection Details
Noteworthy by meeting the industry-leading standards of AAA inspections.
Presentation, Ingredients, Preparation, Menu
Attentiveness, Knowledge, Style, Timeliness, Refinement
Style, Materials, Tables, Seating, Ambience, Comfort
Restaurants have overall ratings in the top 20% for their Diamond Rating level, plus no member complaints in the past 12 months.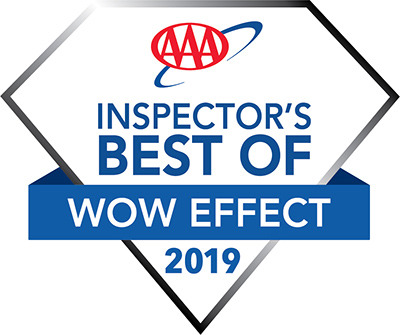 I didn't expect the trendy sleek ambience at this seemingly unassuming hotel restaurant.
AAA Inspector Notes
This restaurant offers elegant decor with brick walls, wood accents and large, glitzy light fixtures. The menu doesn't disappoint, starting with a variety of appetizers and salads. Main courses include salmon filet, twin lobster tails, dry rubbed ribs and a wonderful selection of beef steaks, which are aged a minimum of 21 days.
Location
1001 Rossland Ave V1R 3N7
More Information
Casual Dining. Breakfast and dinner served. Full bar. Accessibility (Call).