AAA Inspection Details
Noteworthy by meeting the industry-leading standards of AAA inspections.
Presentation, Ingredients, Preparation, Menu
Attentiveness, Knowledge, Style, Timeliness, Refinement
Style, Materials, Tables, Seating, Ambience, Comfort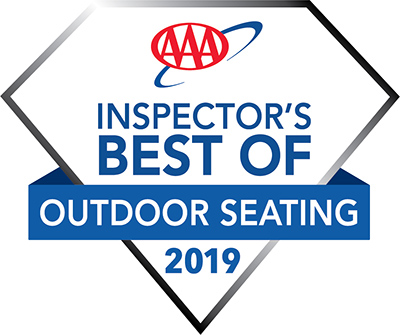 It's fun to bring my four-legged pal and hang out on the patio, enjoying the view of the San Diegueto Lagoon.
AAA Inspector Notes
The coastal town's first brewery, this casual spot is primarily outdoors and offers a family-friendly environment. The dog-friendly patio looks out onto the San Dieguito Lagoon. Creative, flavorful food includes appetizers such as pork belly bites, crispy shrimp and charred broccoli, and main dishes such as Del Mar cheesesteak, smoked Gouda macaroni and Mary's chicken pie. The beer selection features a variety of house brews.
Location
2201 San Dieguito Dr 92014
Parking
on-site (fee) and valet.
More Information
Brewpub. Lunch and dinner served. Beer & wine, patio dining. Accessibility (Call). Pet friendly (call for restrictions/fees.).