AAA Inspection Details
Distinctive fine dining, well-serviced amid upscale ambience.
Presentation, Ingredients, Preparation, Menu
Attentiveness, Knowledge, Style, Timeliness, Refinement
Style, Materials, Tables, Seating, Ambience, Comfort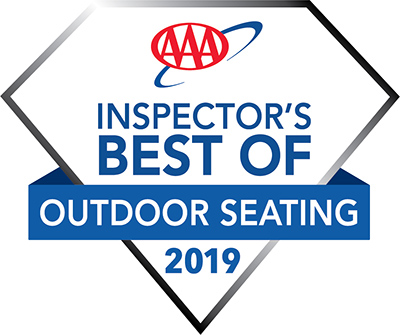 I never tire of having a leisurely brunch on this gorgeous patio with swirling fans and stamped tile flooring surrounded by gorgeous gardens.
AAA Inspector Notes
Housed in an elegant manor atop a hill and surrounded by extensive cultivated gardens, this lovely restaurant offers sophisticated furnishings in multiple small dining rooms and a larger patio space perfect for watching sunsets. The menu may include caviar onion dip, corned beet tartare or a grilled local black cod with lemon thyme broth. In the summer, have an early dinner and take a walk in the gardens.
Reservation
Reservations suggested, for dinner.
Location
1001 Westside Rd 95448
Parking
on-site and valet.
More Information
Fine Dining. Breakfast, lunch and dinner served. Full bar, patio dining, Sunday brunch. Accessibility (Call).