AAA Inspection Details
Trendy food skillfully presented in a remarkable setting.
Presentation, Ingredients, Preparation, Menu
Attentiveness, Knowledge, Style, Timeliness, Refinement
Style, Materials, Tables, Seating, Ambience, Comfort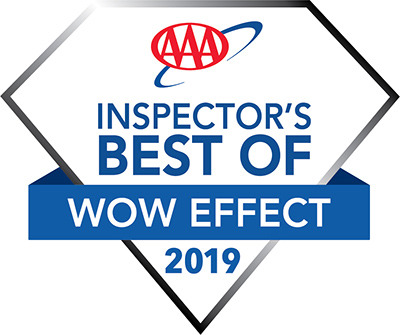 As a fan of speakeasy spots, this one notably stands out. It offers excelled service and exceptional cuisine as well as a fun, memorable experience.
AAA Inspector Notes
Located in Disney Springs, the popular spot offers a speakeasy vibe with secretive tunnel access and that creates a sense of fun. Menu options are flavorful and includes favorites such as meatballs with ricotta and Parmesan cheese, pasta dishes such as lasagna, linguine and rigatoni, and chicken and eggplant Parmesan. Beverage options are abundant and sure to satisfy most tastes.
Reservation
Reservations suggested.
Location
1560 E Buena Vista Dr 32830
More Information
Casual Dining. Dinner served. Full bar. Accessibility (Call).