---
close
http://tdr.aaa.com/tdr-images/original/110046 http://tdr.aaa.com/tdr-images/preview/110046 http://tdr.aaa.com/tdr-images/thumbnail/110046
Historical preservation and a good measure of civic pride have contributed to a cultural richness that makes Tampa comparable in Florida to Miami. Consider vibrant, historic Ybor City, birthplace of Tampa's cigar industry and now its hot-hot-hot Latin-infused nightspot. Or an eclectic mix of art, history and science museums that inspire adults and children to explore new horizons together while having loads of fun.
http://tdr.aaa.com/tdr-images/original/234130 http://tdr.aaa.com/tdr-images/preview/234130 http://tdr.aaa.com/tdr-images/thumbnail/234130
When it comes to family-oriented entertainment, animals figure prominently in the mix at Busch Gardens Tampa and such top-notch attractions as Big Cat Rescue and Tampa's Lowry Park Zoo.
Nearby Gulf Coast beaches sing a siren's song to visitors who can't resist superfine sand and gently lapping waters. And while the area's parks, rivers and other natural attributes are conducive to active participation, there's plenty of spectator action for those who like a good game. Tampa's championship football, arena football and hockey teams provide seasonal sports excitement, but baseball rules in April when the Tampa Bay Rays and fellow "boys of summer"—the New York Yankees, Toronto Blue Jays and Philadelphia Phillies—suit up for spring training. Family outings don't get any better than a day at the ballpark.
http://tdr.aaa.com/tdr-images/original/234124 http://tdr.aaa.com/tdr-images/preview/234124 http://tdr.aaa.com/tdr-images/thumbnail/234124
And when you've seen all there is to see, Tampa can be an ideal starting point for a cruise to Caribbean ports of call, or maybe just a drive trip down Florida's scenic west coast to Bradenton, Sarasota, Sanibel or Fort Myers.
With the world's tourism mecca—Orlando—just 70 miles up the road, it might be easy to overlook the city by the bay as a major travel destination. But Tampa and its adjoining communities have a great deal to offer visitors. And yes, there's a theme park here, too: Busch Gardens Tampa preceded Walt Disney's dream by 12 years.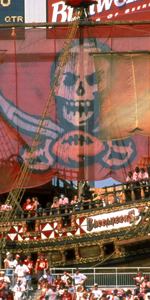 But there also are some things Mickey and friends don't have. With varied cultural offerings, world-class attractions, championship sports teams, water recreation opportunities and a vibrant Latin heritage, Tampa merits a closer look.
During the 18th century the bay belonged to pirates who left a decided influence on the area. One of them, the legendary Jose Gaspar, may have pillaged his way to annual celebrity—Tampa's Gasparilla Pirate Festival, a weeklong extravaganza, takes place late January or early February. The area's NFL team, the Tampa Bay Buccaneers, also takes its name from this era.
In the late 1800s, railroads stimulated the tourist trade, attracting wealthy Northern vacationers to the area. In 1891, royalty, financial bigwigs and luminaries attended the opening of Henry B. Plant's exclusive Tampa Bay Hotel, which is today part of the University of Tampa.
Cigars were once the city's mainstay, and brick and frame factories housing such companies as Hav-a-Tampa and Cuesta-Rey provided employment for Spanish, Italian and Cuban immigrants who labored at long tables hand-rolling tobacco leaves. Cigars are still produced, but the area business community has diversified.
Tampa is now the foremost port of Florida's west coast and one of the nation's busiest, with petroleum, coal, steel and cement among its major inbound cargoes. A state-of-the-art cruise terminal also welcomes passengers of Carnival Cruise Lines, Holland America Line, Norwegian Cruise Line and Royal Caribbean International bound for Caribbean and Latin American destinations.
Architecturally, Tampa admirably records the different periods of its growth. Older stucco homes with flat roofs, patios and wrought-iron balconies show a marked Spanish influence. And the Tampa Convention Center, the David A. Straz, Jr. Center for the Performing Arts, and several office skyscrapers and luxury hotels added during the building boom of the 1980s and early 1990s heightened the city's once modest business district to a stature worthy of more established corporate centers.
Nowadays, all eyes are on the waterfront. The Riverwalk, a 2.6-mile pedestrian promenade that parallels the Hillsborough River, has transformed the downtown landscape, opening up public access to Tampa's lovely waterfront and linking museums, parks and numerous hotels, restaurants and outdoor gathering places. Once completed in mid-2016, pedestrians will be able to walk alongside the river from The Florida Aquarium to Water Works Park and Spring and then to the North Boulevard Bridge. The Tampa Bay History Center, near Amalie Arena, relocated here in late 2008 to a building 10 times its original size, while the Tampa Museum of Art and the Glazer Children's Museum occupy redesigned Curtis Hixon Waterfront Park, a Riverwalk gem in the heart of downtown.
Hosting the Super Bowl for the fourth time in 2009 served notice of the bay area's passion for sports, particularly football. Not that anyone needed reminding after the Tampa Bay Buccaneers took home the Super Bowl XXXVII trophy in 2003, the same year the Tampa Bay Storm arena football team won its fourth championship. In 2004, the Tampa Bay Lightning took the NHL's coveted Stanley Cup.
And then there's Major League Baseball. From late February to early April, the Grapefruit League's spring training stint at regional ballparks renders pro teams accessible to thousands who want to see how their favorites—including the 2008 American League Champion Tampa Bay Rays—are shaping up for the real season.
---