AAA Inspection Details
Trendy food skillfully presented in a remarkable setting.
Presentation, Ingredients, Preparation, Menu
Attentiveness, Knowledge, Style, Timeliness, Refinement
Style, Materials, Tables, Seating, Ambience, Comfort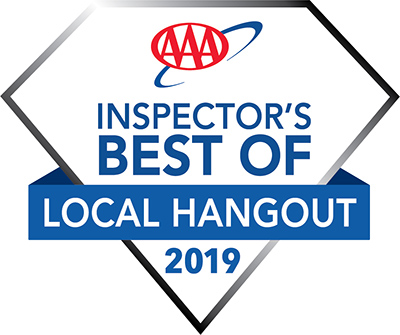 I like that you can get BBQ egg rolls, quail quesadillas and a craft beer all in the same place. Definitely not your typical barbecue joint!
AAA Inspector Notes
Can barbecue restaurants be fancy? The resounding answer is yes. While fancier than you may be used to, this place is not fussy. You can lick your fingers and have a craft beer without fear. However, the charm is second rate to the deliciously smoked meats coming out of the kitchen, such as baby back ribs, pulled pork egg rolls and gator along side potato wrapped salmon, oysters and quail quesadillas. It's safe to say that good taste is headed Due South.
Location
302 Clover Reach 30269
More Information
Casual Dining. Lunch and dinner served. Full bar. Accessibility (Call).