AAA Inspection Details
Noteworthy by meeting the industry-leading standards of AAA inspections.
Presentation, Ingredients, Preparation, Menu
Attentiveness, Knowledge, Style, Timeliness, Refinement
Style, Materials, Tables, Seating, Ambience, Comfort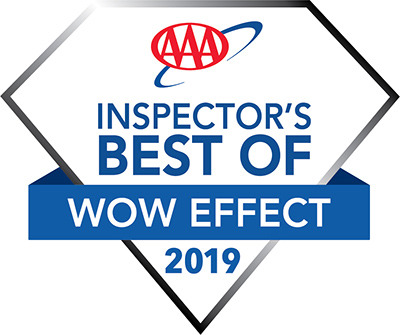 The quirky and colorful decor in this retro style cafe is as fun as the food is delicious.
AAA Inspector Notes
It is impossible to stay gloomy once entering the sunny yellow dining room of this 1950s-style gas station café, decorated with bright murals, hearkening back to a time of drive-in movies, milk shakes and Betty Boop. The all-day breakfast menu serves up American classics including country fried chicken, buttermilk pancakes and three-egg omelets. Try the Hawaiian loco moco bowl (rice, beef patty and an egg) or go for the Hoosier version with fried Spam.
Location
1001 E 54th St 46220
Parking
on-site and street.
More Information
Casual Dining. Breakfast and lunch served. Beer & wine, patio dining. Accessibility (Call).