AAA Inspection Details
Noteworthy by meeting the industry-leading standards of AAA inspections.
Presentation, Ingredients, Preparation, Menu
Attentiveness, Knowledge, Style, Timeliness, Refinement
Style, Materials, Tables, Seating, Ambience, Comfort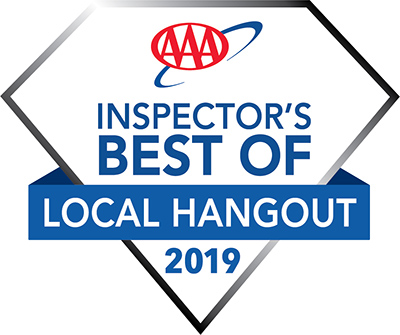 This iconic cafe is my favorite stop in the West Lafayette area, where both locals and college students alike flock to try their famous "Bert Burger."
AAA Inspector Notes
Classic. Do not let the name scare you, this family-owned diner is a popular spot for locals, college students and families to get a juicy burger or what they refer to as chop steak. What was once Indiana's first drive-in restaurant, this historic diner still is a popular and nationally acclaimed burger joint. One-hundred-percent fresh top sirloin is ground on site and used to create such burgers as the Duane Purvis, all-American, featuring creamy peanut butter. Pork tenderloin, a la carte sandwiches and hearty chili are available, along with all-day breakfast. The drive-in no longer serves outside, but diners can take a seat at the vintage counter and enjoy an ice cold root beer float made with the namesake Triple XXX root beer. Seats are hard to find in the small dining space but guests also can order carry out.
Location
2 N Salisbury St 47906
More Information
Casual Dining. Breakfast, lunch and dinner served. Patio dining.