---
close
Three days is barely enough time to get to know any major destination. But AAA travel editors suggest these activities to make the most of your time in Branson.
By Greg Weekes
We'll say it right off the bat: You could spend three weeks here doing nothing but seeing shows. With some 45 venues offering more than 100 different performances, the choices are daunting. But there's more to Branson than simply music, as you'll discover over the course of this suggested itinerary.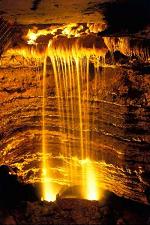 Spend the morning strolling around downtown, a compact area just a couple of blocks square. (Parking—or a lack of it—can be a problem, so you may need to park in one of the nearby Branson Landing parking lots or use their free parking garage.) Have breakfast at the Shack Cafe or the Farmhouse Restaurant , 119 W. Main St. Don't expect upscale decor, an extensive menu or fancy preparation at either establishment; what you'll get is a basic lineup of eggs, bacon, pancakes, home fries and such, plus a friendly "hon" when your coffee cup is refilled.
More than a touch of 1960s Mayberry lives on in these striped awnings and homey storefronts. The time warp really kicks in at Dick's Old Time 5 & 10 , 103 W. Main St. It's a must see: narrow aisles packed to the rafters with everything from clothing to housewares to wooden back scratchers to horehound candy. There are loads of ceramic figurines and knickknacks, model airplanes and trains, toys, Christmas ornaments—you name it. Branson Bill's Emporium, 110 W. Main St., has more of the same. Hunting down a pair of Western boot salt and pepper shakers, a frog bird feeder or a special collectible doll? Branson Bill's got 'em. The store also carries an impressive lineup of homemade jams, jellies and preserves.
The historic 1905 train depot at the foot of Main Street is your next stop. Board the 11:30 departure of the Branson Scenic Railway , a vintage passenger train that embarks on a 40-mile round-trip excursion through the green foothills of the Ozarks. Traveling along a working commercial line operated by the Missouri and Northern Arkansas Railroad, the train will travel either north or south (the direction is determined just prior to departure). It crosses deep valleys and negotiates damp tunnels that were blasted through walls of solid rock during the line's arduous construction in the early 1900s. Three dome cars with big windows offer panoramic views of Crest Tunnel, Barren Fork Trestle, Tharp's Grade and other landmarks along the route.
The Branson Scenic Railway depot is just steps from Branson Landing, a shopping, dining and entertainment complex with a backdrop of wooded slopes and serpentine Lake Taneycomo—it's a much more scenic setting than your average mall. Have lunch at Famous Dave's Bar-B-Que or Joe's Crab Shack, both popular franchises with outdoor seating, and hang around for the fountain show, which takes place on the hour beginning at noon. Water fountains shoot 120-foot geysers of H20 accompanied by fire, fancy lights and rousing music, a spectacle you can watch from the terraced "town square" or while ambling along the lakeshore boardwalk.
The Bass Pro Shops outlet at Branson Landing's south end is worth checking out even if you're not an outdoor person. It's an A-to-Z assemblage of everything related to hunting, fishing, camping and other recreation activities, all displayed with a painstaking attention to rustic detail that extends right down to the wildlife tracks etched into the concrete floor. Big, handcrafted chandeliers hang from the gabled ceiling and there are wildlife exhibits galore, including a diorama of deer running down a hillside. There's also a freshwater aquarium stocked with some of the game species—brown and rainbow trout, large and small-mouth bass, blue gill—that contribute to this region's considerable sport-fishing reputation.
Shoppers could easily spend the rest of the afternoon wandering around the landing. If you're not one of those people (or you skipped the train trip), you'll have time to head back downtown and catch a matinee show. The Owen's Theatre, 205 S. Commercial St., is an intimate 200-seat venue built in 1935 by a former mayor. It presents "Hank & Patsy Together Again," a musical tribute to Hank Williams and Patsy Cline, daily at 2 p.m. from early March through late November.
Branson's reputation may rest on country music, but the King of Rock 'n Roll gets almost as much attention. Elvis fans will want to catch the Dueling Elvis Contest, which takes place at the theater the fourth Saturday of every month from late April through December. Elvis impersonators channeling the iconic performer's different eras hit the stage, with the audience deciding on the winner. Another popular show at the theater is "Elvis and the Superstars," with multitalented impressionist Dave Ehlert not only taking on the King but also Liberace, Ray Charles, Willie Nelson and even Shania Twain. Phone (417) 336-2112 or (800) 358-4795 for details and reservations.
This town is all about celebrating the past, and one place where you can revisit your youth is Dick Clark's American Bandstand Theater (on SR 76 about 2 miles west of downtown). From Wango Tango nachos and chunky baked potato soup to chicken finger sandwiches, country fried steak and the chocolate brownie orgy for dessert, haute cuisine this isn't—but it comes with a background soundtrack of irresistibly familiar '60s hits. After dinner head downstairs to Club '57, one of the few places in town that has a 21 and up admission policy. There's karaoke on Wednesdays and live music Thursday through Saturday, along with a full selection of draft beers and nightly drink specials.
Most of Branson's action centers on the Strip, a 5-mile stretch of SR 76 some refer to as Country Music Boulevard. Start the day by filling up on the full breakfast spread at the Grand Country Buffet. Quantity is a given but quality also is high, so wise choices can keep you going most of the day.
One way to get a feel for the area is to Ride the Ducks. The amphibious vehicles tool down a portion of the Strip and climb to the top of Baird Mountain for a panoramic view of the surrounding countryside before making a splash-filled entry into Table Rock Lake for a short cruise. When boarding you're given a duck whistle, and the captain will encourage you to make noise with it. (There's another Ride the Ducks at Branson Landing.)
A vessel on an entirely different scale, Titanic—World's Largest Museum Attraction is a complete immersion experience. From the moment you enter this half-scale reproduction of the ill-fated ocean liner—to the mournful strains of the theme music from the 1997 film—you'll be taken to another time and place as the doomed maiden voyage of the RMS Titanic unfolds. The exhibits are fascinating (those third-class rooms were indeed tiny), and the galleries are designed to approximate the sensation of being an actual passenger. There's also a gallery that pays tribute to James Cameron's mega-popular movie.
For lunch, step back in time at the at the 1950s-style diner Uptown Cafe , at 285 SR 165 before heading to an afternoon matinee. Most afternoon performances begin at 3 p.m.
For sheer spectacle, our recommendation is the perennially popular Amazing Acrobats of Shanghai show at the New Shanghai Theatre (on SR 165 just south of Green Mountain Drive). These extraordinarily gifted young athletes exhibit breathtaking agility, strength and flexibility as they spin plates, balance by one hand atop precariously stacked chairs and execute myriad other feats with unflappable showmanship. It's a nonstop parade of flamboyant costumes and acrobatic thrills; phone (417) 336-8888 or (877) 212-4462.
From the New Shanghai Theatre, backtrack to the Strip and head east to the Grand Country hotel/entertainment complex and Grand Country Square (1945 SR 76). This is Branson shopping at its most head-spinning: endless gifts, souvenirs, novelties and home accessories. The collectible lines encompass everything from Beanie Babies to Seraphim angels. Whether it's garden statues or Elvis memorabilia, you'll find it; in fact hard-core browsers will want to spend the entire afternoon here.
It's a little tricky to fit a relaxed meal and a show into one evening, since almost all performances begin promptly at 8 p.m. If you're feeling a bit tuckered out—or don't feel like seeing two shows in one day—opt for a leisurely dinner at Buckingham's Prime Rib & Steakhouse , in the Clarion Hotel . It's casual, but the food is a cut above most local eateries. Prime rib is the specialty; pair it with a Caesar salad assembled at your table. Another tableside preparation is seafood pasta—lobster, shrimp, crab and fresh veggies tossed with linguine, garlic and butter and flambéed with a flourish. For a before-dinner libation, the lounge offers a variety of martinis.
You also could grab a quick bite to eat (there are all kinds of choices along the Strip) and then get ready for a foot-stompin' good time at the Baldknobbers Country Music Theatre or Presleys' Country Jubilee. Two of the oldest shows in town, they feature several generations of the Mabe and Presley families, respectively. This is the Branson blueprint that still pulls in crowds: music (fancy fiddling, a crack house band), songs (everything from gospel standards to Rascal Flatts), comedy routines (mostly of the cornpone variety) and a proudly patriotic closing number. Phone (417) 334-4528 or (800) 998-8908 for the Baldknobbers, (417) 334-4874 or (800) 335-4874 for the Presleys.
Just up the road is another longtime Branson entertainer. Mickey Gilley plays on his "Urban Cowboy"-era fame with a reprise of his signature song from the popular John Travolta film, a cover of the Ben E. King classic "Stand By Me." Phone (417) 334-3210 or (800) 334-1936 for the Mickey Gilley Theatre.
If you're a fan of big country breakfasts try McFarlain's Family Restaurant, in the Branson's IMAX Entertainment Complex on Shepherd of the Hills Expressway. The caloric offerings include Belgian waffles, biscuits and sausage gravy and Granny's cinnamon roll, an extra large one anointed with maple cream cheese frosting (you may want to save part of this beast for later).
Spend part of the morning at the Shepherd of the Hills Homestead, one of Branson's oldest attractions. "The Shepherd of the Hills," the second novel by traveling preacher Harold Bell Wright, told an inspirational tale about the citizens of fictional Mutton Hollow in the Ozark Mountains that was loosely based on summers Wright spent camping in the hills of southern Missouri and northern Arkansas. A guided tour will introduce you to the story's characters and themes, and the countryside (best viewed from the top of Inspiration Tower) is lovely.
From the Shepherd of the Hills Homestead, take SR 76 west to Indian Point Road and Silver Dollar City. This theme park is dedicated to preserving Ozarks heritage, and that commitment is evident everywhere you look. You can watch resident craftsmen and women as they carve a candle, work a potter's wheel, fashion a knife blade or weave a basket. Listen to the Horsecreek Band as they tear into a bluegrass number. Or experience 1880s Ozark living at McHaffie's Homestead.
Of course Silver Dollar City also offers plenty of thrill rides and other amusements, including a giant swing that launches riders a dizzying seven stories into the air. Go underground and explore Marvel Cave, which was an Ozark tourist attraction long before Silver Dollar City opened. The highlight of Missouri's deepest cave is the otherworldly beauty of the Cathedral Room and its living limestone formations. Note: The guided tour involves climbing some 600 stairs, so it's only suitable for those in reasonably good shape.
One of the best things about Silver Dollar City is the food (yes, you heard right), so you'll definitely want to have lunch here. Mollie's Mill, the park's first restaurant, has an all-you-can-eat buffet that's one of the best in Branson; the fried chicken, pot roast, macaroni and cheese, green beans, fried okra and hot rolls are classic country cookin'. If that's too much to digest, stop by Hatfield's Tater Patch for some calico potatoes—spuds, onions, peppers, smoked sausage and seasonings cooked up in a giant 5-foot skillet. Just follow your nose; the aroma is mouthwatering.
You could easily spend the rest of the day here, particularly if you have kids. If you don't (or if theme park fatigue sets in), backtrack to SR 76 and head east to the junction with SR 265. Take SR 265 south to Table Rock Lake. This deep-blue lake is Branson's outdoor recreation headquarters; it teems with bass, bluegill and other game fish and is very popular for boating. At the south end of Table Rock Dam is Table Rock State Park; a walk along the Table Rock Lakeshore Trail, which begins at the park visitor center and runs along the lake for just over 2 miles, is a nice respite from the tourist bustle.
To keep the mood relaxed and also enjoy one of Branson's best fine dining experiences, dine at the Chateau Grille at Chateau on the Lake (in the Chateau on the Lake Resort & Spa ). Start with a wild mushroom tart or oysters baked with brie and then move on to rack of spring lamb or lavender-dusted ahi tuna with a tomato caper relish. The wine list is extensive and well chosen. In season, the veranda offers a stunning view of Table Rock Lake.
Showtime! One of the flashier extravaganzas in town takes place at the Shoji Tabuchi Theatre, 3260 Shepherd of the Hills Expwy. (near the Branson's IMAX complex). Tabuchi, a classically trained, Japanese-born violinist, serves up a musical menu that includes country fiddling (often a blazing rendition of "Orange Blossom Special") as well as Broadway hits. Lavish is the word, from costumes to the plusher-than-usual seats. And the ladies' powder room and gentlemen's lounge must be seen to be believed. Onyx and marble, crystal chandeliers, stained glass, fresh orchids, black leather chairs, a hand-carved mahogany billiard table—take a look even if you don't need to use the facilities.
---