AAA Inspection Details
Distinctive fine dining, well-serviced amid upscale ambience.
Presentation, Ingredients, Preparation, Menu
Attentiveness, Knowledge, Style, Timeliness, Refinement
Style, Materials, Tables, Seating, Ambience, Comfort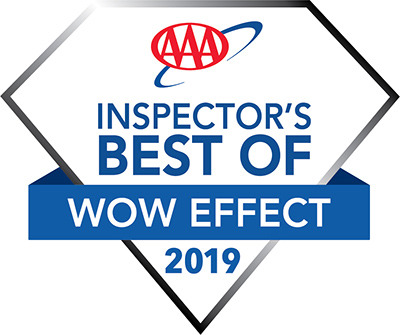 History buffs will absolutely adore the story here, as the mood and decor is pure Alexander Hamilton-era New York. The food is good, too.
AAA Inspector Notes
Historic. Originally an 18th-century carriage house owned by Aaron Burr—Alexander Hamilton's deadly dueling foe—the period details of the lovely interiors and the courtyard make for a memorably romantic, candlelit setting. Diners can enjoy classic meals like beef Wellington, seared tuna, breaded veal chop, and sweet and savory foie gras. As you dine and soak in the history, a pianist plays New York standards. The large windows at the front of the restaurant open in summer to the small narrow street, with a lounge and small tables comfortably spread together from which to soak in a most sublime atmosphere on a warm night. The fireplace is lit in winter and is a centerpiece of the room. In such a setting one can easily imagine a time of horses trotting on the cobblestoned street out front in an earlier American age. It is no wonder that this storied restaurant has garnered such a fondness from diners over the many years. A New York gem.
Reservation
Reservations suggested.
Location
17 Barrow St 10014. Station: Christopher St-Sheridan Sq
More Information
Fine Dining. Dinner served. full bar, patio dining. Entertainment. Semiformal attire.