AAA Inspection Details
Distinctive fine dining, well-serviced amid upscale ambience.
Presentation, Ingredients, Preparation, Menu
Attentiveness, Knowledge, Style, Timeliness, Refinement
Style, Materials, Tables, Seating, Ambience, Comfort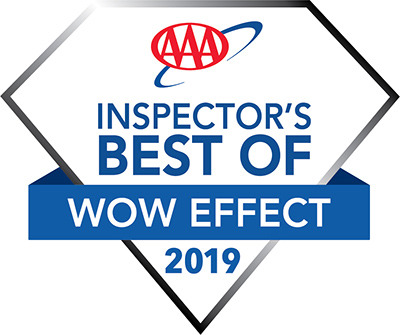 Stopping in at least for a cocktail at this splendid restaurant and hotel lounge is an essential stop for design aficionados when they visit New York.
AAA Inspector Notes
Celebrity restaurateur and chef Tom Colicchio has scored again with this vibrant eatery, which has a bar and an expansive lounge that covers much of the lobby of the splendid Beekman Hotel. Evocative of a colorful, early 1900s New York, the mood richly captures an opulent and slightly edgy by-gone era. Muscovy duck, Dover sole, veal shank, beef Wellington, Waldorf salad and oysters Rockefeller all standout. The lounge provides some truly great people-watching opportunities. The restaurant and its adjacent bar area are one of the most vibrant in the entire downtown area, with a bubbly mix of fashionable tourists, well-heeled New Yorkers and Wall Street professionals all rubbing shoulders. There is a voraciously upbeat and youthful mood, buoyed in no small part by splendid signature cocktails. This is a prime destination to dress up, go out on the town and celebrate the ongoing revival and vibrancy of New York.
Reservation
Reservations required.
Location
5 Beekman St 10003. Station: Brooklyn Bridge-City Hall
More Information
Fine Dining. Dinner served. Full bar. Accessibility (Call).