AAA Inspection Details
Noteworthy by meeting the industry-leading standards of AAA inspections.
Presentation, Ingredients, Preparation, Menu
Attentiveness, Knowledge, Style, Timeliness, Refinement
Style, Materials, Tables, Seating, Ambience, Comfort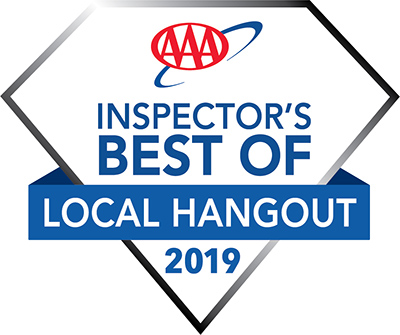 If I lived within ten miles, I would be dining here or getting take out at least once a week just like many locals do.
AAA Inspector Notes
Known to many Oregonians as one of the best pizza places in the state, this spot uses fresh ingredients in its made-to-order salads, pizzas and calzones. Pizza crust choices include original, thick, wheat and gluten free. The friendly service, delicious food and colorful décor attracts many locals, so you may encounter a wait upon arrival. For those who are Grateful Dead fans, you will enjoy the artwork and tie dye.
Location
3084 Crater Lake Hwy 97504
More Information
Casual Dining. Lunch and dinner served. Full bar, patio dining, happy hour.