---
close
Three days is barely enough time to get to know any major destination. But AAA travel editors suggest these activities to make the most of your time in Portland.
By Greg Weekes
One of the many pluses that make Portland such a great place for travelers to explore is the fact that it's so neatly compartmentalized. This is a town where it's easy to plan and then tick off an itinerary. The first day you won't even leave downtown. Grab coffee at your establishment of choice (like Seattle, Portland has a java outlet on practically every street corner) and head for the South Park Blocks, the area between S.W. Market and S.W. Salmon streets bordered by S.W. Park Avenue.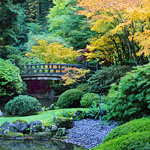 In the 1850s—when Portland was much smaller than it is today—the blocks were laid out as designated park space on the city's western outskirts. By the late 19th century the Italianate mansions had become fashionable residential addresses. And these luxuriantly leafy city squares are still delightful to stroll. Have a look at the public artwork installed on each block. Between S.W. Jefferson and Madison streets is a statue of Theodore Roosevelt on horseback. This block also is planted with rose gardens. In Lincoln Square, the next block up, a bronze likeness of Abraham Lincoln stands with head bowed.
Two outstanding museums flank the blocks. The Portland Art Museum mounts noteworthy special exhibitions, but don't overlook the permanent collection of Native American art, located on the second floor of the Belluschi Building; it includes Northwest Coast and pre-Columbian objects from Meso and South America as well as art representing western Oregon and the Columbian Plateau region. Among the noteworthy paintings to seek out is Vincent Van Gogh's early work "The Ox-Cart."
The museum in the Oregon Historical Society has top-notch exhibits like Oregon My Oregon, a full floor of interactive and hands-on displays that present a fascinating overview of the Beaver State. A highlight is the eight-story Richard Haas mural on the building's exterior west wall depicting the expedition headed by Meriwether Lewis and William Clark, who explored and mapped out a large portion of the American West in the beginning years of the 19th century. Executed in the trompe l'oeil style (French for "trick the eye"), it's impressively realistic.
Another work of art you don't want to miss is the Portlandia statue, above the entrance of the Portland Building on S.W. 5th Avenue (3 blocks east of the South Park Blocks). This hammered-copper likeness of a classically garbed woman bearing a trident is 36 feet tall. Portlandia crouches on a third-floor landing, so you don't get the full effect standing on the sidewalk looking up. But she makes her presence known nevertheless, a striking contrast to the building's sleek postmodern lines.
Old Town, the historic waterfront district that extends along the Willamette River, is—as you might guess—the oldest part of the city. It's packed with shops, restaurants, interesting buildings and cool public art. The choices for lunch are many, but try Mother's Bistro & Bar (S.W. Stark Street at the corner of 2nd Avenue). This Portland standby has a sunny, cheery dining room and specializes in comfort food every bit as good as mom's. Breakfast is served until 2:30, which means you can order the wild salmon hash with leeks, potatoes and a touch of cream, or dig into Mother's meatloaf sandwich.
Burn off the calories with a brisk stroll along the Westside Riverwalk, a wide concrete walkway that follows the west bank of the Willamette. Three bridges—the Hawthorne, Morrison and Burnside—cross the river, and boats bob on the water. Then check out the Skidmore Fountain (between S.W. 1st Avenue and Naito Parkway), the city's oldest commissioned public work of art. Two caryatids holding up the basin give it the look of Greek sculpture.
The fountain is just a stone's throw from the Shanghai Tunnels, a spooky part of Portland's early history. The so-called tunnels were the basements of buildings connected to each other via a series of brick and stone archways and intersecting passageways that created a subterranean web linking together city blocks. Legend has it that this allowed able-bodied men who frequented the waterfront to be kidnapped and sold to unscrupulous sea captains, who soon had them toiling aboard Orient-bound ships for no pay—a practice known as "shanghaiing." During Prohibition many saloons relocated to the tunnels, where trap doors known as deadfalls were at the ready to drop unsuspecting, intoxicated or drugged victims into the "Portland Underground."
You can relive this shady era at the Shanghai Tunnel (corner of Ankeny Street and S.W. 2nd Avenue); it has a below-ground section that is all dim lights, dragon murals, loud rock and dive bar cool. If that's a bit too creepy, ensconce yourself on one of the red vinyl couches upstairs while nursing a beer or a drink that glows. Happy hour is daily 5-7.
For more Zen surroundings, head to the Lan Su Chinese Garden (3 blocks north of Burnside Street between N.W. 2nd and 3rd avenues). Covering a square block, this walled garden is in a congested part of downtown, but walk through the doors and the city's noise fades to a remarkable degree. This meticulously designed and landscaped space—a combination of water, rocks, trees, flowering shrubs and pavilions graced with lovely woodcarvings—is guaranteed to soothe the soul.
Perhaps the best place to while away the late afternoon—especially if it's sunny—is Pioneer Courthouse Square, Portland's "living room." Bordered by Morrison and Yamhill streets, Broadway and 6th Avenue, this paved plaza is prime people-watching territory. Everyone, regardless of age or social strata, gathers here to sit on the brick steps, lounge on a bench or just pass through. Spending some time here automatically makes you an honorary Portlander.
Hang out in the Pearl District (north of Burnside Street from N.W. Broadway west to N.W. 15th Avenue). The Pearl has morphed over the last two decades or so from grittily industrial to chicly upscale, and it has a multitude of shopping and dining opportunities. Browse stores like Ecru Modern Stationer, 1215 N.W. 11th Ave. (greeting cards, stationery and gifts), The Dapper Frog, 915 N.W. Davis St. (art, collectibles and gifts) and The North Face, 1202 N.W. Davis St. (backpacks, sportswear and outdoor gear).
Practically everyone makes the pilgrimage to Powell's City of Books (1005 W. Burnside St.), Portland's largest independent bookseller. Wander around the maze of rooms offering tomes of every conceivable description, then have chai tea at World Cup Coffee and Tea (in the Gold Room).
Where to have dinner? We recommend Andina (1314 N.W. Glisan St.), a Peruvian restaurant that's big on color and flavor. Go for a traditional dish like lomo saltado (beef tenders with onions, tomatoes, garlic and spicy aji chilies) and accompany it with papas a la huancaina, sliced boiled potatoes topped with a ricotta cheese sauce.
You also can have dinner at Jimmy Mak's (221 N.W. 10th Ave., between Davis and Everett streets). Or you can just drop in for some excellent after-dinner jazz, courtesy of local luminaries like the Mel Brown Quartet or guitarist Dan Balmer. Recently renovated, Jimmy Mak's doesn't have the dimly lit ambience of a really intimate jazz hangout, but it's still a mighty fine club. Reservations are recommended on Saturday; phone (503) 295-6542. If you're more interested in the show than dinner, go on a weeknight (the music begins at 8 p.m.).
For a sugar fix that will power you through a morning of sightseeing, begin the day at Voodoo Doughnut (22 S.W. 3rd Ave., between Burnside and Ankeny streets). It's a hole-in-the wall in the very best sense. The doughnuts are freshly made and fantastic (the Triple Chocolate Penetration, anointed with Cocoa Puffs, or an apple fritter right out of the oven will have you sighing with pleasure). Get a pink box to go.
Portland is rightly celebrated for its green spaces, and Washington Park is the perfect place to spend a day outdoors. If you're visiting any time from late May into October, make your first stop the International Rose Test Garden. A visual and olfactory treat for anyone who appreciates the simple but stunning beauty of roses, this garden offers up thousands of them, in an intoxicating assortment of varieties, colors and fragrances.
Also stunning, but in a completely different way, is the Portland Japanese Garden. A stroll through this immaculately landscaped retreat reveals the quiet genius of Japanese gardening, which utilizes three elements—vegetation, stone and water—to achieve not only beauty but a profound sense of serenity.
If you've got kids who need to burn off excess energy, take them to the Oregon Zoo. One of the zoo's newest stars is Lily, a female elephant born Nov. 30, 2012. Lily, her brother Samudra (Sam), mother (Rose-Tu) and father (Tusko) can be seen at the Elephant Lands exhibit area. The zoo has a diverse range of habitats that provide a home for animals from white-cheeked gibbons to river otters to toucans.
Leave Washington Park and make a quick lunch stop at Elephants Delicatessen (115 N.W. 22nd Ave., just off Burnside Street). It's a popular local chain that does a brisk business in made-from-scratch, to-go sack lunches featuring a variety of sandwiches and salads. Then go north a block to N.W. Everett Street, turn right and get on I-405, take I-405 south to I-5, take I-5 north to exit 300, follow the sign for OMSI/Central Eastside Industrial District and turn right on S.E. Water Avenue to the Oregon Museum of Science and Industry (OMSI), another great choice for kids. You can tour the USS Blueback submarine, which appeared in the movie "The Hunt for Red October," program a robot at Innovation Station or experience a simulated earthquake, one of the many hands-on activities in Turbine Hall.
From OMSI, take S.E. Water Avenue north to Hawthorne Boulevard and turn right. You're in the Hawthorne District, one of east Portland's coolest neighborhoods. Find a place to park on a side street and then stroll along Hawthorne, which has an atmosphere that's equal parts tie-dye '60s, punk '70s and alternative '90s. The Gold Door (1434 S.E. 37th Ave.) has all kinds of cool stuff like retro home furnishings, amber jewelry, Brazilian gemstones, African and Mexican folk art, and beaded and sequined Haitian vodou flags (beautiful tapestries inspired by a combination of myths and religious symbolism).
Portland has wonderful public parks, so take advantage of them. Laurelhurst Park (S.E. 39th Avenue and S.E. Stark Street) is a beauty—rolling green lawns, large trees, a duck pond and benches scattered throughout. There are picnic tables, a playground for kids, an off-leash area for dogs and public restrooms.
Head back downtown for dinner. Dan & Louis Oyster Bar (208 S.W. Ankeny St.) has been family owned for more than a century. Oysters, as you might guess, are the house specialty, and you can get them on the half shell, in a stew or pan-fried. Seafood is the thing here, but carnivores will be happy with the flat-iron steak smothered in sautéed onions and mushrooms.
Huber's, in the Oregon Pioneer Building on S.W. 3rd Avenue between Stark and Washington streets, is another old-timer; in fact it's the city's oldest restaurant. The house specialty here is turkey—specifically, roast tom turkey with all the trimmings, including Huber's celebrated sage dressing. Linger over Spanish coffee, another specialty. It's gussied up with whipped cream, nutmeg, Kahlúa, triple sec and rum, and you can have it on ice or with the rum theatrically flamed at your table.
If the coffee gooses up your energy level, head across the Willamette via the Broadway Bridge to North Portland and the White Eagle Saloon (836 N. Russell St., accessible via the MAX Light Rail yellow line). It's yet another Portland institution, a good 'ol rock 'n' roll bar where you can hoist a pint on the outdoor deck or catch one of the nightly shows featuring local rock, blues, acoustic, funk and bluegrass acts.
Road trip! Chief among Portland's assets is its proximity to the scenic glories of northwestern Oregon, a palette that includes Mount Hood, the Columbia Gorge and the Pacific coast. The Columbia River Gorge—an 85-mile-long canyon carved by the mighty Columbia River—is an easy day excursion from downtown Portland (from downtown, take I-5 to I-84/US 30 east).
Your first stop is the Cadillac Cafe, 1801 N.E. Broadway between N.E. 17th and N.E. 19th avenues (near the Lloyd Center). In-the-know Portlanders claim it's one of the city's best diners. One of their egg and veggie scrambles, a breakfast burrito filled with black beans and fresh salsa or a short stack of buttermilk pancakes, plus good coffee, will fill you up nicely.
I-84 runs along the Columbia River soon after leaving the downtown area. The
Columbia River Gorge National Scenic Area
begins at the Sandy River near the eastern Portland suburb of Troutdale and extends east more than 80 miles, as far as the Deschutes River. You're almost always within view of the river, which explorers Lewis and Clark navigated to reach the Pacific Ocean.
Get off I-84 at exit 22, which leads to the Historic Columbia River Highway. It runs parallel to I-84 but below it, tunneling through lush green woodlands, crossing stone bridges carpeted with moss and providing direct access to a lovely series of waterfalls.
Just east of the town of Corbett is the signed turnoff to the parking area for Portland Women's Forum State Park, situated on Chanticleer Point. The vista from this elevated perspective is grand indeed: the river flowing lazily through the gorge, framed by tawny bluffs on the Washington state side and dense growths of forest on the Oregon side. The building perched atop its own promontory in the distance is the Vista House.
About a mile beyond the parking lot, watch for the signed turnoff to Larch Mountain on the right. The winding two-lane road climbs up into the Cascades, entering Mount Hood National Forest after 10 miles. At the 14-mile point the road ends at a parking lot near the summit. Several hiking trails begin at the lot, but take the quarter-mile trail that leads to Sherrard Point, 4,056 feet above sea level. This rocky perch, enclosed by a chain-link fence, looks out over a stunning 360-degree view—an unbroken green carpet of forest and five mountain peaks (St. Helens, Rainier, Adams, Jefferson and Hood) standing on the horizon.
Backtrack to the Historic Columbia River Highway and continue east a few miles farther to the exit for Crown Point State Park. Dedicated in 1918, the Vista House at Crown Point State Scenic Viewpoint is an octagonal stone structure that stands 733 feet above the river. It offers another stunning panorama: To the east the Cascades look down on the river; back toward the west, cliffs retreat and wooded islands dot the Columbia's broad reaches. In addition to the glorious view, the Vista House makes a good rest stop, and you can pick up coffee or a cold beverage at the Espresso Cafe.
From the Vista House, backtrack to the highway and continue east. The Columbia River is the only major waterway that manages to cut through the Cascades. Add seasonal heavy rains characteristic of the Northwest and you have the combination of geography and climate that gives the Columbia Gorge its remarkable concentration of waterfalls.
One of the most beautiful and easily accessible is Latourell Falls, in Guy W. Talbot State Park (watch for the sign; the parking lot is right off the highway). It's only a 10-minute walk to the waterfall along a shady paved path. Latourell is a plunge fall; the water descends vertically without contact with a rock surface, cascading straight as an arrow into a small pool. The wooden footbridge crossing the creek is an ideal viewing point.
There are numerous additional falls along a 20-mile stretch of the Historic Columbia River Highway; most of them can be seen from viewpoints or are accessible via short hiking trails. The big daddy of them all is Multnomah Falls, about 7 miles east of Latourell Falls.
Multnomah's two-tiered drop gives it a total height of 620 feet. The Benson Bridge, a short uphill walk from the parking area, provides an excellent view of the waterfall and is a great spot for photos. You also can go to the very top by walking along a narrow paved trail that zigzags up the side of a mountain. It's a steep 1-mile ascent that might have you stopping frequently to catch your breath. The small platform at the very top offers a bird's-eye view below (it will be difficult to look over the railing if you have a fear of heights).
If climbing to the top of the falls works up an appetite, have a late lunch in the restaurant at the Multnomah Falls Lodge. Otherwise, make do with a quick bite from one of the snack vendors, as this is a good turnaround point for the drive back to Portland.
Since you've spent the day marveling at one view after another, don't stop now. Have a relaxed dinner at the Portland City Grill (111 S.W. 5th Ave. in the Unico/US Bancorp Tower). It's on the 30th floor, and the views of downtown, the Willamette River and Mount Hood are spectacular. This is a place to splurge, since the food and service are superb. Start with Dungeness crabcakes or blackened ahi tuna with mango salsa. A steak, tea-smoked duck or macadamia nut-crusted chicken breast are all worthy main dishes, and there's also a full sushi bar. It's a perfect capper to your sojourn in the City of Roses.
Note: Make reservations in advance in order to secure a window table. Complimentary parking is available for 2.5 hours in the Bancorp Tower's underground facility or the adjacent garage.
Three days is barely enough time to get to know any major destination. But AAA travel editors suggest these activities to make the most of your time in the Columbia Gorge.
By Greg Weekes
The mighty Columbia River flows 1,243 miles from its headwaters in British Columbia to the Pacific Ocean, in the process carving a passage through volcanic rock that delineates much of the Oregon/Washington border. Running for about 80 miles from the town of Troutdale east to Biggs is the Columbia River Gorge, characterized by towering basalt cliffs and a procession of sweeping panoramic views. The Oregon side also boasts the largest concentration of easily accessible waterfalls on the North American continent.
The creation of the
Columbia River Gorge National Scenic Area
in 1986 preserved some 253,500 acres of this breathtakingly scenic natural region for the enjoyment of visitors, so lace up your walking shoes, hop in the car and check it out. Based solely on drive time it's possible to cram this itinerary into a single day, but why rush through paradise?
Get up bright and early and have breakfast at Milo's City Cafe, on Portland's east side at 1325 N.E. Broadway (two blocks north of Lloyd Center Mall). Owned by two local residents, Milo's has a spiffy interior that's a step up from typical diner décor and some choices that go beyond the usual omelets (try the smoked salmon hash with potatoes, onions, bell peppers and sour cream). You might also want to pack a lunch or bring along fruit and snacks, since restaurants are few and far between and you'll be busy exploring nature.
From Milo's it's just a short distance to I-84/US 30 east. To the left, peeking through alternating ridges that form the western foothills of the Cascades, is the snowy dome of Mt. Adams; also visible (if the weather's clear) is the sculpted peak of Mount Hood. The gorge's western end is a deep cleft through which the Columbia River flows lazily.
Get off I-84 at exit 22 and follow signs to the Historic Columbia River Highway. The first modern paved highway built in the Pacific Northwest, it opened in 1915. Running parallel to I-84 but below it, the road follows the land's natural contours, winding in and out of lush green woods, crossing moss-flecked stone bridges and providing direct access to an awesome series of waterfalls.
Just east of the town of Corbett, take the signed turnoff to the Portland Women's Forum State Scenic Viewpoint parking lot. Chanticleer Point's elevated perspective provides your first grand vista of the gorge, with the river framed by tawny bluffs on the Washington state side and thick growths of trees on the Oregon side. Note the building in the distance perched atop its own promontory—that's the Vista House.
About a mile past this parking lot is the signed turnoff (on the right) for Larch Mountain. We highly recommend this side trip, especially if it's sunny and visibility is good. The woodsy drive is along a winding two-lane road that climbs the mountain. After about 15 miles the road ends at a parking lot. (During the winter months this road may be closed at the Oregon National Forest boundary, 4 miles below the summit.)
There are several hiking trails, but take the quarter-mile trail that leads to Sherrard Point. You'll climb a couple of flights of wood-plank steps, but it's nothing too strenuous. The trail ends at a lookout point, enclosed by a chain-link fence. This rocky perch is 4,056 feet above sea level and looks out over a stunning 360-degree view of solid green forest, with five mountain peaks (St. Helens, Rainier, Adams, Jefferson and Hood) looming on the horizon. Note: If you're afraid of heights, sit on the bench provided and don't look over the top of the fence; you can still enjoy the view without freaking out too much.
From Larch Mountain, go back to the Historic Columbia River Highway and continue east a few miles to the exit for Crown Point State Park and the Vista House at Crown Point State Scenic Viewpoint. This octagonal stone structure stands 733 feet above the river. The view is amazing: To the east the Cascades look down on the river; back toward the west, cliffs retreat and wooded islands dot the Columbia's broad reaches. There are historical displays in the building's visitor center, and staff workers are quite knowledgeable about the gorge. The Vista House is a good rest stop.
Now you're ready for some waterfall action; there are literally dozens along a 20-mile stretch of the highway. Many of them can conveniently be viewed via short walks from parking lot turnoffs, all prominently signed. Latourell Falls, first in the series, is one of the most easily accessible (watch for the Guy W. Talbot State Park sign; the parking lot is right off the road). Reached by a 10-minute walk along a shady paved path, it's a beauty—a plunge fall that cascades straight as an arrow into a small pool. The wooden footbridge that crossed the creek is a good vantage point for photos.
Bridal Veil Falls is in Bridal Veil State Park. Located in a shady glen, this two-tiered fall also drops into a pool. The round-trip hike is two-thirds of a mile. The trail descends to the falls, but you'll have a moderate climb coming back. There are benches along the way where you can stop and catch your breath.
The king of gorge waterfalls is undoubtedly Multnomah Falls, a two-tiered drop with a total height of 620 feet. From the parking area it's a short uphill walk to the Benson Bridge, a stone arch directly facing the falls that offers a perfect view. If you want to hoof it to the very top, be advised that it's a steep trek up a narrow paved trail that zigzags repeatedly. And to be honest, the view of the falls is much better from the bridge below. But you'll certainly get your exercise, and the expansive vistas of trees and the Columbia River in the distance are very pretty.
If all that climbing works up an appetite, grab a late lunch in the restaurant at the Multnomah Falls Lodge. Otherwise, make do with a quick bite from one of the snack vendors and press on toward Hood River. Horsetail Falls, about 2.5 miles east of Multnomah Falls, is also worth a look; this 175-foot drop is near the parking lot and thus easily viewed.
The Historic Columbia River Highway rejoins I-84 at the town of Dodson. From here to Hood River the scenery—conifers, mountains and river views—is beautiful. At Bonneville is Bonneville Dam, westernmost of a series of dams along the river. At Bonneville Lock, ships can bypass the dam and negotiate the 60-foot elevation change between the river and the reservoir created by the dam.
Hood River
is the "metropolis" of the Hood River Valley, famous for its pear, apple, cherry and peach orchards. The fruit-packing industry is still important here, but Hood River has become better known—courtesy of the persistent winds that blow through the gorge—as an ideal spot for windsurfing. Whitewater rafting, kayaking, hiking and mountain biking are big here, too.
Relax over a leisurely dinner at Stonehedge Gardens. A former summer getaway, this lovely old country inn on 6 secluded acres of land was converted to a restaurant in 1977. Dine on the enclosed porch or, if the weather's nice, the outdoor terrace. Start with an appetizer of crabcakes or grilled goat cheese and roasted garlic, then move on to seared ahi tuna, chicken cordon bleu or portobello mushroom ravioli with walnuts and Hood River pears. And be sure to indulge in the house dessert, bread pudding topped with crème brûlée and then flamed. You've earned it today.
Stroll Hood River's compact, walkable downtown. First stop: Bette's Place (416 Oak St. in the Oak Mall). They serve breakfast all day, so order something yummy like the Dungeness crab omelet, filled with chunks of crab and slices of avocado. But what Bette's is really known for are cinnamon rolls; big suckers oozing sticky caramel and anointed with cream cheese frosting, they're rightly extolled. Pick up a couple to take with you (the rolls are freshly made on Wednesday, Saturday and Sunday).
The downtown core is sandwiched along Oak and Cascade streets from 1st to 6th streets. Many of the century-old brick storefronts that were once feed stores and other utilitarian businesses have been smartly renovated and now house art galleries, gift and clothing boutiques, and outfitters serving the outdoor adventure crowd. Many stores specialize in locally created and environmentally responsible products. Reminder: Bring a short stack of quarters for the metered street parking.
Duck into the Ruddy Duck (504 Oak St.), a mini department store that sells a little bit of everything. Made in the Gorge (108 Oak St.) has jewelry, pottery and crafts. Knitters can inspect the Northwest-produced dyed yarns at Knot Another Hat (16 Oak St.) while non-knitters gaze out on the spectacular view of the Hood River. Then take a peek at the lobby of the Hood River Hotel (102 Oak St.), which has a lofty ceiling, big windows and decorative touches that recall its early 20th-century heyday.
Now you're ready to hit the road again. Pick up I-84, head east and watch how dramatically the vegetation changes over the next 5 miles or so. You're passing through the transition zone from the moist, humid climate of the west gorge on the west side of the Cascades (one of the reasons for all those waterfalls) to the drier bunchgrass prairies that typify the east gorge.
Get off I-84 at the Mosier exit. This 9-mile section of US 30 between Mosier and Rowena, known as the Rowena Loop Highway, was part of the original Historic Columbia River Highway. You'll have to really slow down, but this stunning detour is well worth it. The two-lane road climbs through clumps of oak trees toward Rowena Crest, a plateau some 700 feet above the Columbia River. Over time alternating lava flows and catastrophic floods helped to create the area's topography.
The winding ascent passes peach trees and offers views of bluffs overlooking the river. It then heads inland, twisting and turning around blind curves that open up to reveal breathtaking vistas. Park at the Rowena Crest Viewpoint (watch for the sign) and take in the 360-degree panorama of the river and the buff-colored hills that rise on the Washington side. The wind blows almost constantly here, so be careful while you give your camera a workout.
The viewpoint is within the Tom McCall Nature Preserve, a protected area of grassland crisscrossed by two hiking trails. The preserve's spring wildflower display is particularly impressive, when the landscape is brightened by the likes of lupine, shooting stars and Indian paintbrush. April and May are the best wildflower months. You might also hear the melodious song of the Western meadowlark, Oregon's state bird.
From Rowena Crest Viewpoint east to the town of Rowena the route is a series of switchbacks (the Rowena Loops), so drive carefully as you admire the spectacular rock, bluff and river views that unfold with each sharp turn. Trees become increasingly scarce and sagebrush increasingly common in this sere, ceaselessly wind-whipped landscape. At Rowena you can rejoin I-84 or stay on US 30 to press on to The Dalles.
Either route will take you to the Columbia Gorge Discovery Center and Museum, a must-stop if you're interested in the region's human history and especially the geologic forces that helped create the gorge. At the close of the last Ice Age, the Pacific Northwest was affected by some of the planet's greatest scientifically documented floods. Towering masses of ice and rock pulverized their way across eastern Washington state, stripping away much of the soil and carving deep channels, or coulees, into the underlying basalt bedrock. The Columbia Gorge was gouged by floodwaters up to 1,000 feet deep, and for a time the site of present-day Portland lay beneath 400 feet of water. Nowhere else on Earth, in fact, do such singular landforms carved from repeated massive flooding exist on this grand a scale.
The Dalles
(rhymes with "pals") sits on the left bank of a pronounced southward bend of the Columbia. The name, derived from the French word dalles, which means "flagstones," refers to a series of basalt-lined channels upstream. These turbulent waters forced early river travelers to detour around them.
Evidence suggests that the area around The Dalles has been inhabited for more than 11,000 years. In prehistoric times Native American tribes gathered on the banks of the river to fish, trade and commune. The city itself is rich in history. Lewis and Clark tarried here in October 1805 on their great westward exploration, and again the following year on the homeward trek. A mission was established in 1838. The site became a strategic point on the Oregon Trail 5 years later. A post office opened in 1851. Stop by the Original Wasco County Courthouse, then take a walk along 2nd Street between Taylor and Liberty streets and peruse the historical murals painted on many of the buildings.
Grab some grub at the Baldwin Saloon (downtown at 205 Court St.). Brothers James and John Baldwin were the saloon's original proprietors back in 1876, and the building has also served as a steamboat navigational office, a coffin storage site for a nearby mortuary and a shop that turned out custom saddles. Slide into one of the golden oak booths and check out the beautiful oil paintings, the 1894 Schubert mahogany piano and the big brass cash register that sits on top of the bar. Have a steak and then linger over a raspberry-truffle vodka martini or the house specialty, Spanish coffee fortified with flaming rum, Kahlua and a splash of Triple Sec and topped with whipped cream.
Of course you've already discovered (at least if you're a first-time visitor) that this is an impressively scenic itinerary. Before beginning the return trip back to Portland, head to Sorosis Park for some fresh air and exercise (to get there take Trevitt Street south to W. Scenic Drive). The park occupies the slopes of a pine-clad hill just south of The Dalles, and from this vantage point you get a dramatic view of the city's riverside setting, with snowcapped mountains Hood and Adams on the horizon.
The views between Hood River and The Dalles are perhaps the best of the entire trip, and the perspective going west on I-84 is different than it is traveling east. The highway runs right along the river, with imposing naked bluffs looming up on the Washington side. If you really enjoyed the Rowena Loop Highway detour, get off I-84 at the Rowena exit (exit 76) and take US 30 west to Mosier; the 9-mile scenic stretch is equally rewarding going in the opposite direction.
Just east of Hood River is the junction with SR 35. Turn left here and head south. A quarter of a mile south of the I-84/SR 35 junction is the turnoff (East Side Road) for Panorama Point County Park. Take another left here and continue past fruit trees and front yards filled with rose bushes to the park entrance. Turn right and follow the short, sharply winding drive as it ascends to a parking lot and lookout point. On a clear day, the view of Mount Hood and the orchard-filled Hood River Valley is stupendous.
Backtrack to SR 35 and continue south. Agriculture is big business here, and this is a really gorgeous drive through fruit orchards and verdant farmland, with Mount Hood frequently in view. What you'll see depends on the season. In April, thousands of acres in the valley are carpeted with pink and white pear, apple and cherry blossoms. With special events from pancake breakfasts to antique sales and the best photo opportunities of the year, this is a particularly busy month.
Harvest season extends from June through October. Strawberries are first, followed in succession by cherries, raspberries, blueberries, apricots, peaches and Bartlett pears. August brings Gravenstein apples, lavender, herbs and tomatoes. September is another busy month. The boughs of Anjou and Bosc pear trees are weighed down with golden, red-tinged fruit, and local farms and orchards offer tours, hay wagon rides, barbecues, meet-and-greets with cuddly animals and other family activities. October brings chestnuts, pumpkins and lots of u-pick opportunities.
Looking down on the valley is 11,239-foot Mount Hood, Oregon's highest point and the fourth-highest mountain in the Cascade Range. Due to its close proximity the snow-covered peak is a prominent backdrop. Mount St. Helens is visible from the valley as well.
The valley's farms and orchards welcome visitors; most are open seasonally from August to early November. The fruit stands are great places to pick up apples, pears or whatever else is being harvested, along with homemade jam, honey and fresh cider. For more information about what the valley has to offer, contact the Hood River County Fruit Loop, P.O. Box 168, Odell, OR 97044; phone (541) 386-7697.
The landscape changes markedly as the valley floor is left behind. Thick growths of conifers supplant orchards as SR 35 enters Mount Hood National Forest. Ski resort signs start to appear. Rocky outcrops rise up on either side of the highway, and bridges cross over the meandering east fork of the Hood River.
SR 35 ends at the junction with US 26 (take a right). Lofty, tree-covered ridges are a decidedly rugged contrast to the flat, fertile valley. The four-lane highway narrows to two lanes just outside the blink-and-you'll-miss-it hamlet of Rhododendron; notice how close the trees are to the road here. If you want or need to take a break, the town of Sandy has all the necessary pit stop amenities.
It's been an activity-filled three days, so once back in Portland why not opt for a casual and relaxed dinner in the Pearl District? The Bridgeport Brewpub (1313 N.W. Marshall St. at N.W. 13th Avenue) is adjacent to the city's oldest craft brewery. An appetizer of mussels and fries, a burger or a hand-tossed pizza (the Burnside—wild mushrooms, smoked onions, herbs, Parmesan and mozzarella—is simple but yummy) goes well with one of Bridgeport's award-winning beers.
Three days is barely enough time to get to know any major destination. But AAA travel editors suggest these activities to make the most of your time in the Willamette Valley.
By Greg Weekes
The Willamette Valley is not only Oregon's food basket; it supplies the wine as well. This long, broad valley stretches more than 100 miles from the Columbia River south to Eugene. It's hemmed in by two mountain ranges, and together they create a climate that's just about ideal for agriculture—a long growing season, warm summer days, mild winters and rain at the right times. The result: a bounty of berries, veggies, nursery stock, hazelnuts and Christmas trees, for starters.
With more than 400 wineries, this also is the state's leading wine region. Pinot noir is the most celebrated of the cool-climate grape varieties the valley is known for, but Willamette wineries also produce Pinot gris, Pinot blanc, Chardonnay, Riesling, Gewurztraminer, Sauvignon Blanc and sparkling wine. Touring wineries isn't the only thing to do, though; the lushly scenic countryside is a flat-out delight to drive.
Portland is your base. This itinerary covers the northern portion of the valley as far south as Salem before heading east to Silver Falls State Park for a look at some spectacular waterfalls, then passes through a couple of quirky little towns on the way back to Portland.
Get an early start today. From downtown Portland, access I-5 and head south to exit 294 (SR 99W). You're still within the greater Portland metro area so the surroundings are a little congested, but suburban sprawl is soon left behind as you head into the heart of Willamette wine country—fewer shopping centers, more rolling green hills.
Stay on 99W as far as
McMinnville.
You're in Yamhill County, a pastoral corner of the northern Willamette Valley that was the final destination for many 19th-century pioneers making the westward trek on the Oregon Tail. Forestry and farming were the traditional livelihoods of these settlers, but in just the last decade or so new kids have joined the block: vintners producing premium Pinot noir wines.
But first it's time for breakfast. Most everything on the menu at the Crescent Cafe (526 N.E. Third St., 4 blocks east of Baker Street/SR 99W) is made from local and/or organic ingredients; try the chicken hash or the caramelized banana pancakes. Molasses cornmeal bread makes terrific toast, and you can purchase a loaf to go.
There's a wealth of Yamhill County wineries you can tour; here are two suggestions. Anne Amie Vineyards (6580 N.E. Mineral Springs Rd. in Carlton) hugs the steep hillsides of the Chehalem Mountains. The tasting room is open daily 10-5, Mar.-Dec.; Fri.-Sun. 10-5 and by appointment, rest of year; phone (503) 864-2991. Sokol Blosser Winery (2 miles south of Dundee off SR 99W; watch for the blue sign) has picnic areas and a big deck from which to enjoy the view. Tours of the vineyards are offered daily; to make reservations phone (503) 864-2282 or (800) 582-6668.
South from McMinnville, SR 99W winds through farmland that is a checkerboard of green from spring through fall. The low mountains in the distance to the right are part of the Coast Range; the mountains to the left form the more extensive Cascade range. Amity is one of the most charming of the charming small towns along the way.
At the junction with SR 22, just north of Rickreall, there are a couple of choices. You can take SR 22 east to Salem. You can take SR 22 west a quarter-mile to the junction for
Dallas
and then follow the road about 5 miles to this bustling mill town that was once known as "Prune City, USA." Delbert Hunter Arboretum and Botanic Garden in Dallas City Park, where native Oregon plants are showcased in different settings, is a scenic spot to while away an hour.
Or if the valley scenery has you sufficiently enthralled, continue south on SR 99W as far as Corvallis. On a sunny summer afternoon the views of hills, fields, farmland and orchards are delightfully bucolic. At Corvallis you can either backtrack to SR 22 or take SR 34 east to I-5, then I-5 north.
Whatever route you decide on, you'll end up in
Salem.
Oregon's capital sits astride the Willamette River, which runs the length of the valley. Wind down the afternoon strolling around Riverfront Park, an attractive greensward with lots of paved walkways.
For dinner, throw on some nicer duds and head over to Bentley's Grill (291 Liberty St. S.E.), located just a few blocks from Riverfront Park. Here you'll find well-prepared steaks, fresh seafood, a few rotisserie items and artisan pizzas straight from the kitchen's brick oven. The warm décor and upscale atmosphere make this restaurant one of Salem's finest. If you can pull your eyes away from the centerpiece of this spacious restaurant—a large, copper-vented fire pit—you may see a dessert that strikes your fancy. Delicious cakes (the Konditorei cheesecake with berry compote is popular) come from a local Viennese-style bakery. Chardonnay, Riesling and Pinot Gris wines from Oregon growers are part of the impressive wine list.
This is going to be an active day, so fuel up at Elmer's (3950 Market St. S.E., at the corner of Lancaster Drive), a regional chain committed to honoring the culinary legacy of the Pacific Northwest—meaning they use local ingredients whenever possible. Blueberry pancakes or an omelet with chipotle bacon, jack cheese, salsa and green onions and topped with avocado and sour cream are both good bets. Your coffee cup will be refilled often, and the waitresses are unfailingly cheerful.
From Salem, proceed east on SR 22. After about 5 miles take exit 7 and get on SR 214 (Silver Falls Highway) heading for Silver Falls State Park. The panoramic vistas along the route are exhilarating, and you'll want to stop at pullouts and take pictures. The two-lane road winds up, over and around hills and passes lots of Christmas tree farms distinguished by precise geometric rows of conically shaped evergreens.
Silver Falls State Park is a stunner. This is the natural splendor of the Oregon outdoors on full display. The highlight here is the Trail of Ten Falls, an 8-mile hiking trail that follows the north and south forks of Silver Creek in a lush forest of second-growth Douglas fir and western hemlock, salal (a shrub with leathery leaves and dark blue berries) and sword ferns. If you're not up for the entire hike, 177-foot South Falls is a short walk from the main parking area and can be viewed from several points along a canyon rim walking path. You can walk behind the falls, too.
From Silver Falls State Park continue north on SR 214 toward Silverton. This is yet another beautiful stretch of Oregon countryside—undulating hills, stands of conifers, more tree farms. If all this natural beauty speaks to your inner gardener, stop at the Oregon Garden, where more than 20 specialty gardens feature everything from native Northwest trees and plants to orchids and roses. The lovely water garden, a circular design that incorporates crisscrossing paths and a bridge, also provides a habitat for wildlife. The landscape diversity means there's something to see in every season.
Silverton
got its start in 1854, when westward-bound pioneers built a sawmill on Silver Creek. Water power drove the timber industry on which many western Oregon communities depended for their livelihood. Metal piping was another early industry, and metal street and sidewalk fixtures in town still bear the stamp "Eastman Brothers Metal Works."
You can drive through the Gallon House Bridge (north of town on Gallon House County Road), an 84-foot-long covered bridge built in 1916. According to local lore, the name refers to the fact that Silverton citizens had to leave their dry town to pick up a little moonshine during the pre-Prohibition era.
Stretch your legs walking around the compact downtown area, where big oaks shelter stately old homes. There's a thriving arts community here; check out the works on display at the Borland Gallery (303 Coolidge St. next to Coolidge-McClaine City Park). It's open Sat.-Sun. noon-4 and also the first Friday of the month 7-9 p.m., May through September. Shoppers can browse the gift and antique shops along First Street.
Silverton is also known for its murals. The mural movement began in the early 1990s when a local artist painted a depiction of Norman Rockwell's "Four Freedoms" (Freedom of Speech, Freedom from Fear, Freedom of Worship and Freedom from Want) on a building at the corner of Second and E. Main streets. Since then more than a dozen murals have turned downtown buildings into an outdoor art museum. Take a peek at the "Largest Camera in the World" (441 N. Water St.) and the nostalgically romanticized "Gallon House Bridge" (corner of Lewis and S. Water streets).
The Silver Grille is a casual bistro with a changing menu that takes advantage of whatever the Willamette Valley has to offer. That means savory creations like bruschetta with wild mushroom pâté, apple chutney and white cheddar; a roasted beet salad; and maple bacon-glazed meatloaf served with seasonal veggies. There's live music the first Friday of the month. Seating is limited, so reservations are suggested.
If time is short you can press on to Portland, but why not relax and spend the night? The Inn on Pine (1106 Pine St.), located in an old residential neighborhood, occupies a vintage 1920s Prairie Craftsman house with wicker furniture, a cozy front porch and a brick patio complete with gurgling fountain. This B&B has two charmingly decorated upstairs suites. Advance reservations are recommended; phone (503) 874-4257.
From Silverton continue north on SR 214. You're on the homestretch back to Portland, but several small towns en route are worth a stop. The Bavarian-style storefronts in
Mount Angel,
4 miles north, are appealing evidence of its German heritage. The quaint factor is upped in summer, when oversize hanging baskets filled with cascading petunias line downtown streets.
The Glockenspiel at the corner of Charles and Garfield streets is a prime photo op. Rising 49 feet, it has seven figures representing Mount Angel's Native American, German and Swiss forebears: a Kalapuya Indian brave; Mathias Butsch, an early community leader; Sister Bernadine Wachter, first prioress of the Benedictine Convent; German settlers Robert and Katrina Zollner; Prior Adelhelm Odermatt, who established a Benedictine monastery here in 1882; Papa Oom Pah, a rosy-cheeked, tuba-playing Oktoberfest mascot; and two Bavarian children who sing "Edelweiss." Bells ring as the figures dance daily at 11, 1, 4 and 7 p.m., and crowds gathered to watch the performances have been known to temporarily hold up traffic.
The Mount Angel Abbey in nearby St. Benedict was founded in 1882 by Swiss Benedictine monks. It stands imposingly atop a 300-foot bluff, a vantage point that offers a wide view of the surrounding countryside. The museum in the monastery is worth a look if only to check out what is reputedly the world's largest porcine hairball (it was produced by a hog) on display along with liturgical vestments, Civil War memorabilia and natural history exhibits. It's open daily 8:30-5.
Mount Angel's Oktoberfest is the state's biggest folk festival. The 4-day celebration begins on the second Thursday after Labor Day, around the time of the local hop harvest (Oktoberfest is a traditional German harvest festival). It's good old-fashioned family fun: live music on four stages, street dances, chalets offering all kinds of ethnic food, an arts and crafts show, wiener dog races and a traditional Biergarten and Weingarten.
North of Mount Angel the views of Mount Hood become more frequent. In late summer, roadside fields of daisies splash the landscape with a carpet of bright yellow. Stay on SR 214 as far as the junction with SR 99E (just before the town of Woodburn), then take 99E north. Between Woodburn and Canby are plant nurseries, fruit orchards and fields of hops. The hop plant's female flower cone is used to flavor beer, and the Willamette Valley is an important hop-growing area. This herbaceous perennial is a vigorous climber, so hop fields are equipped with wire netting on which the plants can be trained and supported.
Dahlia lovers in particular and flower lovers in general will want to pay a visit to Swan Island Dahlias in Canby. From SR 99E turn left on Ivy Street (there's a 7-Eleven on the right), then left on 2nd Ave., then right on Holly Street to N.W. 22nd Ave.; the farm is about half a mile down on the left. Fields of dahlias are open to the public daily in August and September, when the blooms are at their peak. There's also a show garden at the beginning of the path leading into the flower fields. In addition to glorious flowers, the annual Dahlia Festival (last weekend in August and the following Labor Day weekend) offers food booths, floral arranging demonstrations and growing tips. For details phone (503) 266-7711 or (800) 410-6540.
North of Canby the scenery changes from farmland to forest. Rock cliffs line the highway, which follows the winding Willamette. Stay on 99E as far as
Oregon City,
where there are more building murals. This was the end of the line for the Oregon Trail, the great overland route that funneled a procession of 19th-century pioneers westward.
From Oregon City follow the signs for SR 43 (get on I-205 south, then stay in the right lane and take exit 8 for Lake Oswego/SR 43). SR 43 continues to Lake Oswego, a tony Portland suburb. Finding a place to park in downtown Lake Oswego can be a bit of a challenge, but you'll be rewarded with window shopping in a very pretty landscaped setting—the chamber of commerce is responsible for the many flower-filled planters and hanging baskets. Have a leisurely late lunch at El Ranchito Mexican Restaurant (329 2nd St.), where chips and salsa and standbys like tortilla soup, chicken enchiladas and chile rellenos are all reliable. It's a good place to take kids.
From downtown Lake Oswego continue north on SR 43 (Riverside Drive). The leafy, lovely drive follows the river. Back in the big city, keep it simple—stroll along the Westside Riverwalk watching pleasure craft sail past the Hawthorne, Morrison and Burnside bridges. Then pop into Voodoo Doughnut (3 blocks west of Naito Parkway and a block south of Burnside Street at 22 S.W. 3rd Ave.) and get a pink box of goodies to go. And here's a tip: In a sea of fried dough goodness, the apple fritter and a doughnut topped with peanut butter and chocolate Rice Krispies are extra yummy. Take your treats to downtown Portland's open-air living room, Pioneer Courthouse Square (the large paved plaza bordered by Morrison and Yamhill streets, Broadway and 6th Avenue), find a spot to sit and listen to the soothing sound of the waterfall fountain while you munch away.
---